Zhuhai Shuangye Electronic Co. limited. professional produce electric bike, electric mountain bike, folding electric bike, bike kits as well as e-bike batteries. Hot e-bike have professional people, with advanced production line, specific processing workshop, assembly workshop, and the improve e-bike testing equipment, offer a reliable quality guarantee as well as thoughtful service to consumers. OEM or ODM orders are supported in the Shuangye company. Clients' inquiries will be replied within one day, Shuangye Pursue to provide partners Reliable quality, competitive cost, fast review. Hot e-bike is dedicated to quality control and thoughtful consumer service, and experienced staff members are available to discuss your needs and make sure full customers, satisfaction. In past years, the company has introduced a series of advanced equipment involving automatic production line, CNC drilling, Battery capacity testing Equipment. Also, the market is divided into domestic or overseas, exporting further than 10,000 pieces of electric bikes to Europe, South and North America, and Southeast Asia yearly. Hot e-bike is located in a good coastal city, Zhuhai, and close to Zhuhai airport, one hour to Macao and two hours to Hongkong & Shenzhen. The faith of the company is surviving with high quality and develop with credibility; higher technology improves the life of people as well as better service to customers. Shuangye from 2006 is for many years to participate in Canton Fair, the development of new models in the last show, Hot e-bike have an R and D and sales team, the products have exported the world. Hot e-bike welcome friends to the exhibition and make a green, environment friendly, high-effective and energy-saving new era together.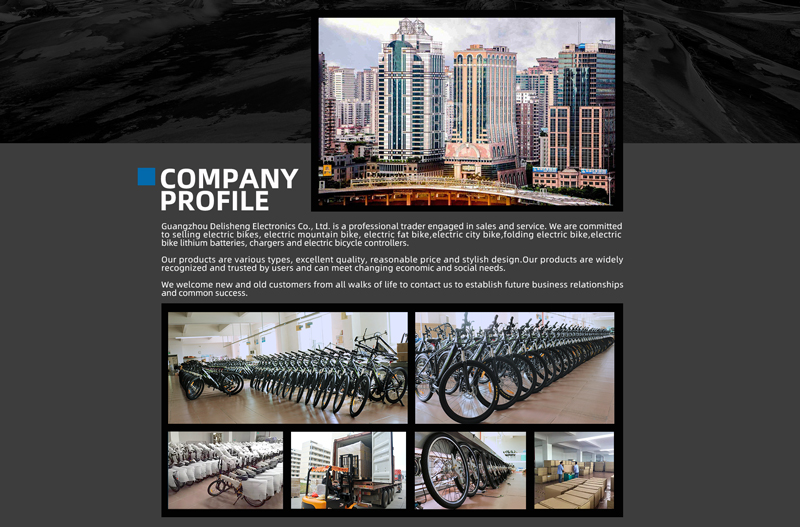 Hot e-bike 26″ City Electric Bike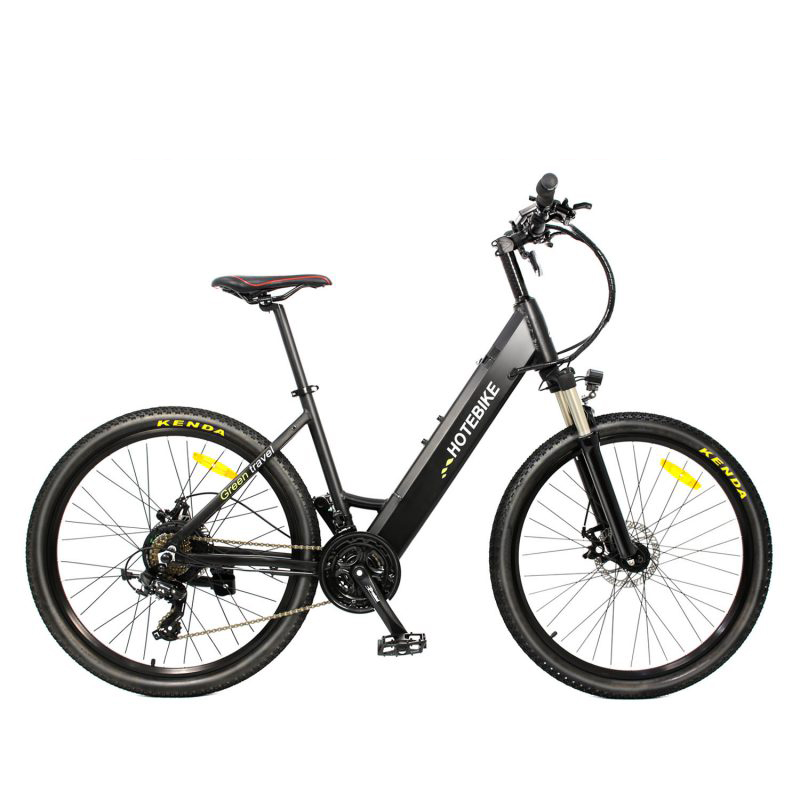 This's maybe one of the finest electric bikes in the market today. The Hot e-bike is absolutely everything you ever wanted in this kind of bicycle. It features an upgraded design, which makes it not stylish but practical, as well. The battery is concealed, so this gives the bicycle a polished look. The battery is removable and may last for four hours on a complete charge. As for the motor, it works well in accelerating this ride. Lastly, the brake or gear system provides reliable stopping power. With a LED light or LCD, this bicycle is power-packed. Various countries in Southeast Asia took the lead by the usage of E-bikes as a sustainable mode of transportation as well as with the increase of urban air pollution, there's a big future for E-bikes. Climate change and worldwide warming are serious problems and we should play our part. We are probably facing our last stand to save dying earth, and we can contribute all to this. E-bikes release low pollution per kilometer than motorcycles and cars. You may help by using an E-bike rather than a petrol or diesel car. They utilize energy with an average rate of 100-150 watts compared to 15,000 or so for a car. As a result, this can help to improve air quality. It is a high spec electrical bicycle with a rear hub engine that can thrust this electrical mountain bike at speeds up to 23 mph on electric power. The MOTAN was designed for men or women that need not an eye-grabbing electrical bike but something which packs all of the good part parts to offer a superb ride on any terrain. This e-Bike can accommodate passengers up to 350 Pounds in weight as well as it may travel at 30 mph with a range 55 to 65 miles on a single charge. Outstanding remark that goes well with a good bike, but one that isn't without its flaws. Because of the lack of full suspension, it is been founded, this e-bike cannot be suitable for city riding. While it is all-purpose terrain that does mean it can perform well in other environments, it's worth considering this drawback before purchasing. Helps preserve the environment: decreases air contamination, ecological footprint, is healthy, and cheap. Bicycles are the best means of transportation that preserve the environment. It decreases air contamination, carbon emissions, and ecological footprints are healthy and very cheap. Up until unless World War II, bicycles were the most common means of transportation in cities. However, except for countries like Holland and Belgium, they have become just another recreational activity. However, the last crisis and an increase in the price of oil has contributed to a slight rise in the use of cheaper, further ecological means of transportation like the electrical bicycle. Discover even more information on an electric bike.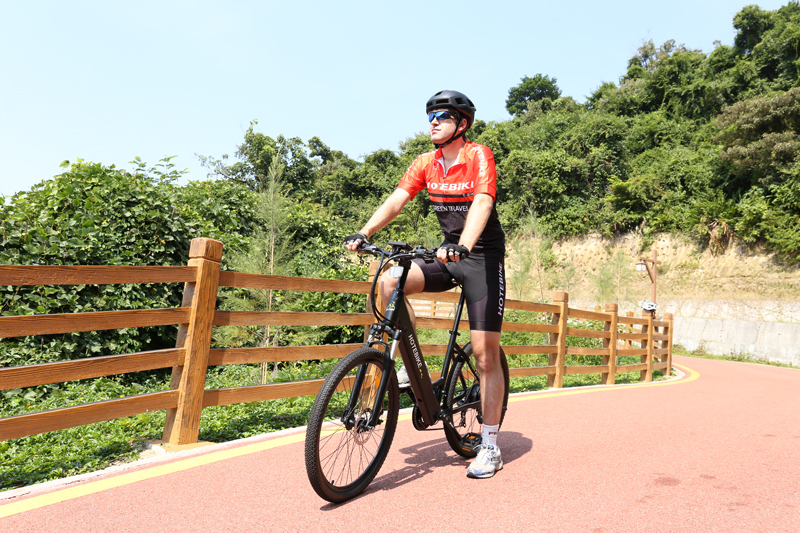 This electric bike lets you be able to ride in any situations that you can have to face, plus, this even involves ice. Therefore, it's suitable if you live in any state across America as well as should even yet work in a polar vortex. Though, you cannot want to go out if you happen to be in the middle of one of these. This bike is prepared from high-quality material and has innovative Samsung technology built into it as well. It has a high power 500w motor as well as comes with 26 x 4-inches sports tires. One will like this electric bike because you can use it at any time of the day safely and in any weather conditions safely too. One thing to note about this product is that the instructions may be a bit clunky. This's why it may be a small bit tricky figuring thing out. But once you have it all set up, it is reliable and ready to use. With the experience of further than 10 years as a professional e-bike manufacturer, Hot e-bike is a reliable brand when it comes to making a good value electric bike in the market.
The type of motor that's discovered in the electric bike is one consideration to look out for when purchasing the bike. Here is a strong and convenient E-bike that delivers good speed. This's because the bike is powered by the 350W high-speed motor. Apart from this, it has a 10Ah li-ion battery, which offers a longer runtime; hence the great pick for you. Furthermore, the E-bike has an LCD panel for simple and fast control of the bike. With the LED headlight, you'll find it better for cycling even at night hours. It features the 160-disc brakes system that offers good all-weather stopping power. It's the best bike that features the 21- speed gear to boost the hill-climbing power. The electric bike has 2 working modes that include the pedal assistant mode as well as E-bike mode.
Built-Up Frame
To make sure a smooth ride irrespective of the road surfaces Hot e-bike has involved lightweight aluminum alloy in its frame. Even the suspension fork of this affordable bike includes aluminum alloy.
Motor Power and Battery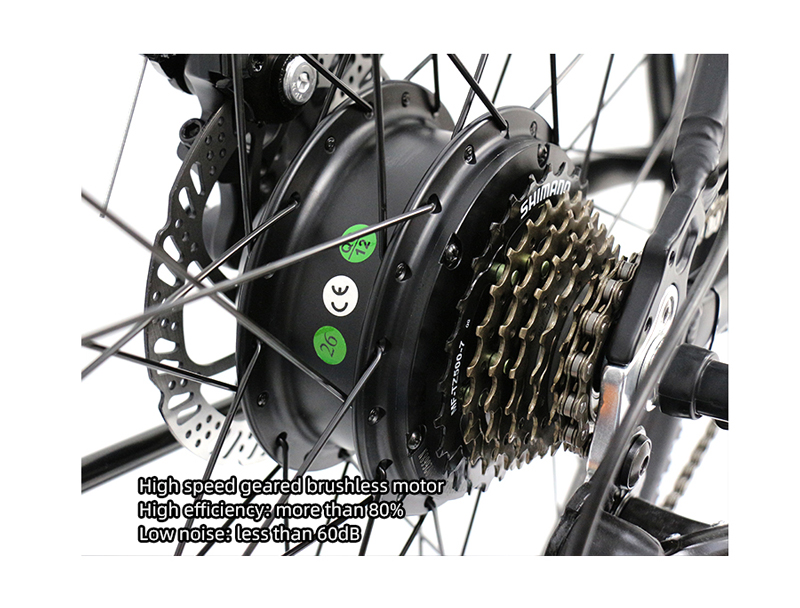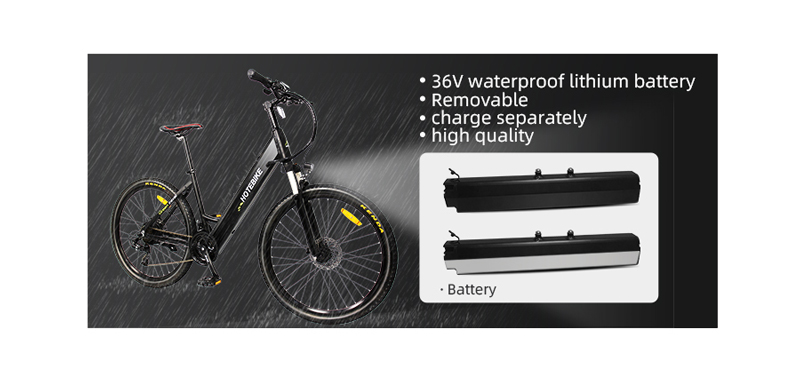 If talk about of power, this bike contains 360W rear hub brushless gear motor that provides sufficient torque output and power to make the climbing easy. If we talk about its battery, it has a 36V 10Ah Li-ion battery.
Performance and Speed
With this good value electric bike, you may cover a range of 40 to 50 miles with help mode. Now that's a feat. The five pedal help levels allow you to reach the top speed of 18 to 20mph.
Charging Options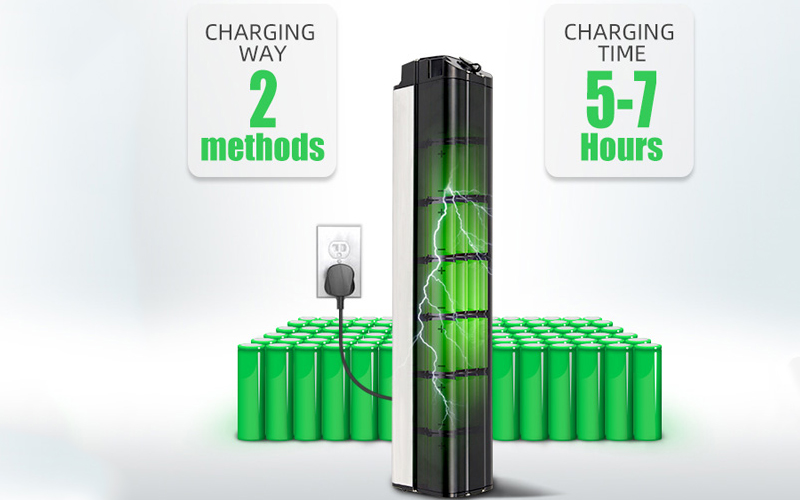 It takes about 5 to 7 hours to get completely charged. The battery may be removed so you have an option to charge it separately.
Working Modes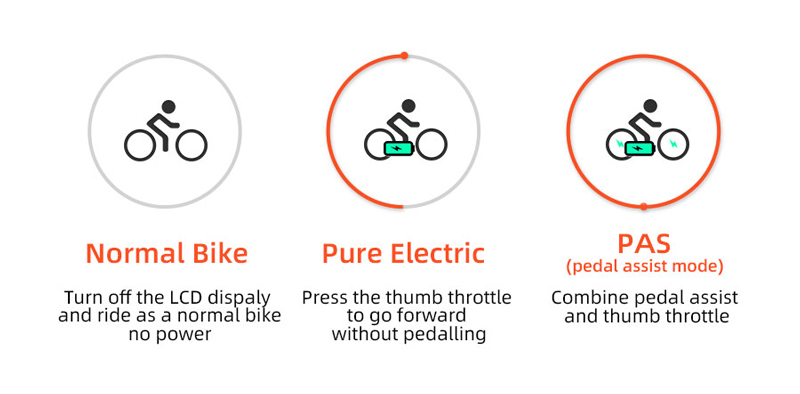 With five pedal help and three riding modes, you can opt for e-bike mode, pedal-help, and traditional bicycle mode. The LCD will offer the details regarding the five different help adjustments. The bike comes with a 36V 10Ah Li-ion battery that has a 35 to 50 miles' mileage with a full charge. The battery takes a mere four hours and a 36V 350W motor with a maximum of 20mph. The bike features a lightweight frame prepared of an aluminum alloy as well as a sturdy suspension fork. This frame or fork makes the bike a comfortable ride on rough terrain. The 160mm mechanical disc brakes make sure reliable stopping and keep the rider safe and sound. The 21-speed gear of this bike makes hill climbing manageable and increases range variation with better terrain adaptability. The bike more has an LED headlight for visibility at night whose LCD screen panel controls it. This bike features a 5V 1A USB charging port ensuring you have a reliable connection when riding long distances. It comes with 3 pedaling modes; E-bike, PAS, or normal bike mode. The modes enable you to cruise and exercise by switching to the proper mode that suits your need.
Pros
· Removable rechargeable battery
· Lightweight thus portable
· USB charging port for phones
· Powerful headlight for night riding
· Our Verdict
· Lightweight material.
· Battery capacity indicator
· LED headlight (3W)
· USB charging port