Best E Bikes For Large Riders/For Heavy Riders
Views:29965 Classification:blog
People in the world are bigger and heavier than the previous generation. Due to better access to food, people are now both taller and wider than ever before.
We feel e bikes are one of the best ways people can get into exercise. Sometimes being bigger limits physical activity, but biking is an excellent, low-impact way for everyone to get fresh air and healthy exercise. And electric bikes provide a way for you to exercise longer and get assistance tackling challenging or intimidating hill climbs–allowing you to have adventures you didn't think possible.
Not all e bikes are suitable for those who are taller or heavier. What are the best e bikes for large riders/heavy riders? Most e bike manufacturers give a maximum weight the bike can carry–including the rider and any cargo. These are useful but are just a guide. Sometimes they are too conservative and sometimes not. The very best way to find out is to research and review as many e bikes as possible before you purchase.
Let's go over each part of an e bike you need to consider so you can spend your hard-earned money wisely and start enjoying fresh adventures outdoors.
Best Best e bikes for large riders: Frame build
An e bikes frame will be a clue to the potential strength of an e bike. Hefty frames with large section joints and plenty of welds are a positive sign. Luckily, bike frame construction and strength have significantly improved over recent years, and most frames from significant manufacturers are strong and of very high quality.
Full-suspension frames where much of the rider's weight is over the rear suspension need to be checked to see enough travel and resistance in the rear suspension unit to keep the suspension from bottoming out. You don't want to cause damage to it. You can contact the manufacturer to find out if a rear suspension unit is suitable for your weight.
Full Suspension Electric Bicycle 48V 750W Ebike with 12AH Battery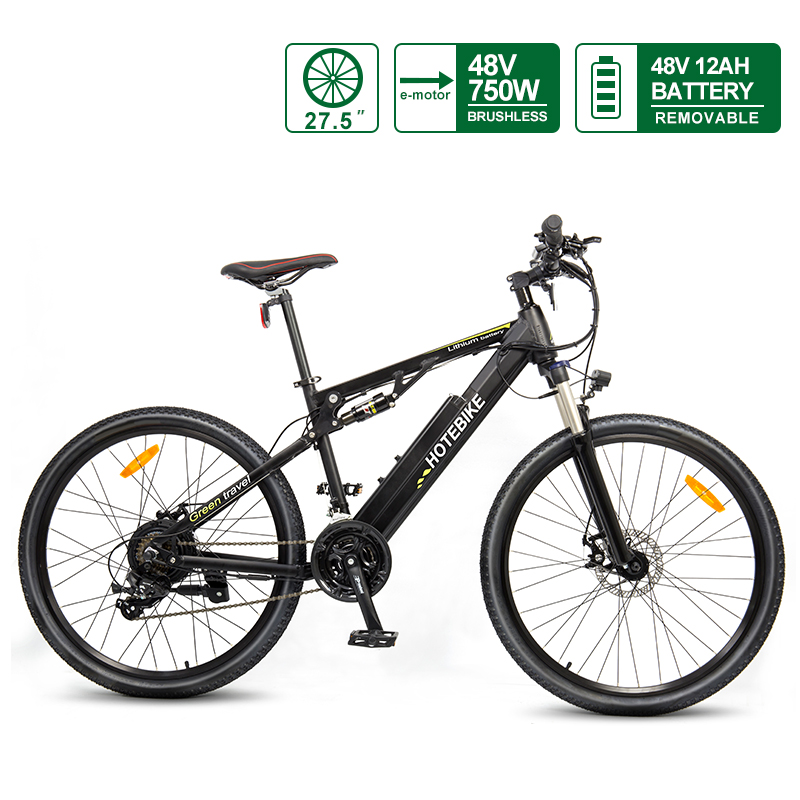 Motor: 48V 750W rear hub motor
Battery: 48V 12AH lithium battery
Tire: 27.5″*1.95 tire
Disc brake: front and rear 160 disc brake
Display: Multi function LCD3 display
Max Speed: 40km/h
Gear: Shimano 21 speed with derailleur
Controller: 48V 750W intelligent brushless controller
Front fork: suspension aluminium alloy front fork
Fully suspension: suspension front fork and suspension middle device
Size: 27.5″
Range per charge: (PAS mode) 60-100km
Best e bikes for large riders: Motor power and battery range
A powerful motor and good-sized battery become critical the more weight your e-bike has to move. Mid-drives are usually the better choice for carrying heavier loads as they leverage the gears over a range of speeds.
However, larger hub motors with a high Nm of torque and geared correctly can be an excellent candidate as well. Avoid small, lightweight hub motors.
The benchmark for good battery capacity for daily commuting is 500Wh for a heavier rider traveling medium distances. Riders traveling longer distances can even look for options above 500Wh, and up to 1000Wh is not uncommon. We recommend that our bigger riders have a spare battery to swap out if needed.
Best e bikes for large riders: Tires
Double-wall rims are relatively standard and provide good strength and load-bearing. Wider rims help dilute the forces throughout the rim. Any rim you're looking at should have 36 spokes, and wider and thicker spokes are
better.
All factors being equal, smaller wheels are more robust than large ones. And wider tires have an advantage for stability, grip, and load-bearing. Anything about 2" wide is excellent. Thru-axles are thicker and are an outstanding feature on any bike.
Best e bikes for large riders: Gearing
It's only natural that heavier riders may put more force on different components of the bike. The force will begin at the pedals and move through the cranks, chain, and gears. Since pedal axles can buckle under pressure, a heavy-duty spec pedal can be added at a low cost and are reasonably easy to install. If steep hills will be traveled frequently, a powerful motor coupled with lower gearing is vitally important. Keep in mind that hub gears are tougher and have lower maintenance compared with derailleur gearing systems.
60V 2000W super power electric bicycle can only be purchased in HOTEBIKE store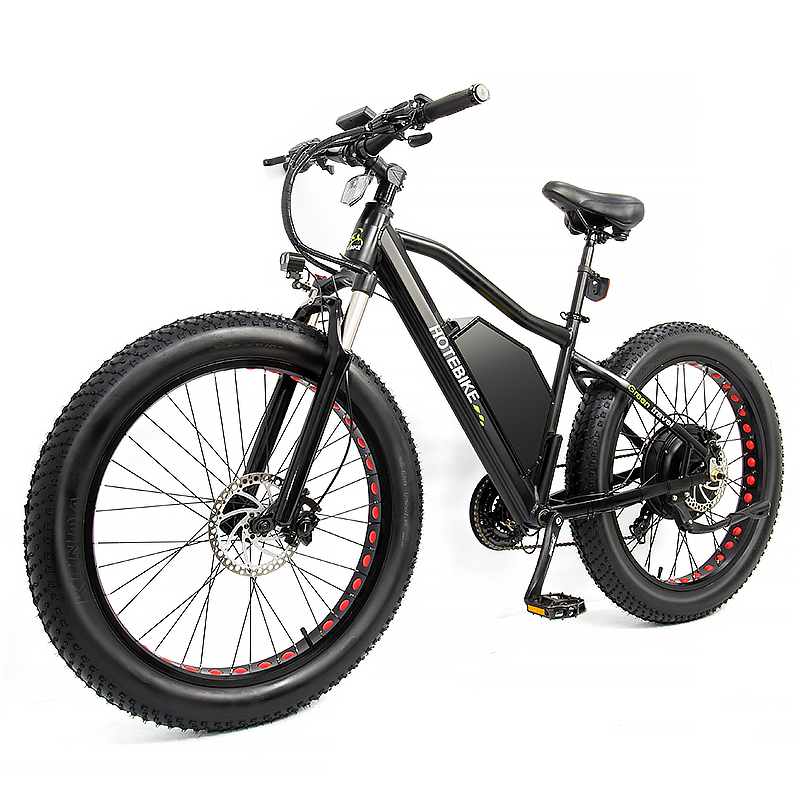 Motor: 60V 2000W brushless motor
Batttery: 60V 18AH large capacity, long range
Controller: Intelligent brushless 60V 2000W
Charger: 71.4V 3A 100-240V input
Tire: 26*4.0 fat tyre
Brake lever: Aluminum, cut-off electricity when braking
Gears: Shimano 21 Speed with derailleur
Display: Multifunctional LCD3 display
Initiating mode: Pedal assistant (+ Thumb Throttle)
Max speed: 55KM/H
If you are interested in electric bicycles, please click on the official website of HOTEBIKE to learn more:www.hotebike.com
The Black Friday event is in progress, great discounts are waiting for you, come and get the coupons:
LEAVE US A MESSAGE