Enjoy riding an electric bicycle with kids
Views:30482 Classification:blog
Cycling with children is a great activity for both kids and parents. It allows you to participate in the activity you love while getting your favorite little people involved at the same time.
When done correctly, riding with kids is safe and enjoyable. In order to best prepare for cycling with your child, we've put together this guide with some quick tips for success.
When your child reaches about 12 months of age, you can begin exploring the world by bike. Most child bike seats are suitable for children of 1-4 years with a maximum weight of 50lbs.
Once your kid reaches the age of 4 or 5 you can begin teaching them to ride with an assisted bike or on an autonomous kids' bike.
Before setting off, you must ensure you have the appropriate gear for your child, supplies for the trip, and know a suitable route to ride. In this article, we explore the various options for biking with kids. We also cover the gear you will need, safety tips, and how to keep your kids entertained along the way.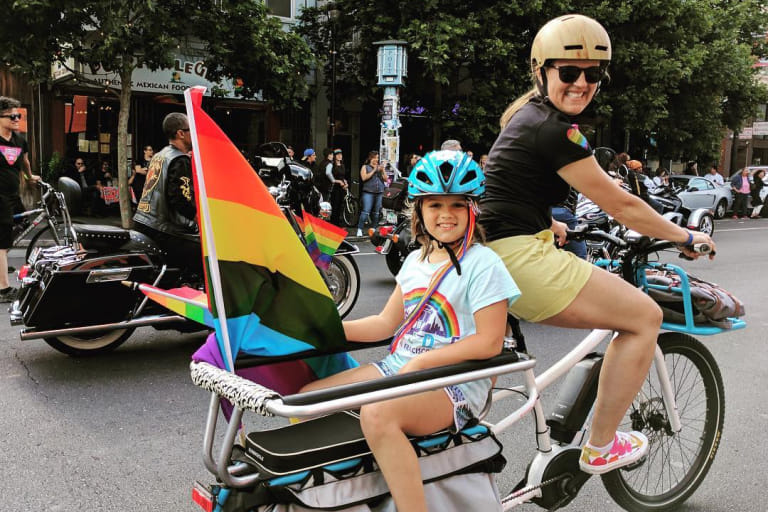 It's important to have the right gear to make sure every ride is safe, fun, and comfortable for you and your kid(s).
Let's take a look at the different gear and when you need it.
Helmet

The most important safety equipment for you and your kids whenever you get on the bike, as a rider or a passenger. It's helpful to get young children in the habit of wearing their helmets from their first ride, and it is also the law in most states.
Visit your local bike shop with your kid to test out their child helmets. Choose one that fits comfortably and tight enough that it doesn't slide around. A loose, poorly fitting helmet will not protect your child's head properly.
You can check US bike safety standards here to ensure the helmet you choose is approved.
Pads & Gloves
When your child begins riding alone they will, without doubt, fall over repeatedly during the process of learning balance and technique. This isn't much of an issue if they ride in the right places, but you can avoid lots of bumps and grazes with a good set of elbow and knee pads, along with some padded gloves.
Clothes & Sunblock
Children are very sensitive to the elements, and riding in the heat or on cooler days requires extra preparation.
Always apply sunblock before heading out for a ride from spring to fall, even on cloudy days. For children who aren't riding, dress them in an extra layer, such as a long-sleeve shirt, and a sun cap.
On winter days, ensure children have plenty of layers on to keep them toasty. As any cyclist knows, cold wind while riding can be extremely uncomfortable, and even worse if you're not generating any heat from riding.
What do you want before you leave?



Laws – Know the bike and traffic laws in your local area, including the essential gear such as helmets and lights Bike Check – Always check your bike and your children's bicycles before you head out on your ride. Ensure the ABC's (air, brakes, chain) are in good working order

Gear Check – Make sure your child's helmet and safety gear are worn properly. For the helmet, ensure the forehead is covered and straps fastened snugly but not too tight. Check you have your biking essentials for emergencies and repairs
Route Plan – Plan your route to avoid busy roads and periods of high traffic. Also, make use of trails and multi-use pathways wherever possible
Supplies – Pack enough snacks and water for you and your kid(s), as well as some supplies to keep your child entertained if necessary.
How to make children happy?
Providing an engaging ride can be easy or a little tricky depending on the type of gear you have.
For example, front-mounted child bike seats are perfect for entertaining your tiny passenger. Using this type of seat, the child is upfront and involved with the ride. They can hear everything you say and see everything happening ahead.
A kids' bike trailer is another great way to bring your children on an adventure. However, this mode requires some more preparation because the child is not as involved with the ride, and it is more difficult to talk to the child back in the trailer.
For kids' bike trailers, we advise taking along a toy, a snack, a sippy cup, or a blanket to help keep them entertained. You can also point to different things along the way to get them interested in the journey.
A good way to keep kids entertained is to talk to them. This can be done easily with a front-mounted seat as we mention above. Although, for rear rack bike seats and trailers, try to find a path or trail that isn't noisy so you can both hear each other.
Additionally, if the destination you choose is fun for your kid, such as the playground, park, or a favorite restaurant, it will be easier to keep them engaged and excited for the ride.
A bike ride is one of the most rewarding things a cyclist parent can do with their little one. Not only that, it introduces them to a healthy and fun activity which they can do for the rest of their life should they want to.
When your child begins to join you as a passenger, get the right gear and the best type of seat for you and your kid.
Once they begin to learn how to cycle, make sure they have a helmet, gloves, and pads to protect them from the inevitable falls, and always be patient and encouraging.
Finally, remember that it's your responsibility as a cyclist to show them the best of cycling, so just relax and enjoy the ride!