HOTEBIKE Electric Bike for Sale
Bicycle, every one is familiar with it. And what about the electric bicycle? A bicycle with a battery, motor and other electrical components. Different from normal bicycle quality depend on its material, electric bicycle quality depend on more things. The electric bicycle is equipped with everything you need to enjoy a leisurely cycle, paired with the luxury of comfort and convenience. Let share some information about a shuangye 24 inches city electric bicycle for sale now.
https://www.hotebike.com/product/specialized-24-inch-battery-assisted-electric-bicycles/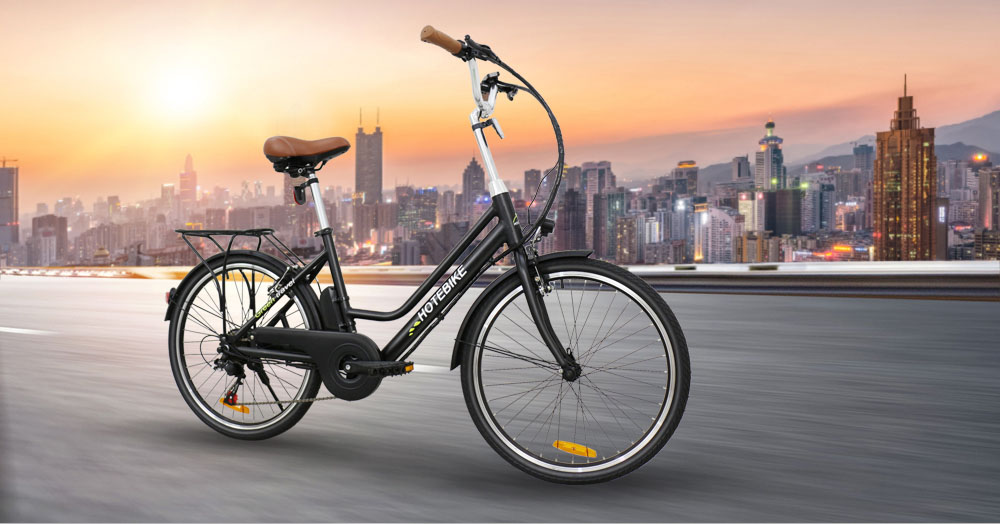 Nice design and material
In order to ensure the electric bike quality, the electric bicycle for sale used aluminum alloy material as its main frame. Aluminum alloy help the electric bicycle more light, corrosion resistance, durability and longevity. Reduce the damage from water and impact. The city electric bicycle for sale shape design closed normal bicycle. It make that not like an electric bicycle at first eye. Especially, the frame design use conceal the battery in the frame. Make whole frame look like a bicycle not an electric bicycle.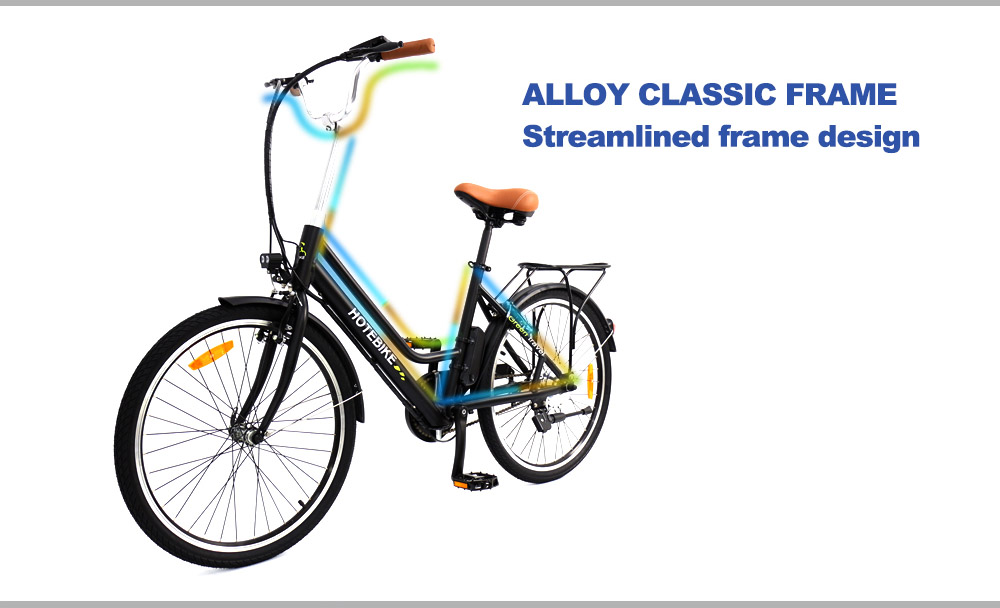 High power motor
250W hub brushless motor mounted on the electric bicycle for sale, which assist you riding at 25km/h speed easily. Stable and efficient motor operating help you riding more safety. The 250W motor meet you daily life activities, not only get out with friends and family, also commute or do exercise every day. It would be a good choice for you. Help you throw away the traffic jams and save your time. Give you a cycling on the road fluently. And you can opt the motor color, black and white, depend on your aesthetic.
Large capacity battery
36V 10AH lithium battery was installed on the electric bicycle. And you also can select other models battery, like 24V 8AH. There are two models design about the battery of electric bicycle for sale. One is rear rack battery under the rear carriage rack, another is hide in the frame pipe. But both of them support remove out of the electric bicycle, charge at home or on the electric bicycle depend on you need and like. Large capacity adapt to your long-distance riding and fast speed riding. And the battery warranty 1 year.



Brake and working modes
Brake force is more buyers considering part, power V brake provides great absorption and friction in bumpy terrain for a smooth and comfortable riding. Just a little power to stop electric bicycle easily. Electric bicycle for sale use V brake on front and rear wheels. E-bike and PAS two working modes, combining two modes would be a better choice. Select able pedal assist or twist the "variable speed throttle" for hours of enjoyment. Turn off power assist, just cycle as you would on any normal bicycles.
LCD display
For you convenience, the electric bicycle for sale is equipped with a LCD display and mounted on the left of the handle bar. It will show you electric capacity, motor power, riding speed, trip distance, PAS level, cruise function, front light sign, motor operating temperature and more. According to the LCD information, you could try to adjust riding speed and time with two electric fat tire bike working modes. Provide you experience a comfortable and interesting riding.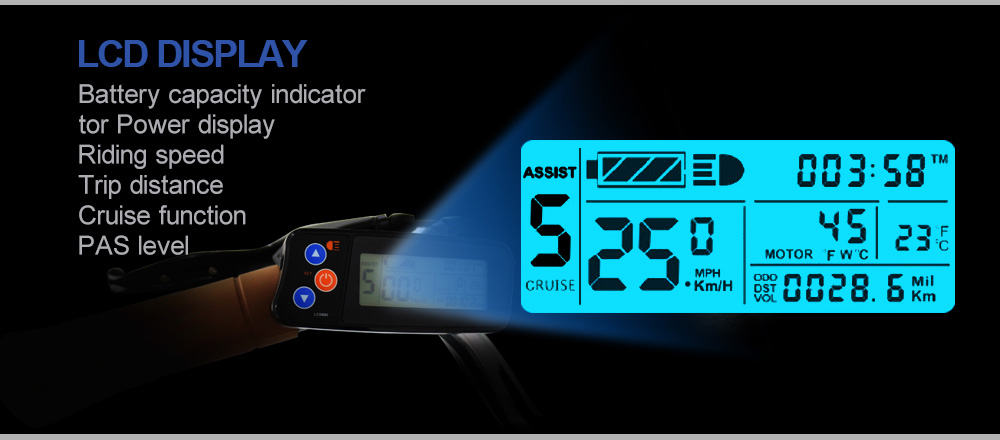 Other components
Excepting motor, battery, LCD. Electric bicycle mounted on another components for riders convenience.There is 3W bright front LED light for night riding to ensure your riding safety, and equipped with a mobile phone charging port for you to help you phone on low electric capacity. Quick release function and comfortable soft saddle for riders. And all-terrain tyres and water proof resistant full chain and front and rear mudguards for all-weather protection, making longer journeys a breeze. And there are electric bicycle for sale with SHIMANO 7 speed and single speed. Which one do you like depended on your likes and need.
If you want to know more city electric bicycle for sale or have any questions, please contact us below freely. Thank you for your reading.