What is the best electric assist bike
Views:52689 Classification:blog
The good electric bikes are quickly becoming famous, as people seek an alternate means of transportation during the COVID crisis. That is because an electric bike may get you where you need to go through maintaining social distance from others. Because electric bikes have motors, they give riders an easy time when going up hills and transporting groceries and kids. And they aren't for delivery people either. E-bikes are available in almost every style such as basic commuters, snazzy street racers, voluminous cargo bikes. Electric bikes tend to fall into 2 types: Pedal-help and throttle. The motor on a pedal-help electric bike will kick in if you are actively pedaling, whereas a throttle electric bike will zip you along even when you aren't pedaling. Both sorts have their advantages: electric bikes with throttles allow you to kick back and enjoy the ride, but pedal-help electric bikes will provide a longer ride on the same battery charge. Few electric bikes offer both functions, and several allow you to set the level of pedal assistance if you need to get more of a workout, and want to conserve the battery of your bike. If you are shopping for a good electric help e-bike now, here are the good ones.
HOTEBIKE Mountain bike (buy now)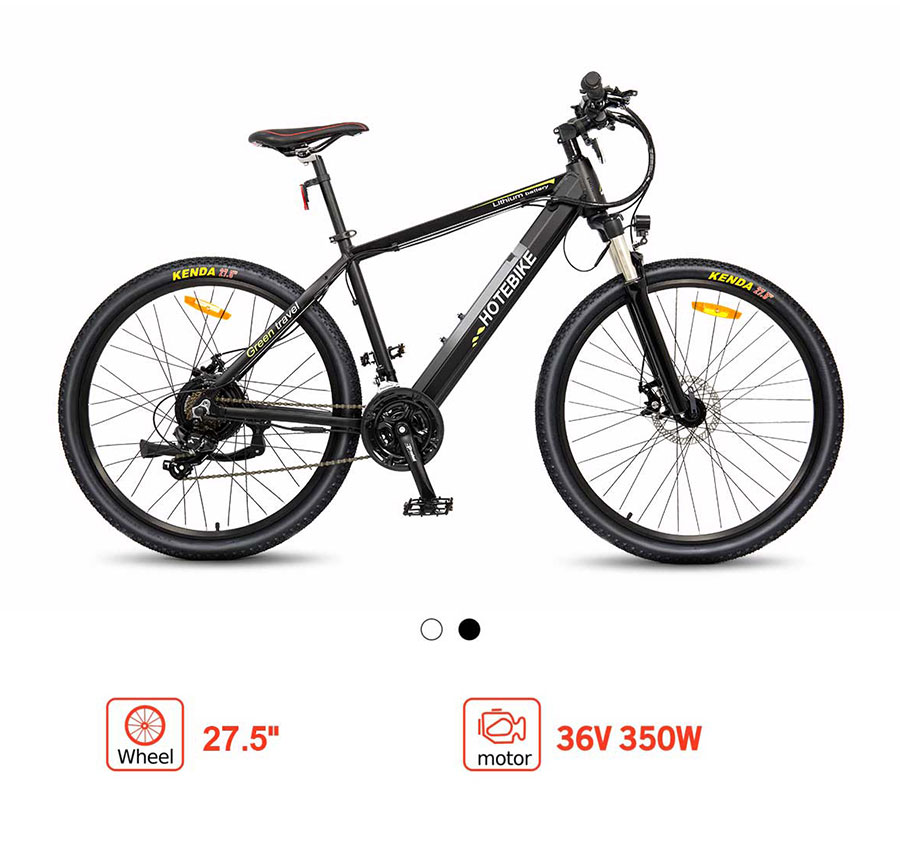 Classic aluminum alloy mountain bike frame, own mold, independent development, patent design. Lithium battery hide in frame is removable, making it easy to charge it separately from the bike. And its range per charge can reach 60-100km. All in all, the battery is more fashionable and convenient. Multi-function large screen LCD display shows lots of data like Distance, Mileage, Temperature, Voltage, etc. Comes with a 5V 1A USB mobile phone charging port on the LED headlight for a convenient phone charging on the ride.
Front and rear mechanical 160 disc brakes provides more reliable all-weather stopping power, which keep you safe from any emergency. Shimano 21 speed gear increases hill-climbing power, further range variation, and greater terrain adatability. Suspension alumimun alloy front fork and 27.5″ kenda tires, make your riding more comfortable.
Charge Bikes City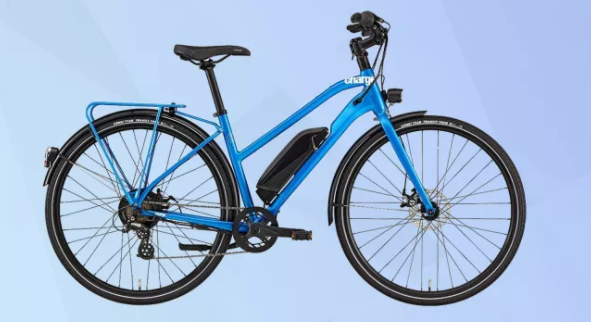 If you plan on commuting to work, Charge Bikes City can well be the great e-bike for you. Not only does it come with features such as full fenders to keep the mud off as well as a rear rack for a pack and bag, but it does everything well for a reasonable cost. The Charge City has a 5-level power assist and a full-power throttle button, should they want or hill arise. It comes with all the essential bells and whistles a commuter is going to need, including the bell. The handlebars fold flat, for simple storage in an apartment and cubicle, and the electric support of the City is so smooth you will think you are doing all the work yourself. At night, the lights of the bike sufficiently lit up the road as well as the throttle can help you zip around potential trouble when we felt out of gas. Founded by folks from biking icon Cannondale, Charge's sui generis sorts is that even newbies may assemble the bike right out of the box in 10 minutes or less.
Gazelle Medeo T9 Classic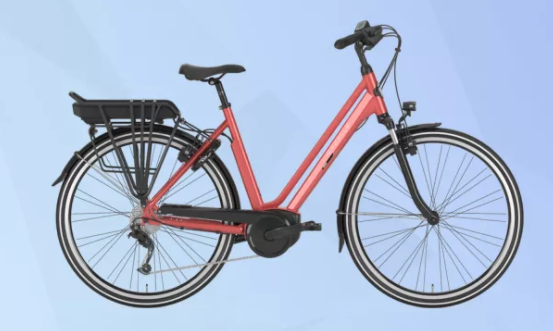 A classic bicycle feels as well as a comfortable ride are the trademarks of this brand. Its low-step design means it is simple to hop on, or touches like a front-fork suspension as well as supple seat from Selle Royal give it a simple-going feel. The sturdy aluminum frame of Gazelle and solid components, such as a mid-drive Bosch motor, which drives power through the chain, imply reliability but make for a slightly heavier bike at 50 pounds. It makes the Medeo T9 less than ideal for apartment dwellers, but it is within the weight class of several e-bikes, which frequently tip the scales at about 45 pounds. Nevertheless, Gazelle's bikes handle well as well as the electric components would not surprise riders with abrupt lurches or acceleration. Moreover, the hydraulic disc brakes help make it responsive and well-balanced. You will like the retro aesthetic of the bike that reminds a gilded age of bike riding, making it best for suburbanites, beach bums, and even the AARP set.
Riese and Müller Load 60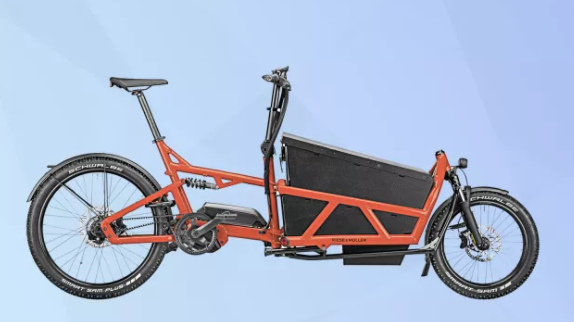 Riese and Muller's bikes evince some of the great mechanical engineering available on a bike. It pays off in this full-suspension as well as incredibly maneuverable cargo bike that may haul up to 220-pounds worth of groceries and gear. The R&M Load 60 is priced accordingly, starting at further than $8,000, but it involves professional-grade components, including 2 500Wh batteries for up to 12 hours of power-assisted range and a heavy-duty Bosch Cargo motor that assist out unless you hit 28 mph. Over hill and dale, we discovered the bike's very low center of gravity meant it never felt twitchy, even at the highest speeds. The battery as well as Bosch mid-motor design delivered sufficient power for us to pass a carbon-fiber bike rider on Harlem hill in Central Park of New York. R&M is one of the more robust brands of e-bikes available and the Load 60 may safely handle 2 toddlers upfront, but you will require the double child seat accessory for that. Its prices and more $294. It is the best e-bike for those who have to haul many kinds of stuff.
Brompton Electric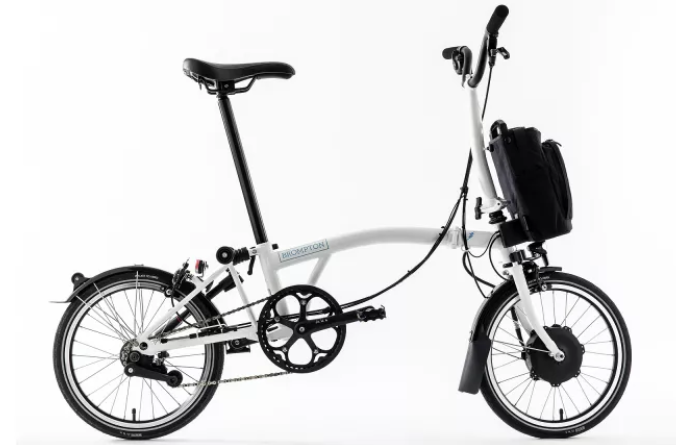 So, it is been knocked off the top spot for now, but the E-Brompton is impressive. If your regular commute involves public transport followed by biking, it offers you total ease of parking, simple stowed in a luggage rack than the GX, and yet lets you to arrive in a pristine and un-sweaty state, thanks to the electric assistance. The F1-trained engineers at William Advanced Engineering assisted with the electrical parts as well as the result is a 250W motor that offers pedal assistance through the front hub. Which is yet an unusual approach. It powers from a 300Wh battery that is placed in a bag and goes on the front where the Brompton luggage rack is placed. You can opt for a large bag that holds both the battery and your spare suit, laptop, and whatever. The Brompton is fun to ride in urban settings, though admittedly not as much so as the GX. It's powerful sufficient to breeze up hills with minimal effort but feels nimble on the flat. Thanks to the pedal assistance, you definitely will get off to a flying start. The reason it stands above other electric bikes is that Brompton has worked out how to apply power assistance to your pedaling so it feels natural. It does not feel so much like it is trying to fight you once you reach the maximum, 15.5mph assisted speed.
Ampler Curt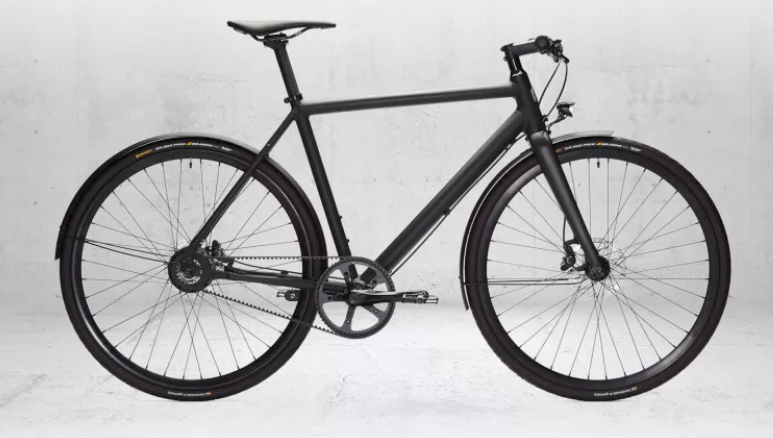 Hand over the Ampler Curt to a friend and they have no idea it is electrically assisted. The clever 48V LG Lithium-ion battery pack is neatly stashed into the down tube, though a strong motor is stealthily tucked into the rear hub. Its charging and power system is approached for maximum ninja points, having a magnetic disc clipping on to a slot placed at the bottom of the seat tube. Handlebar switches or displays are tossed into the trash for a clutter-free 1-button operation. Simplicity is the overarching theme here, with sharp lines, integrated mudguards, a matte black paint job as well as neat rear LEDs that are craftily embedded into the seat post a lot of clean design highlights. Granted, the fact it's known as Curt makes us cringe slightly but it rides and it looks. Yes, users may delve into a bespoke smartphone app as well as fiddle around with the electric motor settings unless the cows come house, but assistance from the motor is so well judged, most will be happy with it straight out of the box. A 10-speed variant feels unnecessary, the single-speed ratio and clever torque-sensing electrical assistance are good sufficient to make mincemeat out of most hills. The extra torque you put through the pedals, the further Curt steps in to help. The sweat-free cruising comes courtesy of the bike's staggeringly lightweight construction, the scales tipping the 13kilogram mark. It is partly thanks to a full carbon fiber fork, however some cutting-edge battery tech and that rear hub motor.
Cannondale Top stone Neo Lefty 3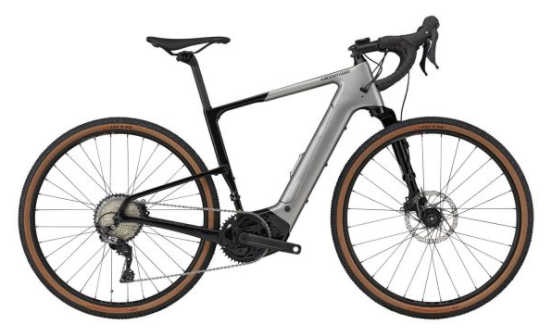 Cannondale's bike is a spiritual descendant on steroids of the veritable Slate. Based on the chassis of the carbon Topstone, it's 30mm Kingpins pivot which is based rear suspension has been matched with the Lefty Oliver stanchion fork, giving 30mm of air-spring suspension. The Lefty is a bit of an engineering marvel, or is one of the stiffest forks on the market, or sees hydraulic damping and lockout. Suspension on a gravel bike induces audible eye-rolls from drop bar purists, but the fact of the matter adds improvements to comfort as well as grip. In the triangles' middle is Bosch's Performance Line Speed motor as well as removable 500Wh battery. With up to 250-watts of assistance or 85nm of torque on tap, the Bosch drive unit will help you crawl up that impossibly steep fire road, while a bar-mounted Purion display keeps all the vitals at your fingertips.
High Power Electric Assist Bike (buy now)

Enjoy a fast and furious tour. Powerful electric mountain bike with 48V 750W motor 13AH LG battery. Aluminum alloy suspension front fork, crank and pedals. The Tektro brake is sensitive and smooth during emergency braking Equipped with LED headlight, new rear light (riding lights, flashing when braking)