HOTEBIKE Electric Fat Tire Bike 2000W Motor 26 inch
Electric Dirt Bicycle A7AT26
Want to experience the joy of riding at 55km/h high speed? HOTEBIKE 26″ 2000W fat tire bike with 20AH battery is your best choice.
HOTEBIKE 2000 watt electric bike A7AT26 was designed with high power motor and high capacity battery and 26 inch fat tire to provide a superb ride on almost any terrain.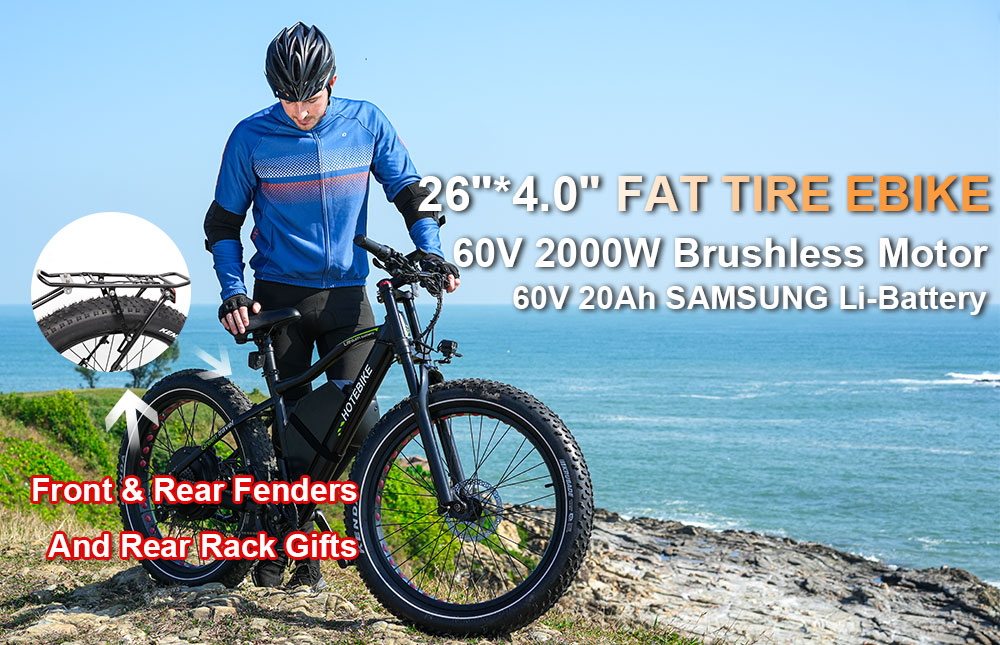 We believe that electric bikes are promoting the concept of green travel, providing clean, efficient and exciting new modes of transportation.Join us today in the revolution of green efficient transportation in style.
The lock and keys better protect the battery from being stolen. Unlocking access to the battery means the battery is very easy to remove. And there are two charging methods at the same time for your convenience, allowing the battery to be charged on the bike, or to remove the battery and recharge it.
POWERFUL 2000W BRUSHLESS MOTOR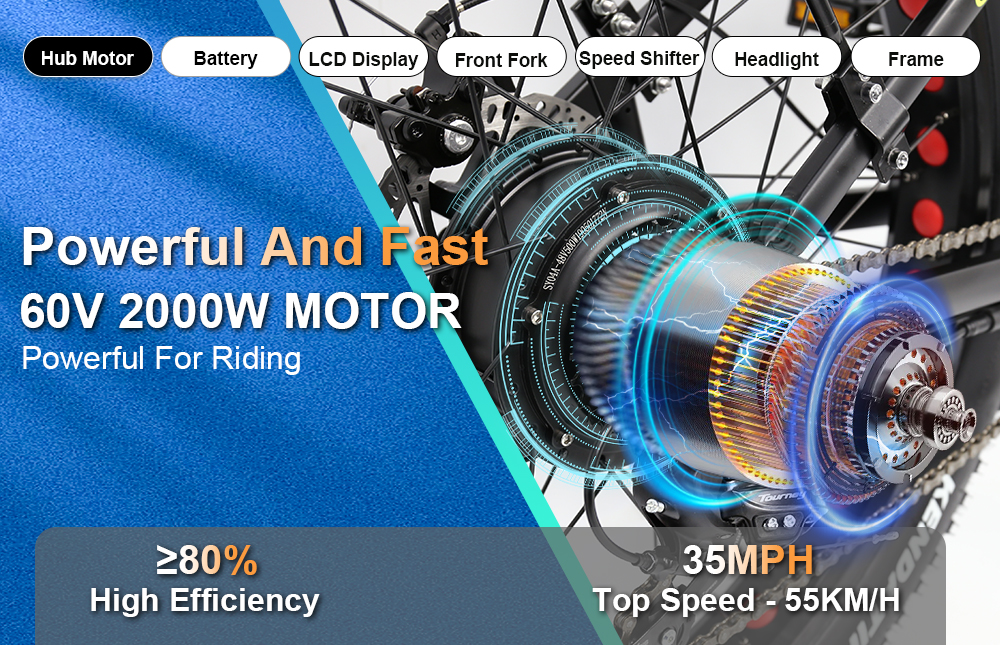 REMOVABLE Battery
5-7 hours of charging time and waterproof design make your bike maintain easier.

Multifunctional Color LCD8 Display


Colored data makes your viewing clearer and easier. Multi-function large screen LCD display shows lots of data like Distance, Speed, Riding Time, PAS levers, Temperature, Voltage, Motor power, light status indicator, brake status indicator, etc.
Adjustable Sispension Front Fork
Adapt to different kinds of terrains, flat, uphill, downhill, make your riding more stable.

Shimano 21 Speed Shifter
Shimano is a bigger brand, and its tourney 3*7 21 shifting system gives you smoother shifting, a better ride, and guaranteed quality. And the Brake lever and gear shifter is a conjointed part, not separated. This will be a better looking setup. There are brake sensors under the brake levers, which will cut off the motor power when you press the brake lever. It will make your riding safer.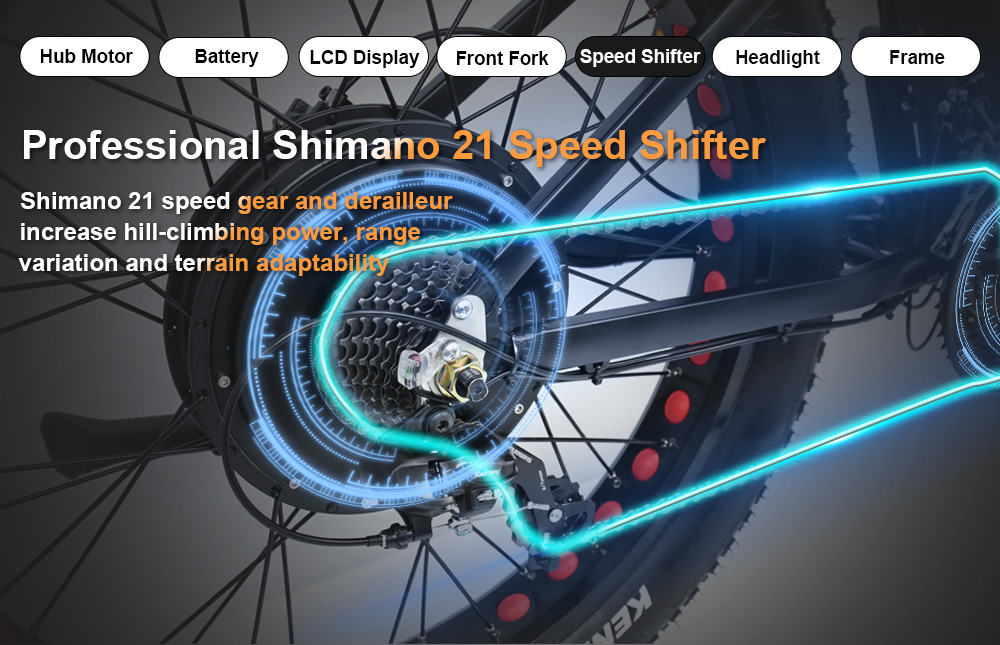 LED Headlight
Comes with front headlight and dual tire reflectors,providing more safety for night riding.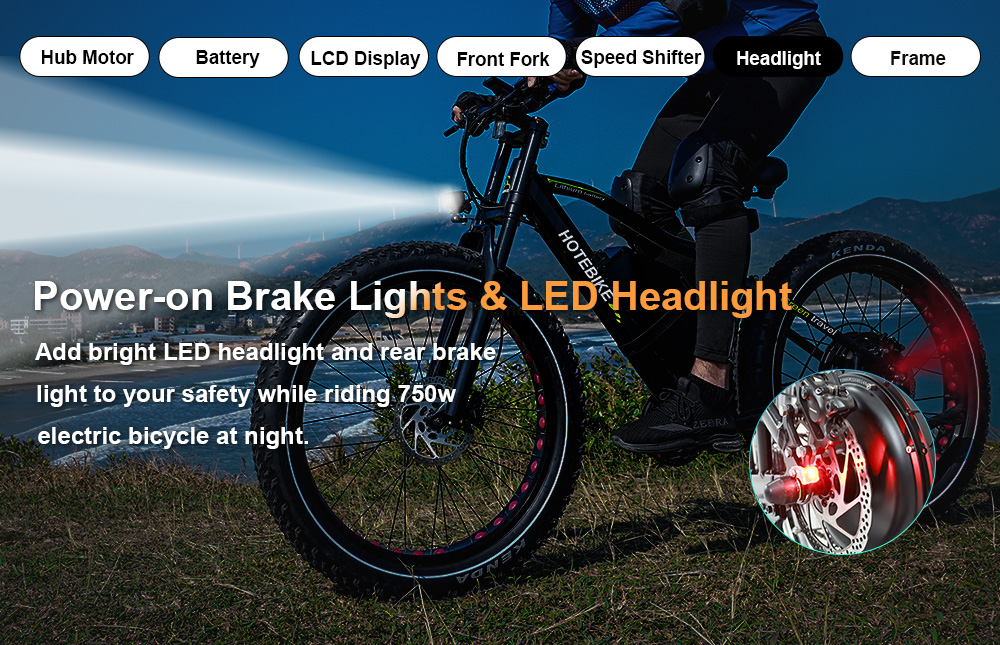 Aluminum Alloy Frame
Fashion streamlined design and light, strong and durable aluminum alloy bike frame.
All terrain, including city commutes, are easily handled by the 26"*4.0 inch fat tires, especially handy for riding along the beach beside the surf and can even negotiate through rugged, dirt mountain and snow. And this bike can accommodate passengers up to 200Kgs in weight.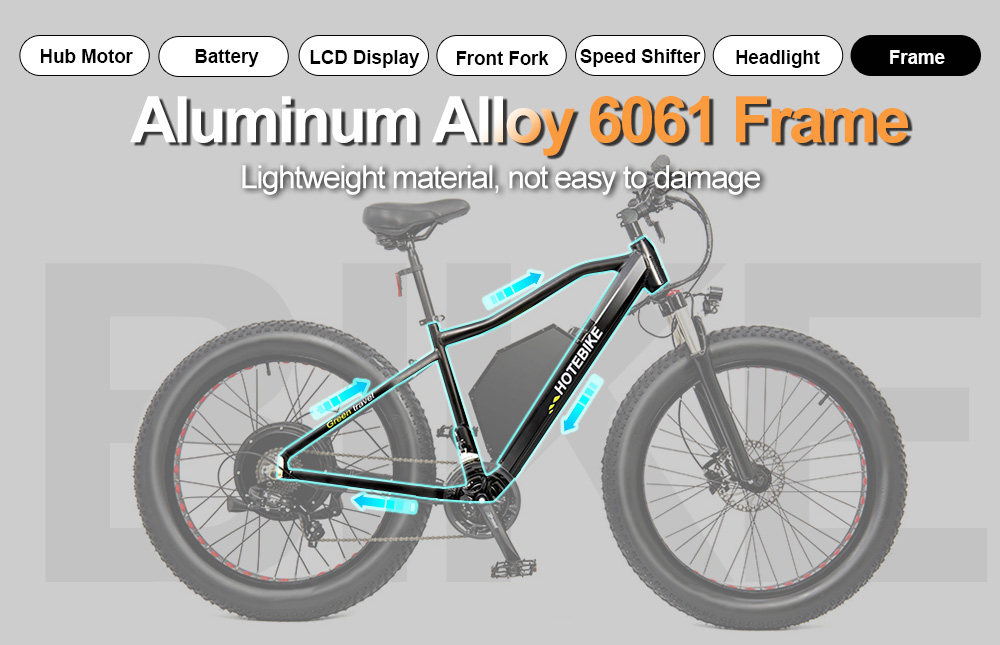 Durable & Safe Fat Tires
Designed for low ground pressure to allow riding ondiverse terrain types including snow, sand, desert, bogs, mud, pavement, ortraditional mountain biking trails.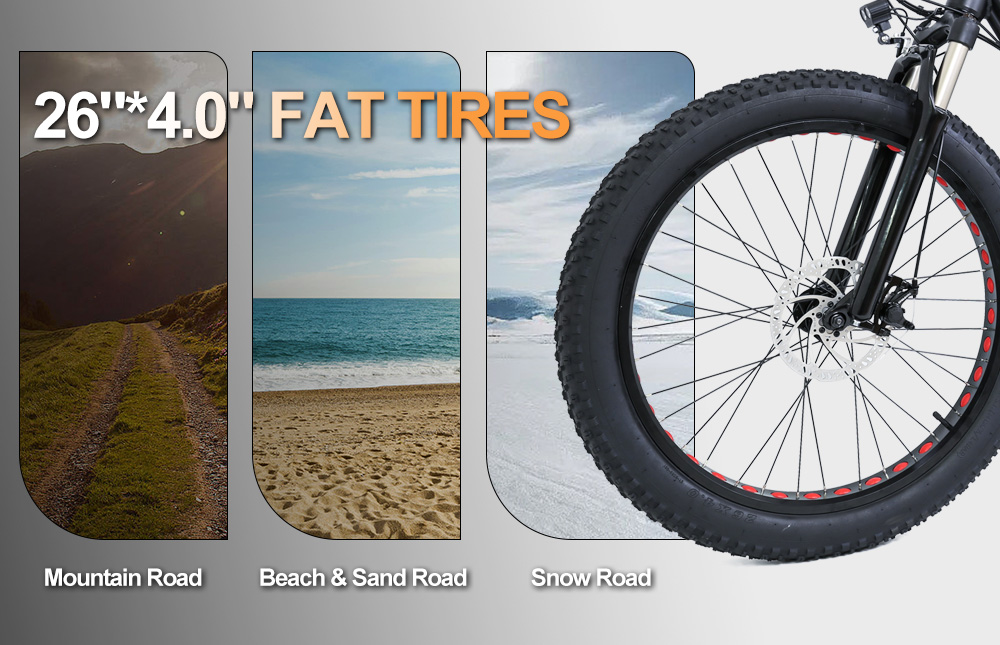 Other Details
Large, comfortable seat, adjustable height saddle tube with quick release for easy seat height adjustment.
Aluminum alloy Crankset pedals, kickstand will be more durable.