The HOTEBIKE seamlessly blends rugged capabilities, exceptional comfort and affordable cost. Use HOTEBIKE Fat Bike to explore and roam the city! It is very comfortable to ride, perfect for beginners, casual riders and ebike enthusiasts, especially for people who are looking for a quality ebike with fast speed and super long range. Equipped with 20" fat tires and an self-designed 6061 aluminum frame, this electric bike is perfect for riding on roads where bumps and potholes are common. The bike comes with a pedal-assist that makes each ride a breeze. You will love riding it on congested streets, city paths, beaches or even snow roads. It is perfect for sightseeing, roaming parks, and visiting places with plenty of shops. The HOTEBIKE features a compact frame with 20-inch rims, so it is great for teenagers, women and adults.
On the travels, the A6AH20F was likely a bit better than normal mountain bike since its larger diameter wheels could more easily roll over larger obstacles like roots and logs, there's nothing to really challenge them there. They could cut their way through thick beach sand easily, which is a good test of how much power a fat tire e-bike really has. 48V 20AH battery make it have long range from 50 to 75 miles.
3 WORKING MODES
Pure Electric Mode (thumb throttle) & Intelligent Pedal Assist Mode (combine throttle & PAS) and Pure Manual Mode (pedaling) mean that you will be ready for whatever road condition comes and It's easy to choose the way you like to ride.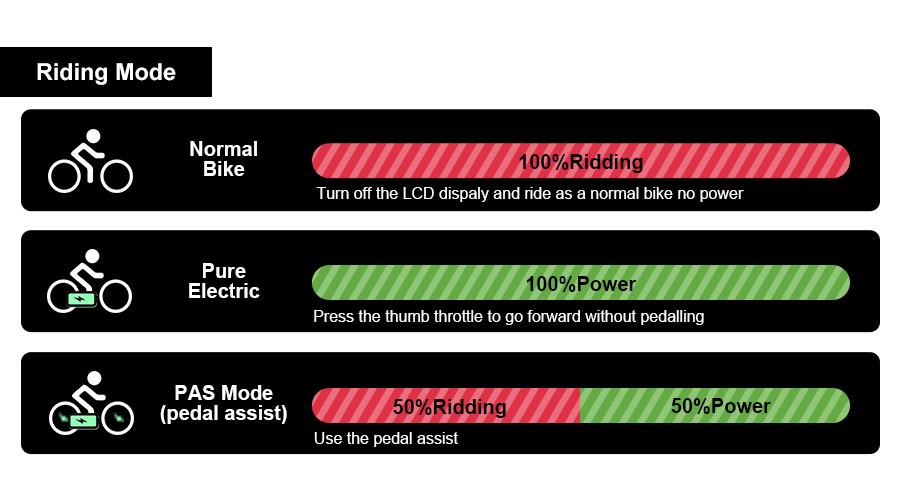 Kenda Tyres
Kenda 20*4.0 inches high-quality fat tires, with plenty of tread, more slip-resistant and wear-resistant, can effectively avoid the penetration of sharp objects, and provides long service life. These fat tires have more surface area contact with the ground than conventional tires, providing enhanced traction, stability and a smoother ride.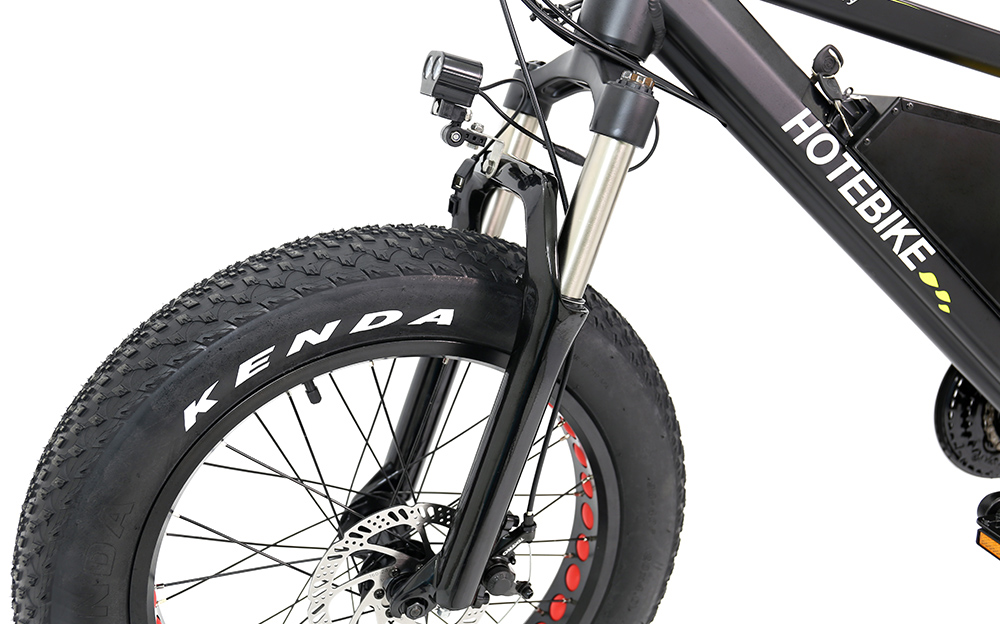 750W Powerful Brushless Motor
Whether it's speeding over the hill on your commute or looking to explore all types of terrain. The 750W motor can provide a higher speed range and better thermal performance. Reaches a maximum speed of 25 MPH (40 KM/H). High efficiency, low energy consumption, low noise and smooth operation. Reaches a maximum speed of 25 MPH (40 KM/H).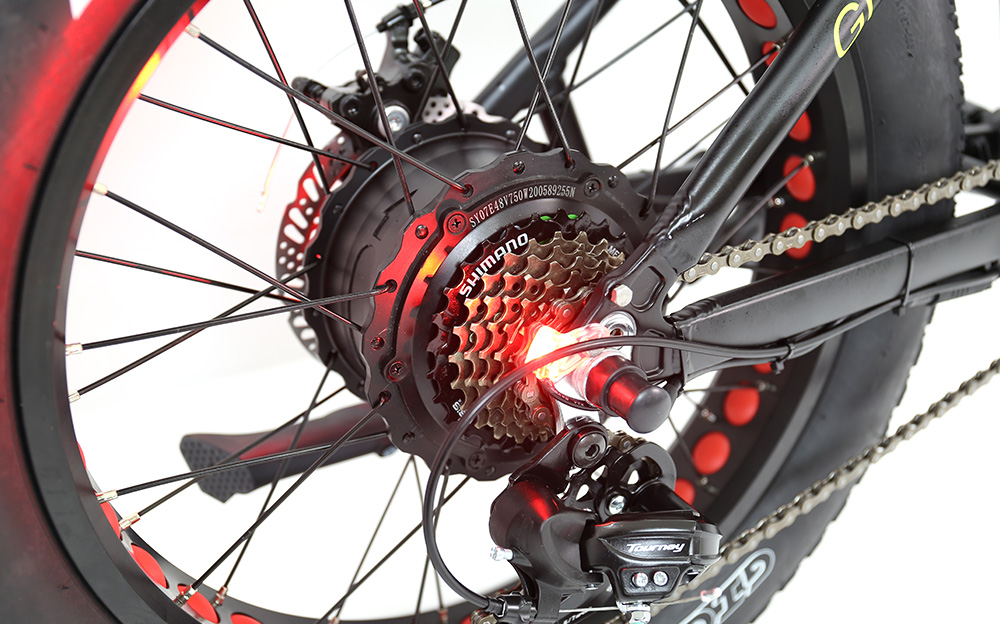 Shimano 21 Speed Gear with derailleur
Customize your ride performance with Shimano 21-Speed gears, which allows you to have more speed options in your ride to ensure comfort. A wider range of gearing at your disposal means more torque for treacherous uphill climb and maintains pedal authority at top speed.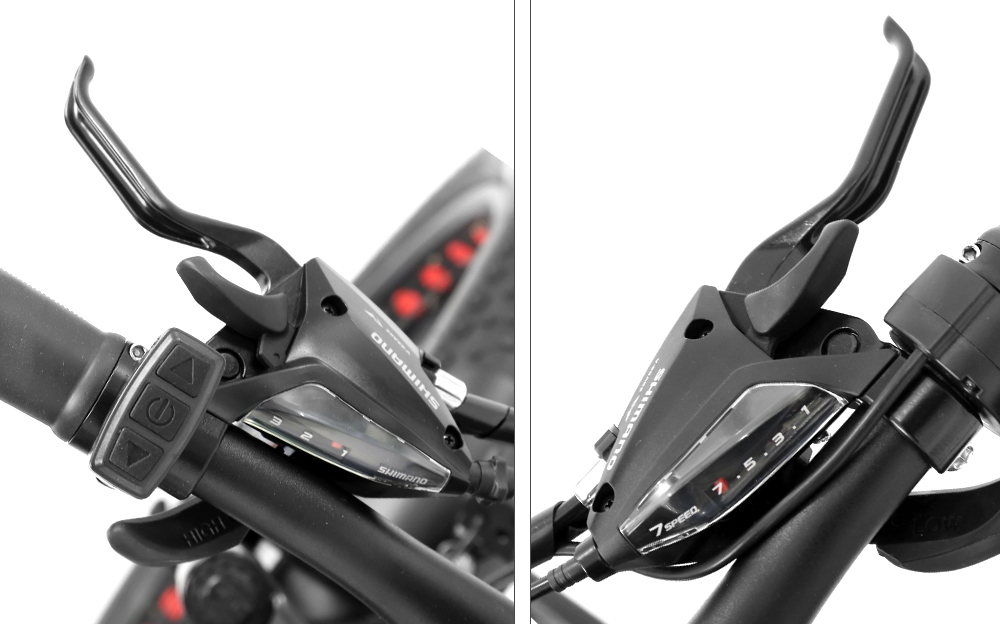 Tektro 160 Disc Brake
Sensitive brakes during emergency braking. Able to make  stop smoothly. The big brand Tektro guarantees the quality and improves the safety when riding, making you more comfortable in riding.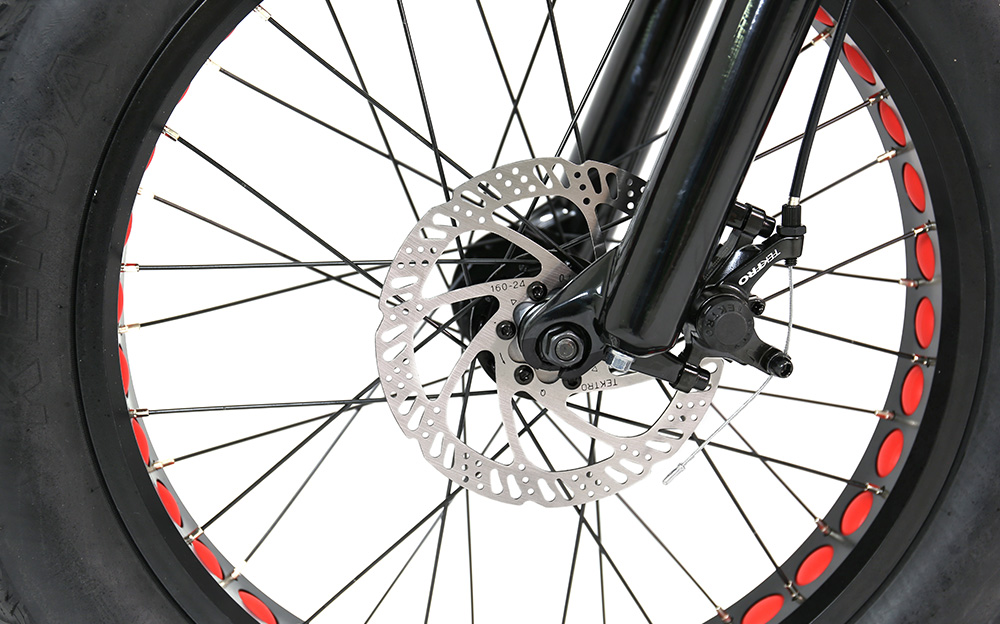 48V 20AH Battery
1.Waterproof lithium battery
2.Removable, lockable
3.Easy to charge it separately
4.Super long range: 50-75 miles (80-120KM) (with pedal assist)
5.Long life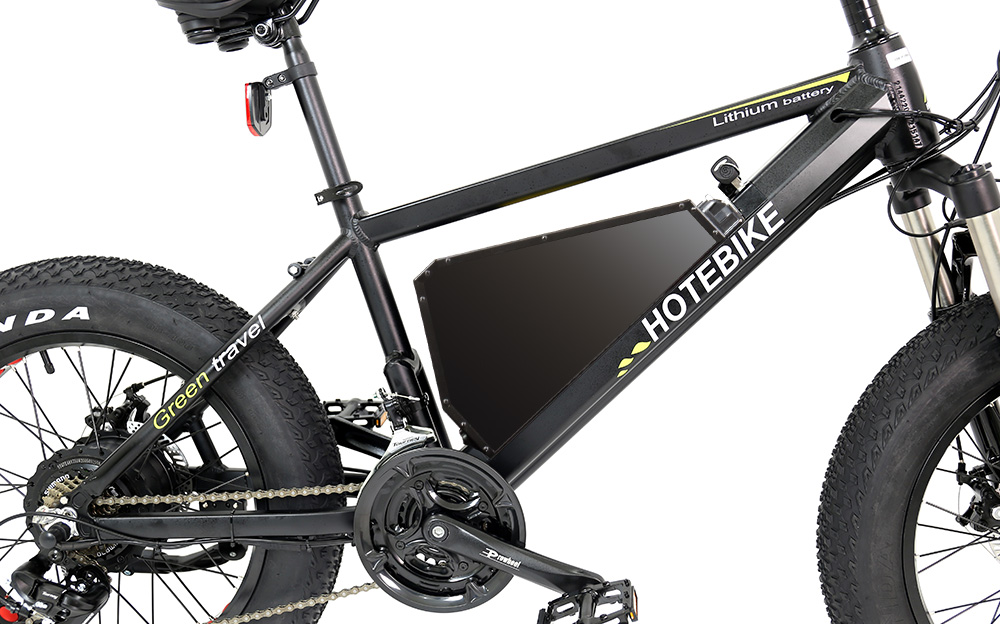 Self-designed 6061 aluminum alloy frame
Classic and compact aluminum alloy mountain bike frame, own mold, independent development, patent design.
Waterproof multi-function LCD display
Features:
Data display: it shows the riding speed, maximum speed and average speed, single mileage and cumulative mileage, riding time, power-assist levels, motor power, temperature, battery voltage and charge status.

Battery gauge: a true reflection of the battery charge, real-time recording of the power consumption.

Night driving : with LCD display backlight and LED headlight switch control, you will easily turn on the light and have a reassuring night riding.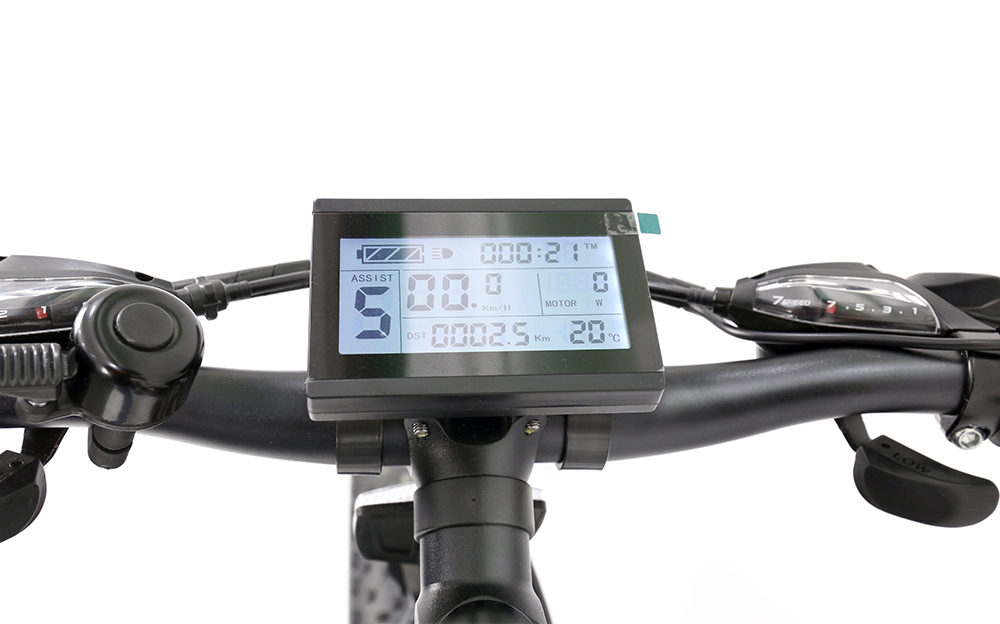 Suspension Aluminium Alloy Front Fork
Premium aluminum suspension fork ensures that even on the rugged hills, this e-bike still has the power to get you to the top while getting you smoothly back to the flat road.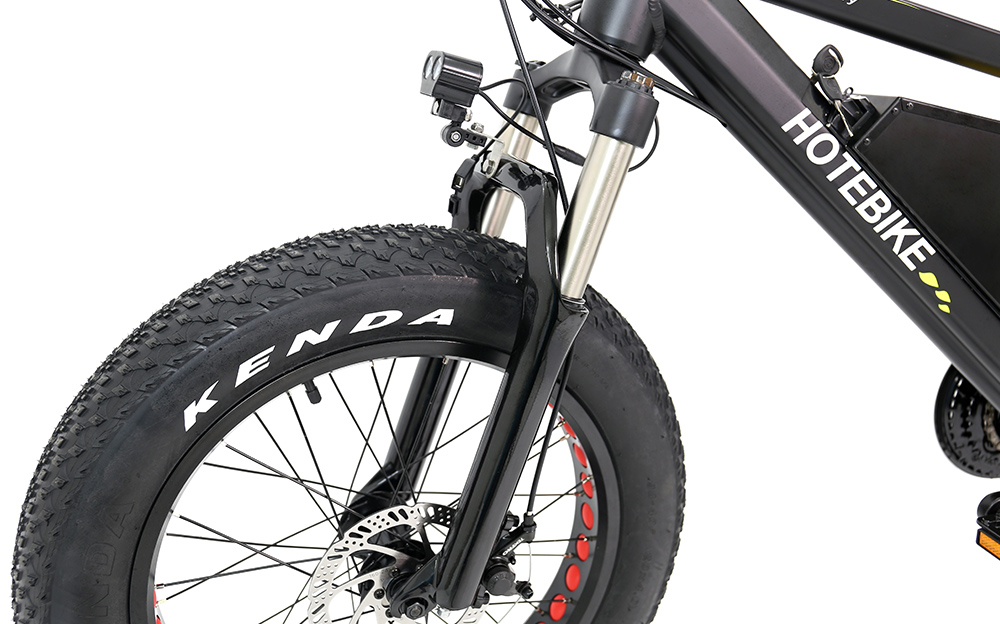 Saddle
Soft and comfortable saddle, built-in high-quality super soft sponge and strong damping spring give you the most comfortable riding experience, you will never feel hurt even after a long-distance riding.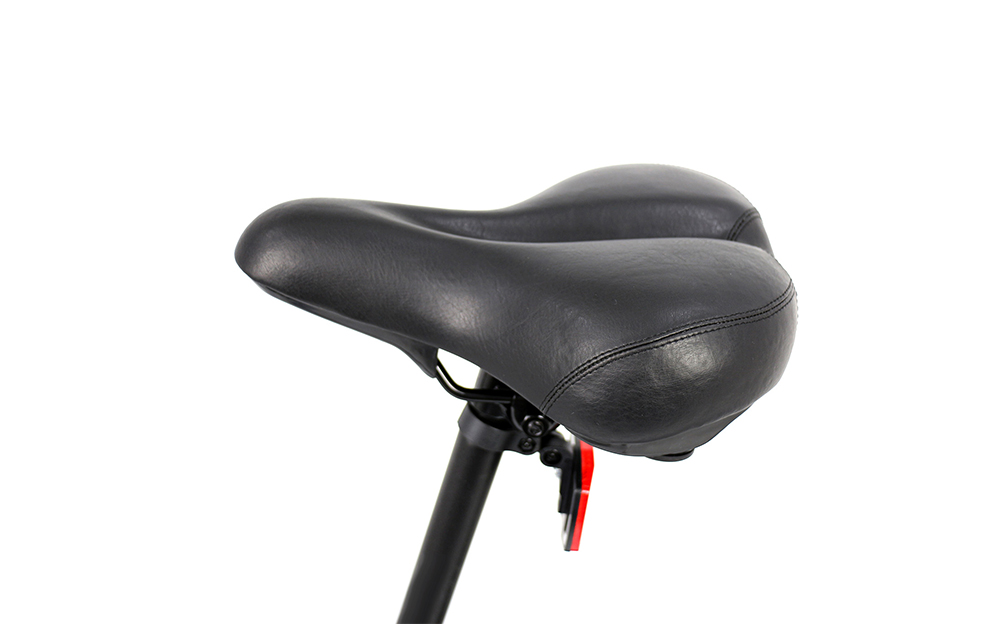 Size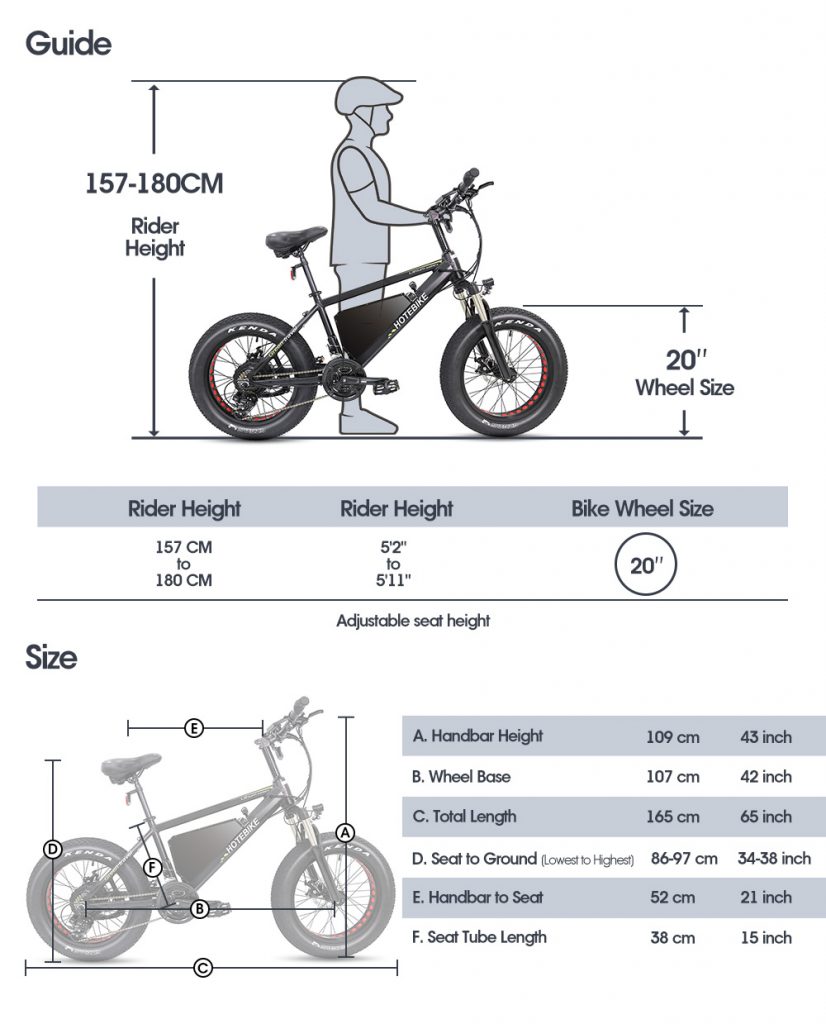 LEAVE US A MESSAGE