Best Electric Mountain Bicycles For You In 2021
Views:27436 Classification:blog
Every human being has two needs: physical and emotional. Food, shelter, and clothes satiate our physical needs. However, our emotions need spiritual food. The hobby or passion of a person is a great way to satiate one's emotional needs.
There is not an iota of doubt that a hobby or a passion keeps one delighted. They provide one with enough fuel and energy to perform their day-to-day activities in one's personal and professional life.
Now, mountain biking is one thrilling and exciting hobby and passion. It gives one an amazing Adrenalin rush and gives one the most exciting experience in one's life.
However, it is risky and can hurt you if you are not using the right gadgets. In mountain biking, your bicycle is the main item that will define your biking experience.
Today market is flooded with a lot of electric mountain bicycles. On the surface, all electric mountain bicycles might look the same to a beginner. However, there are many features of an electric mountain bicycle that one needs to look at while buying an electric mountain bicycle. So, choosing the right bike can be a stressful and hectic task for you in this scenario, especially if you are a beginner.
Based on this situation, we have run good research into the market of electric mountain bicycles and have finalized some of the latest and best electric mountain bicycles for you to buy in 2021. Let's have a look at them one by one.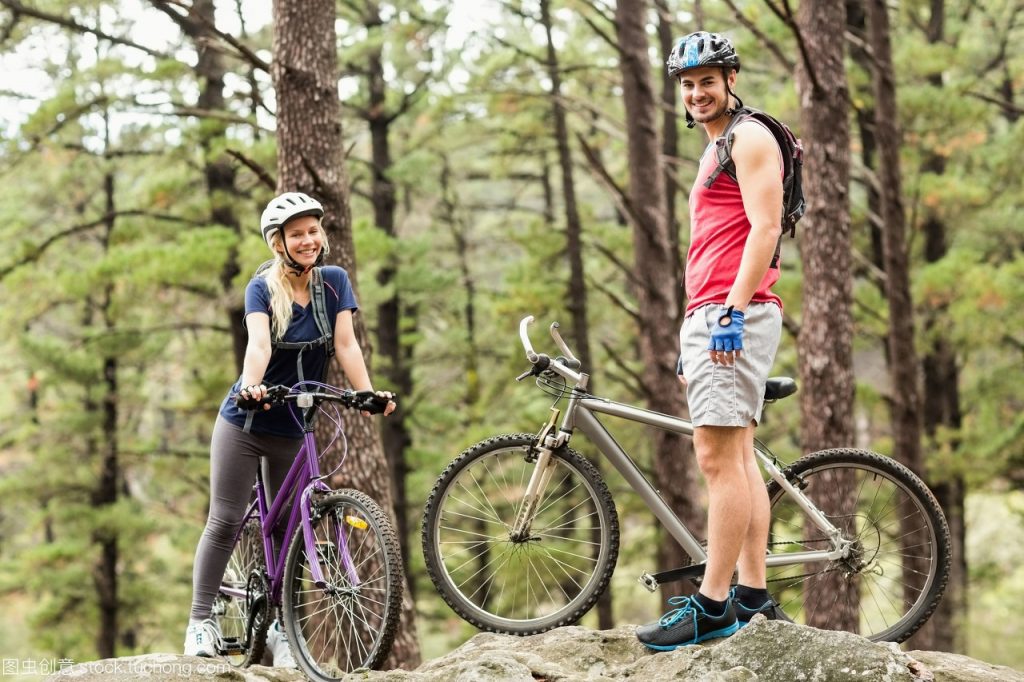 Trek Rail 9
If you love to ride your electric mountain bicycle downhill, trek rail 9 is the ultimate and best electric mountain bicycle option available for you to buy in 2021. The e-bike will provide you the most stable riding experience as you go downhill for an exciting bike ride experience. Its large sized and beefy tires of 29×2.6 size provide the e-bike super grip on the tops turvy tracks. It is definitely going to be your most trustworthy partner on the most difficult of the terrains.
The electric mountain bicycle has Super Deluxe Ultimate RT3 shock, which provides comfort to your back and saves you from any severe covert or overt injury. This feature makes mountain riding extremely easy for you as you are least disturbed by the rough tracks.
The structure of the mountain bike is made of aluminum. Overall, the bike harnesses a strong built quality.
Similarly, this electric mountain bicycle has many other amazing features that lure you into buying this bike immediately. The wheel size of this bike is 29″.
It has a high-powered battery of 625 Wh, which keeps you going for a much longer time compared to many other electric mountain bicycles.
Vitus E-Sommet
This bike has a strong Aluminum structure. The weight of this bike is 22.9kg, which falls in the mid-range weight category for electric mountain bicycles .overall, this bike has a strongly built structure. Vitus E Sommet provides a great riding experience. In fact, you will enjoy each second of your ride with this bike .it would not be wrong to say that this bike provides value for money.
The bike has a state-of-the-art motor that is Shimano Steps E7000. With this bike, you will have a powerful experience even when riding your bike uphill. This electric mountain bicycle has a high-power battery of 500Wh, which frees you from the worry of charging your electric mountain bike's battery every now and then. Another good thing about this bike is that it comes in all sizes: S, M, L, and XL. So you don't have to compromise by riding a bike that is not made for you.
Lastly, another amazing feature of this electric mountain bicycle is its good quality and a strong Rockton Gold 35 fork. The fork is of great value, especially when using your bike for a mountain ride experience. Using a good quality fork keeps the alignment of the bike undisturbed and provides stability.
For a wonderful biking experience, Vitus E Sommet is the best electric mountain bicycle available in the market as of 2021.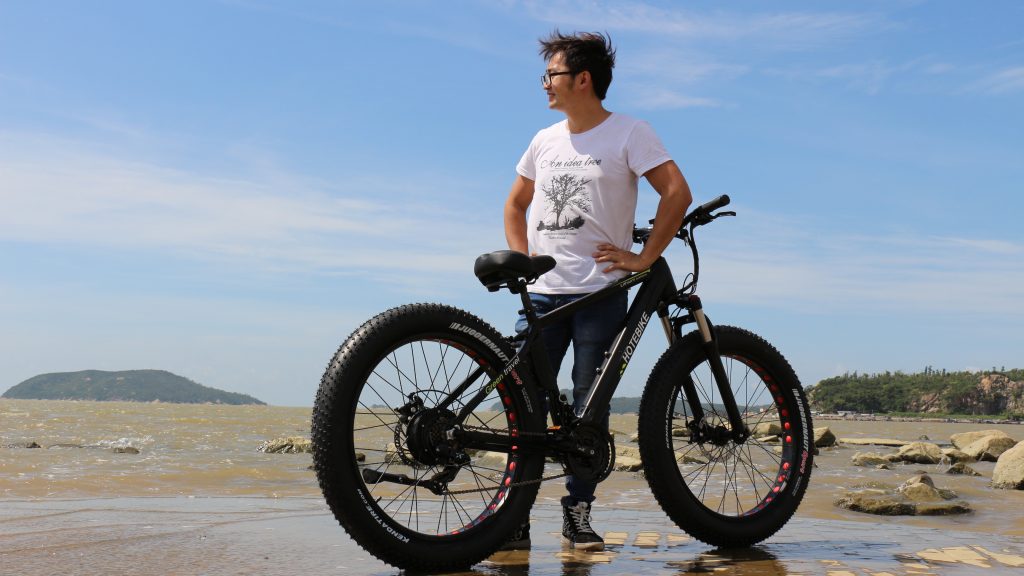 Biktrix Juggernaut HD Duo
If you are looking for a fun ride, try Juggernaut HD Duo by Biktrix. Biktrix is a Canada based electric bike manufacturer. Although Biktrix is a relatively newer name in the electric bikes' manufacturing, yet the features that its Juggernaut HD Duo comes with are very exceptional.
Juggernaut HD Duo has a 17.5 Ah integrated battery plus a 21.5 Ah externally mounted battery, giving an exceptional run time of 95 miles per charge. Now, you will not understand the battery drain concerns of your friends anymore if you have this electric bike.
Juggernaut HD Duo has a powerful 1500 W mid drive motor from Bafang, which affords you a max speed of 35 miles per hour. Meanwhile, its LCD shows pretty much everything: Pedal assist percentage, battery status speed, etc.
Finally, its 26″ fat tires are perfect for all types of terrains and a perfect electric mountain bicycle. You can have great fun with this bike on your side and that too in a safe manner.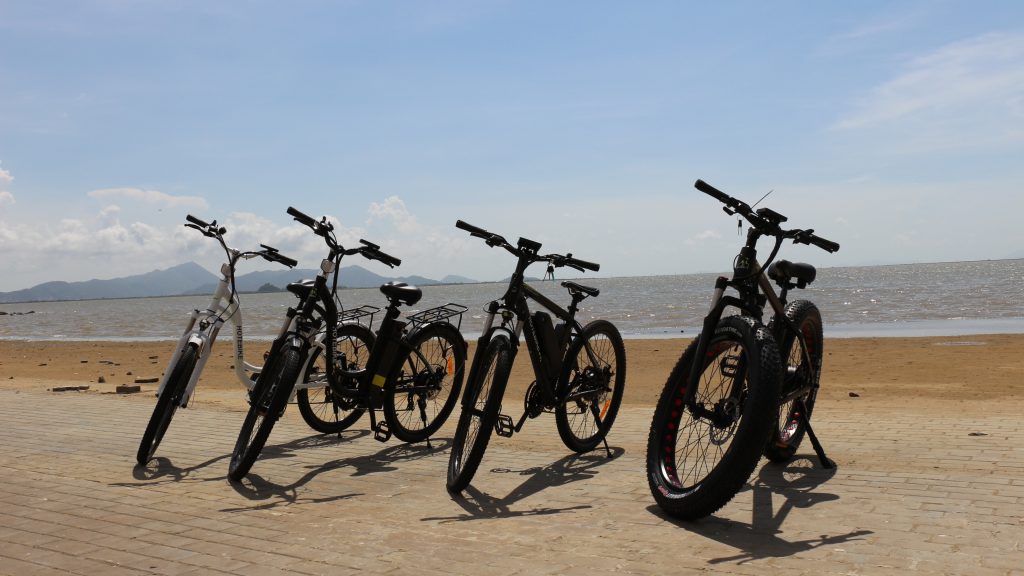 RadRover 6 Plus
Last but not the least, RadRover 6 Plus is another good electric mountain bicycle option that you can buy and have great fun with. RadRover 6 Plus is the flagship e-bike of Rad Power Bikes, and the brand has put all of its best in this particular electric mountain bicycle. There are so many state-of-the-art and amazing things introduced in this fat tire electric bike by the brand.
Some amazing features can be categorized as improved climbing performance, a geometry that perfectly suits a mountain electric bike, RST spring 60mm fork suspension, and a powerful 750W motor.
RadRover 6 Plus uses 26×4″ Kenda Juggernaut, K-Shield puncture-resistant tires, ensuring stability and balance on tough mountain terrains.
The e-bike is shaped so that it reduces fatigue and gives a comfortable ride irrespective of the track. You would experience better handling a smoother riding with this fat tire electric bike.
With the help of all these qualities, this electric mountain bicycle ensures that you have great fun in a completely safe manner.
LEAVE US A MESSAGE