Electric Bike Adults 1000W Motor 30MPH 48V 24AH Removable Samsung EV Battery Beach Snow Mountain Electric Bicycle
The 1000W electric bike is the perfect option for those who want to combine convenience and style while enjoying a comfortable ride. With its powerful 1000W motor, this bike can take you through any terrain with ease. Whether you are commuting to work or simply going for a leisurely ride, this bike is the perfect companion.
A Variety of Terrains
The 1000W electric bike is a versatile option that can handle a variety of terrains, including snow, sand, and flat surfaces. With its powerful motor and sturdy design, this bike is the perfect choice for adventurous riders who want to explore different environments.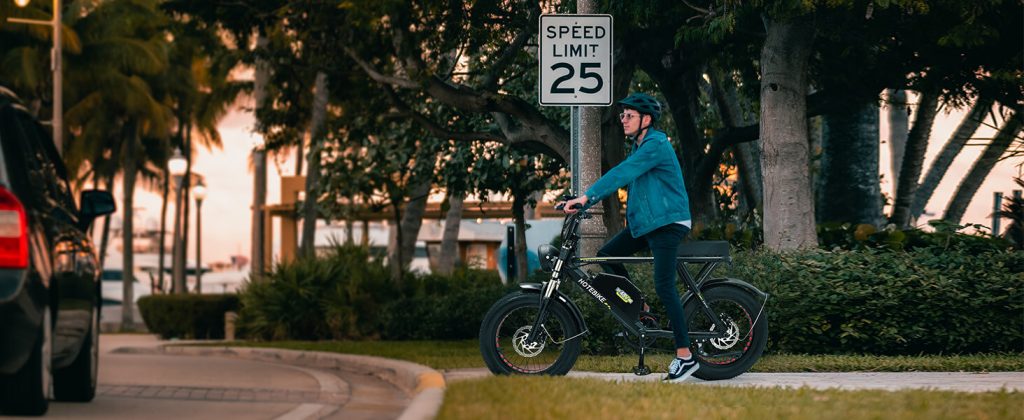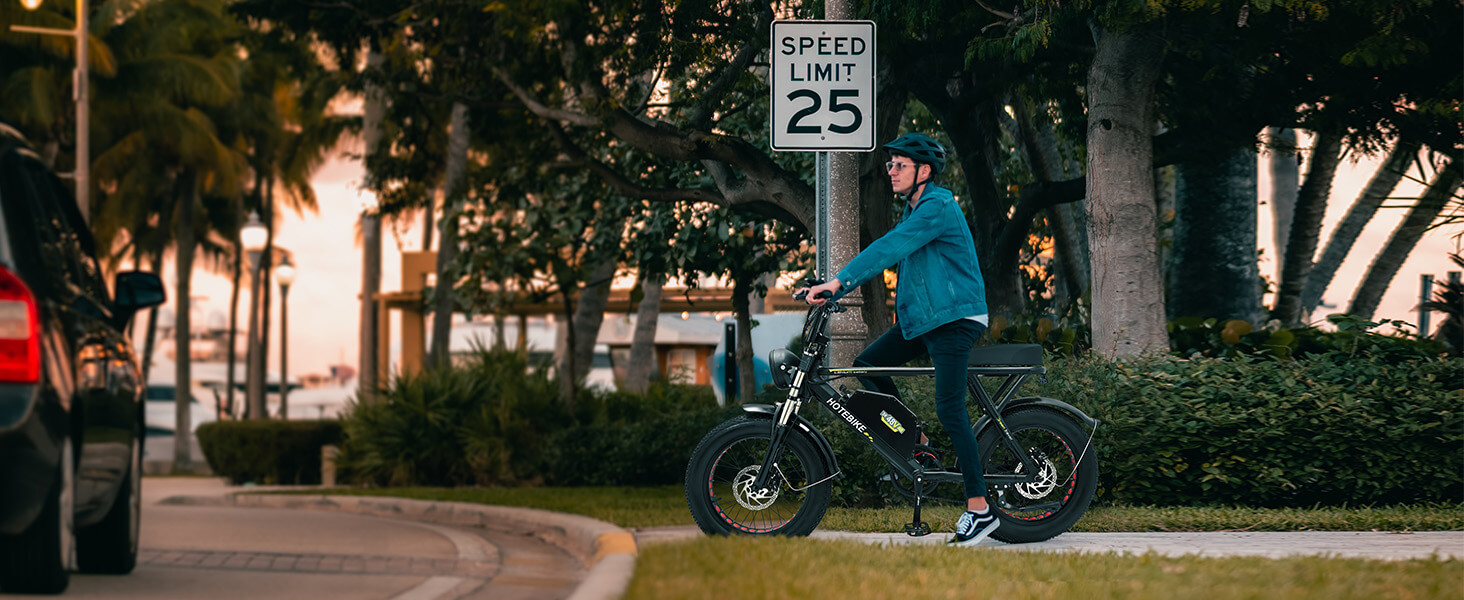 Working Modes
This electric bike offers three different modes of operation: Pure Electric Mode, Power Assisted Mode, and Normal Bike Mode, Walk Mode.
Switching between the modes is simple and can be done with the push of button on the handlebars. This allows riders to choose the mode that best suits their needs and preferences, making the electric bike a versatile and adaptable choice for a variety of riding situations.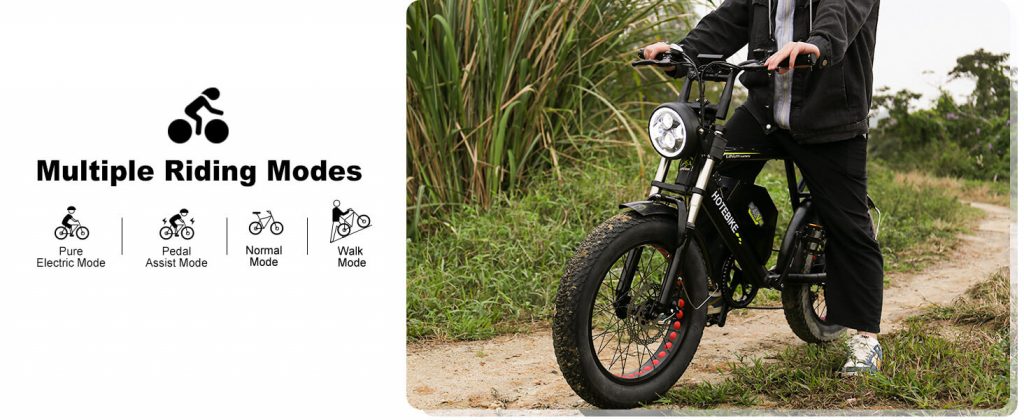 1000W Powerful Motor
EBIKE is equipped with 48V 1000W high speed brushless motor, which can easily assist you to travel at 30MPH.
Enough for your daily riding on various terrains, ensuring excellent off-road riding experience, keeping you healthy, relaxed and exercising.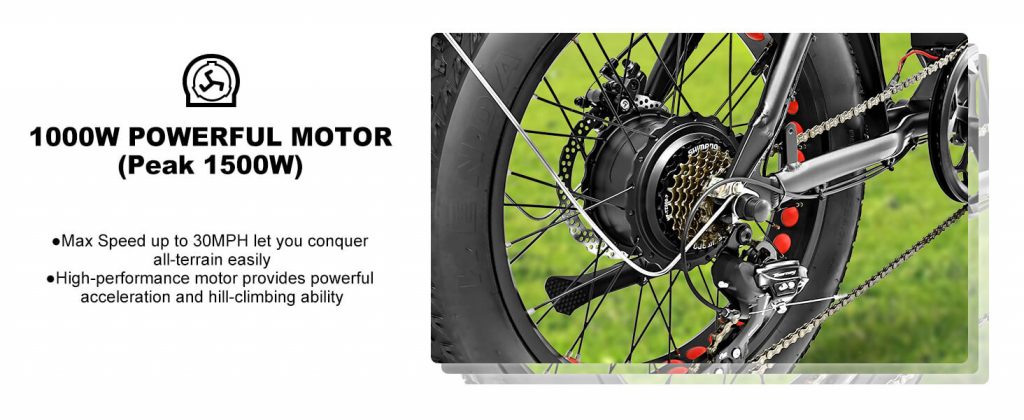 Take You Further
With a capacity of 24AH, it provides ample energy for extended rides without worrying about running out of power.
Designed in a triangular shape, this battery seamlessly fits within the frame of the electric bicycle. This unique design optimizes the usage of internal space, ensuring a secure and stable placement. Furthermore, it enhances the bike's overall balance, improving maneuverability and stability during rides.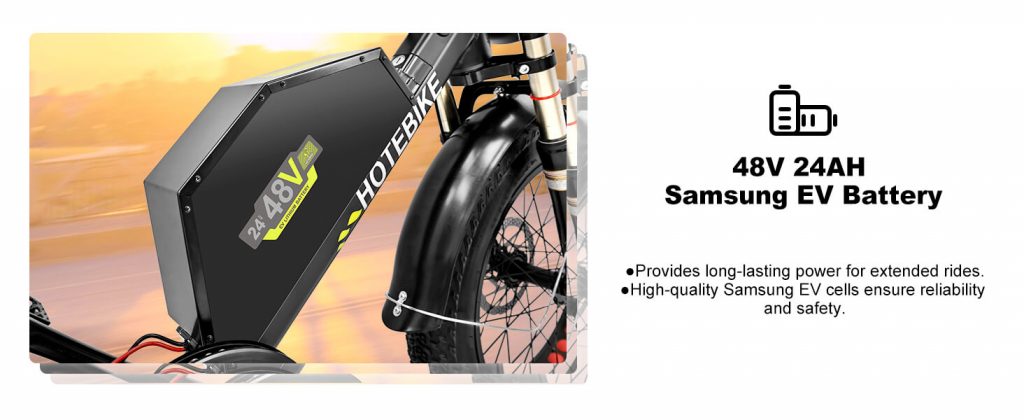 Comfortable Seat

Multi-functional LCD Display
The fat tire electric bike for adult is equipped with an intuitive LCD display that provides essential ride information at a glance.
Easy to operate LCD smart display. The electric bike for adults has an intuitive LCD display, showing the speed, battery charge, pedal assist level, travel distance, and so on, you can enjoy a relaxing ebike trip.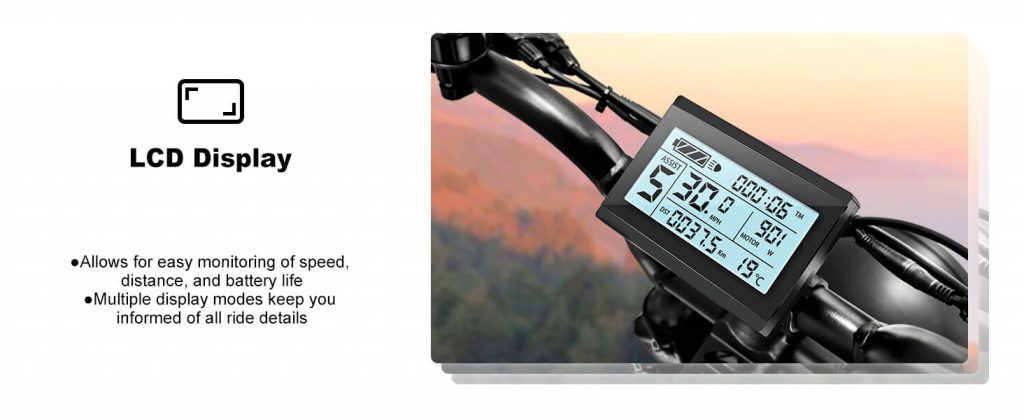 Front Suspension Fork
This e-bike has high strength lockable front suspension.You can better control direction during riding, hydraulic dual disc brakes to provide excellent braking power in all road conditions, ergonomic paddle grips for maximum comfort, sturdy base and 6061 aluminum frame support up to 330 lbs.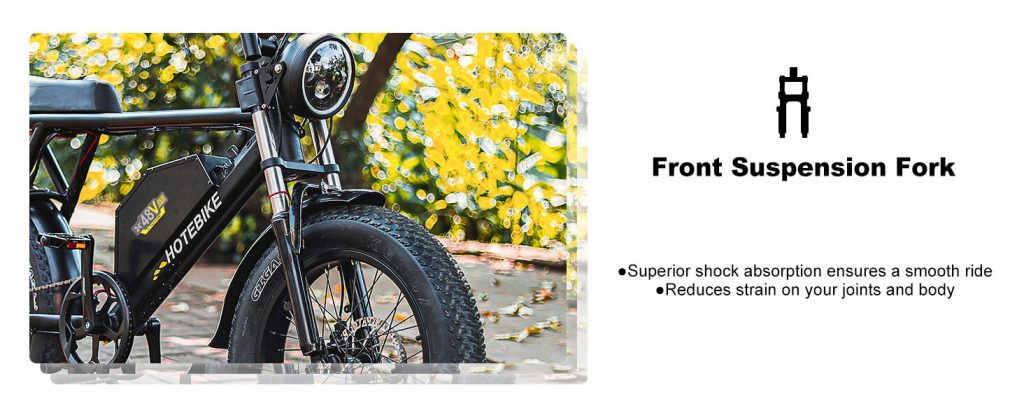 Shimano 7 Speed Gears
Shimano 7-Speed Gear drivetrain is more accurate and responsive, creating more probability of riding in different road experiences.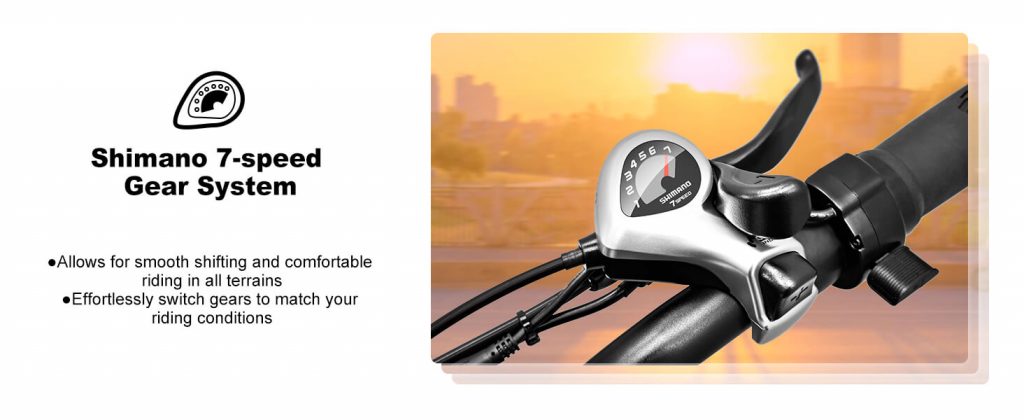 Kenda Fat Tires
The 20″ * 4.0 Kenda tires provide excellent traction on various terrains, making it suitable for off-road adventures and urban commutes.

Front Headlight
Our front bike light is equipped with a powerful LED light, providing a wide and bright beam that illuminates the road ahead.

Rear Tail Light
For enhanced safety, our rear tail light is designed to emit a vibrant and attention-grabbing red light.This assists drivers and other riders in maintaining a safe distance and helps to prevent accidents.

Disc Brakes

Dimension