During the Christmas sale, HOTEBIKE provided consumers with coupons ranging from 60 to 150 USD. Not only that, if you take the initiative to leave a message for consultation, you may also get additional coupon codes! In other words, during the Christmas promotion period, you can get two coupon codes, which means you can get double discounts! There are not many opportunities, don't miss it! Another big surprise is that some electric bicycles are in stock and can be delivered quickly! Come and buy a value-for-money HOTEBIKE Christmas gift for your family and friends~
Enter the HOTEBIKE official website to leave a message. Please leave a message: the style and power of the electric bicycle you like. The customer service staff will reply you within 24 hours. Looking forward to your message!
Christmas Promotions Zone: www.hotebike.com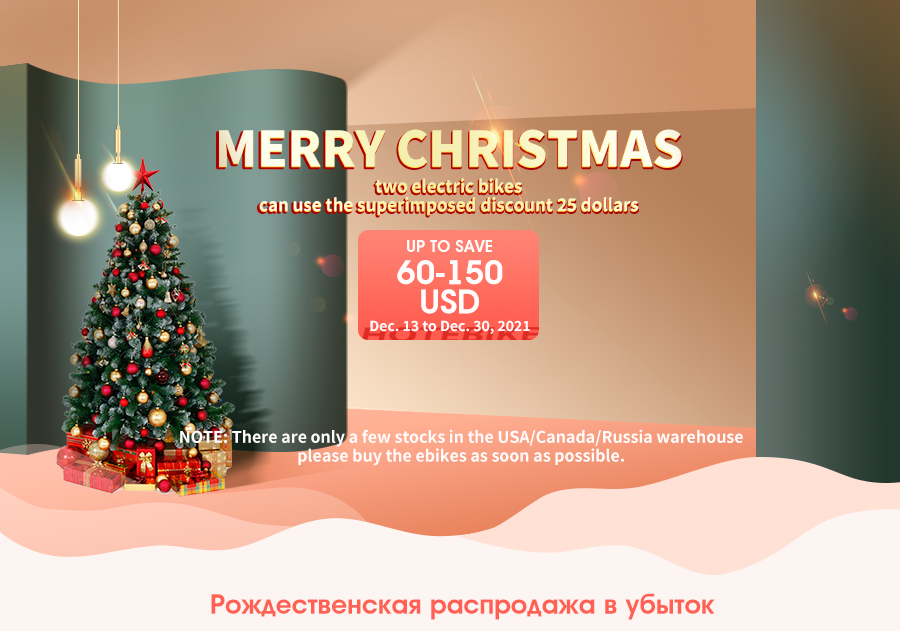 Model: A6AH26 (HOTEBIKE's most popular eBike in 2021)
The coupon is worth 90USD!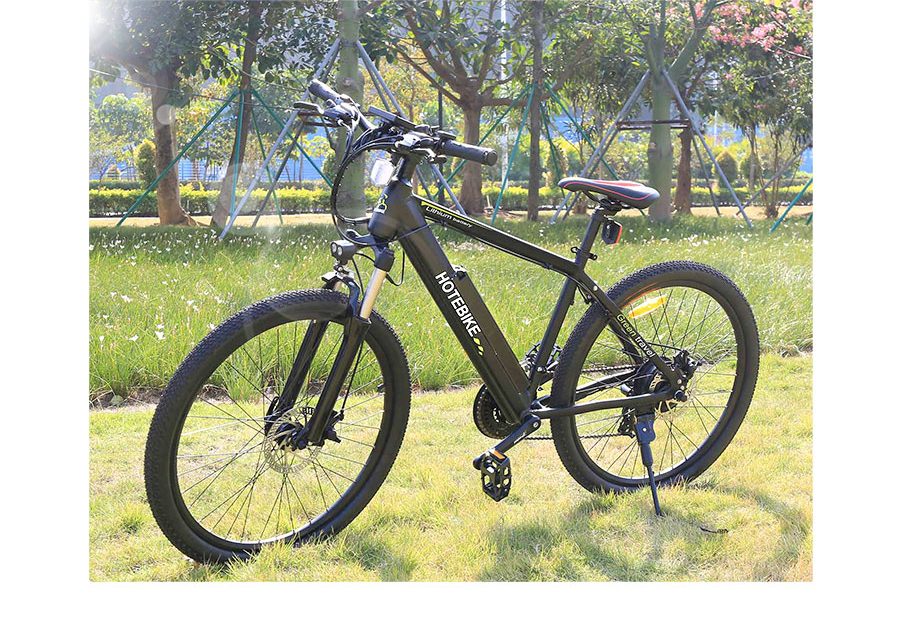 Key Features:
Motor: 48V 750W rear hub motor
battery: 48V 13AH LG hidden lithium battery
tire: Kenda 26″*1.95 tire
disc brake: front and rear Tektro 160 disc brake
display: Multi function LCD3 display
Max Speed: 25 MPH (40 KM/H)
Gear: Shimano 21 speed with derailleur
controller: 48V 750W intelligent brushless controller
front fork: suspension aluminium alloy front fork
Size: 26″*1.95
Model: A6AH20F  (Fat tire eBike)
The coupon is worth 90USD!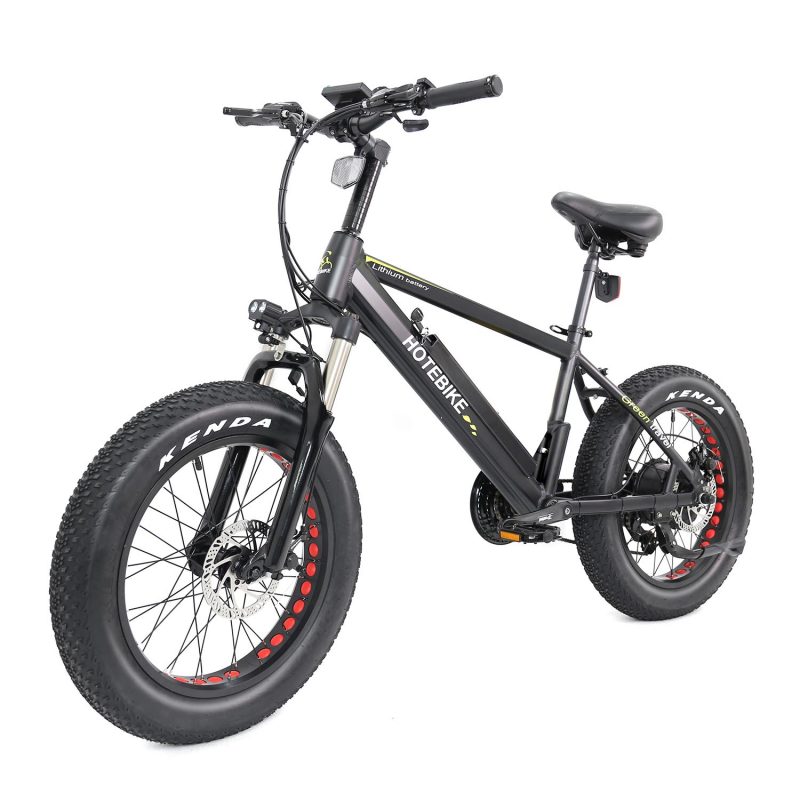 Key Features:
Battery: Lithium Battery 48V 13Ah LG cells
Motor: 48V 750W Motor
Throttle: Thumb Throttle
Display: LCD Screen Control
Frame: Aluminium Alloy
Tyres:  Kenda 20*4.0 inch
Gears: SHIMANO 21 Gears
Brakes: Front & Rear Tektro 160 disc brake
Suspension: Front Fork Suspension
Max speed: 40km/h (25 MPH)
Range per charge(PAS mode): 60-100km (35-60 miles)
Charging time: 5-7h
Model: A5(26)  (white city bike—super nice appearance)
The coupon is worth 60 USD!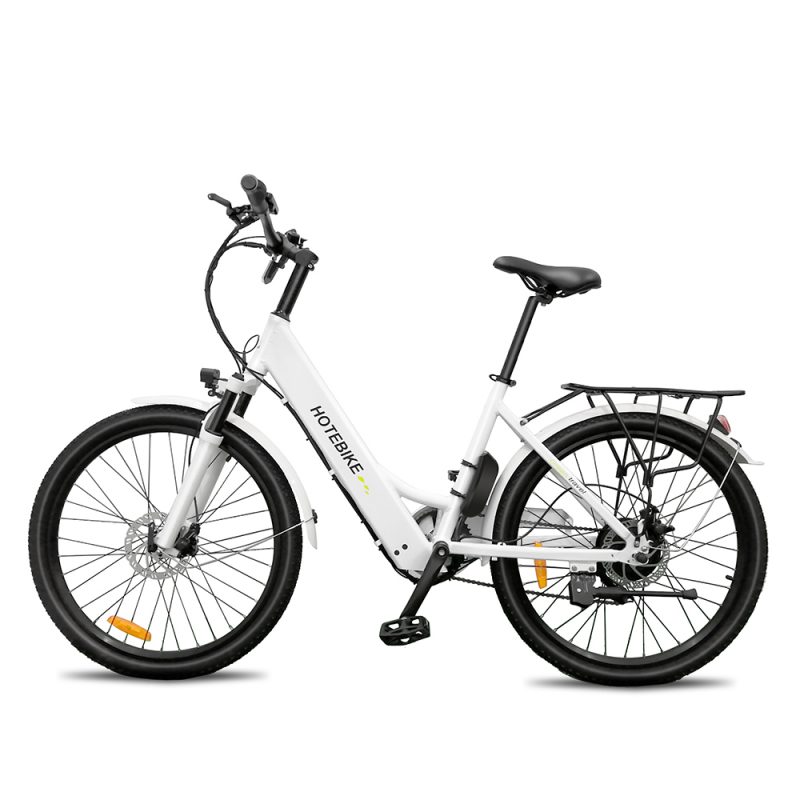 Key Features:
Tire: Kenda 26″*1.95 tire
Disc Brake: Tektro front and rear 160 disc brake
Battery: 36V 10AH hidden lithium battery
Display: Multi function LCD display
Motor: 36V 350W Brushless Gears Motor
Controller: 36V 350W intelligent brushless controller
Front Fork: suspension aluminium alloy front fork
To learn more, please click on the HOTEBIKE official website:www.hotebike.com
U.S. buying channel:https://www.hotebike.com/electric-bike-usa/
Canada buying channel:https://www.hotebike.com/electric-bike-canada/
European buying channel:https://www.hotebike.com/europe-buy-directly/
Russia buying channel:https://www.hotebike.com/russia-buy-directly/