hotebike powerful 750w fat tire electric bike
Views:40790 Classification:blog
Hotebike A6AH26F is a full-featured electric fat tire bicycle and a powerful fat tire electric mountain bike. It has a large-capacity ultra-light hidden battery and a 5-speed motor. Whether it is design or performance, the hotebike design team has integrated all the characteristics that can be given to electric bicycles.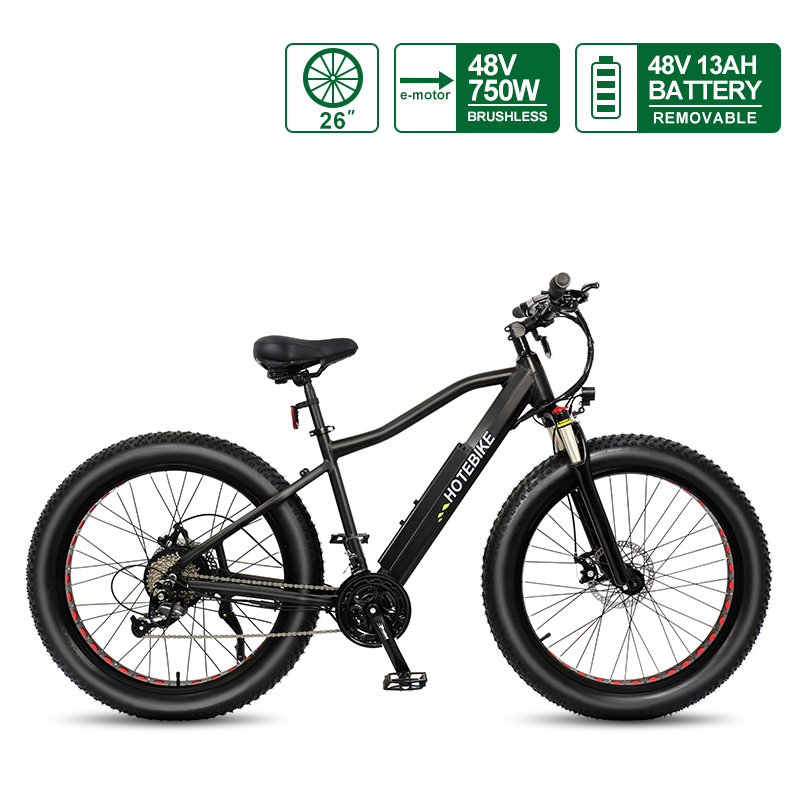 Outstanding performance
The biggest selling point of A6AH26F fat tire electric bicycle is battery and motor technology and fat tire. The ultra-high power energy of 48V750W allows you to freely switch to off-road state and enjoy the unique whistling sound. It takes the least time to reach the destination. Fat tires allow you to walk easily in the snow.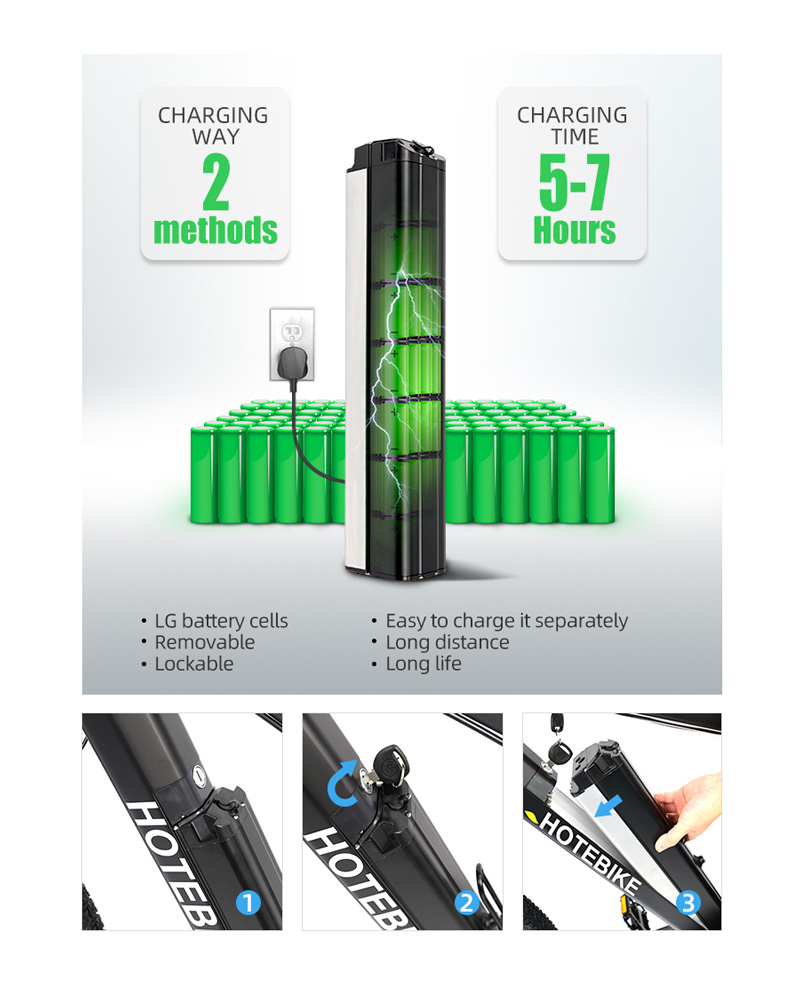 For electric bicycles, the battery is the most important. Different from 36-volt electric bicycles on the market, A6AH26F uses large-scale brand lithium battery cells, coupled with independent production team production, hidden design, making the overall appearance more comfortable and ensuring battery capacity and stability and battery safety performance.
How far can I ride on a single charge?
Many factors affect the riding distance of an electric bicycle, such as the rider's weight, terrain, and so on. The following is a test of the distance that the A6AH26F electric bicycle can ride on a single charge.
130-pound teenager: 25 miles without pedaling on mountains, 35 miles without pedaling on flat ground, and 45+ miles on flat ground
180-pound man: 20 miles without trampling on mountains, 30 miles without trampling on flat ground, and 35+ miles on flat ground
230-pound uncle: 17 miles without trampling on mountain, 25 miles without trampling on flat ground, and 30+ miles on flat ground
Brushless gear rotating hub motor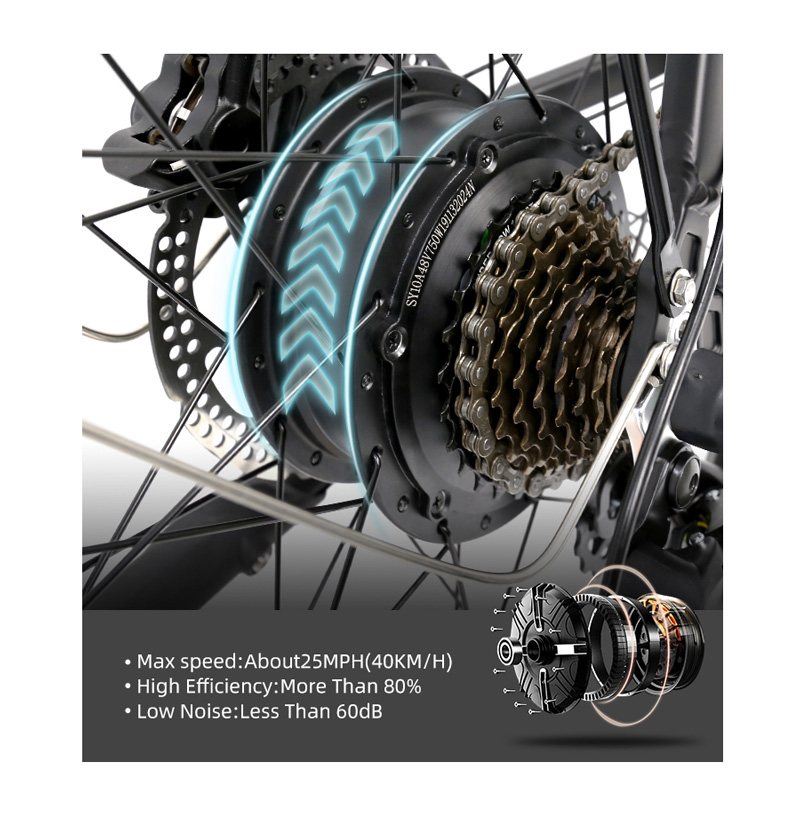 In-wheel motors, also called in-wheel motors, are motors integrated with the wheel shaft. These motors require no maintenance and require care when installing. In-wheel motors are the most common driving method for electric bicycles, and they have many advantages. After a lot of experiments and research, the development team decided to use a motor controller and a 48-volt battery.
Shimano21 variable speed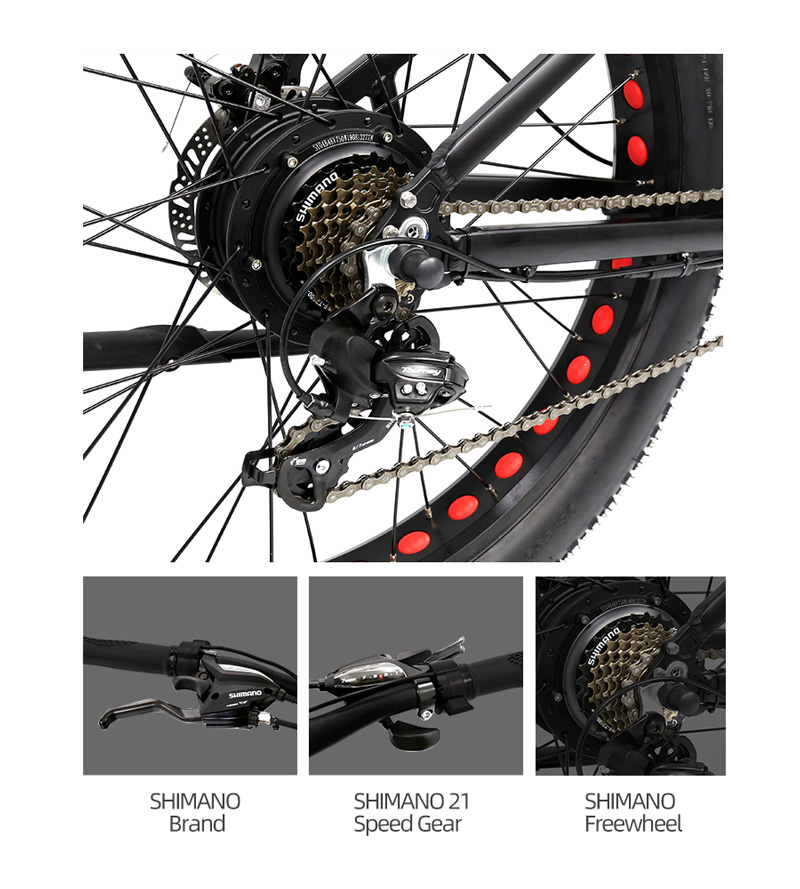 This is ultimately a bicycle, so you can also choose to pedal. With Shimano 21 transmission system, Shimano drive chain allows you to ride on any terrain. You want to exercise the leg muscle lines, step on it! If you are tired, change to the maximum speed of the 750-watt kinetic energy system and fly!
comfortable sensation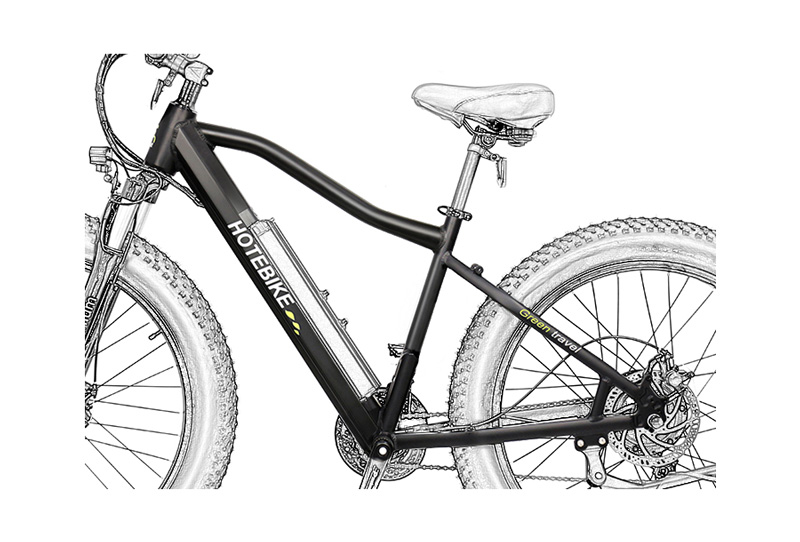 Aluminum frame: The lightweight 6061 aluminum alloy frame will last for you and give you the agility of "moving like a rabbit". The geometrical design also allows the rider to get a more comfortable experience when moving forward.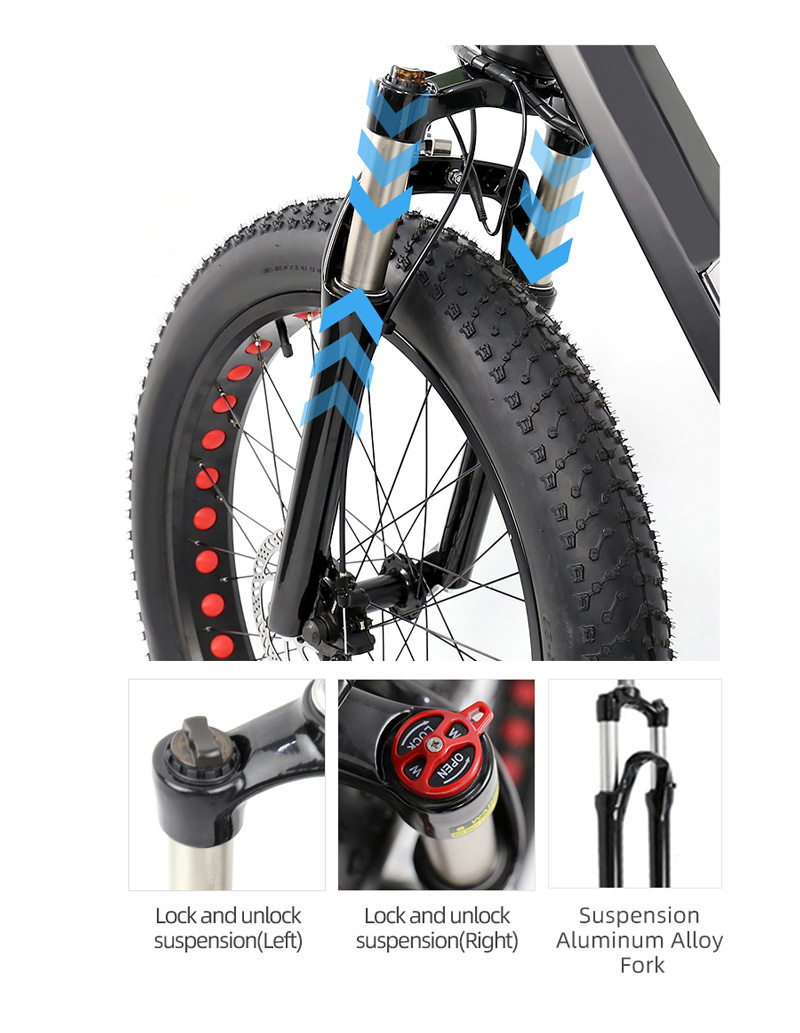 Full suspension aluminum alloy front fork: If the 4-inch Kenda fat tires can't satisfy you, then the full suspension aluminum alloy front fork can definitely let you get the pleasure of walking on the rugged terrain.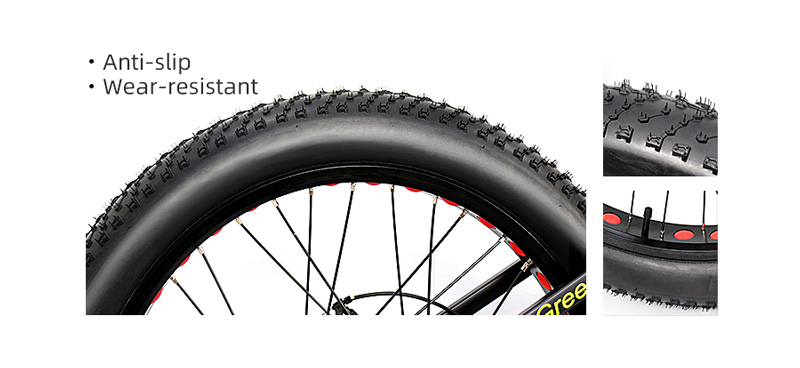 Fat tires: Fat tires allow the bicycle to pass through snow, sand, mud and other terrains you may encounter. Fat tires started a cycling journey different from traditional electric bikes. Huge tires provide greater traction, especially when you turn at high speeds, gripping the ground tighter and safer.
safety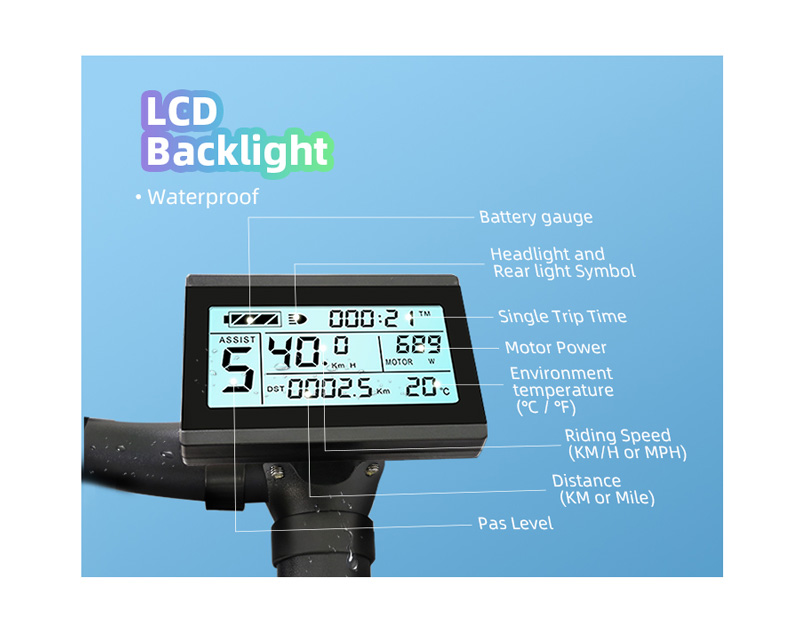 LCD display: You can get real-time data from the LCD display: speedometer, wattmeter, battery level, , distance traveled.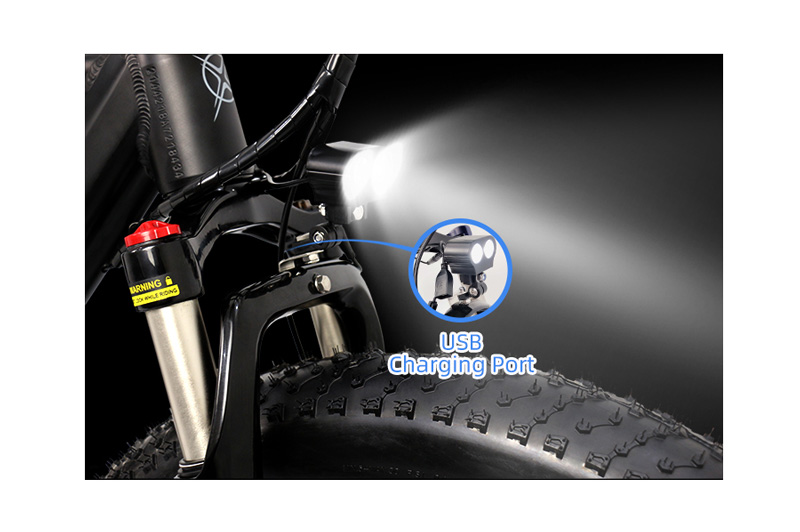 Front LED front light: Long press the button to turn on the front light to illuminate the road ahead with super bright light.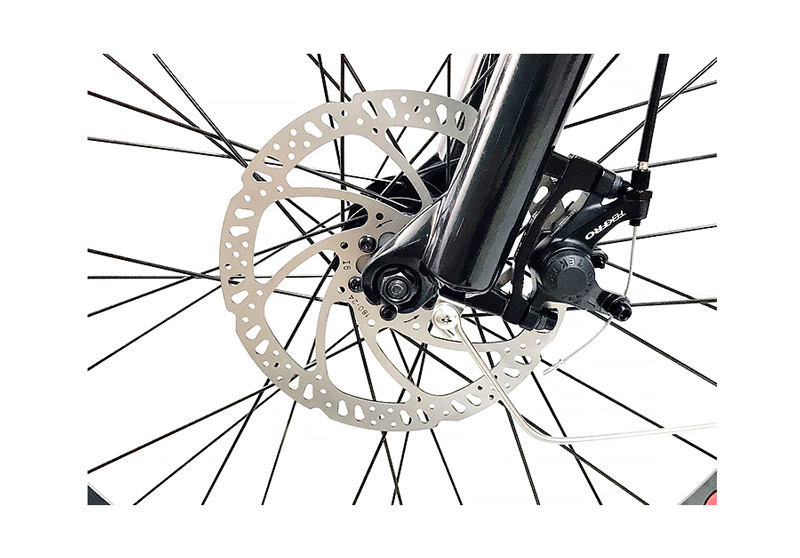 Powerful bicycles use powerful brakes: Tektro 180 front and rear brakes, allowing you to quickly stop in the snow, mud or sand. Engine safety cut-off switch: Both brakes will cut off the power of the motor, so no matter how emergency it is, you can ensure your safety.
All in all, this is a powerful electric bicycle with fat tires, which is also favored by many people. Hotebike sells electric bicycles with fat tires. If you want to learn more about other electric bicycles, please visit the official website of hotebike.