jetson electric bike and HOTEBIKE ebike review
Views:50917 Classification:blog
jetson electric bike and HOTEBIKE ebike review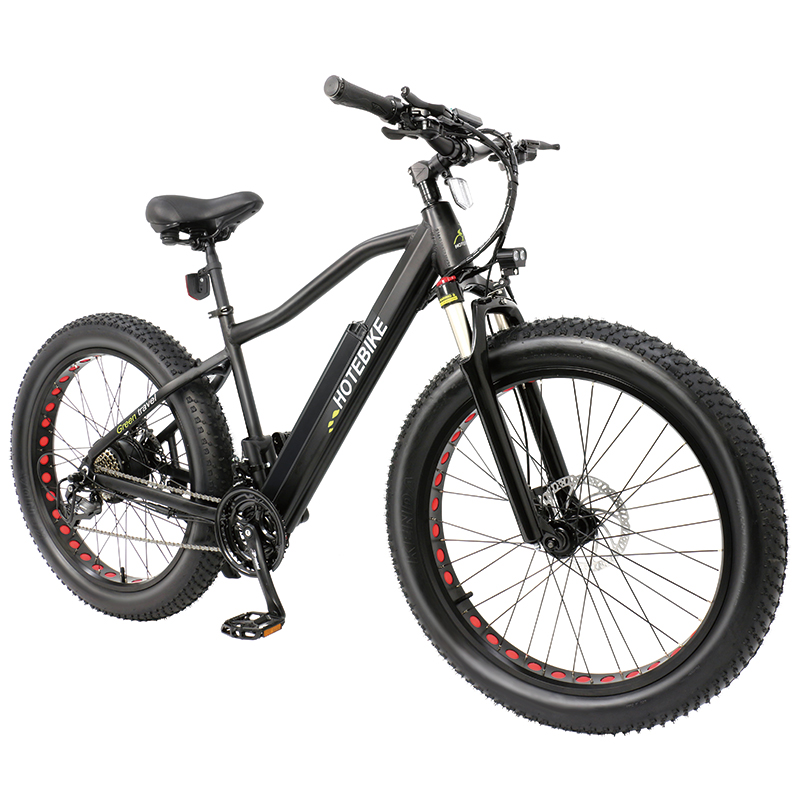 jetson electric bike: PRICE: $1,800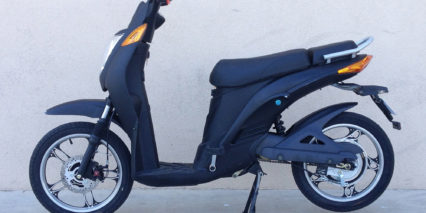 The Jetson Bike is really a low speed electric scooter, much like a Vespa or Moped in terms of design but legally qualified as a bicycle due to the motor size (below 750 watts) and inclusion of pedals. Technically, this thing can be ridden anywhere a traditional pedal-power bicycle is permitted and Jetson has printed the US Federal law right onto the top of the battery for reference if you get hassled by police or other officials. Very proactive… but they likely included this language because the bike does look untraditional and may garner unwanted attention. The real benefits to the design in my opinion, are the great lights which include turn signals, the electronic horn, full suspension and tougher tires as well as the locking seat-box. This is more like a vehicle than a bike and frankly, it's not something I'd want to pedal home because there's only one gear and the cranks are mounted pretty wide. In short, it's an affordable, efficient and comfortable bike with room for a second passenger if need be. Jetson has been around for several years and is a Canadian company that ships to America and offers a solid 15 day return and one year comprehensive warranty. Not bad.
The motor powering the Jetson Bike is a 500 watt gearless, direct drive hub motor built right into the rear wheel. The motor itself is actually encased in an aluminum alloy cast hub with integrated spokes. It's super tough and much heavier than a traditional spoked wheel but also much sturdier. You won't have to true this thing and it's a good locking point (as well as through the rear suspension gap).
The wheel size is 18″ which is much smaller than traditional 26″ and 28″ bicycle wheels and this has two consequences. The first is that you lose attack angle and the wheels fall into cracks and potholes vs. spanning them. This is mitigated by the suspension mentioned earlier as well as wider 2.5″ tires. The second consequence is that finding replacement tires and tubes can be more difficult… and then actually installing them can be really difficult. You might need some special tools or the help of a local bike or scooter shop. Thankfully, the tires are extra thick and there's only one speed so tuneups won't need to happen often if ever as long as you keep the bike clean. One big advantage to the little wheel size is that the motor benefits from increased leverage as it turns the wheel. This means that your 500 watt motor feels more like a 1,000 watt motor. During my test ride, it felt pretty peppy and I could see how porting a second rider around could work (as long as you're both average sized) but this isn't going to be a hill climbing champion and varied terrain will eat away at the projected 40 mile range. The motor itself should be durable and long lasting because there are no gears inside, just large magnets that repel when electricity is run to a stater. If the motor becomes too hot it will automatically shut down and then re-activate once things cool off.
Powering the motor, display, lights and horn is an impressive 48 volt 17 amp hour Lithium-ion battery pack! This thing is just about double the size of a traditional electric "bicycle" which makes sense because the Jetson Bike weighs ~125 lbs and that's significantly more than an average ~50 lb ebike. The battery is stored under the seat and is locked into place when riding. It keeps weight low on the frame and looks nice (because it's completely concealed). The battery bay is actually very clean and organized with the controller, safety switch and battery each in their respective place. You can pull the battery out completely and it even has a handle to make that process easier. I didn't get the chance to weigh it but I'd guess ~20 lbs based on the weight of other batteries I've tested. Just as the motor is protected from the elements by the hub casing, so too is the battery by the plastic frame and rear suspension arm. Rattling and bumps can damage batteries over time so it really feels like the placement and design of this one is done right. The kickstand is also nicely done with a double leg support and "helper lever" to make it easier to balance (since the bike weighs so much).
The control console on the Jetson ebike is one of the nicer ones I've seen on e-scooters and has a digital readout for speed, odometer, precise battery capacity and even a timer. It's backlit to make night riding a little bit easier and is fairly large to improve readability. Once the key is in the ignition and turned to the on position, the display lights up in blue and then all you have to do is twist the throttle to get going. Some of the other electric scooters I've tested have offered pedal assist or multiple modes of drive but this simplistic variable speed throttle works pretty well and is very intuitive. Handle bar real estate is dedicated to the mirrors, lights, turn signals and horn buttons and I'm really glad it has these features because I could imagine using this to commute by bike path, then city bike lane and then neighborhood street where cars might be present. It feel safer having all of these extras and way more streamlined than adding them yourself, they don't feel like they could be stolen and they won't run out of batteries because they run off the main pack.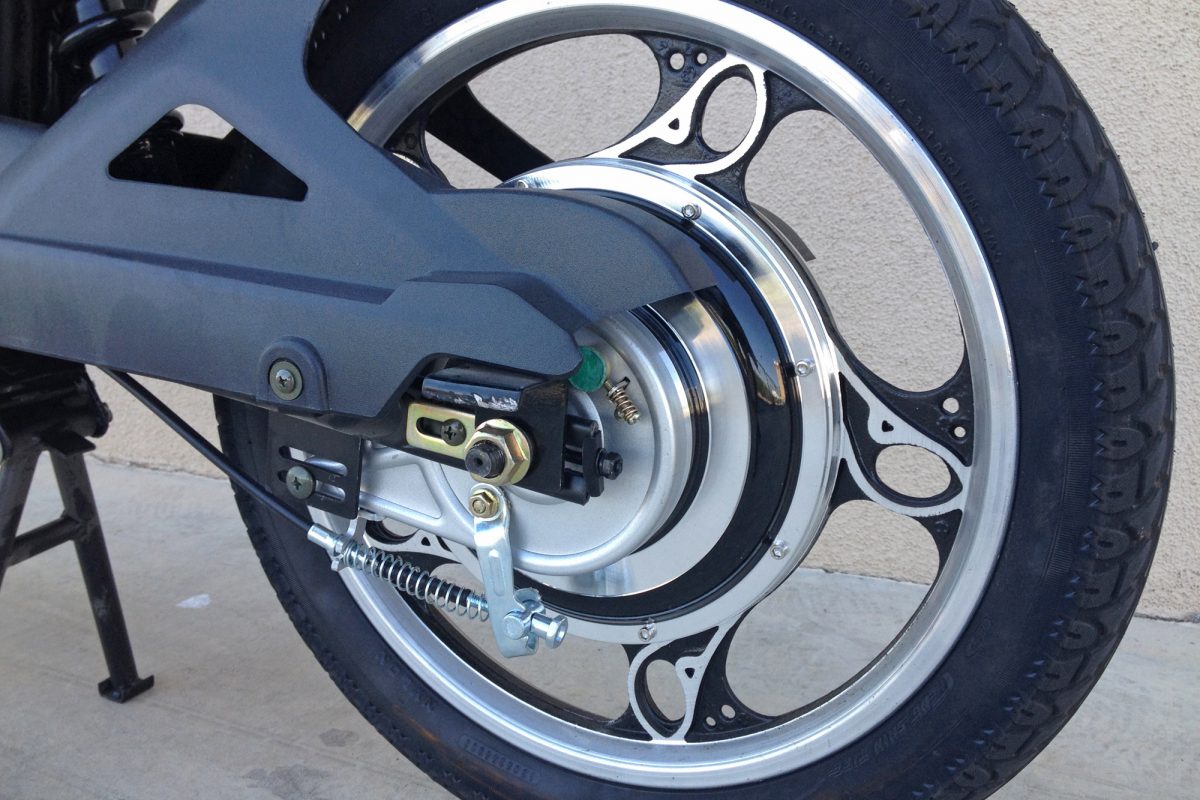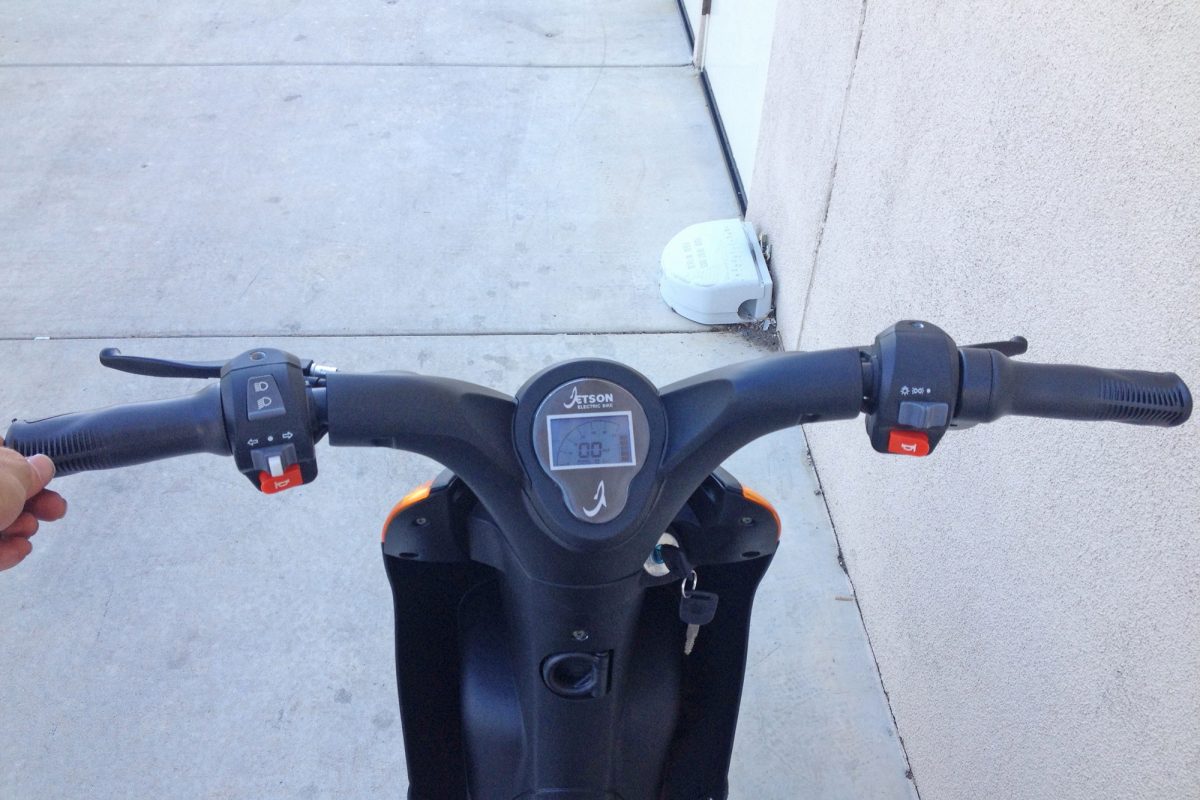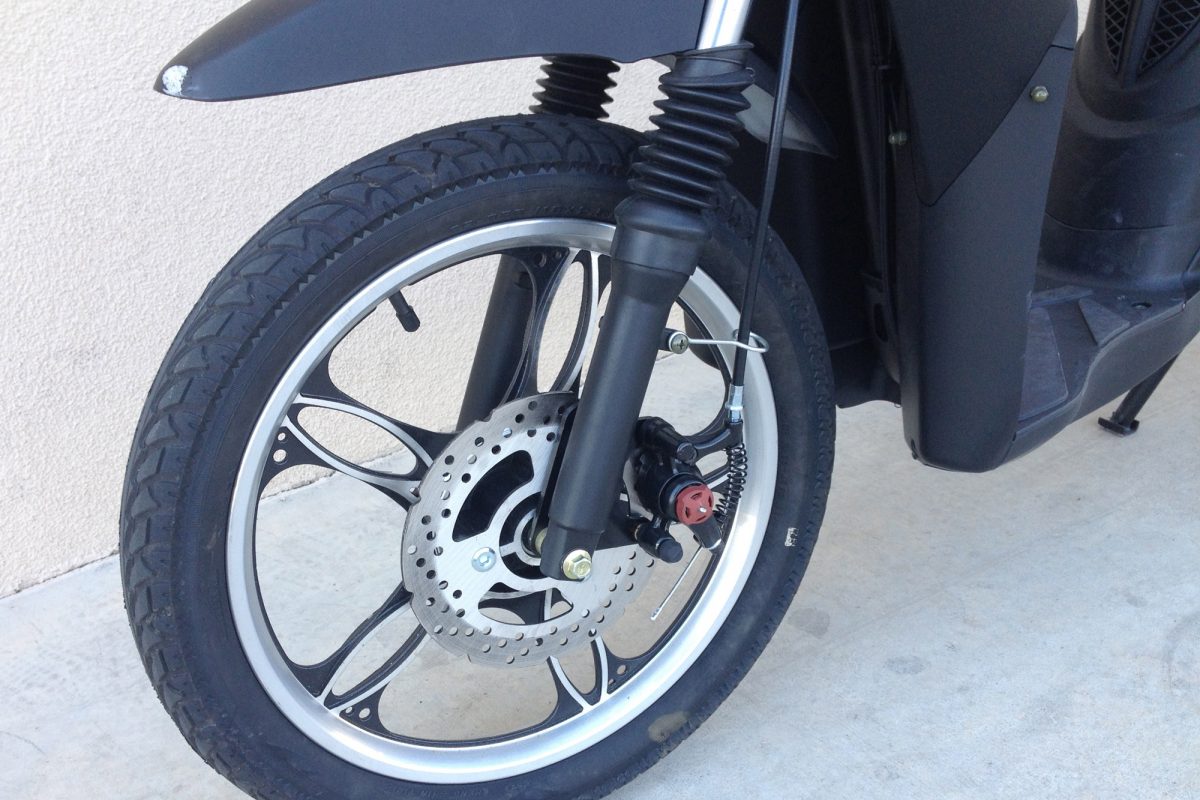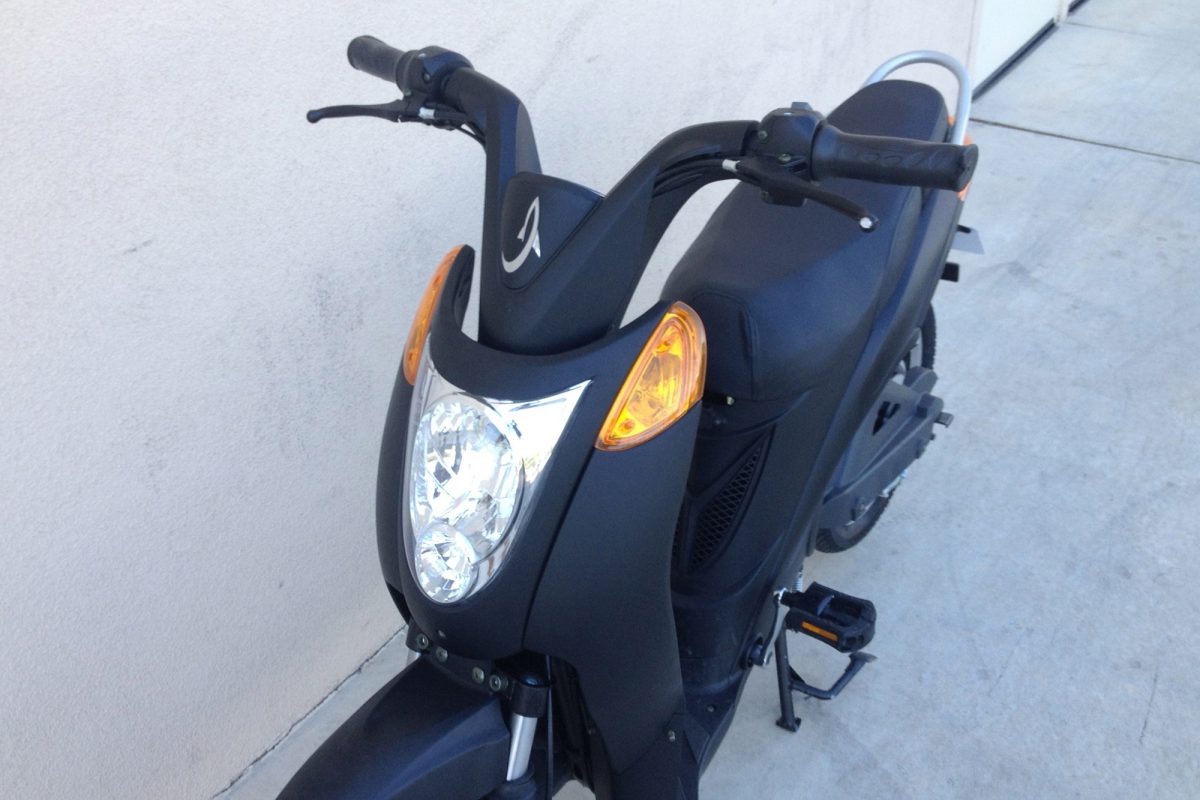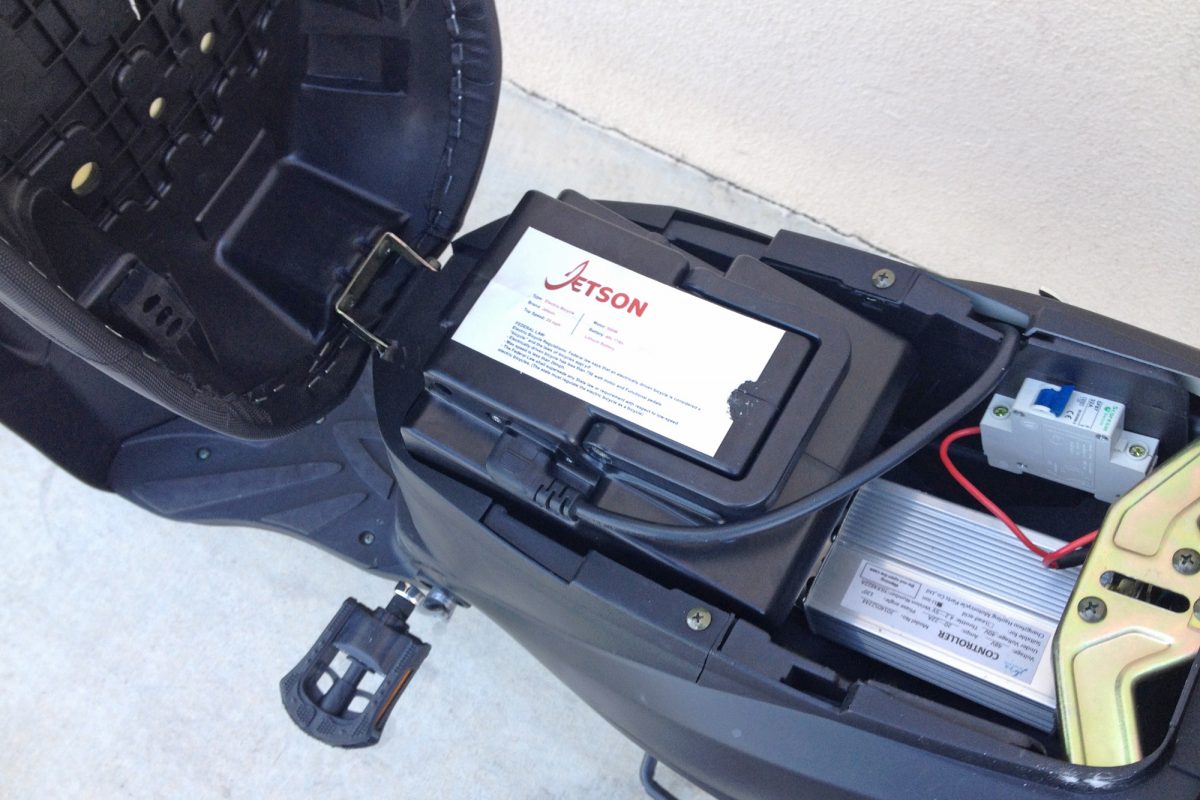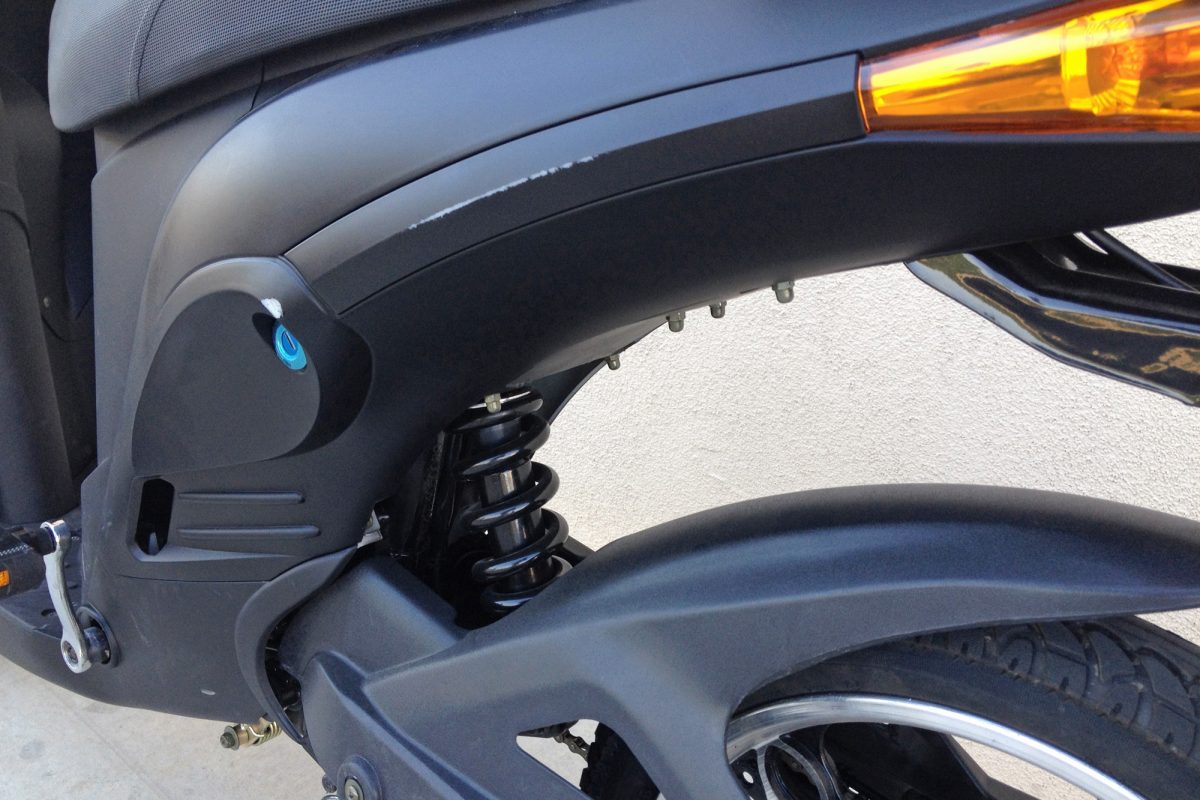 While the Jetson Electric Bike can be overclocked to reach ~25 miles per hour, I'm told that requires a license and registration check by the dealer. It does come with a nice license plate mounting bracket on the rear which I believe lights up. All of the hardware, including the oversized extra-thick disc rotor on the front and drum brake on the rear, feel sturdy and ready for the road. The Jetson website says you could bring a friend along but I didn't see an obvious place for them to put their feet, just a grab handle at the back. For someone who is interested in neighborhood electric vehicles, this thing offers a lot of flexibility and comes in 12 fun colors. Remember to wear your helmet and watch out for cars, the lights and horn can't protect you from distracted drivers or user error (in the case of younger riders who may not be trained drivers). Of all of the electric scooters I've tried, this one feels the most polished. It's eco friendly, feature rich and compared to some traditional electric bikes it's very affordable.
Pros:
US Federal Law is printed directly onto the battery so you can reference it in the event that a police officer questions you. It states "FEDERAL LAW: Electric Bicycle Regulations: Federal law says that an electrically driven bicycle is considered a "bicycle" and the laws of bicycles apply if: Electrically driven bicycle has less than 750 watt motor and functional pedals. Max speed is less than 20mph. The Federal Law shall supersede any State law or requirement with respect to low-speed electric bicycles. (The state must regulate the electric bicycle as a bicycle)"
Great aesthetic, the plastic body completely hides the battery and protects the rider from the elements with front and rear fenders and a wider front than a bicycle would have
Lots of safety features including a burly double-legged kickstand, front and rear lights with a bright mode for the headlight, turn signals and a horn (with switches on both bars for easy access)
Good security thanks to the locking seat storage bay and the keyed ignition, you can also flick an additional security switch near the controller in the locked seat area to avoid tampering
Heavy duty front and rear suspension and oversized scooter tires provide good comfort when riding over bumps and potholes, the padded seat is also comfortable and the ride is decidedly upright vs. forward aggressive
Intuitive variable speed twist-throttle works just like a traditional gas powered scooter, just twist more to go faster
Solid one year warranty from Jetson, they're located in Canada and have been around for several years, this is one of the higher quality e-scooters I've tested, optional 3 year warranty for $299
Optional "boot" cargo box adds even more storage capacity if you want to give up the passenger space at the rear of the seat
Even though the tires are wider than most traditional bicycles, they are still designed to be skinny enough to work in most bike racks
The kickstand has a built in prop bar to help lift the bike up into the stable position and this really helps given the weight of the bike
Battery pack is removable to reduce the overall weight of the bike by ~20 lbs and can be charged on or off the frame, store at neutral temperatures and keep from draining below 20% to extend life
Includes one of the nicer backlit display panels I've seen on an electric scooter with speed, odometer and precise battery level along with a timer… which I'm not sure what to do with?
Cons:
The plastic folding pedals don't feel very sturdy and frankly, pedaling this bike isn't fun at all given the single speed and 125 lb weight
The seat is long enough for a passenger and there's a handle at the rear for stability but I didn't see an obvious place for feet to go so it could get unstable and uncomfortable
This is definitely heavier than a traditional electric bicycle at 125 lbs (56.7 kg) and that means transporting it, repairing it or just getting home if the battery runs out much more difficult
No pedal assist ride modes here (which would incentives pedaling and increase range), just twist throttle
HOTEBIKE fat tire electric bike

ebike Frame:
Classic aluminum alloy mountain bike frame, own mold, independent development, patent design.
ebike Battery:
Lithium battery hide in frame is removable, making it easy to charge it separately from the bike. It is more fashionable and convenient.
Electronic bike control system:
Design and production by ourselves. Multi-function large screen LCD display shows lots of data like Distance, Mileage, Temperature, Voltage, etc. Comes with a 5V 1A USB mobile phone charging port on the LED headlight for a convenient phone charging on the ride.
Bicycle Mechanical part:
Front and rear mechanical 160 disc brakes provides more reliable all-weather stopping power, which keep you safe from any emergency. Shimano 21 speed gear increases hill-climbing power, further range variation, and greater terrain adatability. Suspension alumimun alloy front fork, make your riding more comfortable.
Motor: 48V 500W gears hum motor
Battery: 48V 13AH(LG)hidden battery
Max Speed: 35km/h
Max Range (PAS mode): 60km-80km per charge
Tyre: 26*4.0 inch fat tire
Max Load: 150kgs
Charging time: 5-7 hours
Gear: Shimano 21 speed
Brake: Tektro 160 disc brake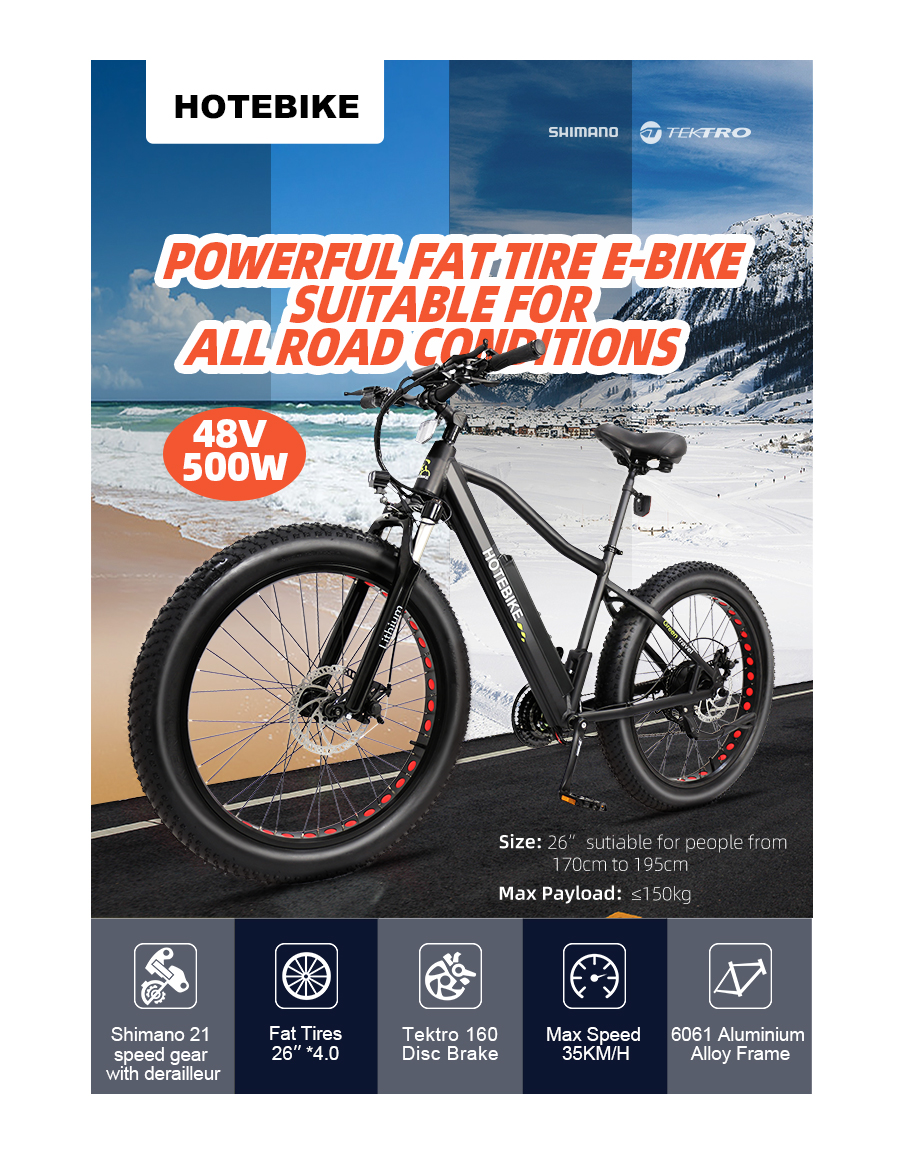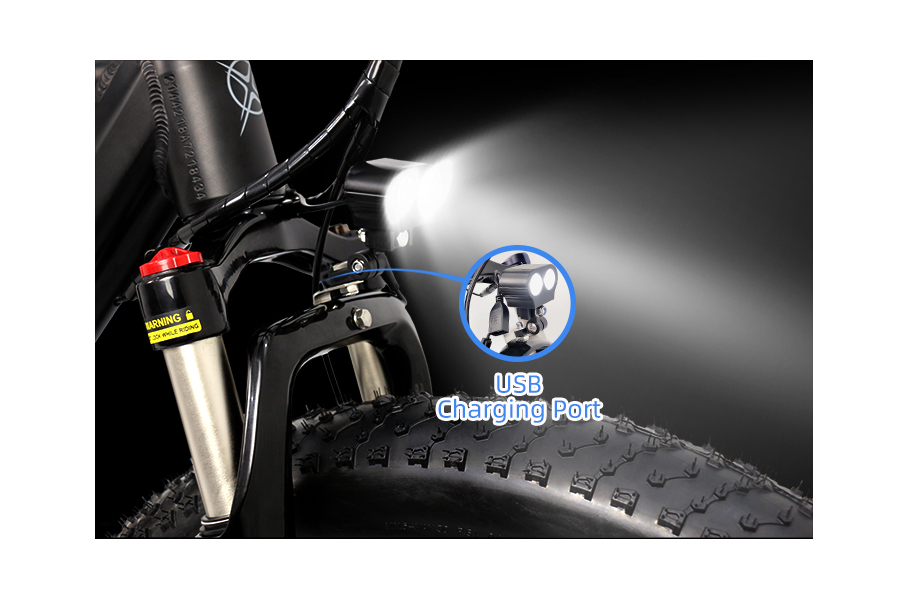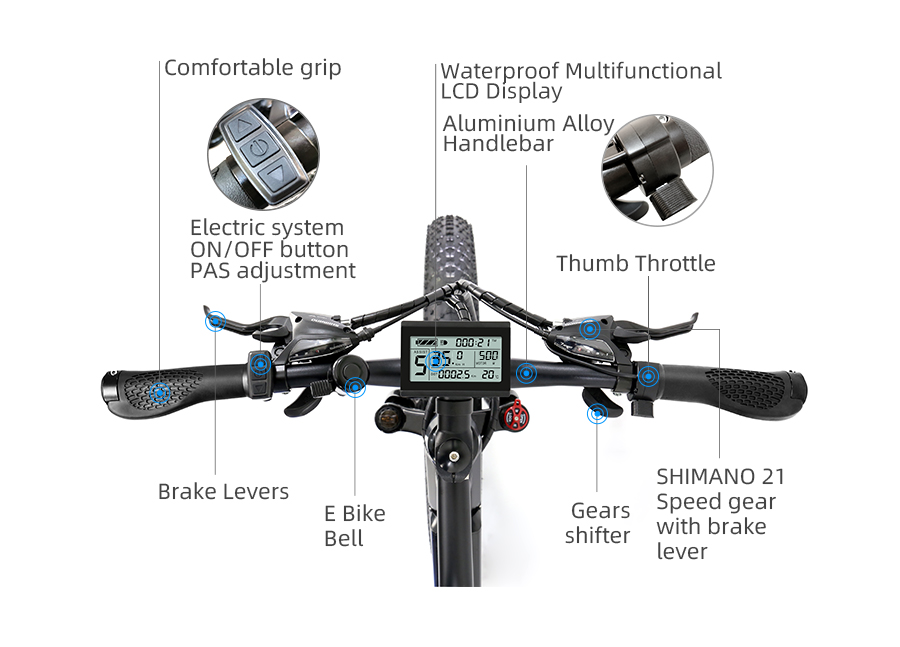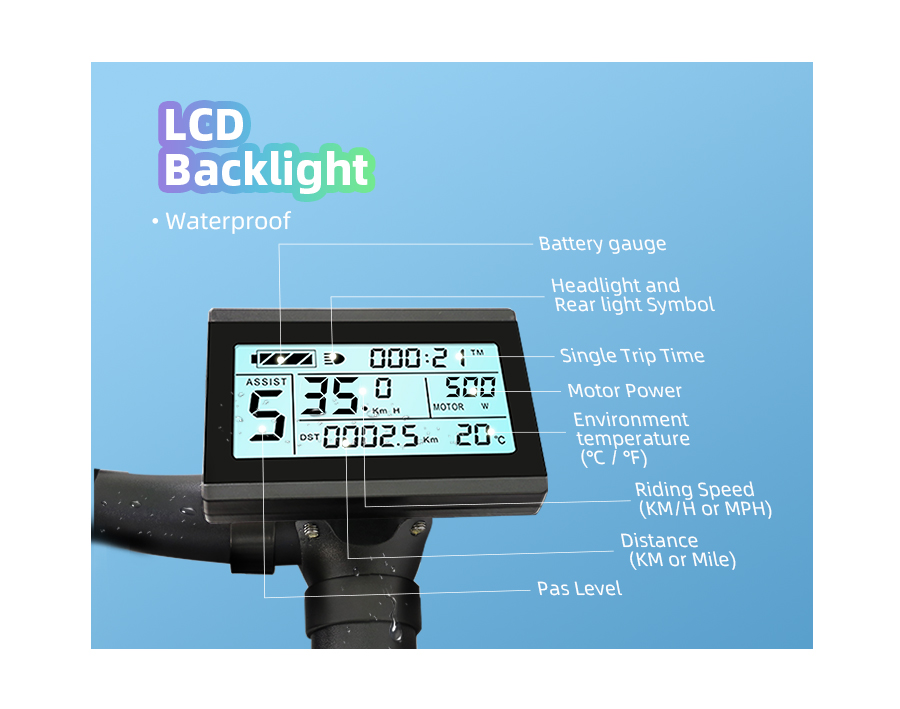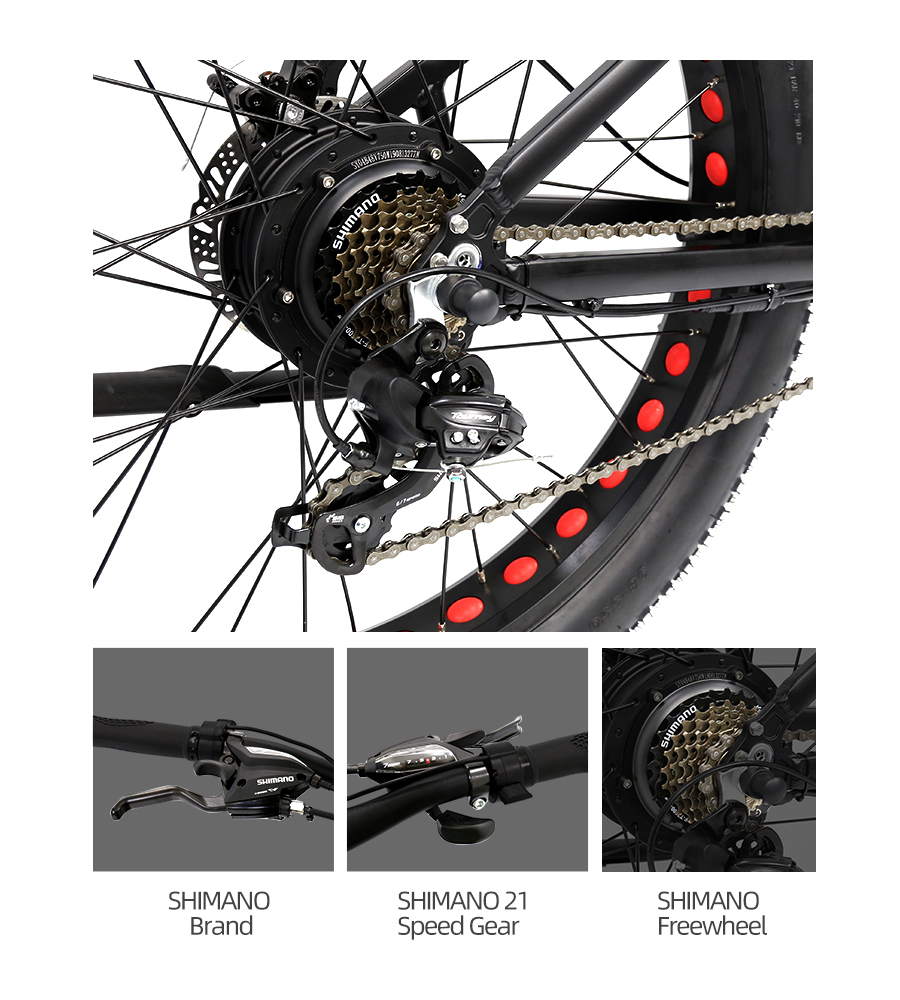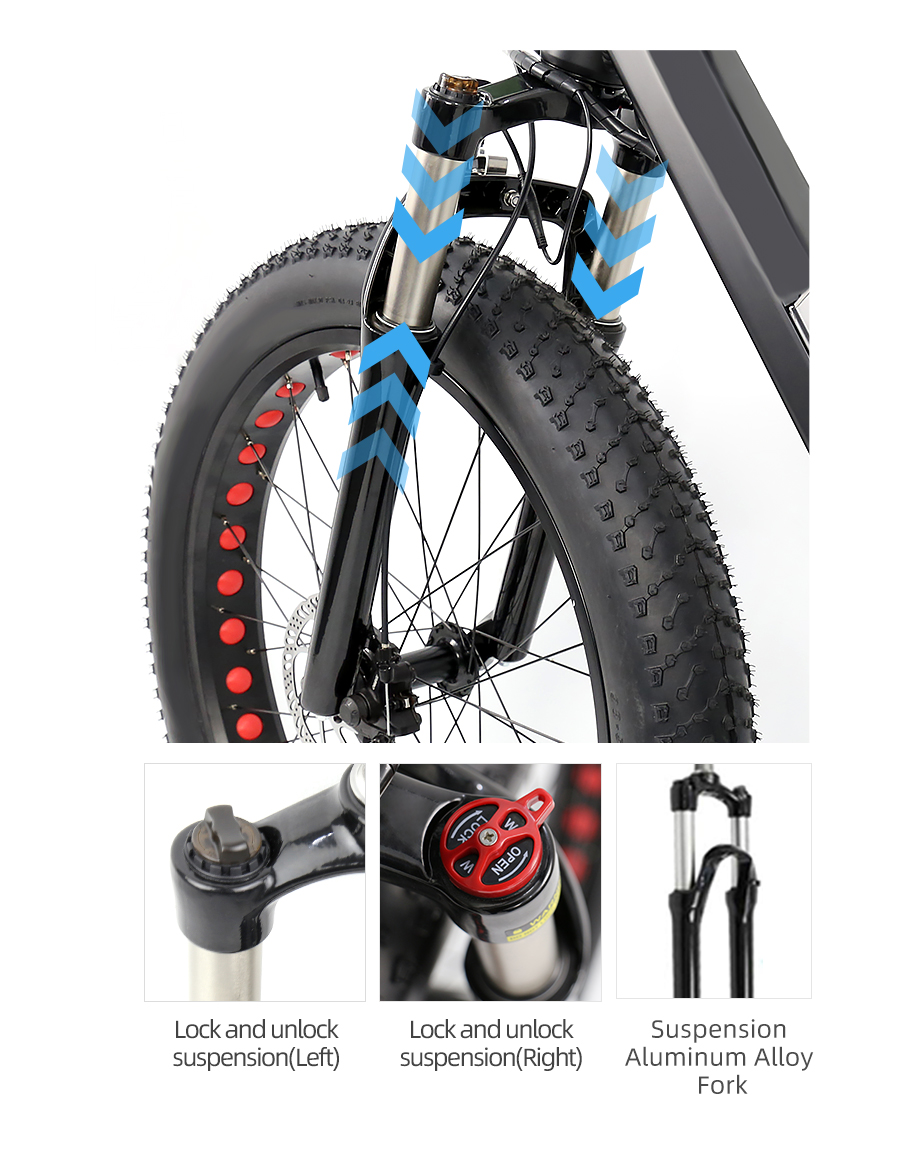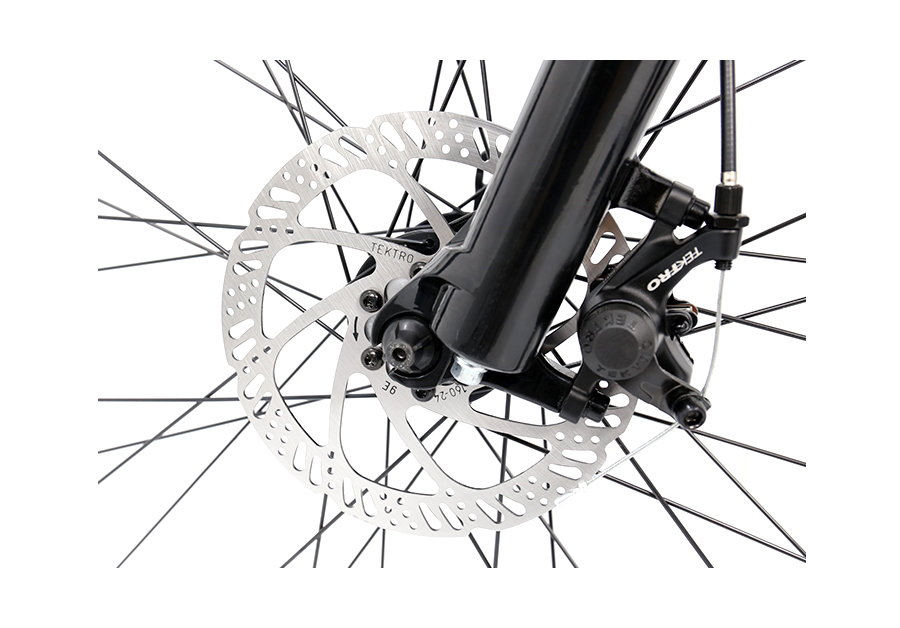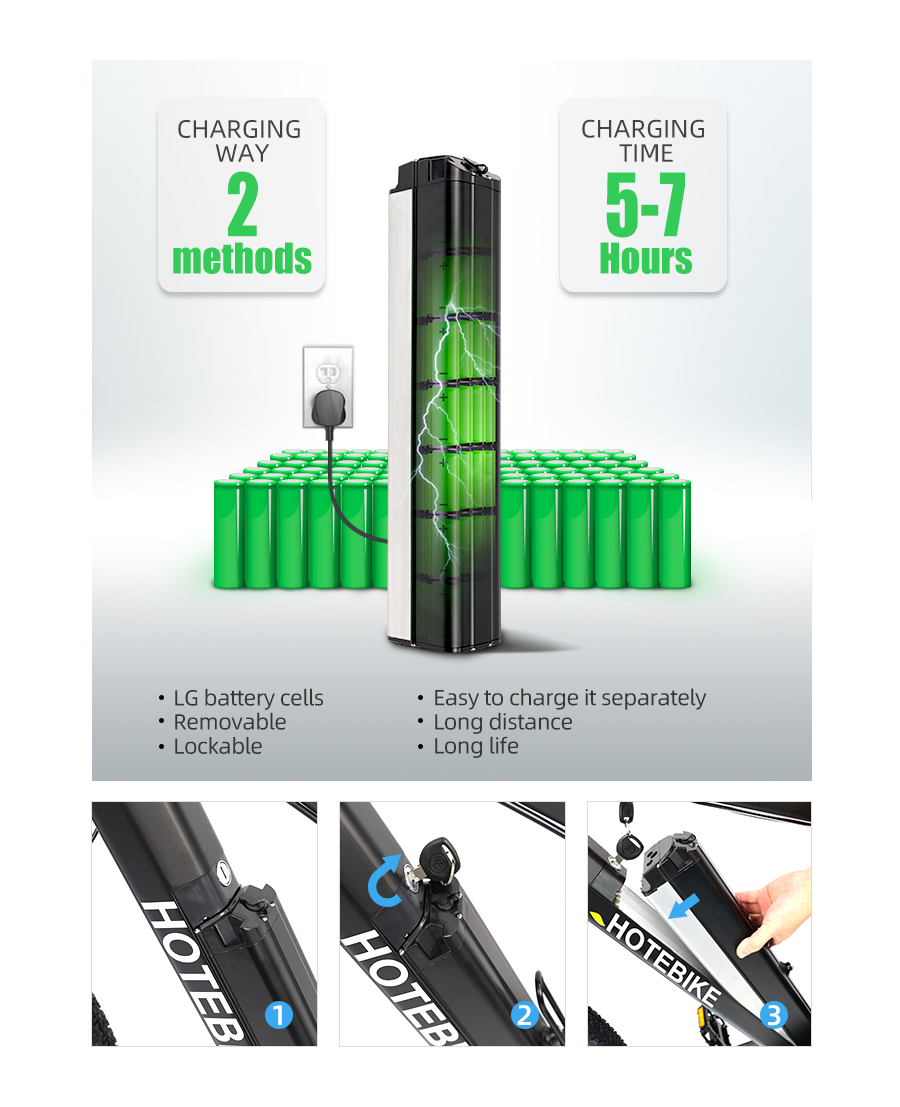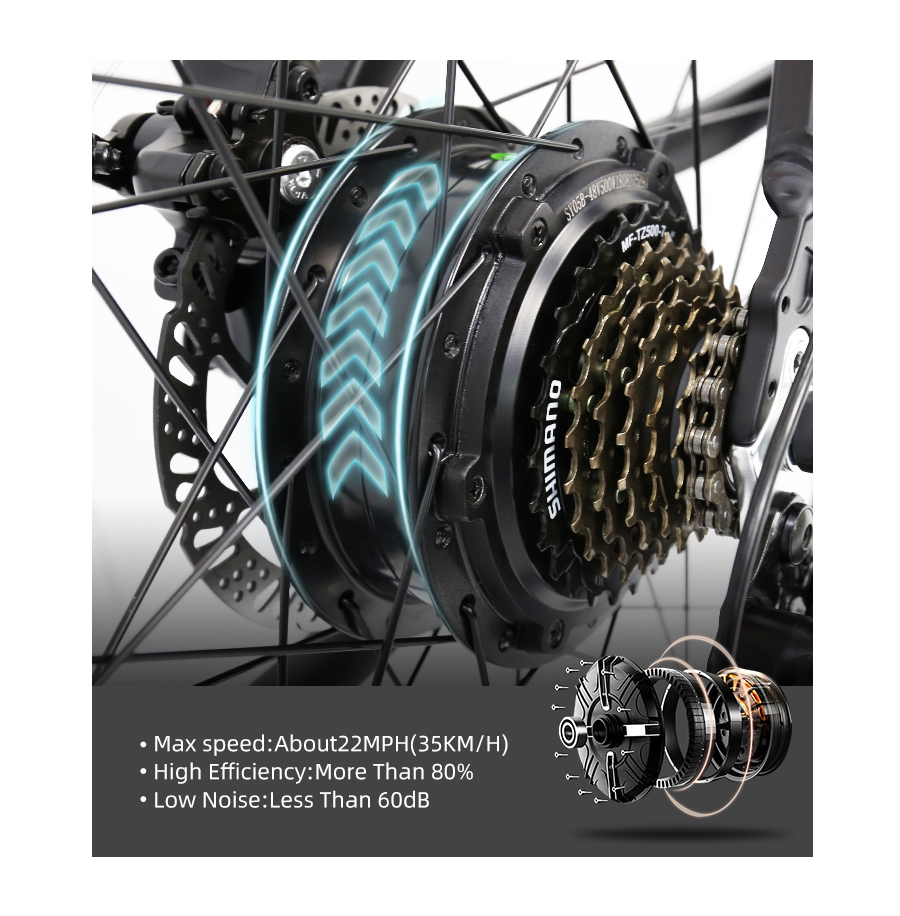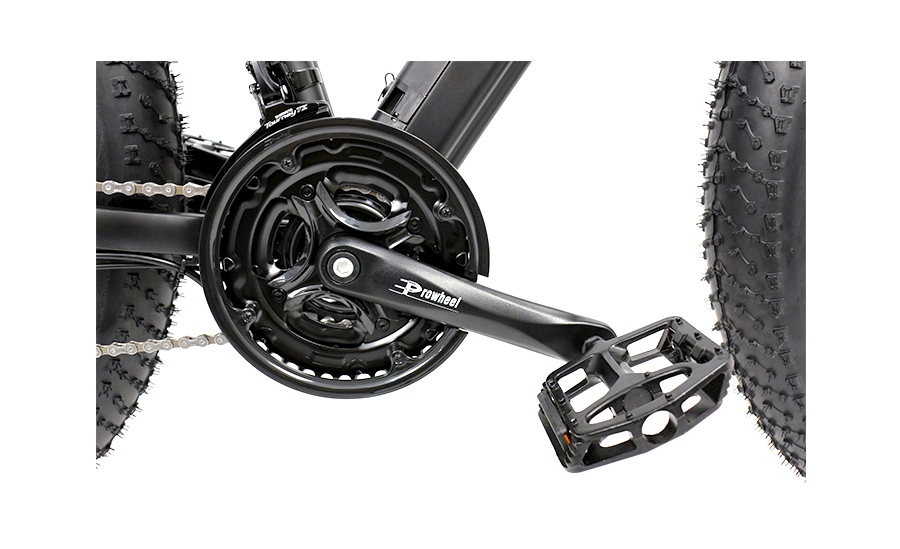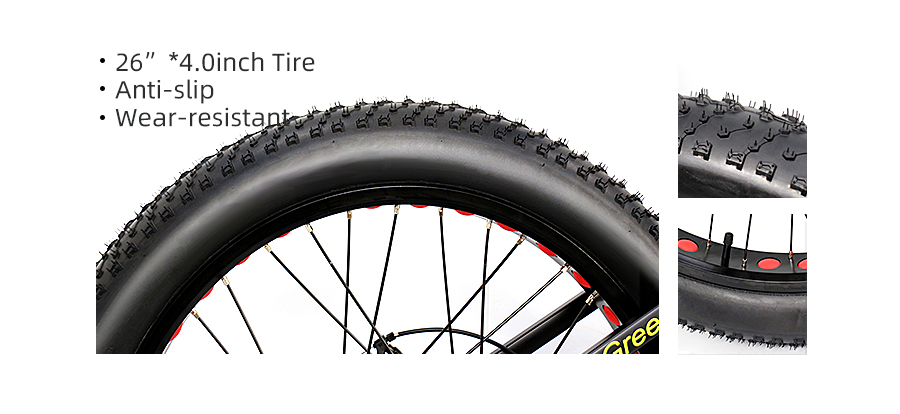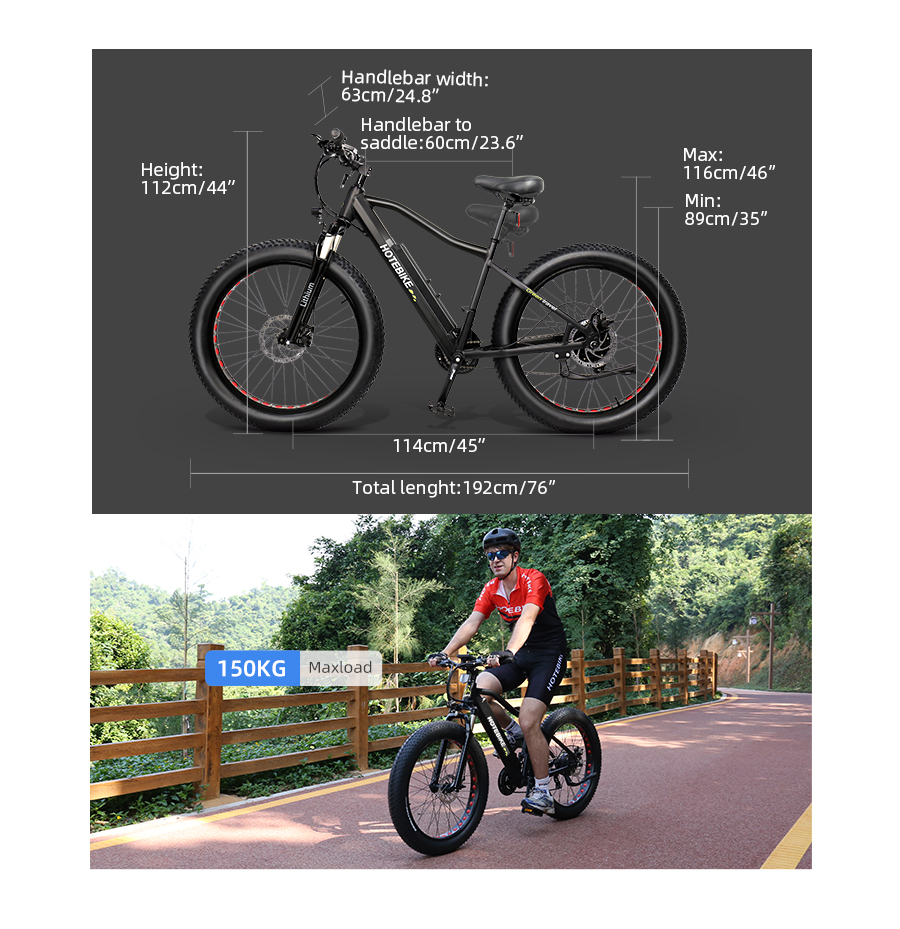 hotebike.com is the HOTEBIKE Official Website, providing customers with the best electric bikes, electric mountain bikes, fat tire electric bikes, folding electric bikes, electric city bikes, etc. they have a professional R&D team that they can customize electric bikes for you, and we provide VIP DIY service. they best selling models are in stock and can be shipped quickly.

The price is USD$1329. If you contact customer service, you may get a big discount.
Product Links

Hotbeike fat tire bikes are much cheaper than jdis. Of course, there is a big difference between their two bicycles. You can pick whatever you like. I just think these two bikes are very good.