Rad Electric Bike and HOTEBIKE Fat Tire Bike Review

Rad Electric Bike Review

Over the past few years, electrified bicycles, or "ebikes," have been rapidly maturing. The electrical bits are getting more cleanly integrated, weights are dropping, performance is rising, and prices are coming down. All good things, to be sure. In fact, it's getting to the point now where it's hard to tell if a bicycle is an ebike at all, the integration is becoming so seamless.
Then there's the RadRover 5 by Rad Power Bikes, which leaves no doubt about what it is.
Back before the coronavirus and COVID-19 madness descended upon us all, I was setting up ebike reviews in hopes of getting in several models before summer arrived. I try to book bikes that feature new tech, an usual design, or some other standout feature. Rad Power Bikes was one the first to respond to my request, and sent me their Class II RadRover 5, a fat-tired, big-bodied, no-excuses bulldozer of an electric bike that features a 750-watt peak output rear motor, and 4-inch wide knobbied tires riding on wheels so big they almost seem silly. Almost. Does it display some new advanced design? New technologies? Not really, no. But tons of attitude? That, it has in abundance. The RadRover 5 is one big fun machine that dares you to question what an electric bicycle can be, and what it can do.
Tech and Design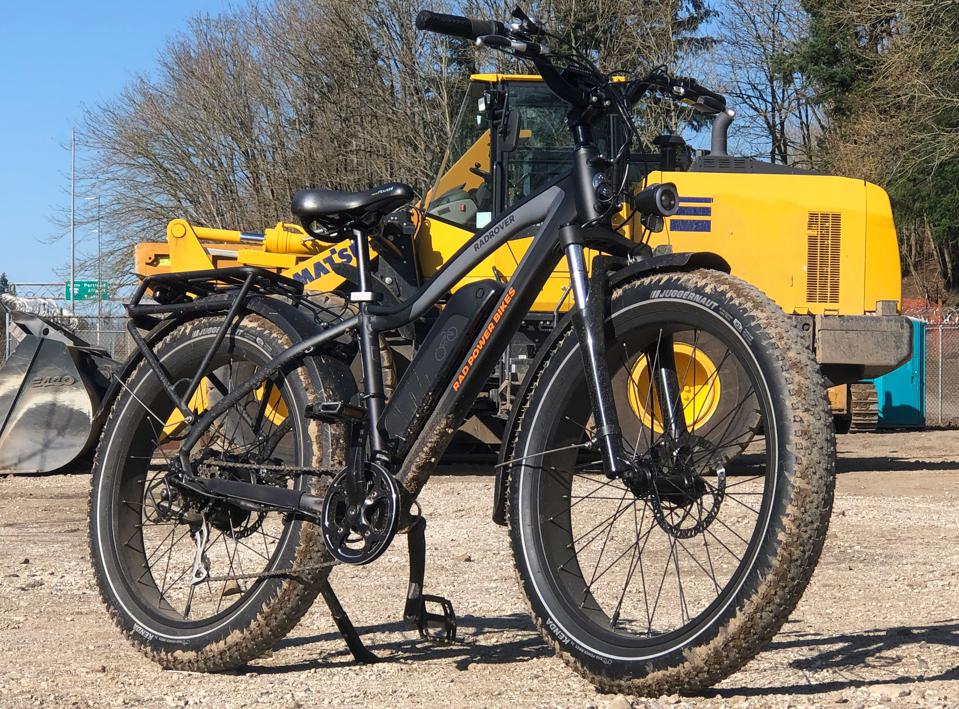 The RadRover 5 is a large, heavy bike as befits its mission: To basically be a force of nature when ridden. The 69-pound bike's sloping hardtail frame, built from 6061 aluminum, is both robust and aesthetically pleasing, and includes an RST suspension fork with preload and, nicely, a motion lockout. The 4-inch wide 26-inch tires are appropriately Kenda Juggernauts, and include puncture-resistant liners and a reflective stripe on the sidewalls, which helps with nighttime visibility since the bike is essentially matte black. 180mm mechanical disc brakes front and rear slow things down and have good power, but careful setup is key.
A 7-speed Shimano SL-TX50-7R rear derailleur shares space with the 750-watt Bafang motor in the rear hub, and a basic but useful LCD panel up on the bars displays data bits including speed information, tripmeter, battery status and motor output in watts. There are five levels of assist and a no-assist option (level zero) that keeps the ebike system online and tracking distance if you decide you want a serious workout by just using pedal power. And instead of a thumb throttle, the RadRover 5 has a twistgrip on the inside of the right handlebar, like a motorcycle. The grip is progressive (again, like a motorcycle throttle), so you can precisely add any amount of power to the motor above what the preset assist level is adding to your pedaling at power level 4 and below. Level 5 ("Power" in the LCD display) is the maximum, of course.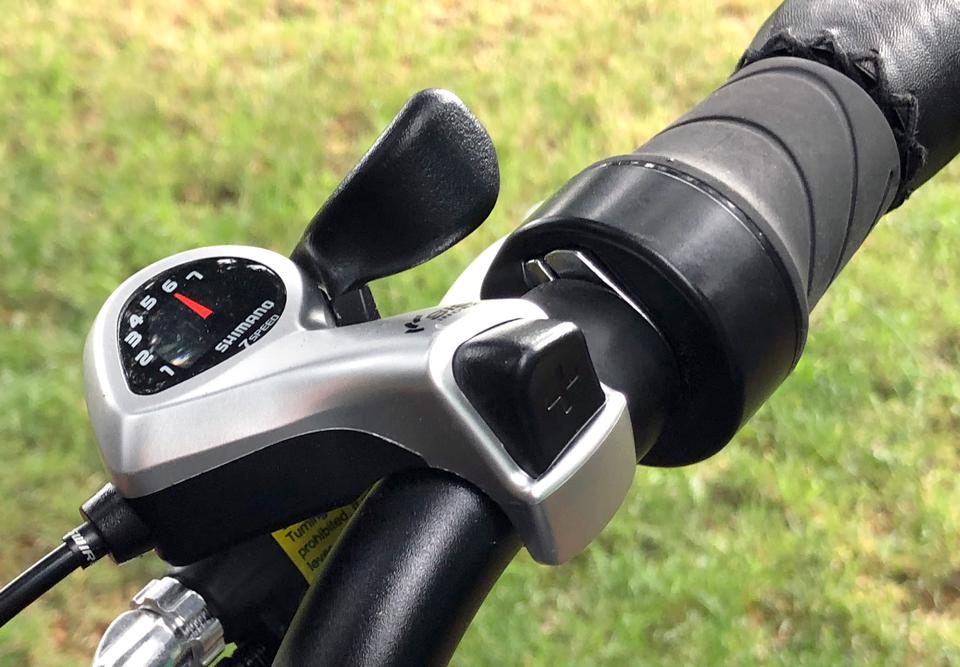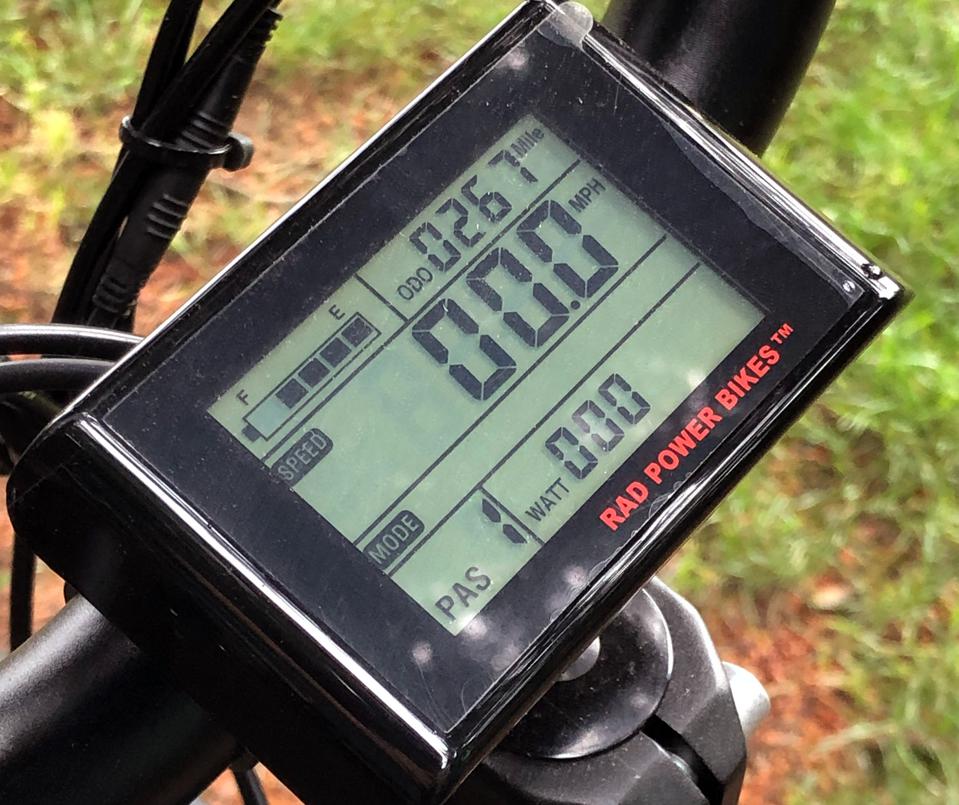 Rad Power Bikes RadRover 5 electric fat tire bicycle
A small control pod for turning on the power, adjusting assist levels and toggling display options is on the left bar, as is a bike bell. There's an LED headlight, and a rear LED taillight with a brake light that also relocates into the optional rear rack that came with my bike. The headlight needs to be brighter and the light pattern is a square, so maybe a rethink is needed there. If the bike is powered on, the rear brake light activates, a feature every bike should have in my opinion. It can also be set to blink but still goes solid when you hit the brakes. A 7.7-pound 48V, 14 Ah (672 Wh) battery with Samsung 35E cells powers the motor and electrics, and Rad says it's good for 800 charging cycles and between 25 and 45-ish miles of range depending on use. The battery is modular and rides in a carrier where a water bottle usually sits, and can be quickly locked or unlocked with a key to be swapped out. Extra batteries to extend your ride cost $545.
Riding Experience
The Rad Rover 5 is not some lightweight miracle. At a base 69 pounds, it's big, heavy, and built like Mike Tyson in his prime. It arrived partially assembled and after half an hour with a few common tools, I had the front wheel on, the fat fenders in place, the rear rack attached, lights connected, seat adjusted and the battery topped up. I'm in Oregon, so not unsurprisingly for early March, it began to rain as I buttoned up adjusting the bike to my size. I'm also a fairly typical taco-and-burger-loving big guy at 6 foot 1, 225 pounds, so I appreciated the RadRover 5's larger overall profile: It fit me perfectly.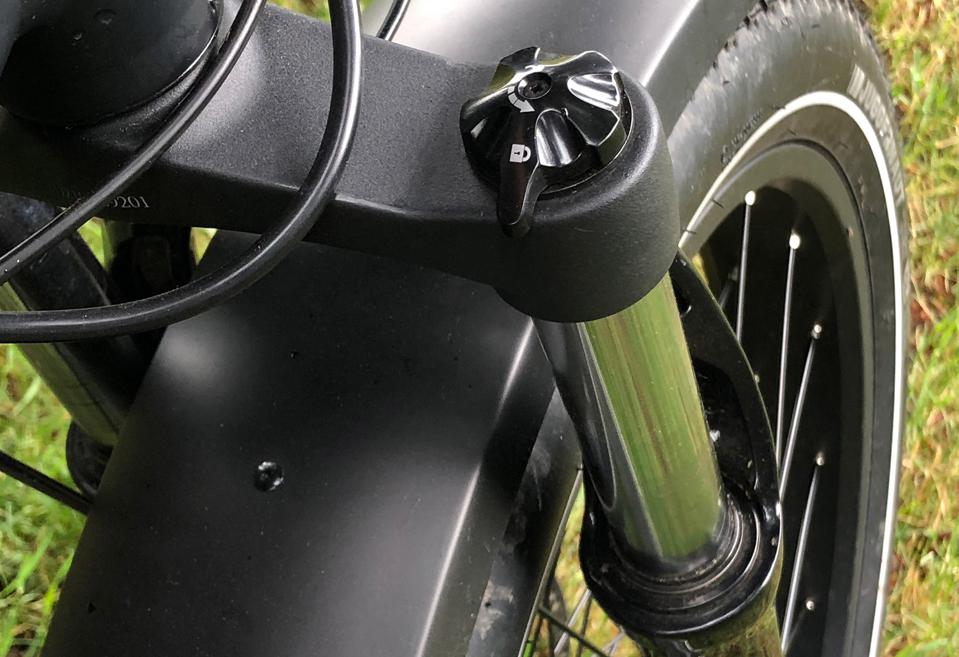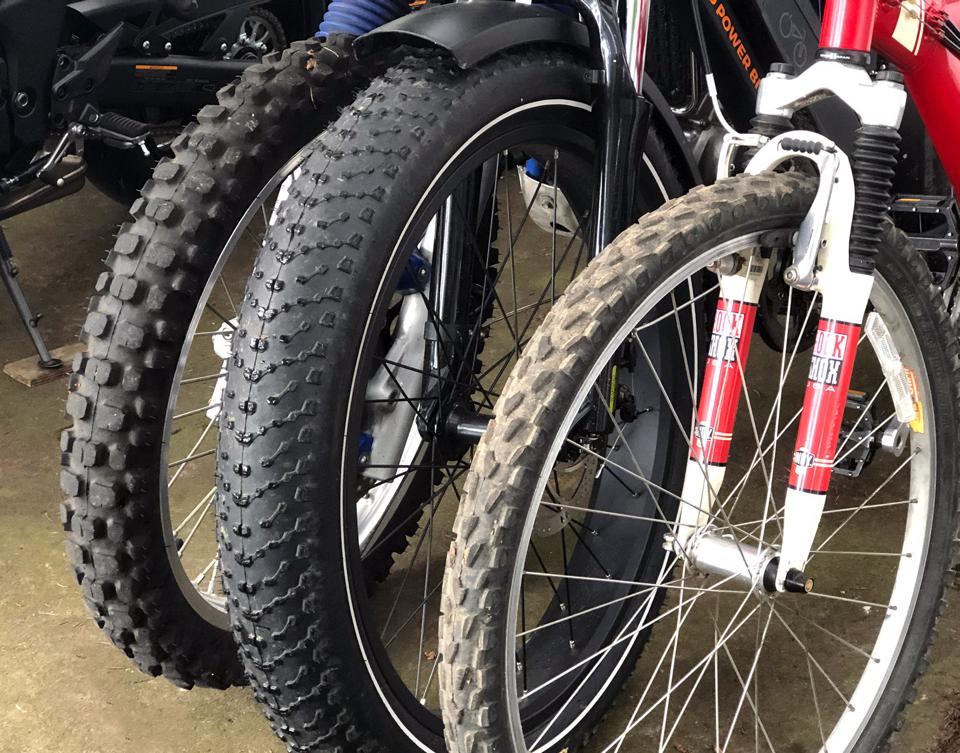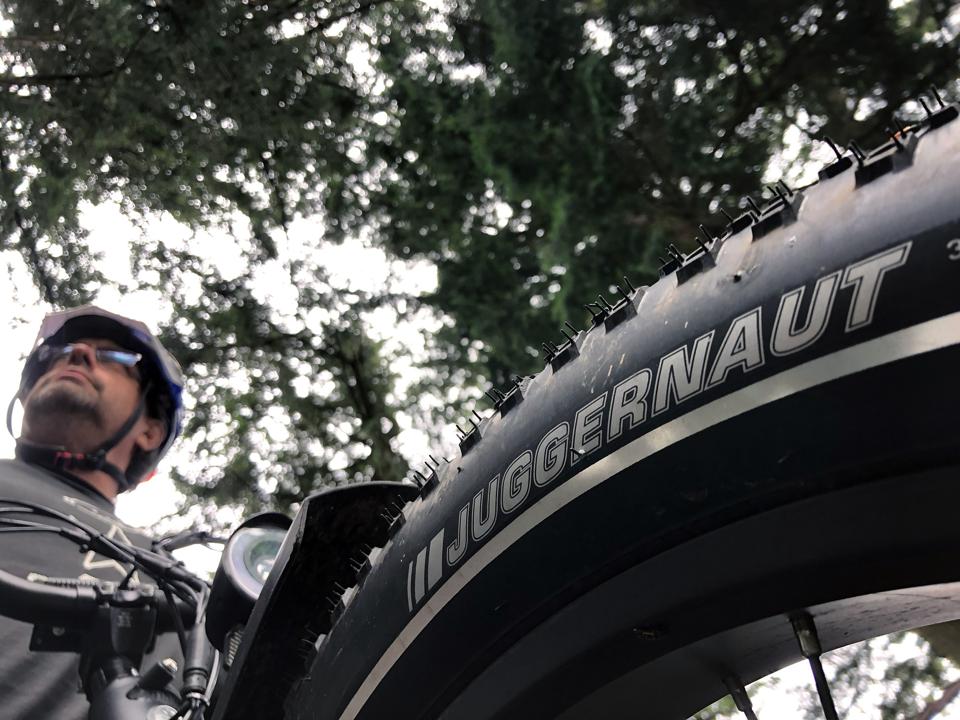 But truthfully, I've always had a bit of scorn for what I thought of as those silly super-fat-tired bike-things that seemed more like a rolling bicycle fashion statements than practical transportation. Riding a friend's regular (non-powered) "fat bike" a couple of years ago confirmed my suspicions: it was slow, heavy, ungainly, and tiring to ride. But give the phat ride idea a more mountain bike-like stance and add in an electric motor, especially a stout 750-watt plant, and everything changes.
The RadRover 5's Bafang 750-watt hub motor is nearly silent, emitting only a slight whirrrr as it speeds you along with 80Nm of torque. Coupled with the 7-speed Shimano rear derailleur operated by push-button shifter on the right handlebar, hitting 20 miles an hour in the flat is no problem, including going up a reasonable hill. Twenty nits on a bike this size with these fat, wide tires feels a lot faster than 20mph on a regular bike, a sensation fortified by the tire noise as the big machine thrums down the road.
48V 750W Fat Tire Electric Bike Powerful Mountain Bike with LG Battery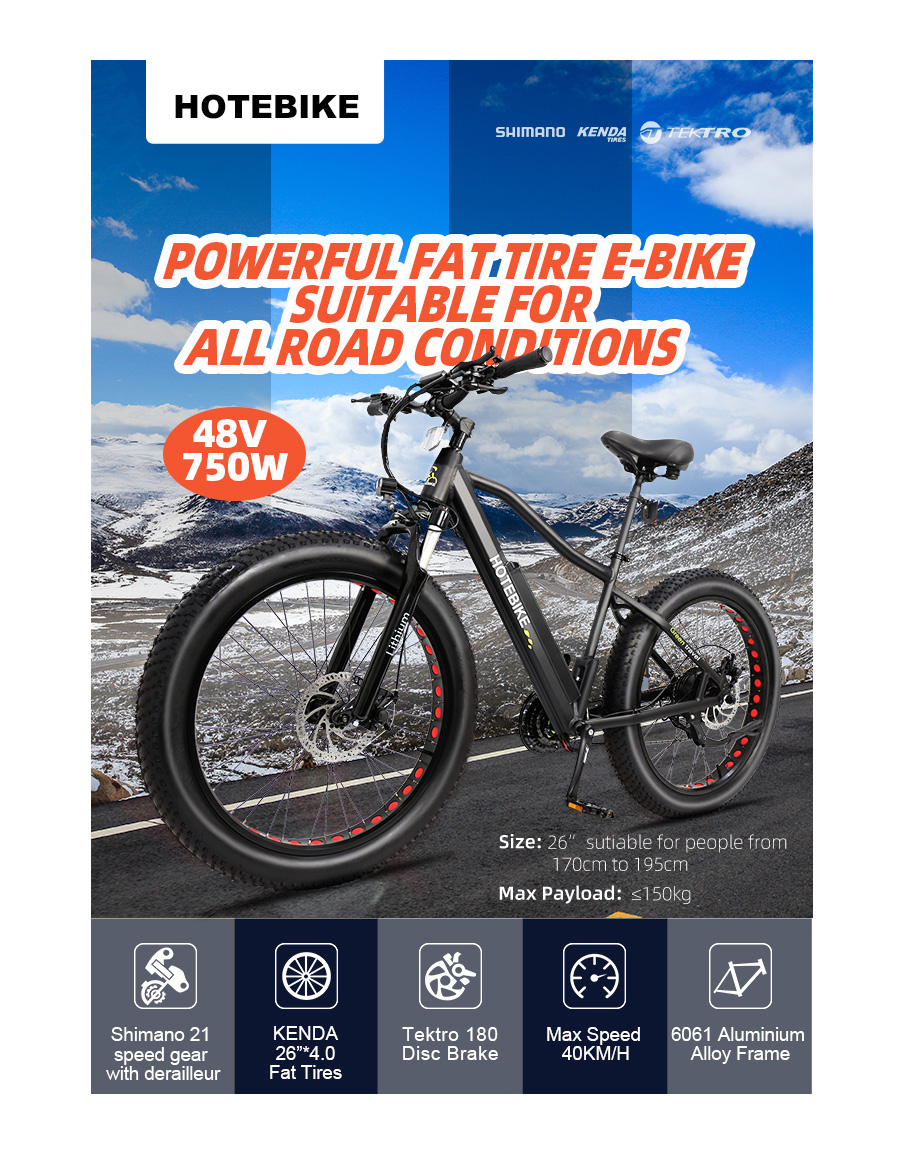 Motor: 48V 750W gears hum motor
Battery: 48V 13AH(LG) hidden battery
Max Speed: 40km/h
Max Range (PAS mode): 60km-80km (35-50 miles) per charge
Tyre: 26*4.0 inch fat tire
Max Load: 150kgs
Charging time: 5-7 hours
Gear: Shimano 21 speed
Brake: Tektro 180 disc brake
ebike Frame:
Classic aluminum alloy mountain bike frame, own mold, independent development, patent design.
ebike Battery:
Lithium battery hide in frame is removable, making it easy to charge it separately from the bike. It is more fashionable and convenient.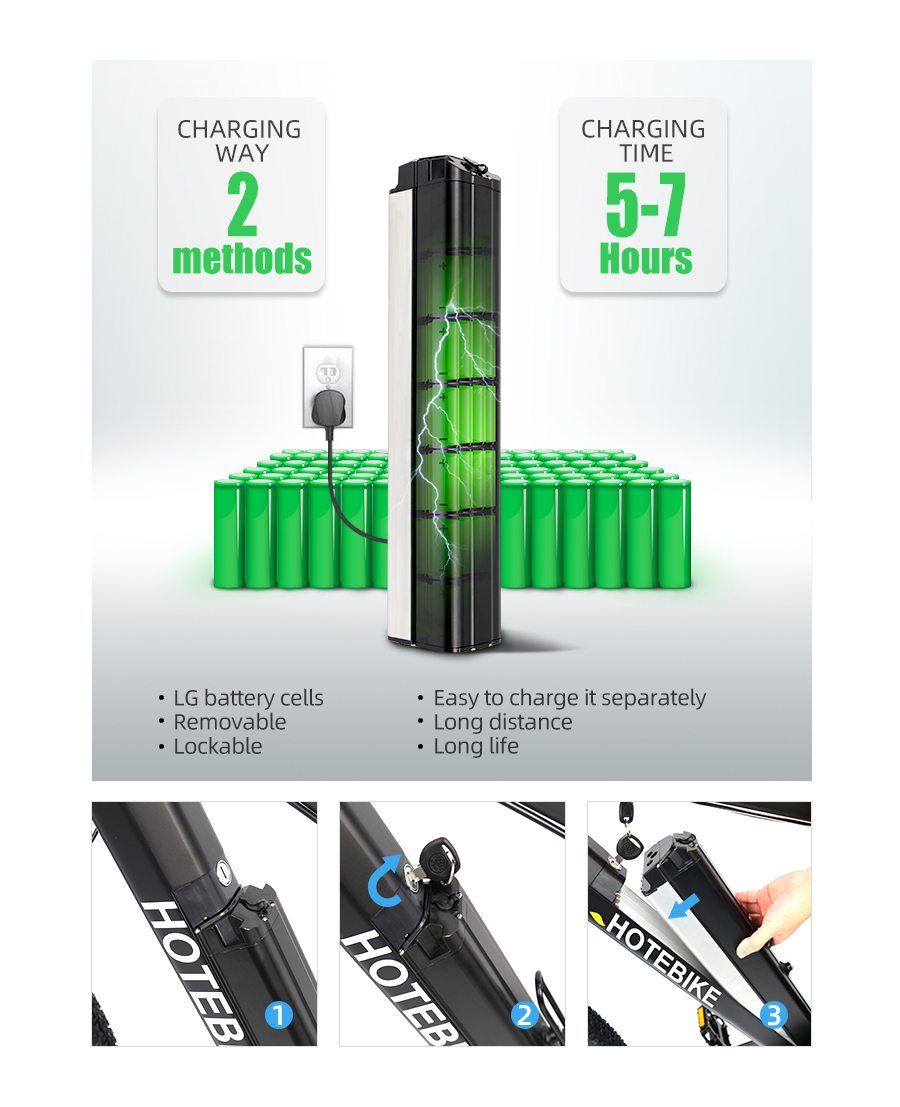 Electronic bike control system:
Design and production by ourselves. Multi-function large screen LCD display shows lots of data like Distance, Mileage, Temperature, Voltage, etc. Comes with a 5V 1A USB mobile phone charging port on the LED headlight for a convenient phone charging on the ride.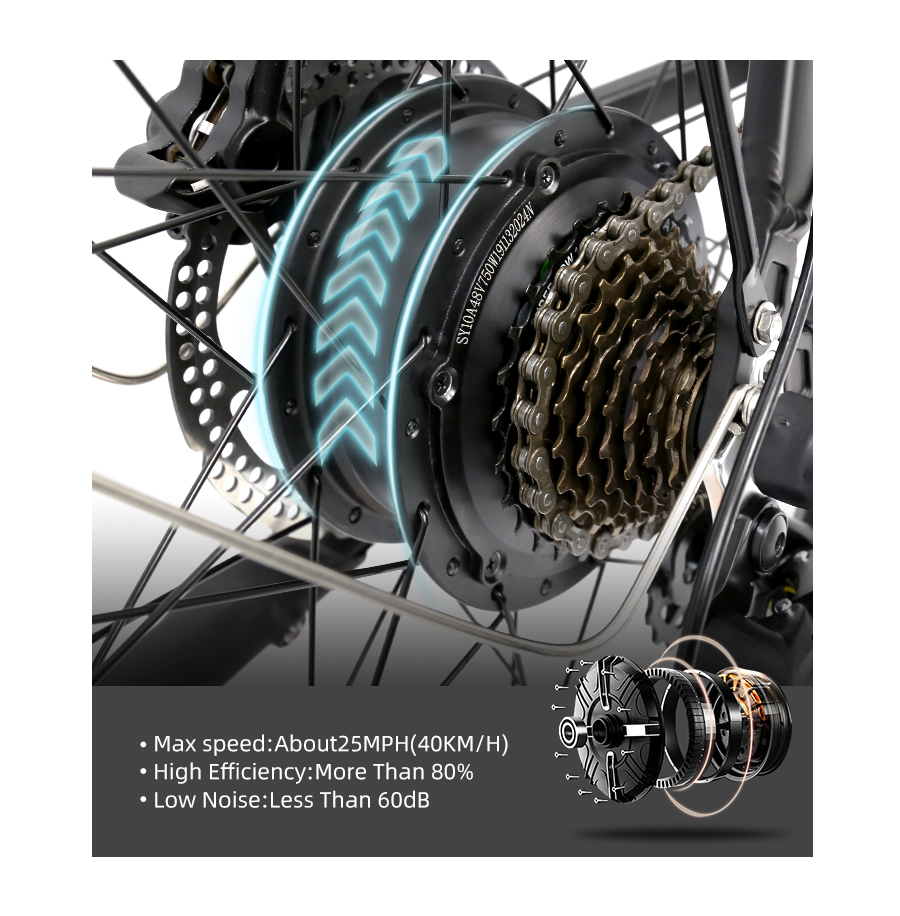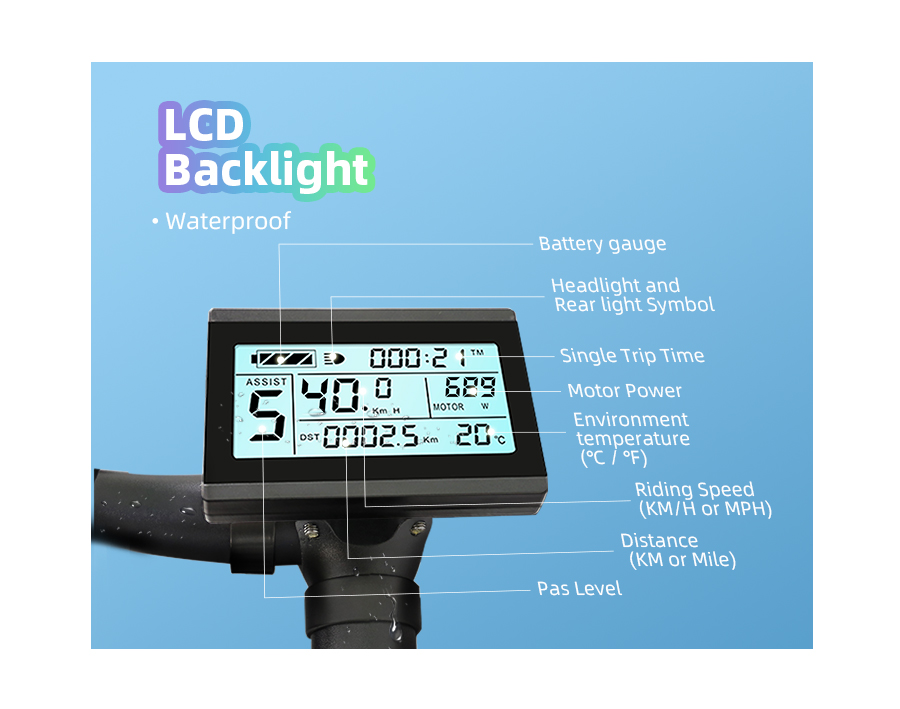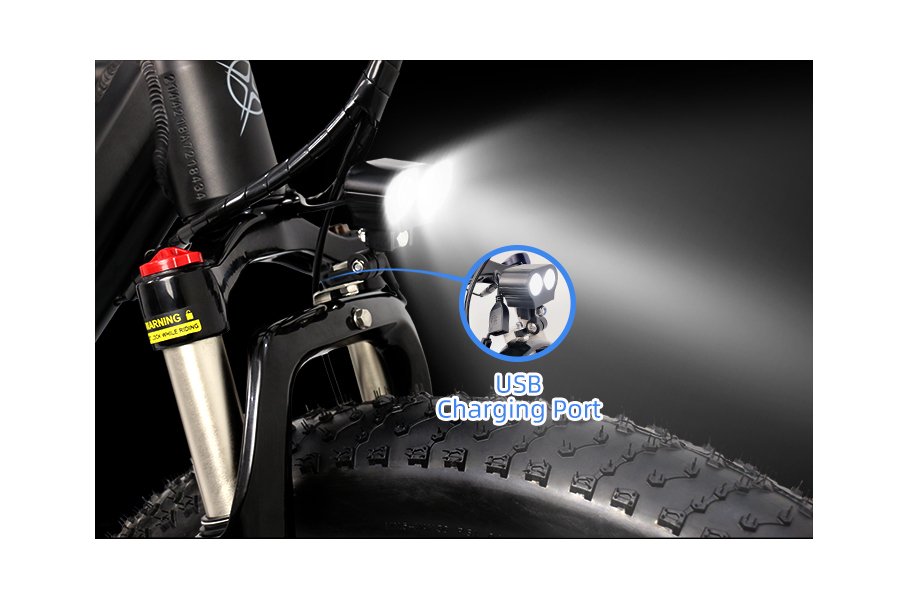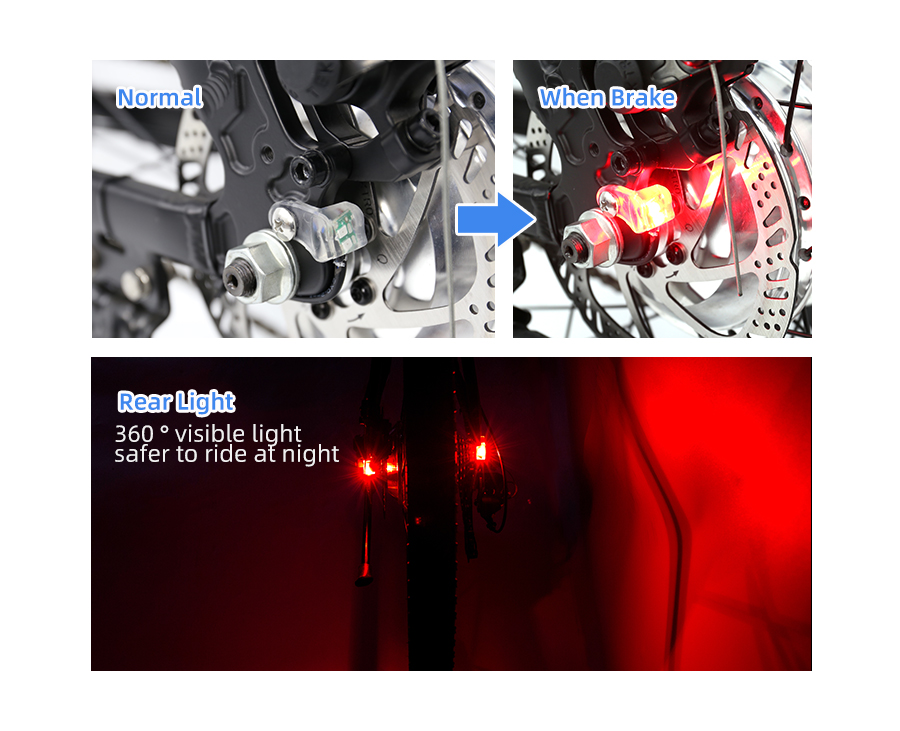 Bicycle Mechanical part:
Front and rear mechanical 160 disc brakes provides more reliable all-weather stopping power, which keep you safe from any emergency. Shimano 21 speed gear increases hill-climbing power, further range variation, and greater terrain adatability. Suspension alumimun alloy front fork, make your riding more comfortable.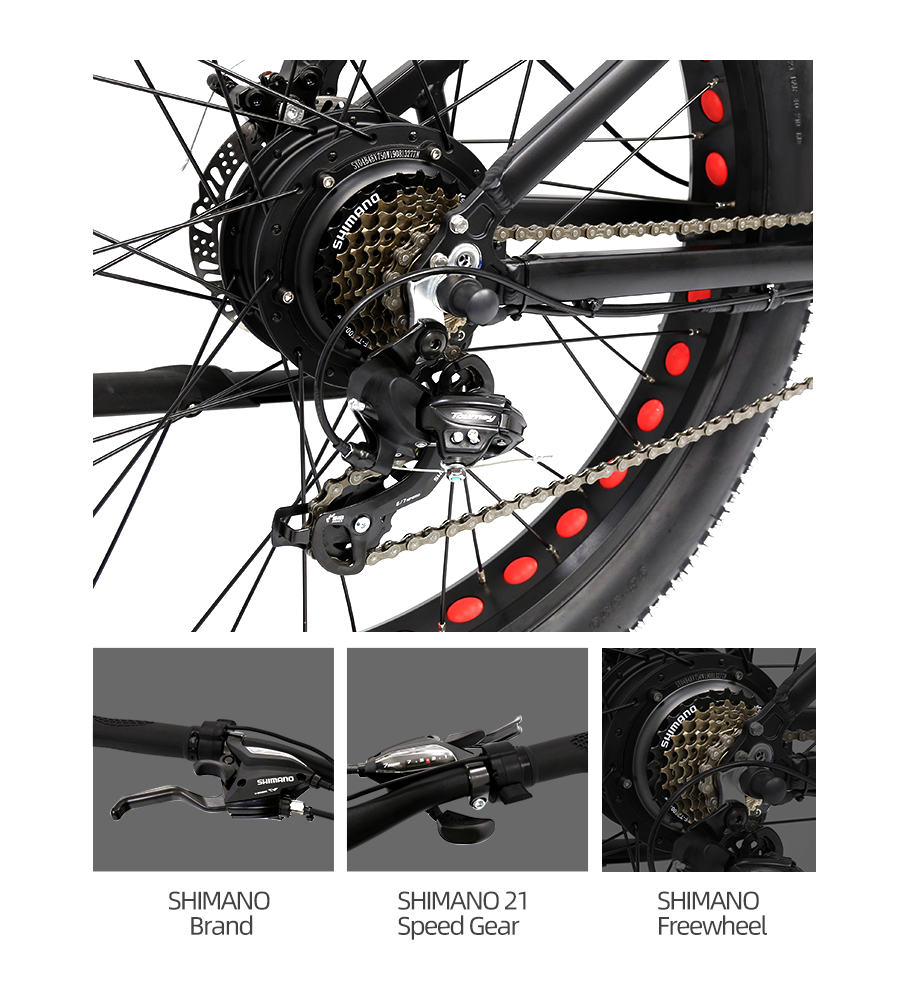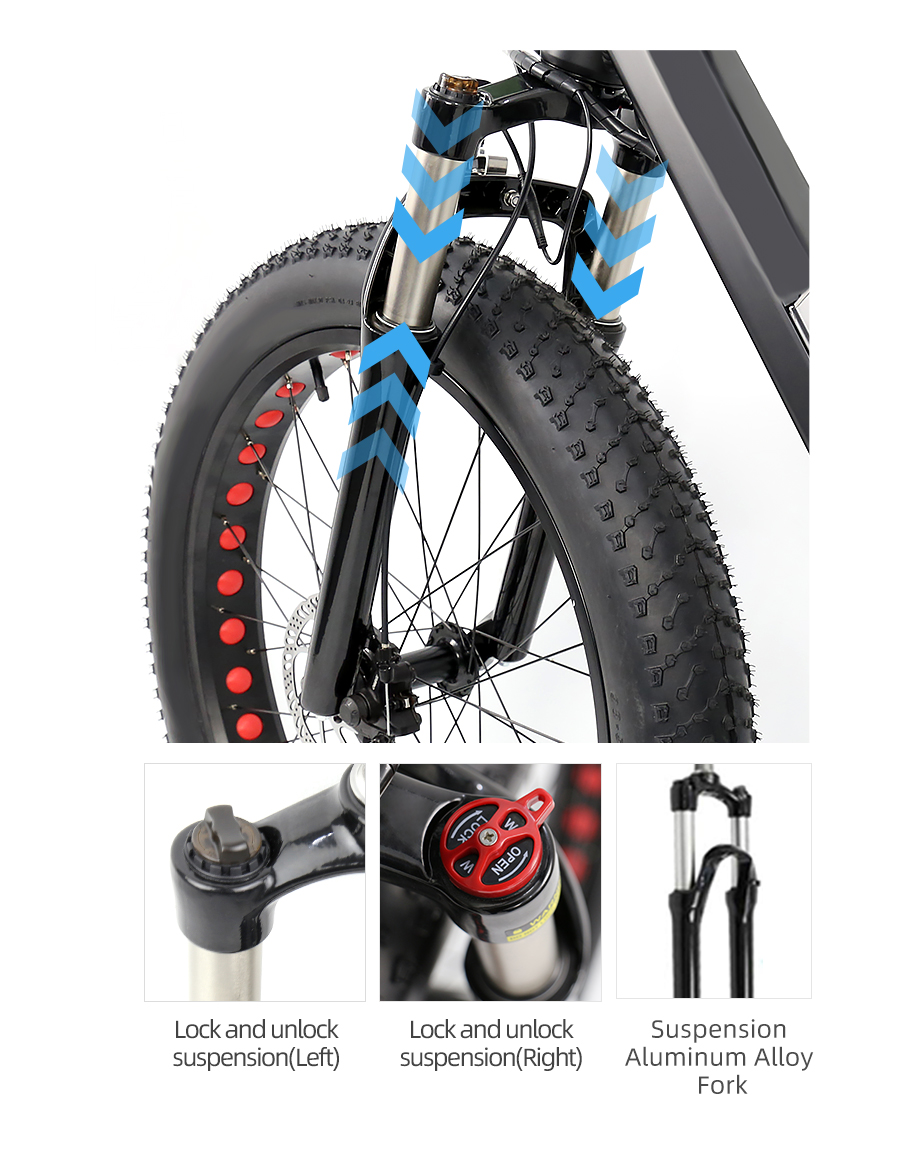 Tires:
26 inches tires, the thickness is 4 inches, Between the front suspension and the huge air volume in the tires, the A6AH26F rides quite comfortably on varied terrain.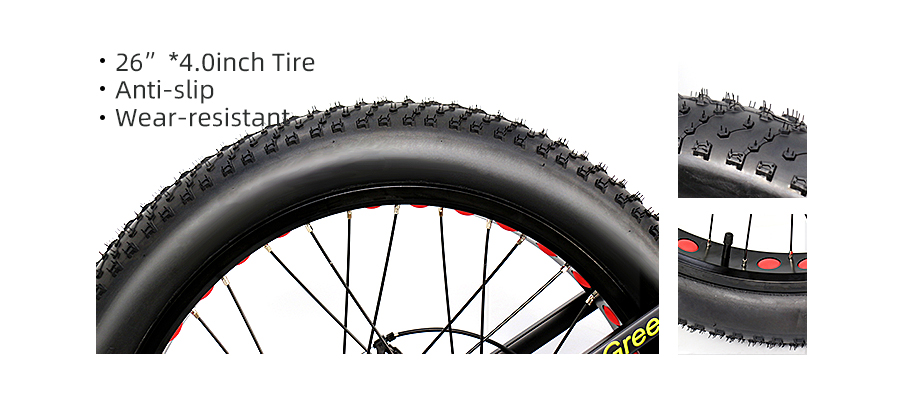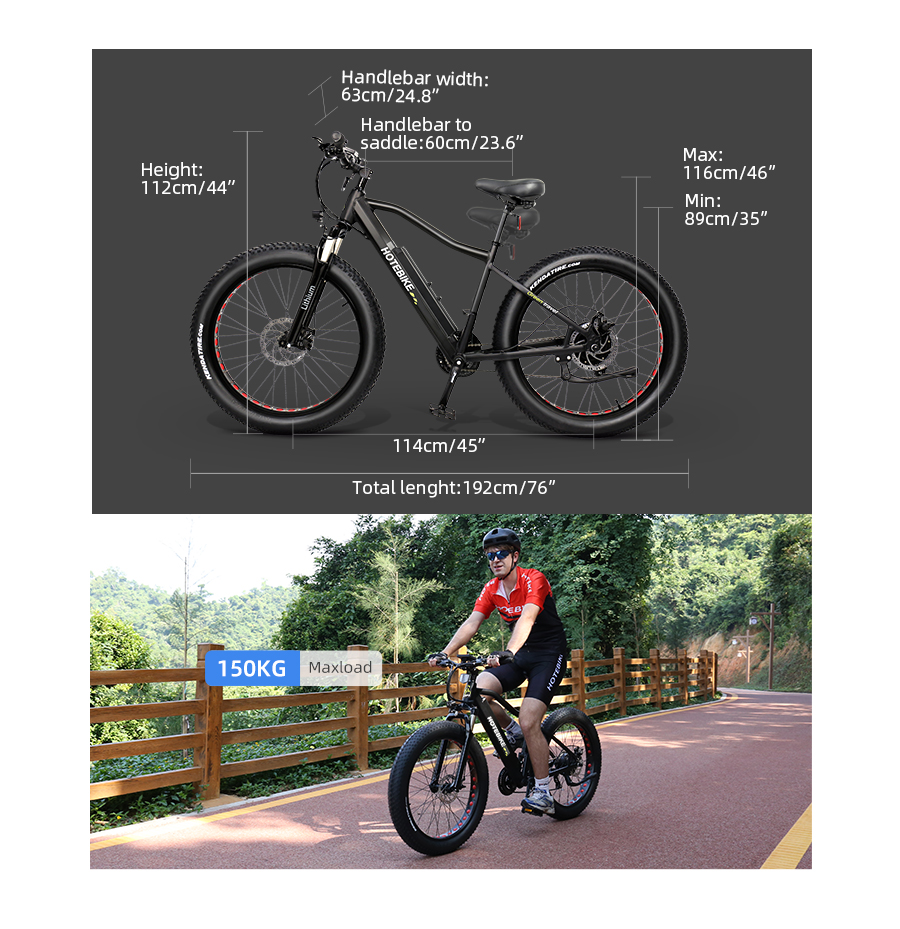 If you are interested in electric bicycles, you may visit the website to browse different electric bicycles. I believe it will bring you surprises. Website: https://www.hotebike.com
48V 750W Fat Tire Electric Bike Powerful Mountain Bike with LG Battery