Razor Electric Dirt Bike and HOTEBIKE Harley Electric Bike Review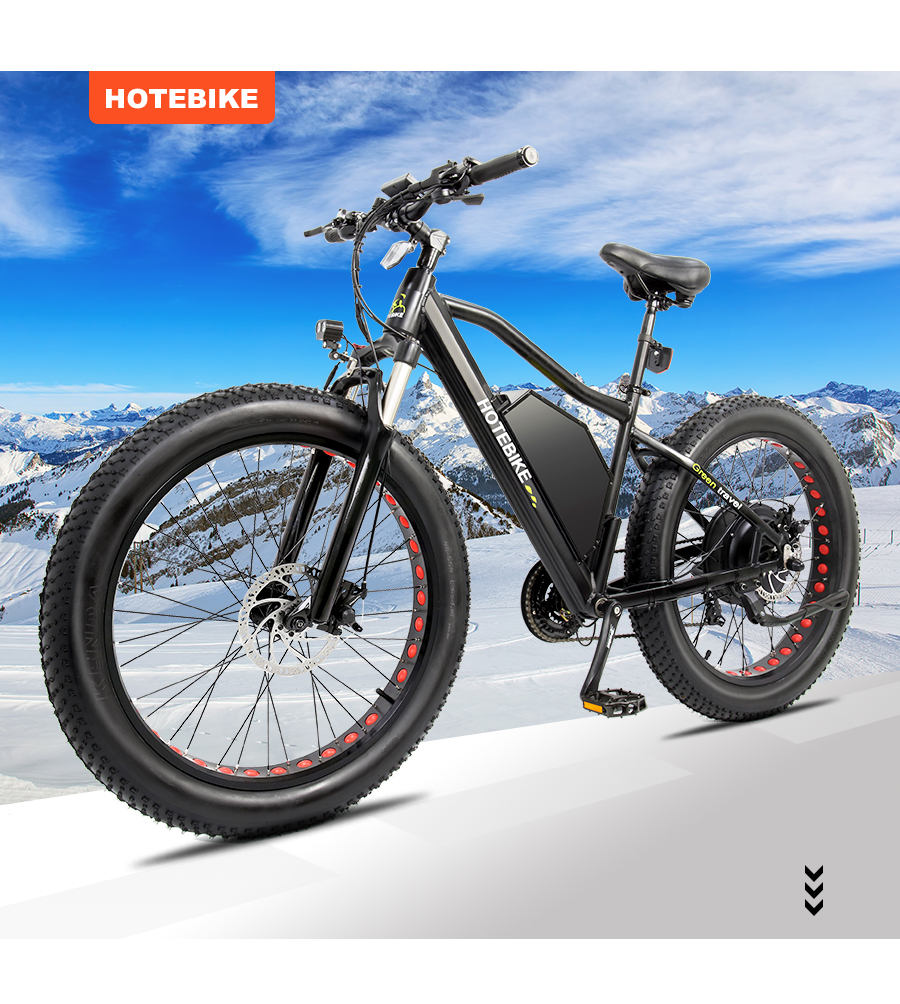 Razor Electric Dirt Bike Review
It's easy to enjoy the noisy yet thrilling gas-powered performance of most dirt bikes on backroads and trails. But technology has evolved, and now there are more efficient and eco-friendly options available. These two-wheeled, off-road rides do not need any fuel, they are less noisy, and they do not harm nature with their emissions. In this guide, we review some of the best electric dirt bikes on the market to help you purchase the right one.
SEGWAY Ninebot Electric Dirt Bike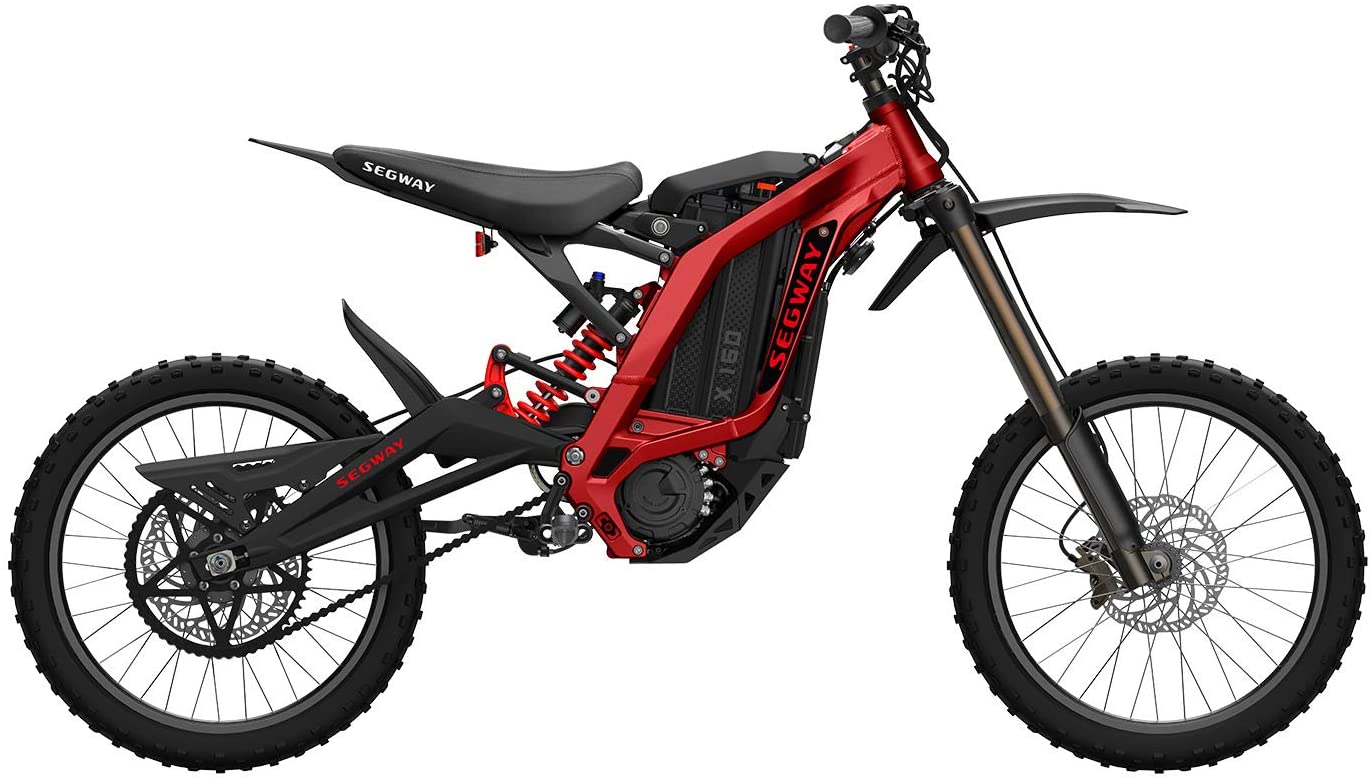 CHECK LATEST PRICE
SUMMARY
If you need power, this electric dirt bike delivers. Featuring a 280-watt motor, this model provides stability on various surfaces, can speed up to 31 miles per hour, and has superior shock reduction that'll keep you comfortable while in the rider's seat.
PROS
Sprints from 0 to 31 miles per hour in approximately four seconds. Can climb slopes and traverse rocky, rough terrain. Travels over 40 miles on a single charge. Lightweight.
CONS
Battery can take a long time to charge and will need to be swapped out for longer rides.
Razor MX350 Dirt Rocket Electric Motocross Bike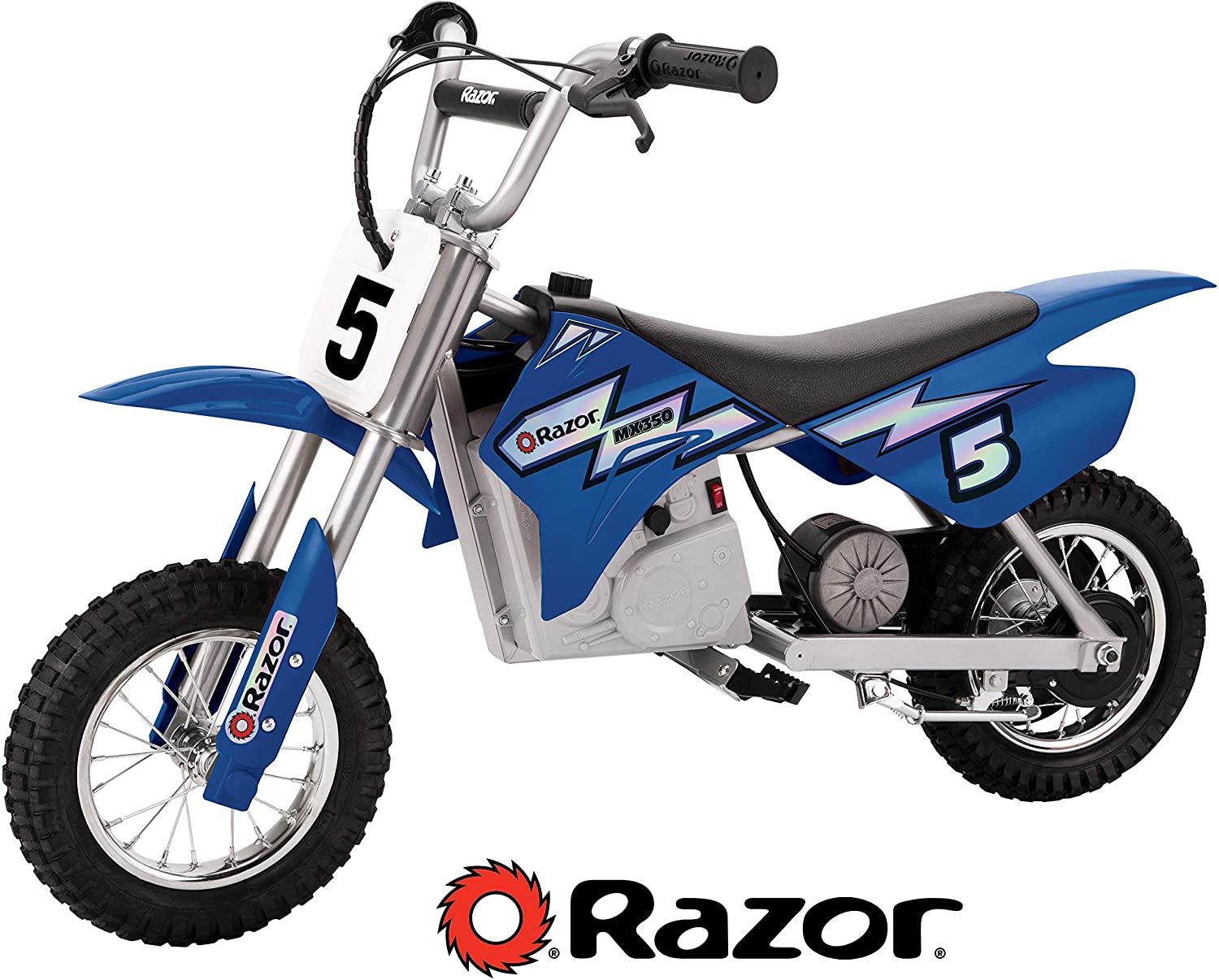 CHECK LATEST PRICE
SUMMARY
This is a battery-powered electric motocross dirt bike for trail riding. It features a single speed and a chain-driven powerful motor with a twist grip throttle for maximum power and total control. Its large, knobby tires and hand-operated rear brake ensure it is efficient and safe for offroad riding.
PROS
Its dual suspension and adjustable riser handlebars enhance control. This bike is very quiet for those who love a serene riding environment. Its price is pocket friendly, and it comes in three colors.
CONS
Users claim that it suffers discoloration after some time. The battery doesn't last very long. Not a lot of power.
Qaba Kids Electric Battery-Powered Ride-On Motorcycle Dirt Bike Toy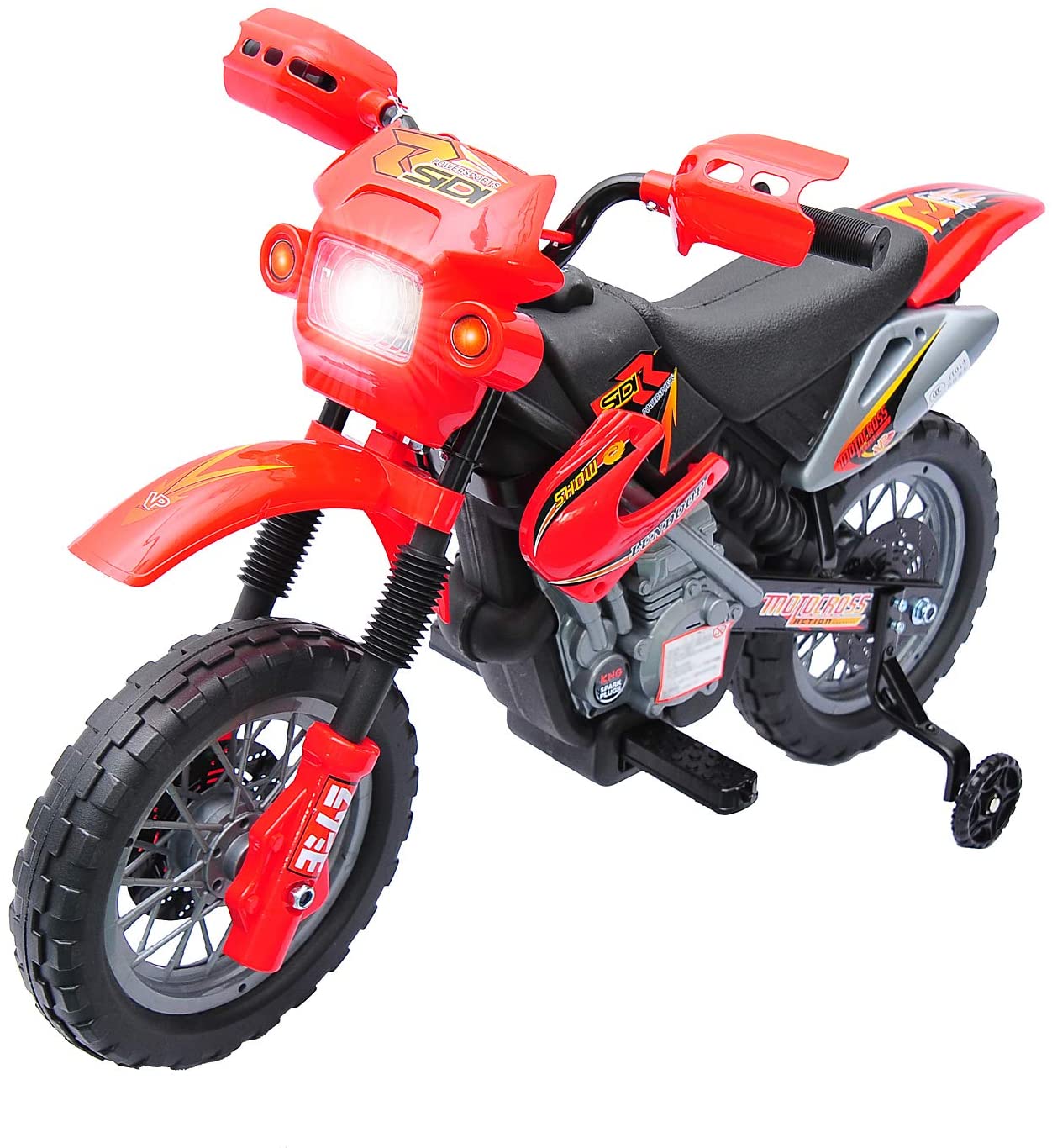 CHECK LATEST PRICE
SUMMARY
This kid-friendly electric dirt bike toy helps young riders learn how to ride with training wheels. It has a top speed of 1.25 miles per hour and an easy push-button start. It can handle asphalt, grass, and dirt.
PROS
It provides 45 minutes of ride time on a full charge. Suitable for various roads and surfaces. The six-volt motor is paired with rear-wheel drive. Training wheels offer extra support and stability.
CONS
It's a toy bike for small children and isn't suitable for rough riding. 55 pound weight limit.
Segway Ninebot Electric Dirt Bike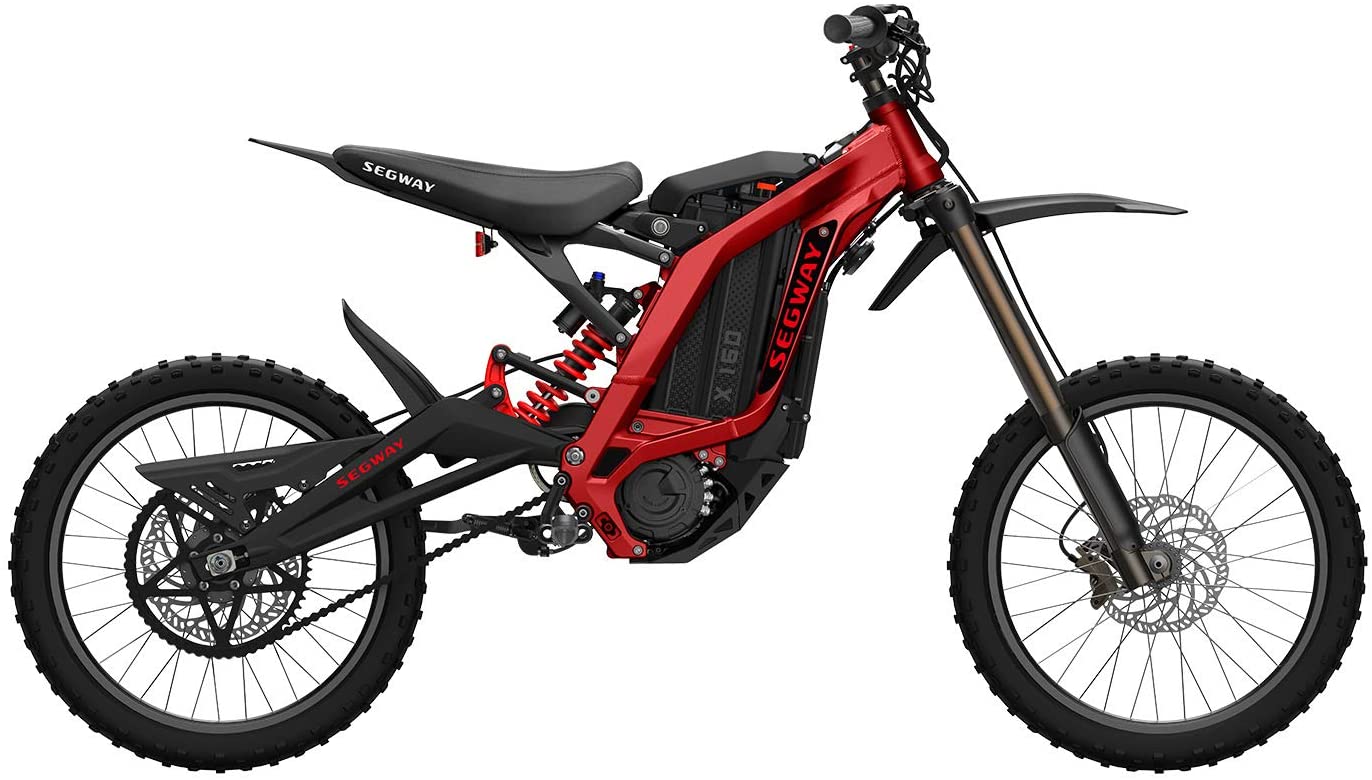 If you want an electric dirt bike with power and performance, the Segway Ninebot Electric Dirt Bike is an excellent all-around choice. This electric dirt bike delivers exceptional off-road performance thanks to a 280-watt motor with peak torque of 23.6 pound-feet that can reach speeds of over 31 miles per hour. This dirt bike can climb slopes of 35 degrees, travel a distance of over 40 miles, and sprint from 0 to 31 miles per hour in just over four seconds. It's lightweight, weighing just 105.8 pounds, but it can still tackle tough terrain of all kinds. It rides with a dual drive system for increased torque, superior shock reduction, and great stability. There are even field-oriented controls that will stabilize your ride over any surface, and it can adapt to your habits with regular use..
Razor MX350 Dirt Rocket Electric Motocross Bike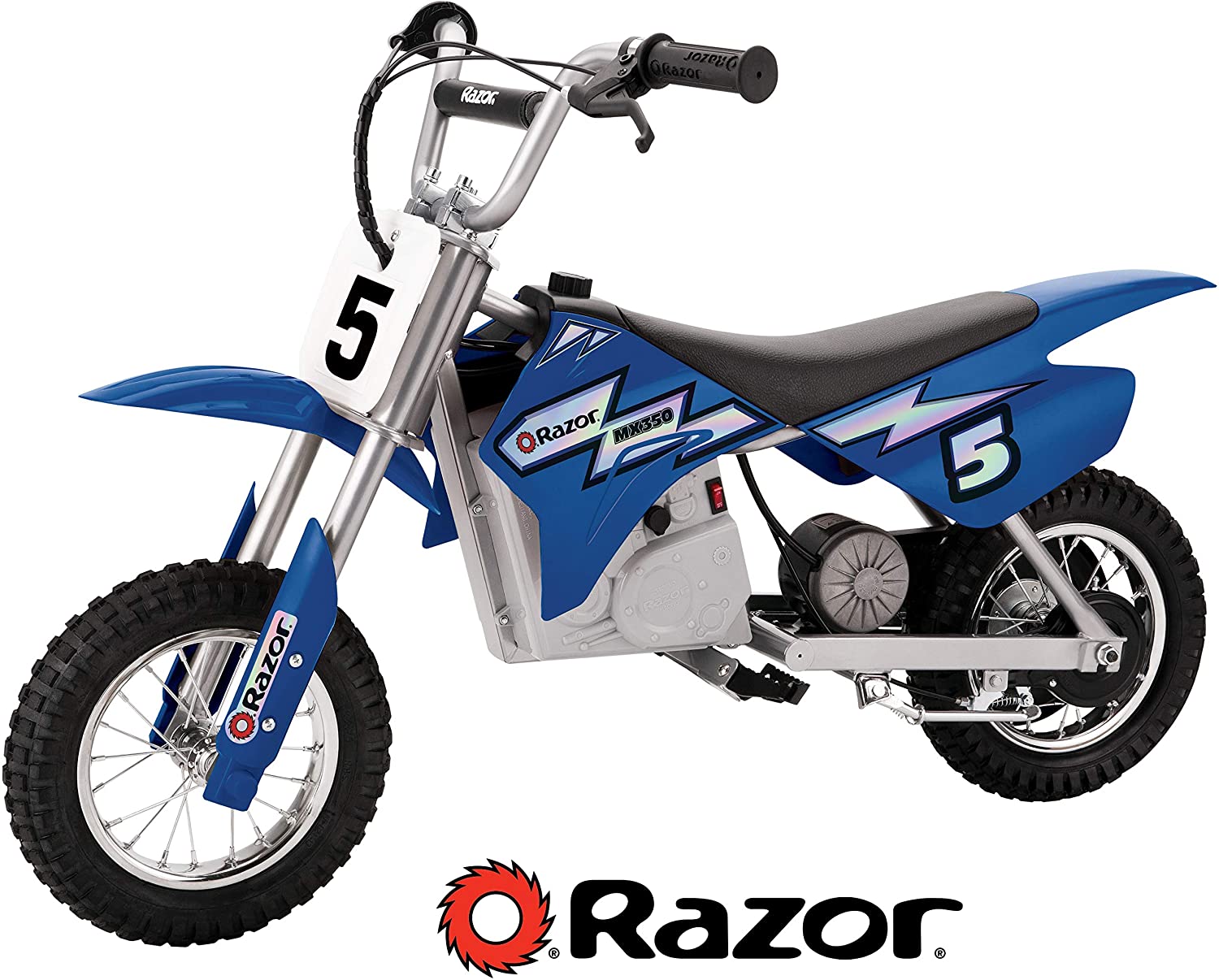 This battery-powered electric motocross dirt bike is designed for younger riders who are 12 or 13 years old or older with a maximum weight capacity of 140 pounds. It's a scaled-down motocross bike with a frame geometry that's similar to an authentic dirt bike. It has a single speed, a chain-driven motor, a twist grip throttle for maximum power and control, 12-inch pneumatic knobby tires, and a hand-operated rear brake. The bike travels up to 14 mph and provides battery power for up to 30 minutes, so it's perfect for youngsters who want to dabble with offroad adventures. The bike's dual suspension and adjustable riser handlebars increase control. It's very quiet, affordable, and comes in three colors. The manufacturer also provides a 90-day warranty.
Qaba Kids Electric Battery-Powered Ride-On Motorcycle Dirt Bike Toy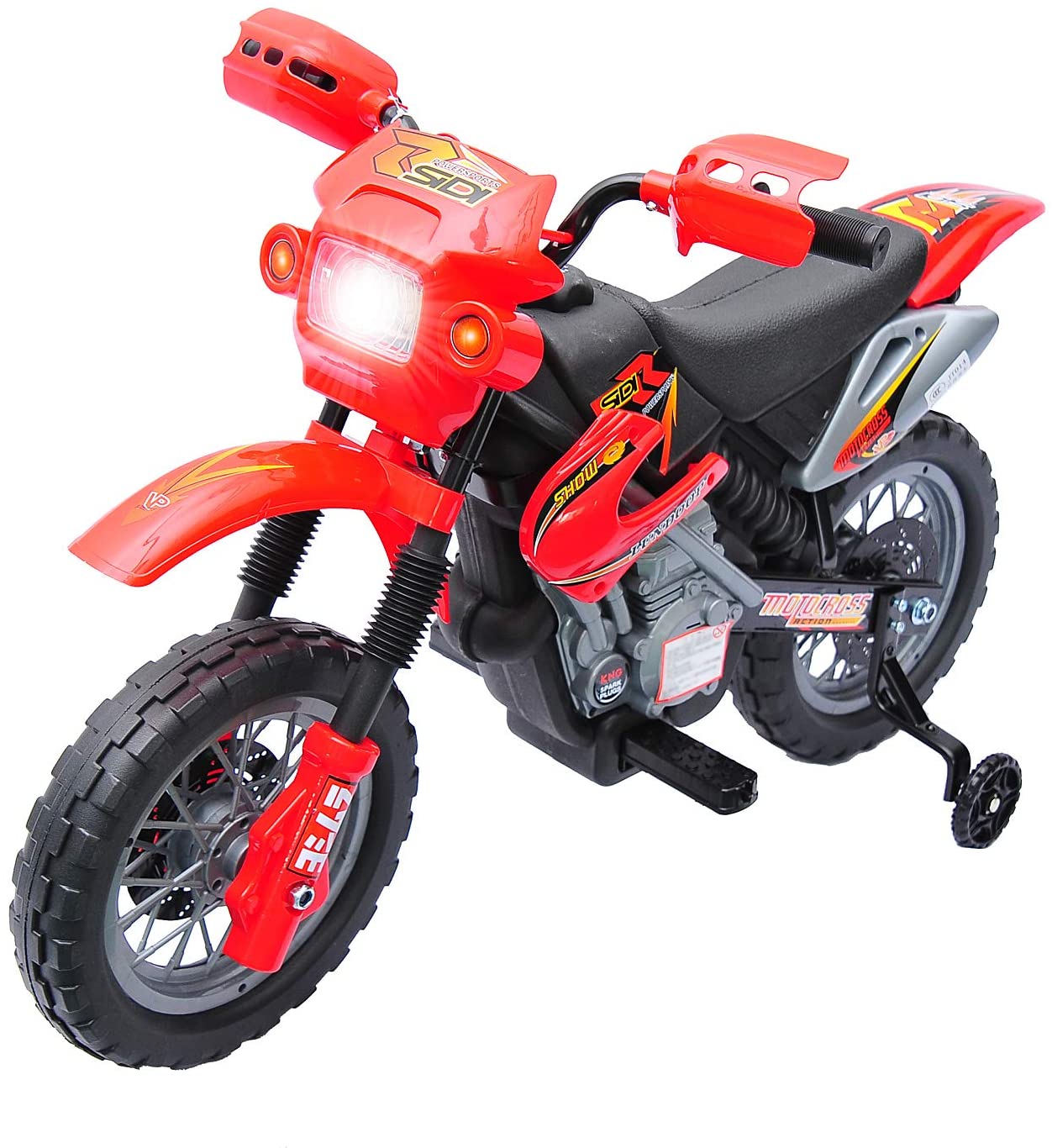 If you have young dirt bike riders in your household, they'll love the Qaba Kids Electric Dirt BikeQaba Kids Electric Dirt Bike. Designed to simulate realistic dirt bike riding for kids ages 3 to 6 years old, this electric dirt bike moves when the handle button is pressed and stops when it's released. With two side wheels or training wheels, in addition to its front and back wheels, this is the perfect training bike. It's powered by a 6-volt motor and rear-wheel drive, and kids can drive it on asphalt, brick roads, mud, or even rutted dirt. With a top speed of 1.25 miles per hour, this dirt bike delivers a realistic experience at a safe speed. The bike runs on a battery to deliver 45 minutes of fun. It features brightly-colored decals, working headlights, and built-in sounds to mimic the appearance of a real, full-sized dirt bike.
Tips
Although dirt riding is very enjoyable, it is very dangerous as well. To minimize the danger, watch your kids when they are riding. Ensure they wear protective gear anytime they take off.
One main factor to consider when buying or riding an electric dirt bike is the maximum weight capacity. Although exceeding weight may not break the bike, it wears the battery and also reduces performance.
Consider the level of riding experience before you choose an electric dirt bike for your kid. For example, a less experienced kid would be more comfortable with an automatic bike rather than a bike with a clutch. You may also want a bike with training wheels for first-timers.
Price, usually more than USD$3000
Enjoy A Fast and Furious Tour Fat Tire Harley Electric Bike A7AT26
Price, approximately USD$2000
HOTEBIKE fat tire electric bike A7AT26 was designed with high power motor and high capacity battery and 26 inch fat tire to provide a superb ride on almost any terrain.
We believe that electric bikes are promoting the concept of green travel, providing clean, efficient and exciting new modes of transportation.
Join us today in the revolution of green efficient transportation in style.
Different Angles of Fat Tire Harley Electric Bike A7AT26
A nice matte black finish, even white could be chose. Fashion streamlined design and light, strong and durable aluminum alloy bike frame.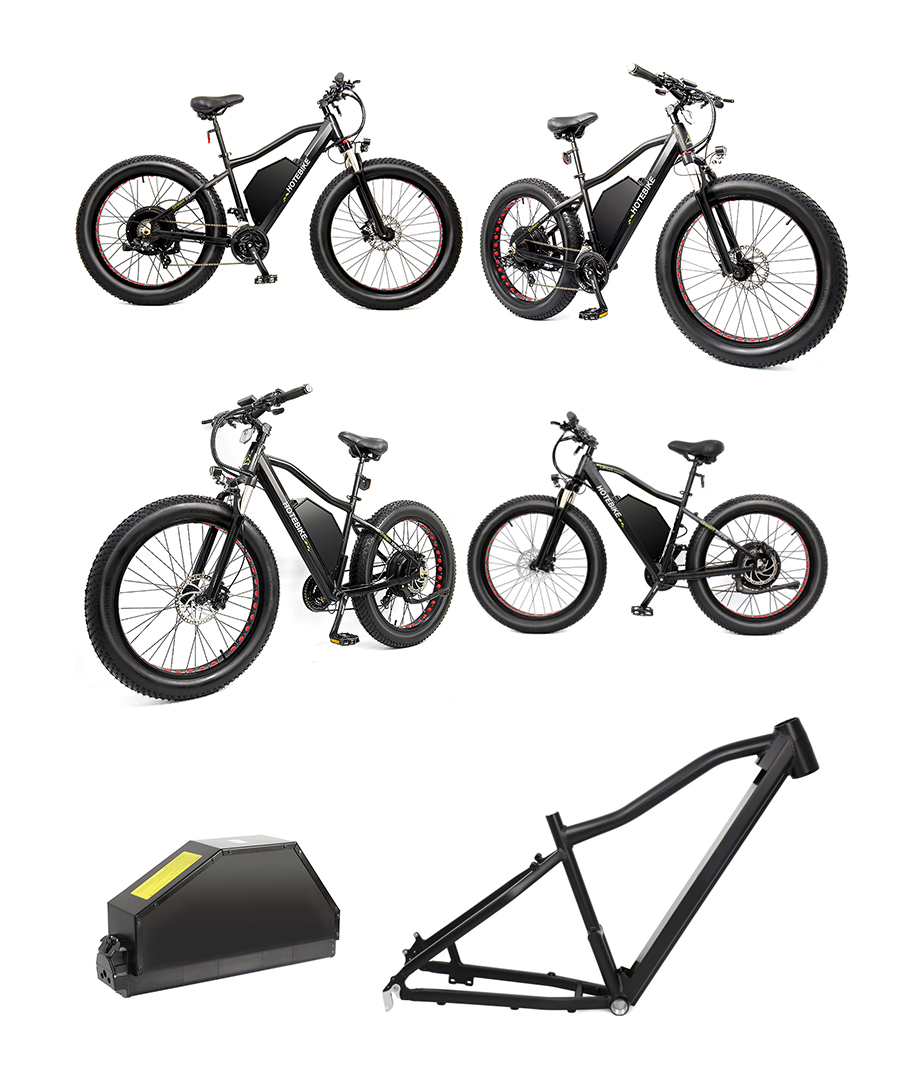 Multi-function large screen LCD display shows lots of data like Distance, Mileage, Temperature, Voltage, etc.
Conjoined Brake Levels & Gear Shifter
Shimano 21 speed gear with derailleur increases hill-climbing power, further range variation, and greater terrain adatability.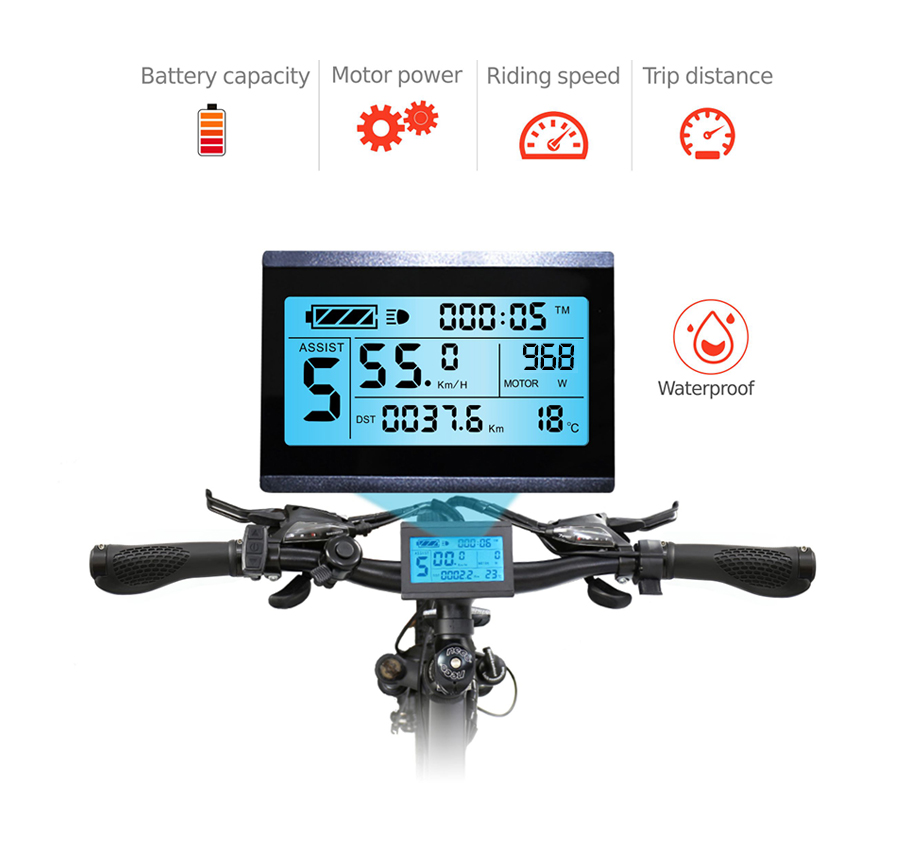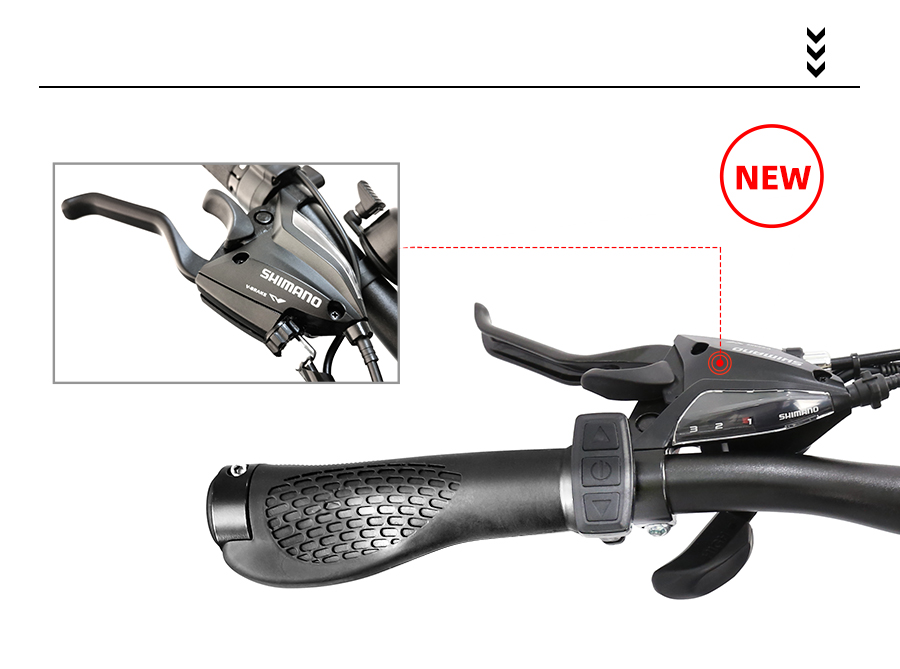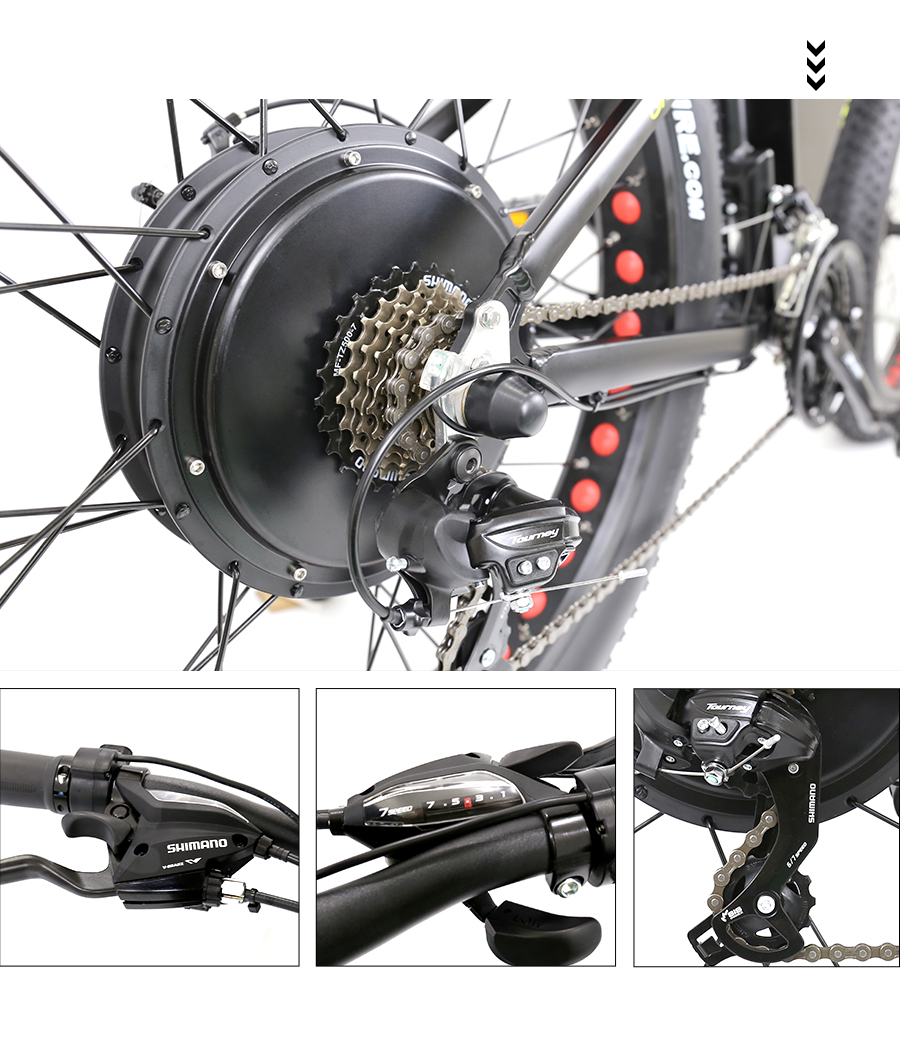 60V 2000W Rear Hub Motor
A power of 2000w rear hub engine that is capable of thrusting this fat tire electric bike at speeds up to 55 KM/H on pure electric power.
60V 18AH Battery
electric bike store near me
Larger capacity 60V lithium battery as a supply power, meaning you shoule be able to easily ride the e-bike out for a full day without any issue(40KM max range on electric only). 5-7 hours of charging time and waterproof design make your bike maintain easier.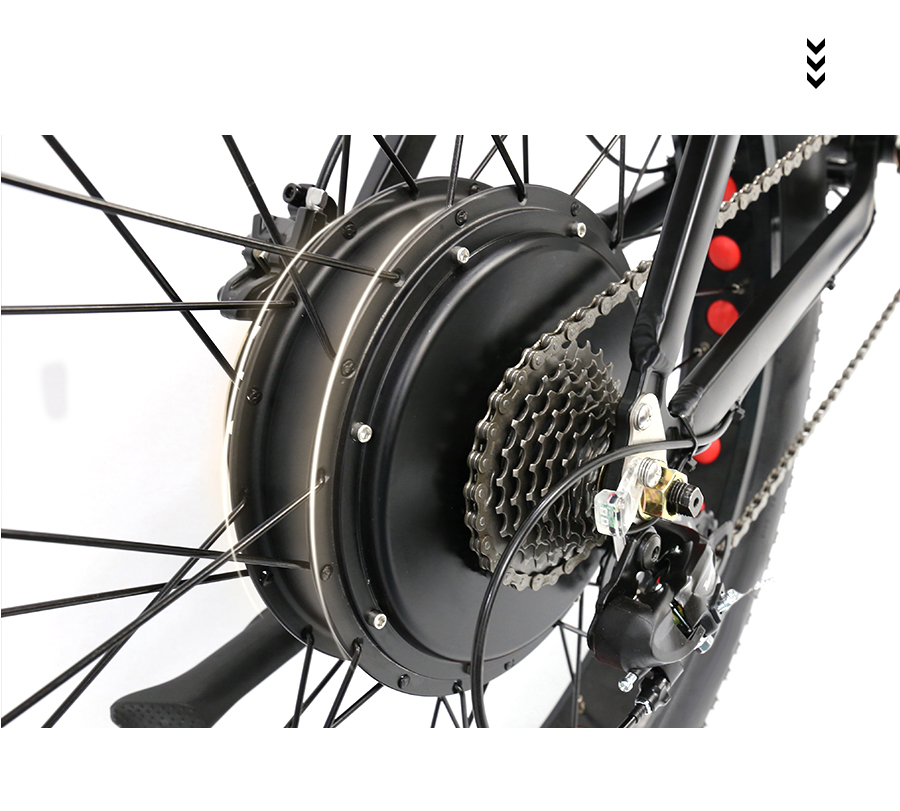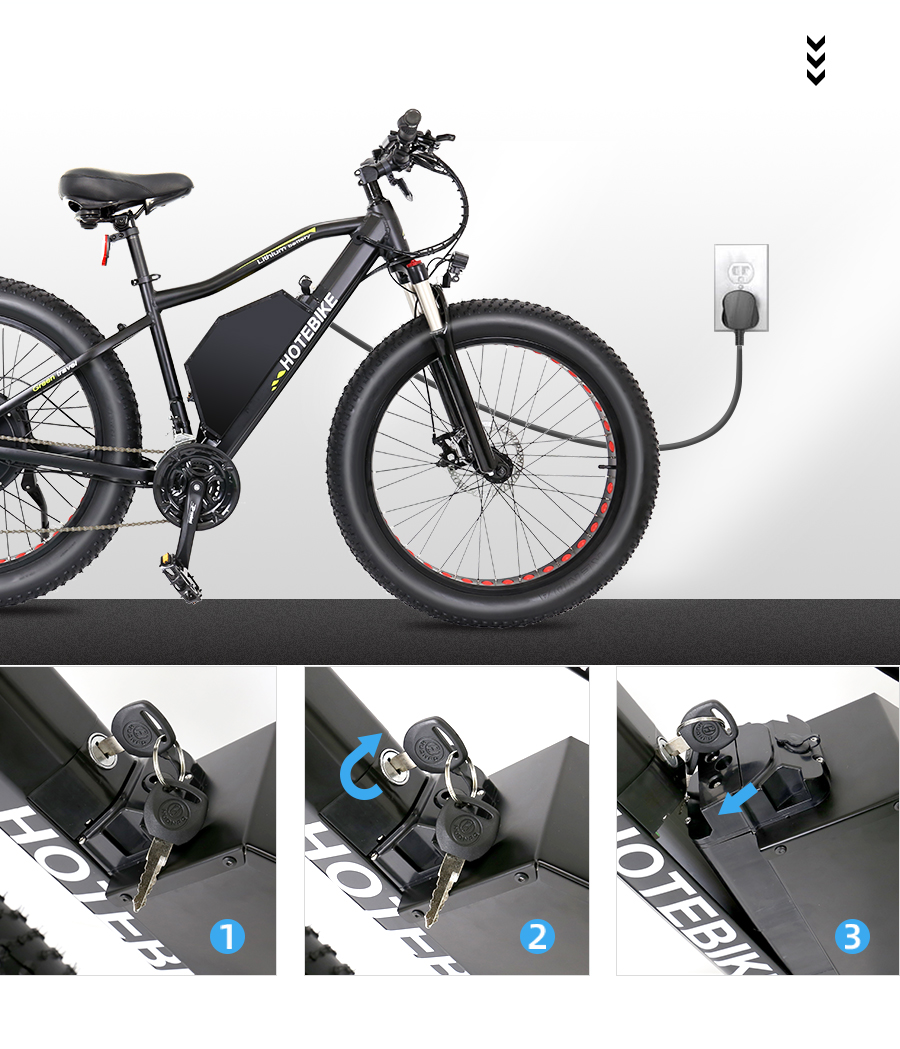 Tektro 180 Disc Brake for electric fat tire bike
Front and rear mechanical 180 disc brakes provides more reliable all-weather stopping power, which keep you safe from any emergency.
High-Quality Durable Tires
All terrain, including city commutes, are easily handled by the 26"*4.0 inch fat tires, especially handy for riding along the beach beside the surf and can even negotiate through rugged, dirt mountain. And this bike can accommodate passengers up to 200Kgs in weight.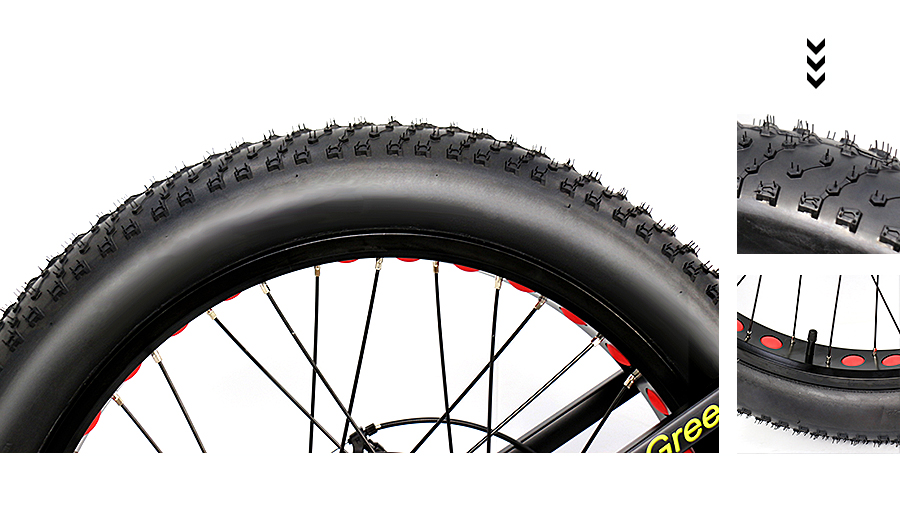 Headlight: Comes with a 5V 1A USB mobile phone charging port on the LED headlight for a convenient phone charging on the ride.
Electric bike Rear Light: Beautiful, cool and safe.