Sondors electric bike and HOTEBIKE fat tire electric bike review
Views:45686 Classification:blog
Sondors electric bike and HOTEBIKE fat tire electric bike review
Sondors electric bike
Pros:

Extremely affordable for a purpose built electric bike, I like that the wires are integrated and the custom battery box matches the frame and hides the electronics (while protecting them)
Decent components including Tektro disc brake rotors, levers with motor inhibitors, solid pedals with nice grip and ergonomic grips with lockers that tie into the color options
The chain is tight and short, uses decent hardware from KMC and is kept on track with a plastic guide on the front ring, it should perform well on bumpy terrain
Four color options for a custom look including yellow with gold accents, black with black accents, blue with black accents, yellow with black accents
The larger 4.9″ wide fat tires help absorb bumps when riding, this compliments the steel frame which also dampens vibration, the comfort saddle includes rubber bumpers which also helps
The battery can be charged on or off the bike, this is great if you're using it for commuting or need to top it off half way through a long trip, the charger is small and light weight ~2 lbs so it's convenient to bring along
Upgraded rims add an element of style because they are punched out and allow the colored liners to be viewed, punched out rims reduce weight but also allow the inner tube to squish around and add comfort
Optional fenders and rack for improved utility in wet riding conditions or for those who plan on commuting, they fit nicely with the frame and can be attached at the threaded bosses on the chain stays and near the rear dropouts
Includes a basic pedal assist sensor that activates the motor at a low efficient level helping to offset the weight and single speed drivetrain, if you relied on this purely it would significantly increase range
Cons:

Only available in one frame size ~18, I noticed that the seat tube has a cut in the backside to allow the collar to clamp down on the seat tube but most other bicycles have this cut on the front to maintain the integrity of the tube as riders tend to lean back or push backwards on the seat when riding
Assembly was required and much more involved than other electric bikes I've purchased online, there are some good instructional videos posted by Sondors but it might be worth getting help from a local shop with the proper tools, grease and stands
Limited use on soft terrain like sand and snow because the motor isn't especially powerful and there's only one gear to pedal with… consider adding a schlumpf or efneo bottom bracket to add gears
Very short warranty period of 30 days, difficult to reach the company (at the time of this review) due to high volume of orders and fulfillment through Indiegogo
A couple minor interesting choices in hardware… the kickstand is fairly tall and didn't seem adjustable so the bike feels a bit tippy (but I love that it has a kickstand)
This is a fairly large bike and there are no quick release options on the wheels which would make it easier to fit into cars or storage areas like garages etc. even though the wheel size is officially 26″ with the giant tires it's actually ~30″ wide when inflated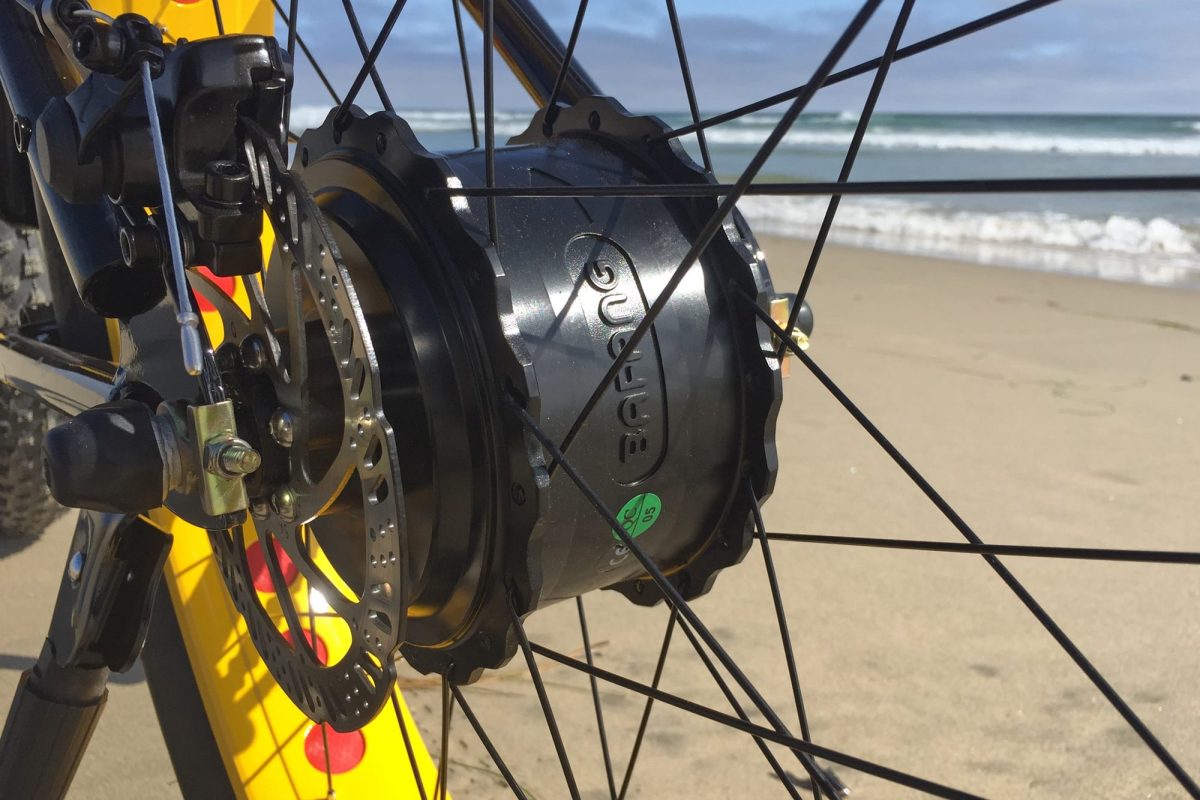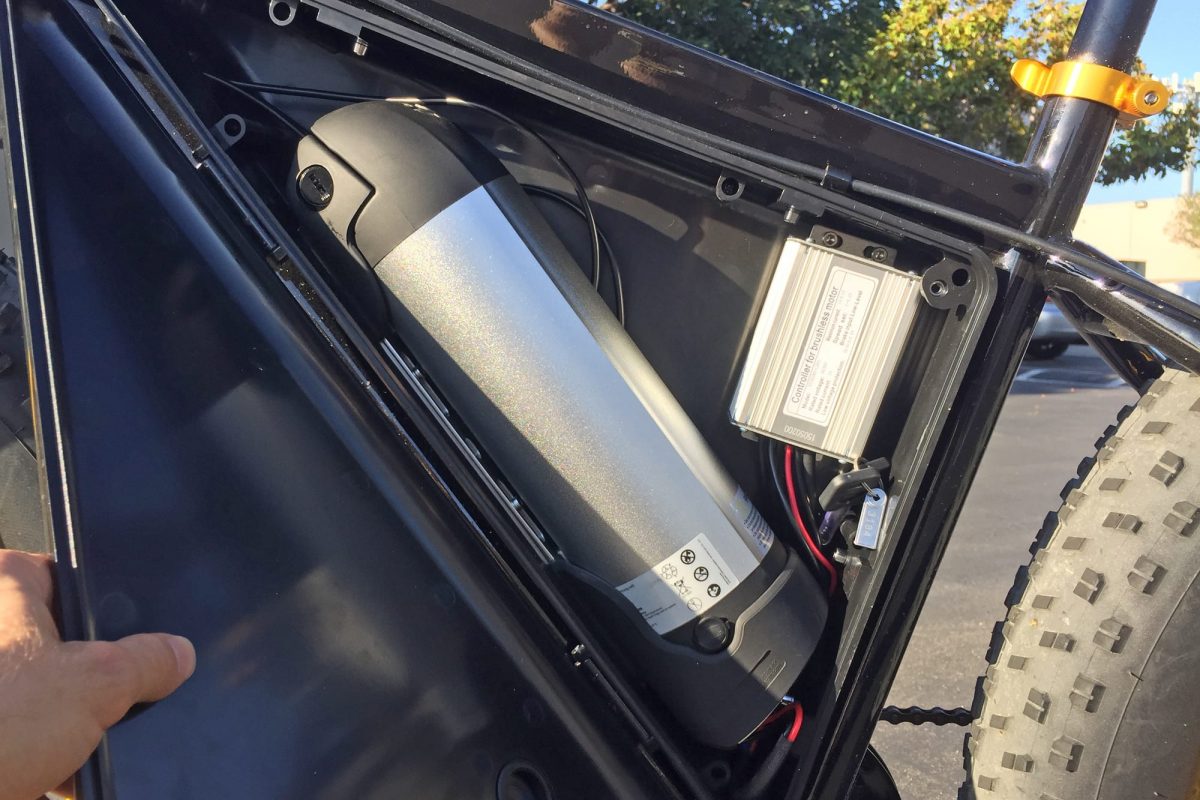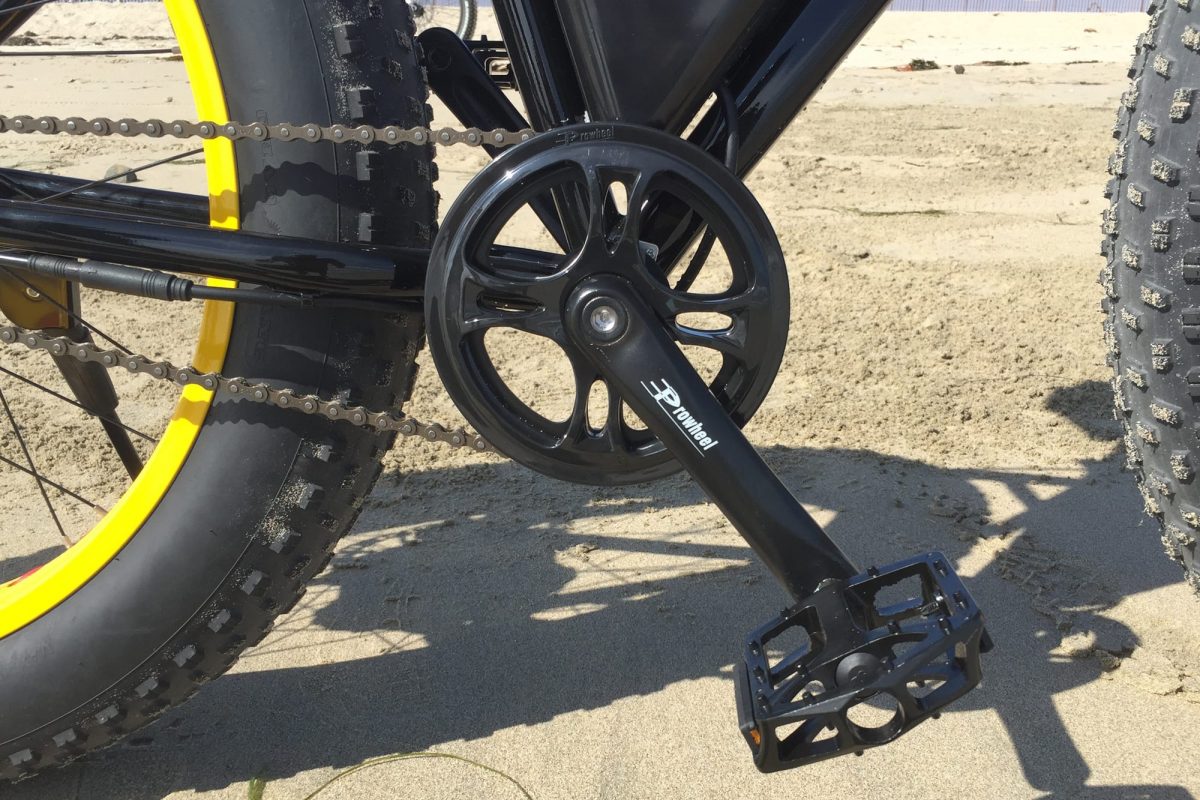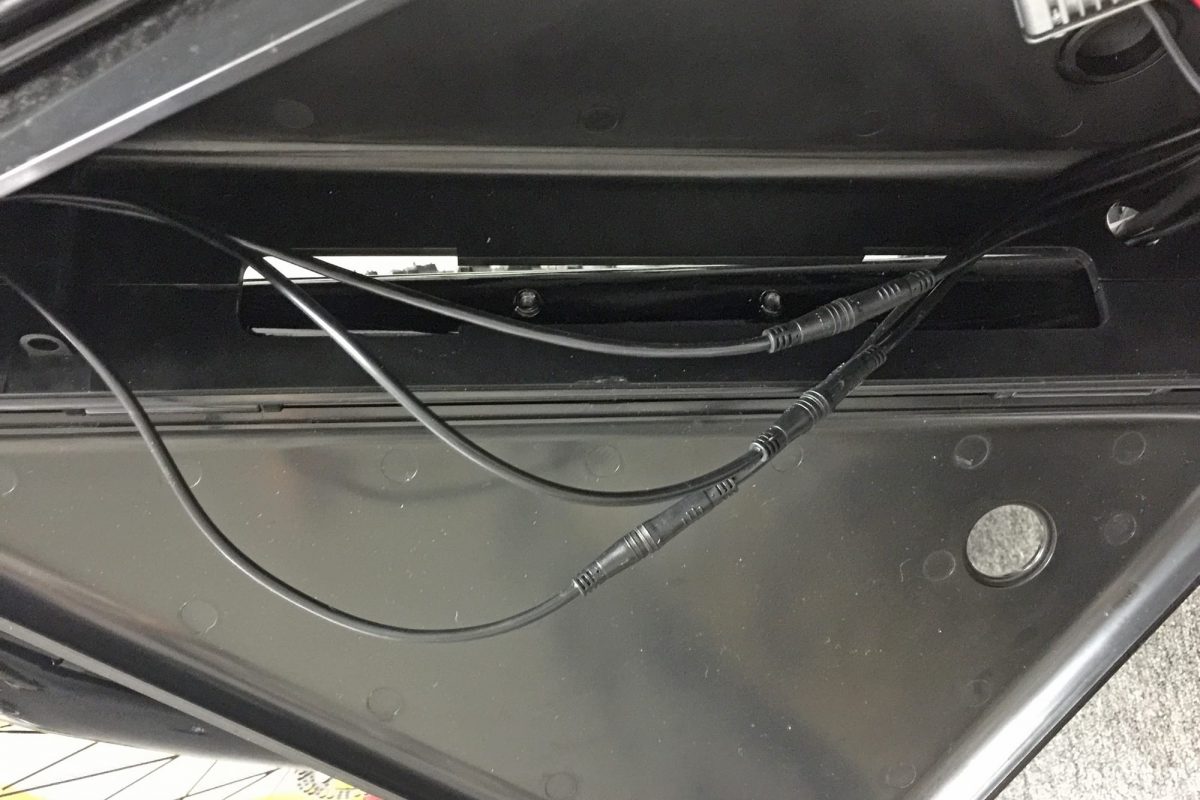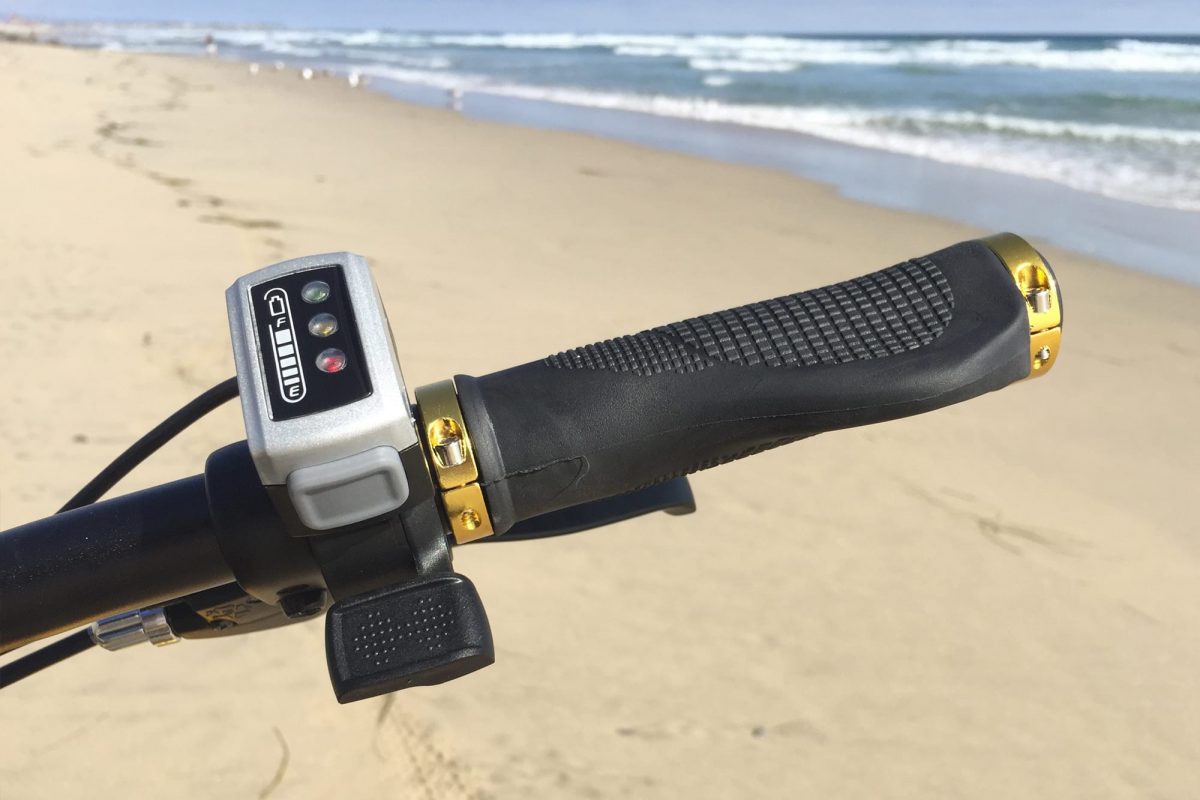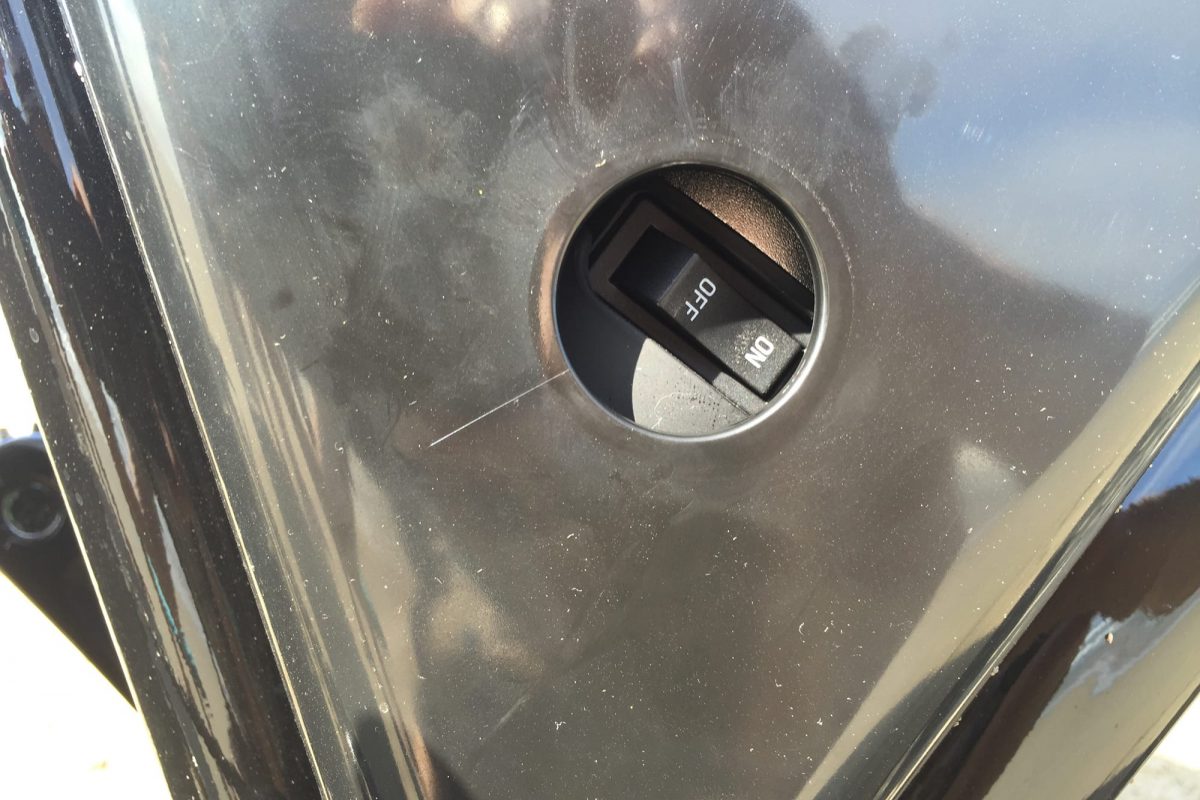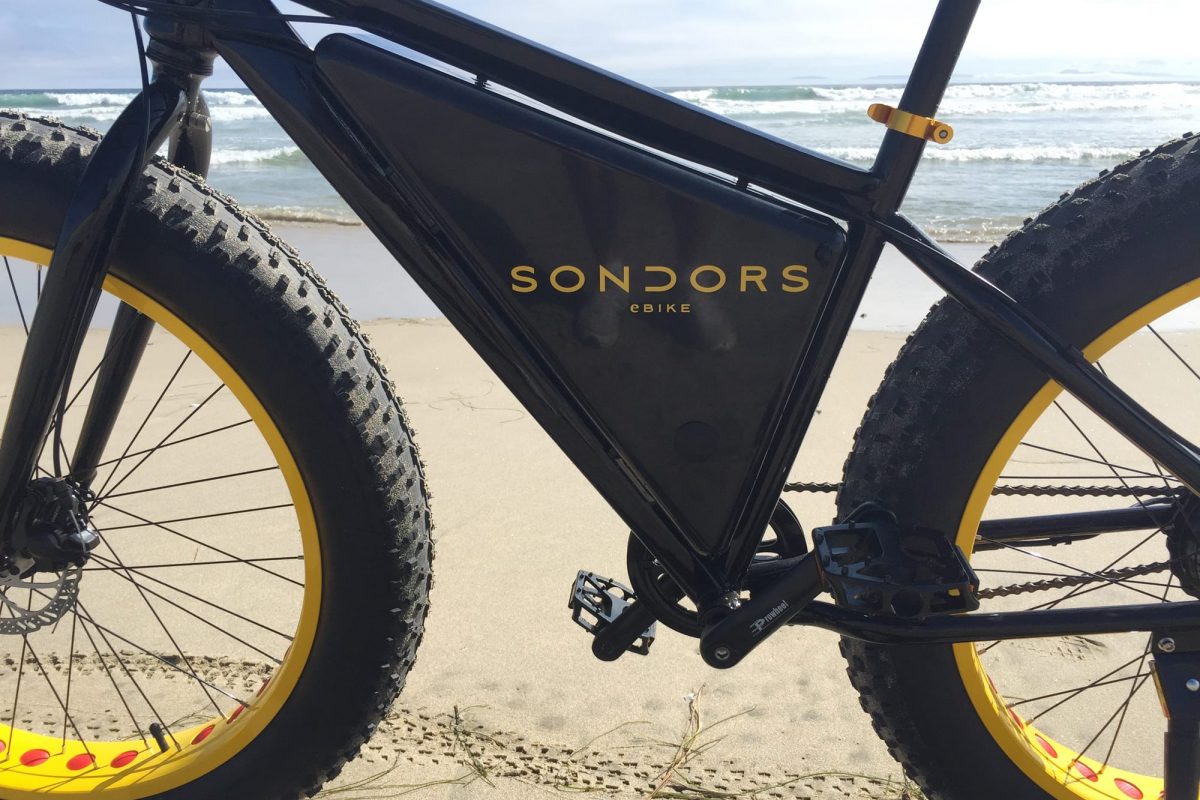 MAKE:
SONDORS
MODEL:
Ebike
PRICE:
$842 ($694 + $194 for Shipping in the US)
BODY POSITION:
Forward
SUGGESTED USE:
Neighborhood
ELECTRIC BIKE CLASS:
Throttle on Demand (Class 2)
Learn more about Ebike classes
WARRANTY:
30 Day Comprehensive
AVAILABILITY:
United States
MODEL YEAR:
2015
Bicycle Details
TOTAL WEIGHT:
59 lbs (26.76 kg)
BATTERY WEIGHT:
5.4 lbs (2.44 kg)
FRAME MATERIAL:
Steel
FRAME SIZES:
18 in (45.72 cm)
GEOMETRY MEASUREMENTS:
Standover Height 18
FRAME TYPES:
High-Step
FRAME COLORS:
Yellow, Blue, Black
FRAME FORK DETAILS:
Rigid, Steel
ATTACHMENT POINTS:
Fender Bosses, Rear Rack Bosses
GEARING DETAILS:
1 Single Speed 44-16T (No Room for Cassette, No Derailleur Hanger)
CRANKS:
Prowheel, Aluminum Alloy
PEDALS:
Aluminum Alloy Platform
HEADSET:
1 1/8″ with 40 mm Stack Height
STEM:
Mixieer, 85 mm Length
HANDLEBAR:
Low Rise, Aluminum Alloy
BRAKE DETAILS:
Tektro Mechanical Disc with 160 mm Rotors, 5 Brand Levers with Motor Inhibitor
GRIPS:
Ergonomic Rubber with Lockers
SADDLE:
Generic Comfort with Rubber Bumpers
SEAT POST:
Rigid Aluminum Alloy
SEAT POST LENGTH:
270 mm
SEAT POST DIAMETER:
28.6 mm
RIMS:
Punched Aluminum Alloy
SPOKES:
14 Gauge
TIRE BRAND:
Chaoyang 26″ x 4.9″
WHEEL SIZES:
26 in (66.04cm)
TIRE DETAILS:
Nylon
TUBE DETAILS:
Schrader Valve
ACCESSORIES:
Single Side Kickstand on Left Chain Stay, Plastic Chain Guide
OTHER:
Plastic Battery Box with Removable Rubber Plugs Switching the Battery On and Charging While Mounted, KMC Chain, Axle Tensioner, Max Tire PSI 20 (Recommend 10 to 15 for Soft Terrain)
Electronic Details
MOTOR BRAND:
8Fun
MOTOR TYPE:
Rear-Mounted Geared Hub
Learn more about Ebike motors
MOTOR NOMINAL OUTPUT:
350 watts
BATTERY BRAND:
Samsung
BATTERY VOLTAGE:
36 volts
BATTERY AMP HOURS:
8.8 ah
BATTERY WATT HOURS:
316.8 wh
BATTERY CHEMISTRY:
Lithium-ion
CHARGE TIME:
4 hours
ESTIMATED MIN RANGE:
10 miles (16 km)
ESTIMATED MAX RANGE:
20 miles (32 km)
DISPLAY TYPE:
LED Display
READOUTS:
Charge Level (Green, Yellow, Red)
DRIVE MODE:
Trigger Throttle
TOP SPEED:
18 mph (29 kph)
HOTEBIKE fat tire electric bike
ebike Frame:
Classic aluminum alloy mountain bike frame, own mold, independent development, patent design.
ebike Battery:
Lithium battery hide in frame is removable, making it easy to charge it separately from the bike. It is more fashionable and convenient.
Electronic bike control system:
Design and production by ourselves. Multi-function large screen LCD display shows lots of data like Distance, Mileage, Temperature, Voltage, etc. Comes with a 5V 1A USB mobile phone charging port on the LED headlight for a convenient phone charging on the ride.
Bicycle Mechanical part:
Front and rear mechanical 160 disc brakes provides more reliable all-weather stopping power, which keep you safe from any emergency. Shimano 21 speed gear increases hill-climbing power, further range variation, and greater terrain adatability. Suspension alumimun alloy front fork, make your riding more comfortable.
Motor: 48V 500W gears hum motor
Battery: 48V 13AH(LG)hidden battery
Max Speed: 35km/h
Max Range (PAS mode): 60km-80km per charge
Tyre: 26*4.0 inch fat tire
Max Load: 150kgs
Charging time: 5-7 hours
Gear: Shimano 21 speed
Brake: Tektro 160 disc brake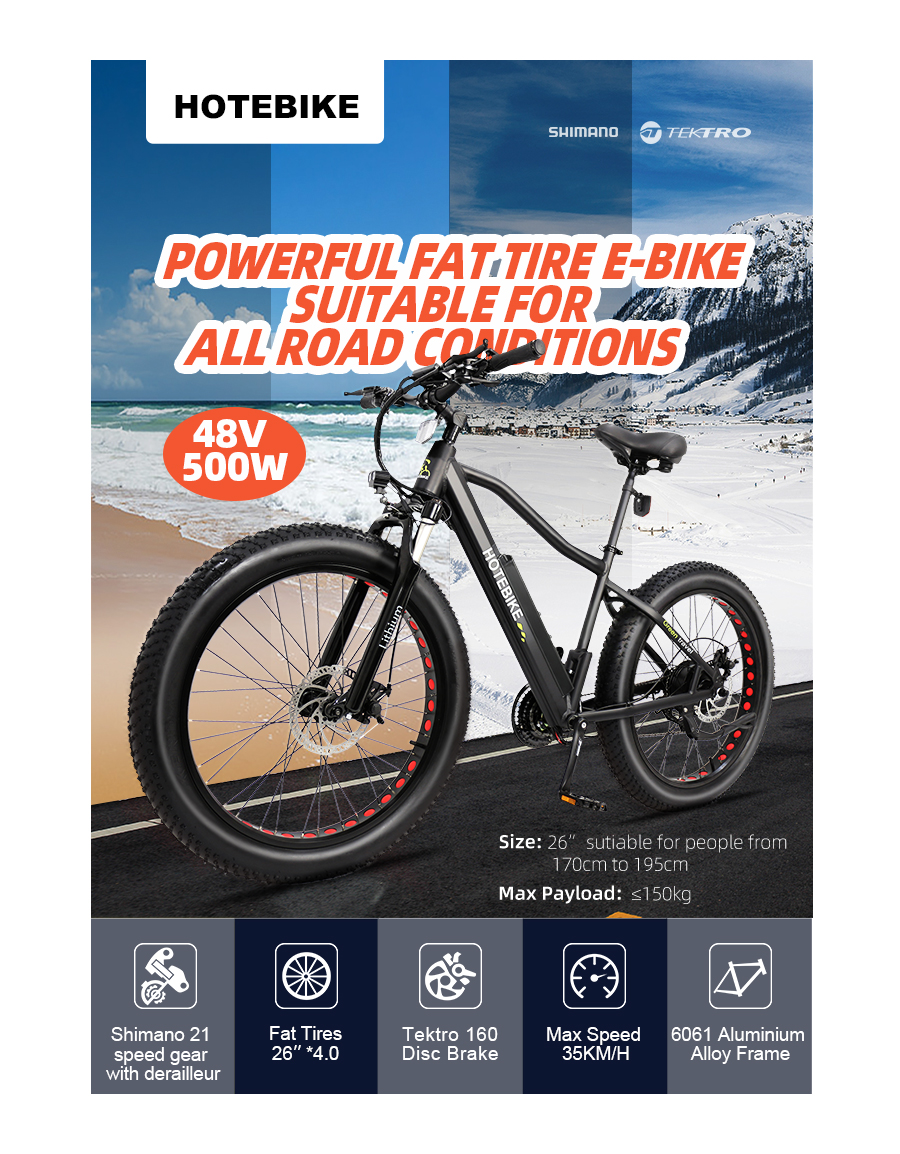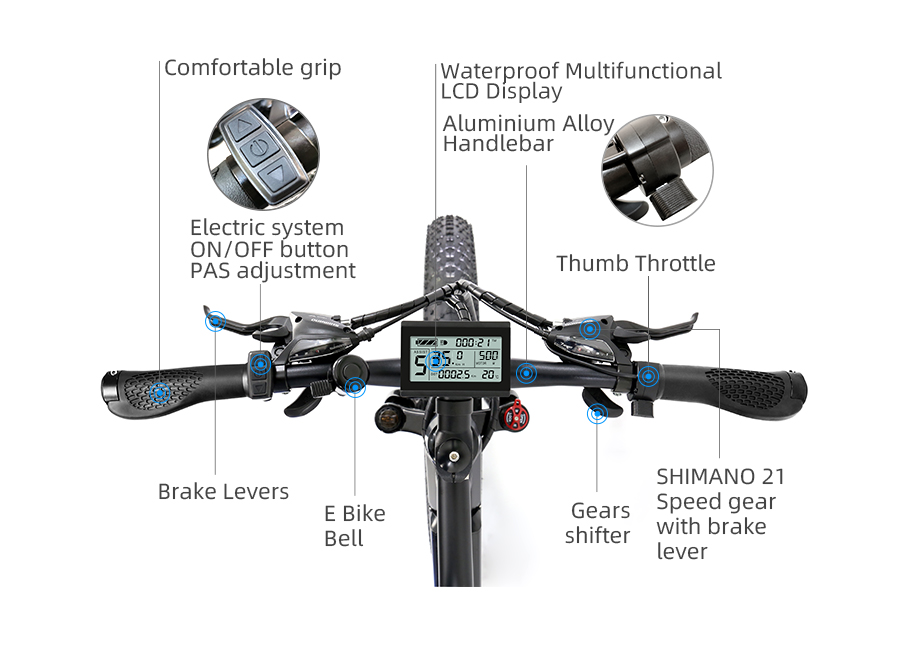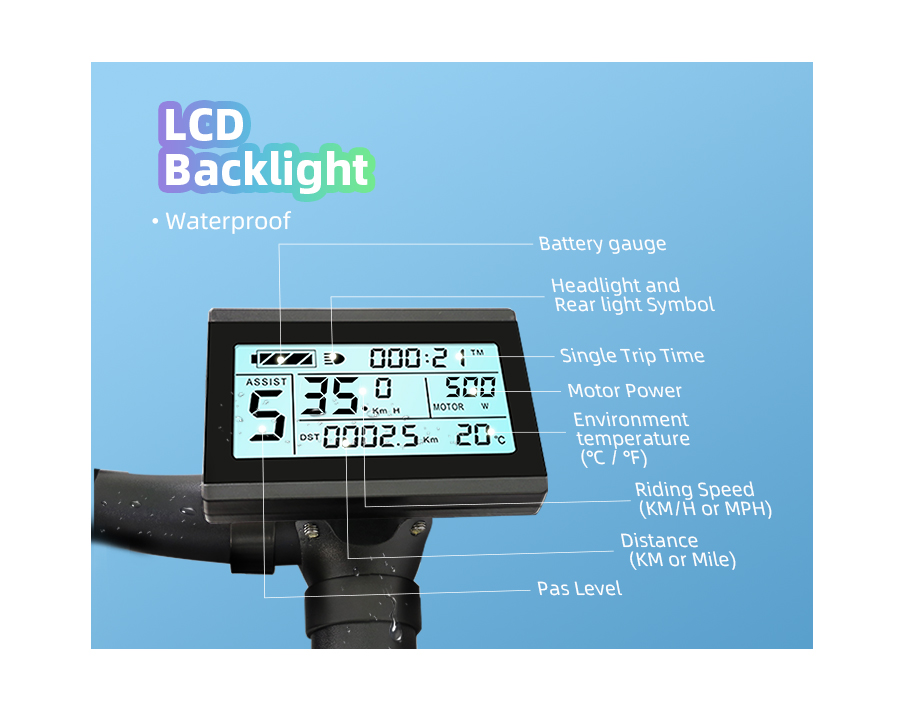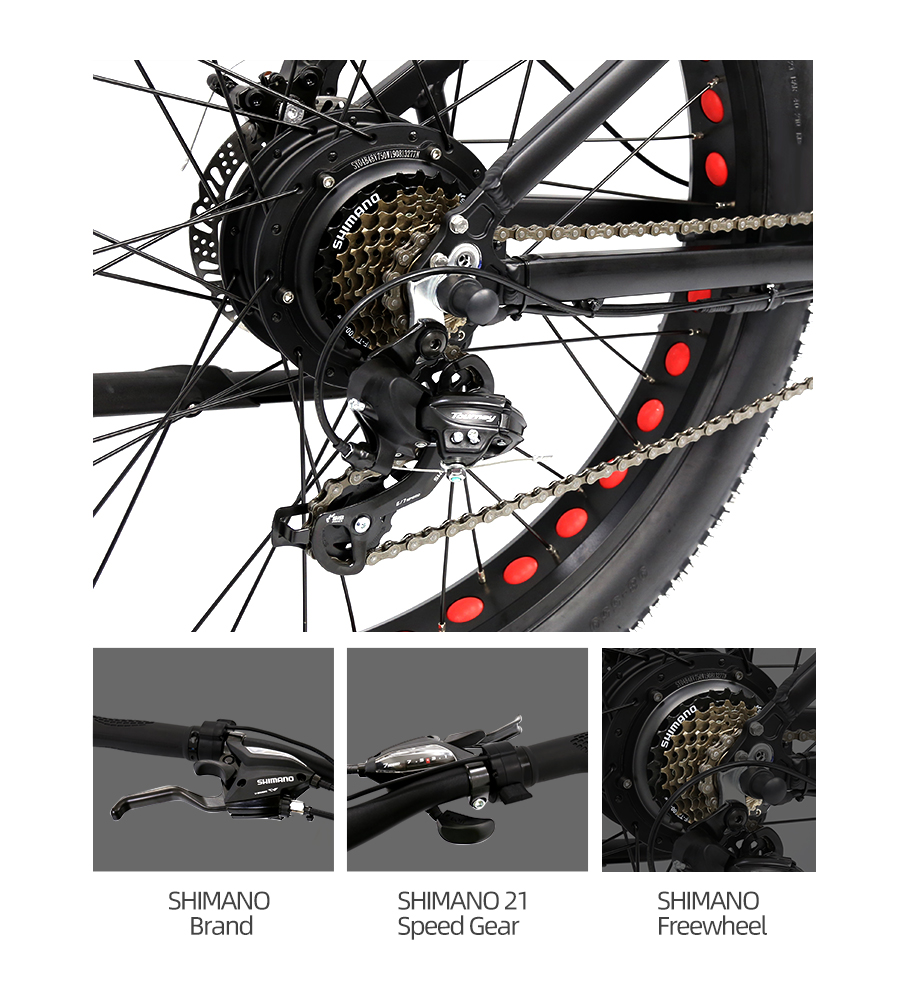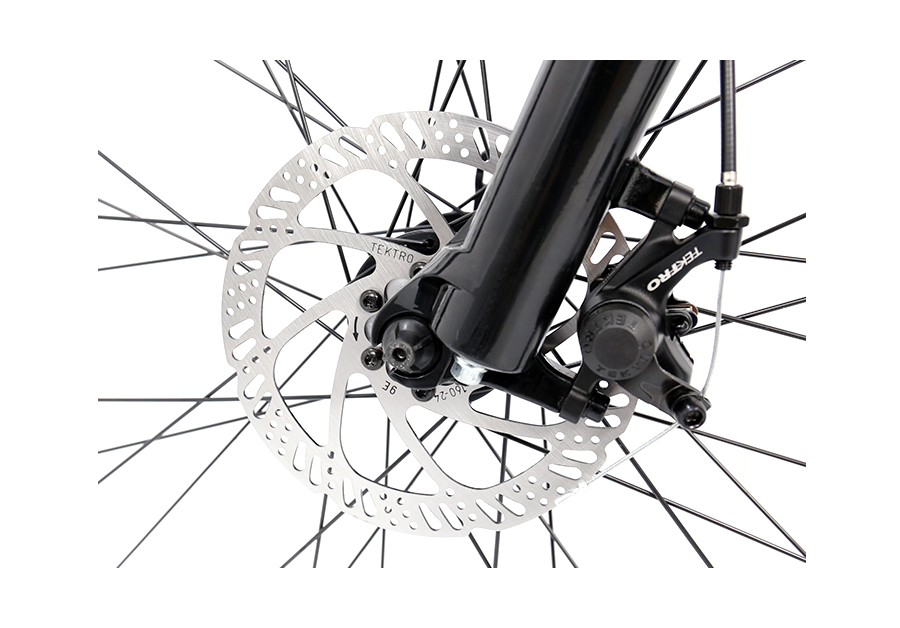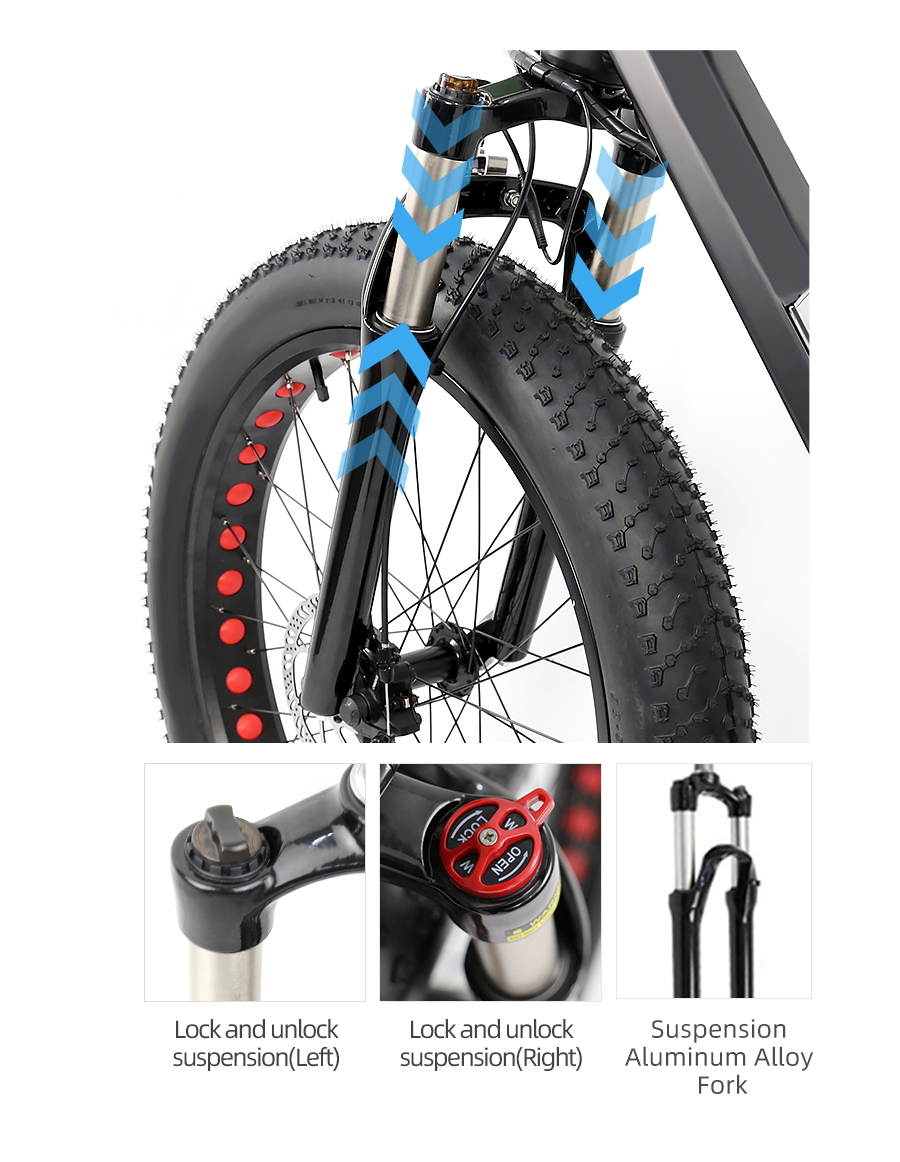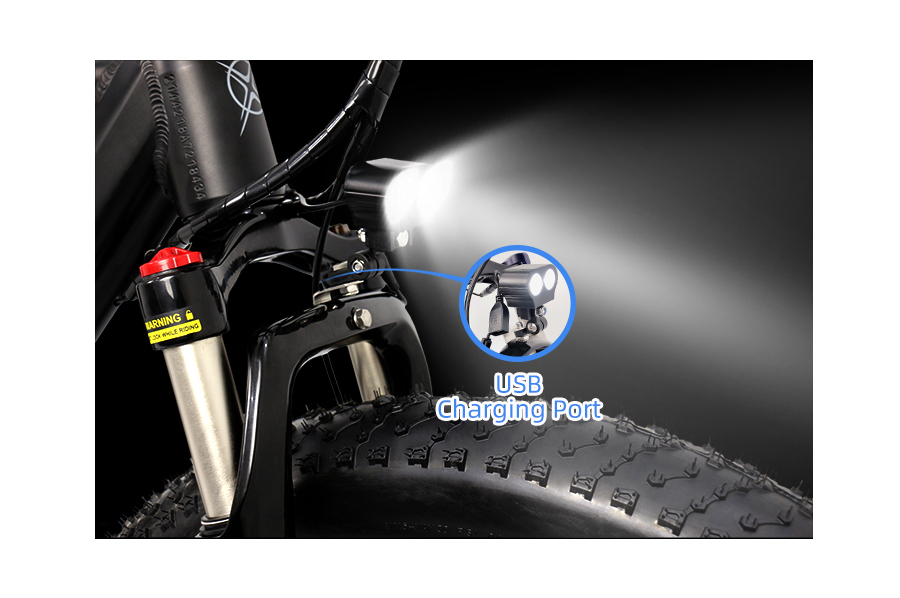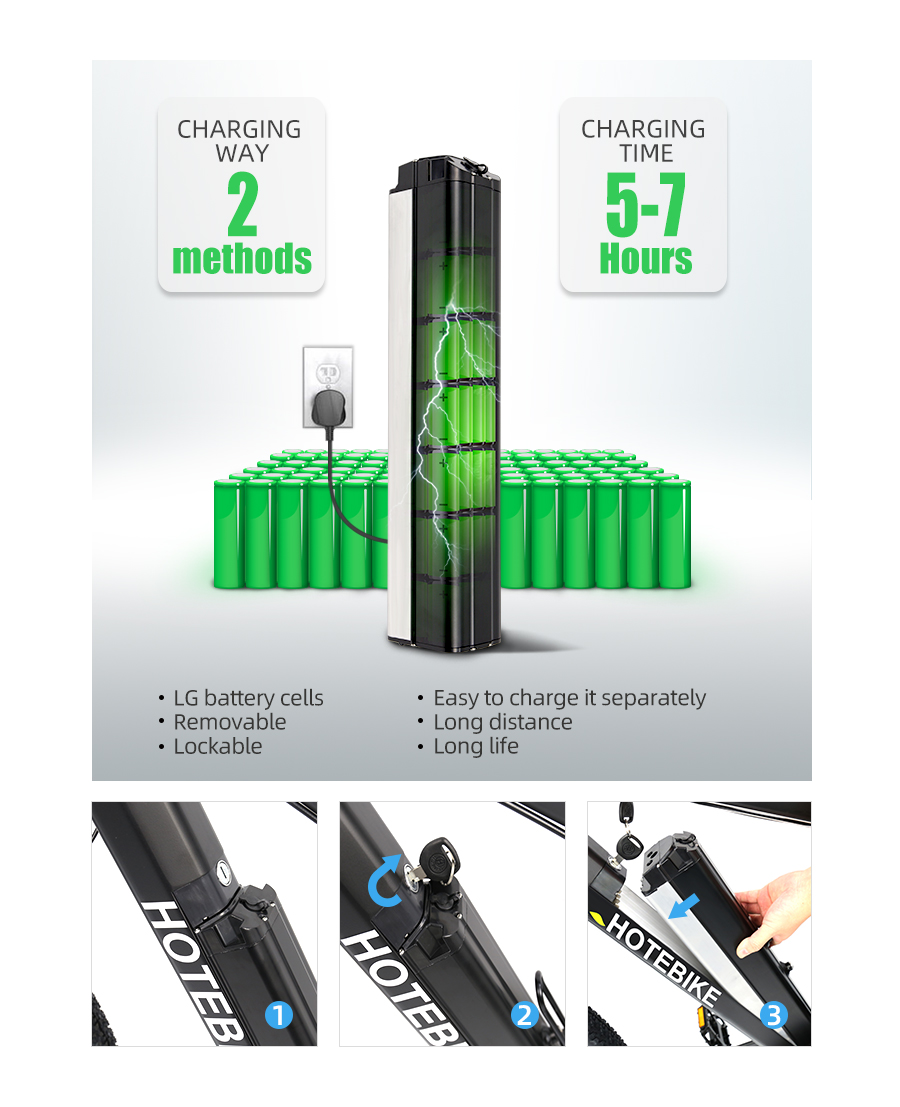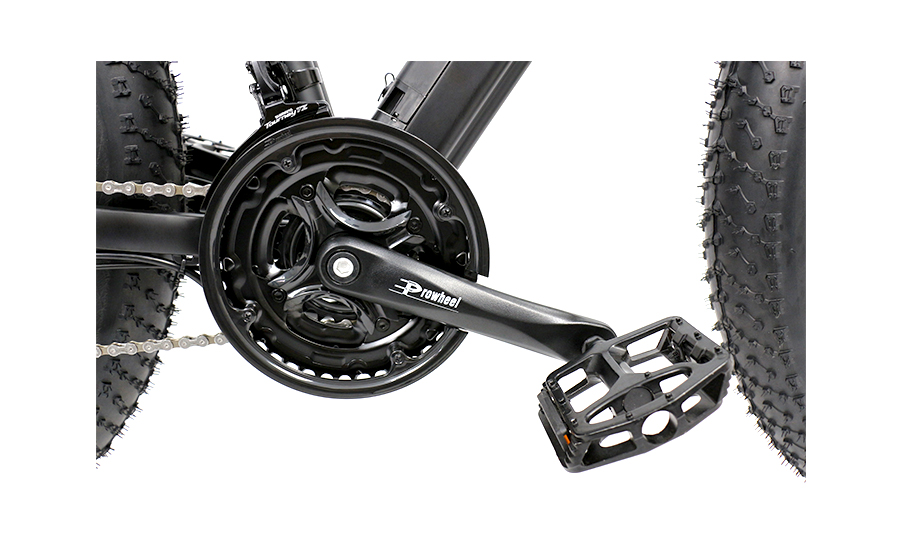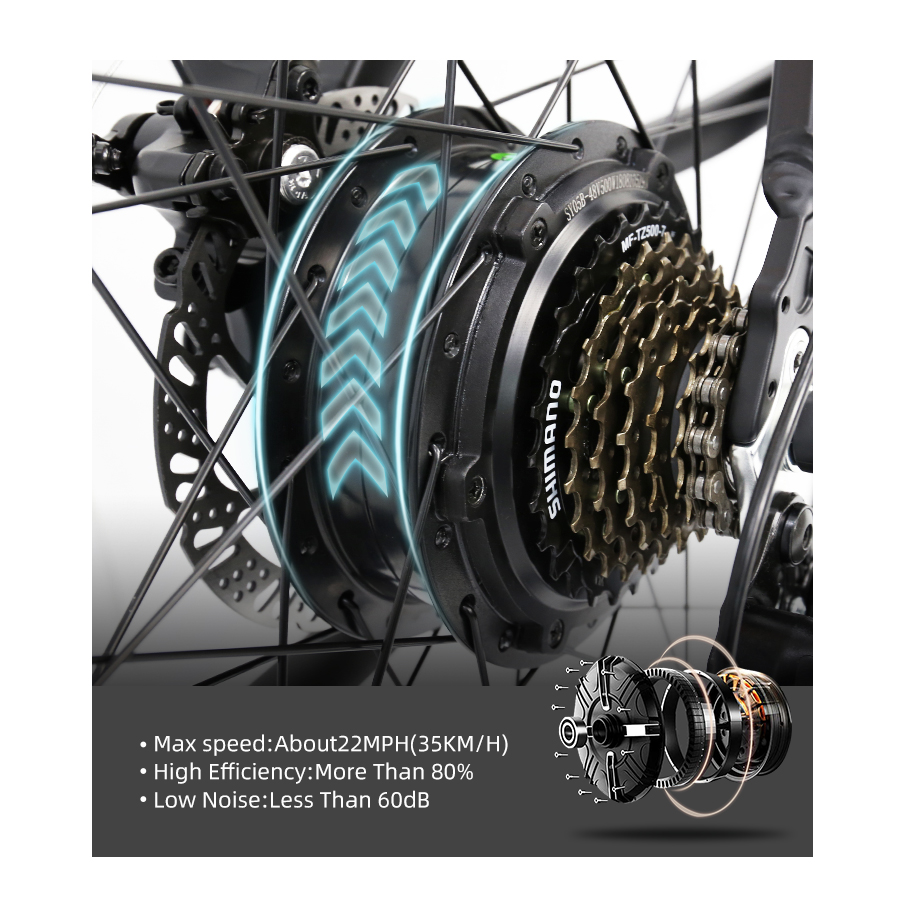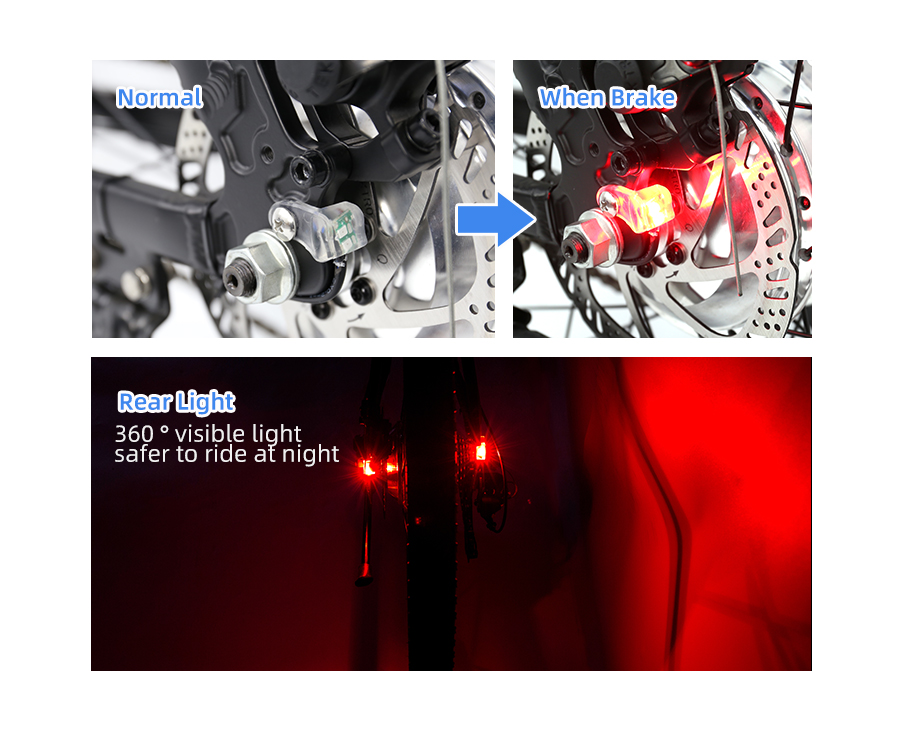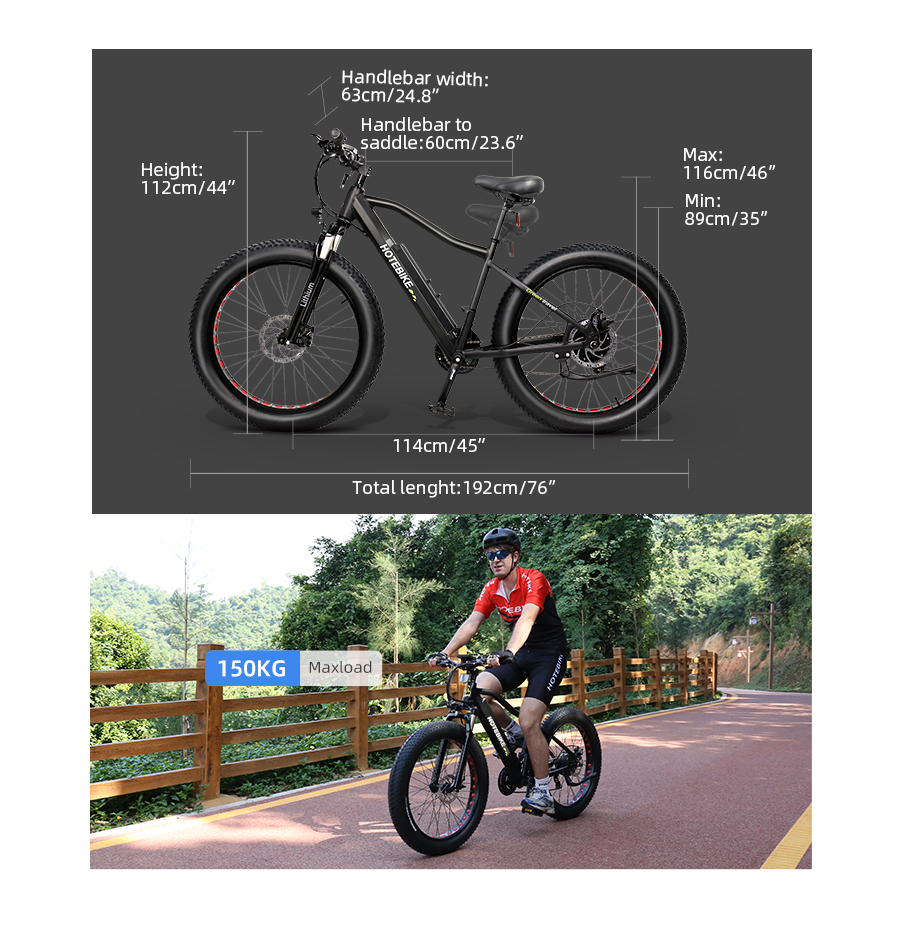 A high-quality bicycle with a higher price than Sonener, but still a relatively affordable fat tire bicycle. The price is USD$1329. If you contact customer service, you may get a big discount.
Product Links