Sur Ron X Electric Dirt Bike Review
Views:79710 Classification:blog
Sur Ron X Electric Dirt Bike Reviews

What do you get when you cross an electric mountain bike with the Terminator? Ever wished to own a vehicle out of Batman's garage? Look no further than the Sur Ron X Black Edition.
The Sur Ron X is a highly engineered monster electric dirt bike capable of reaching performance levels dwarfing that of even gas-powered dirt bikes. With its highly sophisticated styling, top of the line parts and performance, the "Light Bee" is easily one of the best performing, most recognizable headturners in the E-bike industry and was awarded the German Red Dot Award in 2018.
It is also very popular among professional motocross riders in competitive off-road sports. Needless to say, the Sur Ron X is a well known icon in the e-bike world.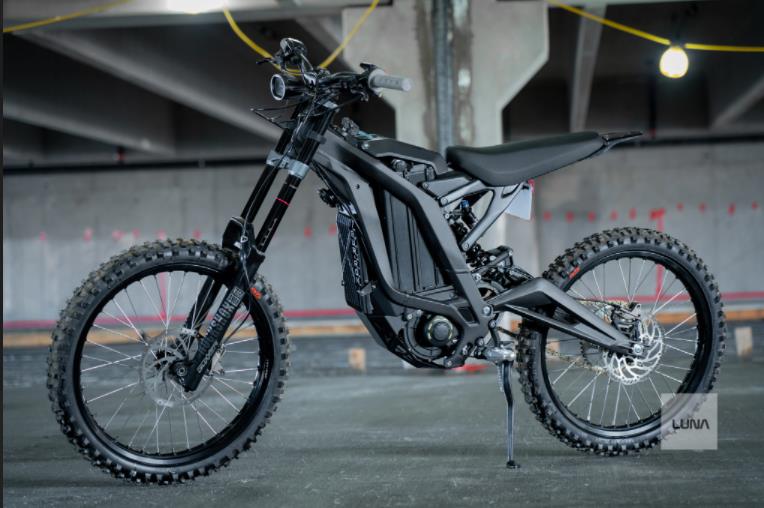 Sur Ron X's Features

Sporting a futuristic design, matte black finish, and badass off-road wheels, this bike looks like something Darth Vader would use. The structure of the bike resembles a mountain bike-dirt bike mix with the handlebars and front fork belonging to that of a mountain bike and the rest is that of a dirt bike.
The Sur Ron X features 5200w (7 bhp equivalent) electric motor which is a seriously impressive powerup for a mountain bike. That power mixed with the battery's 2000 watt-hour capacity makes a 50 mile range at 50 miles per hour.
The Sur Ron X also features a keyed "ignition" and keyed battery compartment similar to that of traditional motorcycles giving it the impression of being a legitimate motorbike.
What makes the Sur Ron X stand out from the crowd is it's dual front shock and single slanted rear shock which is a very rare feature in most other electric bikes. This also classifies the bike as a legitimate off-road electric mountain bike and not just a replica.
Some other unique characteristics of the Sur Ron X Black Edition include its informative heads-up-display (HUD) which displays the speedometer (in kph or mph), battery power, and trip meter, its new Sine Wave X-controller which is quieter, smoother and more powerful than the base model's, and its new regenerative braking which the base model doesn't have.
The brake levers are situated on the handlebars. Rear brake on the left and front brake on the right as with an actual motorcycle.
One downside of this bike is probably its brake stopping power during high speed off-road treks. For its speed, brake performance is mediocre making this a dangerous ride especially for beginners.
Sur Ron X Motor Performance

If you've seen the video featuring the Sur Ron X winning first place in a hare scramble race with gas-powered dirt bikes, you'd be thinking "How did a small electric-powered dirt bike beat a bigger bike with a more powerful and efficient gasoline engine?"
1st Place Winning Race | Sur-Ron X | Electric Against Gas Motorcycles (Source: Electric Cycle Rider)
The Sur Ron X Black Edition's motor features 5200W (7 bhp) of power and therefore the energy demand on the battery is lowered making the motor run cooler and more energy-efficient.
With a two-stage drive, the Sur Ron X motor runs more quietly and efficiently even on high rpms and without generating too much motor heat. One thing that sets it apart from other e-bikes is its ability to climb inclines. Its strong motor coupled with its lightweight build enables it to easily scale inclines that other electric dirt bikes struggle with.
What about Sur Ron X's battery?

The Sur Ron — also colloquially called "Light Bee" — features a light but massive 2000 watt-hour 60v 32ah removable battery consisting of high ratio Panasonic PF battery cells, a host computer management process and data interface, high power battery management system, state-of-charge battery statistics and four real-time temperature sensors all contained within a hard case that slides into the "engine compartment" of the bike. This enables the battery to maintain a large capacity of energy while also being highly efficient and safe. A 10A cast aluminum encased battery charger is also paired with this battery
In addition to the above, the Sur Ron X Black Edition features a regenerative braking system which helps charge the battery and aid in hill descents. Though the system takes some practice to use, as the throttle switches between gas and brake, it's still a nice touch despite its unrefined nature.
Sur Ron X suspension system

Sporting a DNM Volcano front suspension with RST oil+spring dampening and a Fast Ace 8-inch travel inclined rear suspension, the Sur Ron X can handle big jumps and rough roads with ease making it a solid choice for both off-road and city rides. The Sur Ron has great suspension for its type although it pales in comparison to suspension found on gas-powered dirt bikes.
Is the Sur Ron X durable?

With a super light aluminum frame weighing only 7.8 kg, it's hard to think that a bike like this can withstand the stress that comes with regular use. Formed using a large 6000 ton press, the aluminum used on this bike's frame is several times stronger and lighter than ordinary aluminum. The bike's swingarm is also constructed in the same way allowing it to withstand even the pressure and shock of high jumps while saving weight.
Apart from that, the quality control involved with the manufacture of this bike's frame subjects it to dynamic high-pressure and impact tests. Therefore we are assured of the bike's durability and quality
Advantages when riding the Sur Ron X

Aside from the insane amount of power that this ebike delivers, the main advantage of owning a Sur Ron is leveraging the industry's most cutting edge technology. Starting with the spiked off road tires, impact-resistant spoked wheels, DNM Volcano front suspension with RST oil+spring dampening and Fast Ace 8-inch travel rear suspension to soften impacts and maximize off road versatility.
And with a tempered aluminum alloy frame that's several times as strong as regular aluminum, axial flux electric motor with the highest usable power and torque of any electric drive motor on the market, and a quiet Sine wave X controller.
The Sur Ron X comes with a light but solid frame that enables it to withstand the stresses of off-road situations. Complementing it is a very powerful motor, a highly energy-efficient battery system, top-of-the-line suspensions, and spiked off-road tires which makes the "Light Bee" a perfect choice for both competitive off-road riding and daily commuting or anything in between.
Disadvantages when riding the Sur Ron X

Even with all its upsides, like all technology, the Sur Ron X has its limitations. Being a lightweight vehicle, the Sur Ron X can be difficult to steer, especially for beginners. Its narrow and light structure gives it the tendency to oversteer during quick turns giving it a twitchy feeling.
Aside from that, the weight of the bike also affects its stability when accelerating. The sudden acceleration resulting from the motor's strong torque may be prone to popping unintended wheelies, therefore increasing the chances of accidents (or unintended bursts of laughter depending on your riding ability).
The tightly packed nature of the Sur Ron X also limits its customization flexibility. Aside from adding pedals, decals and fenders, there's really not much you can do to personalize the bike.
60V 2000W Fat Tire Electric Bike Mountain Bicycle Electric Dirt Bike (A7AT26)

Motor: 60V 2000W brushless motor
Batttery: 60V 18AH large capacity, long range
Controller: Intelligent brushless 60V 2000W
Charger: 71.4V 3A 100-240V input
Tire: 26*4.0 fat tyre
Brake lever: Aluminum, cut-off electricity when braking
Gears: Shimano 21 Speed with derailleur
Display: Multifunctional LCD3 display
Initiating mode: Pedal assistant (+ Thumb Throttle)
Max speed: 55KM/H
HOTEBIKE fat tire electric bike A7AT26 was designed with high power motor and high capacity battery and 26 inch fat tire to provide a superb ride on almost any terrain.