What is different between hotebike and ancheer electric bike
hotebike A6AB26 and Ancheer AN-EB001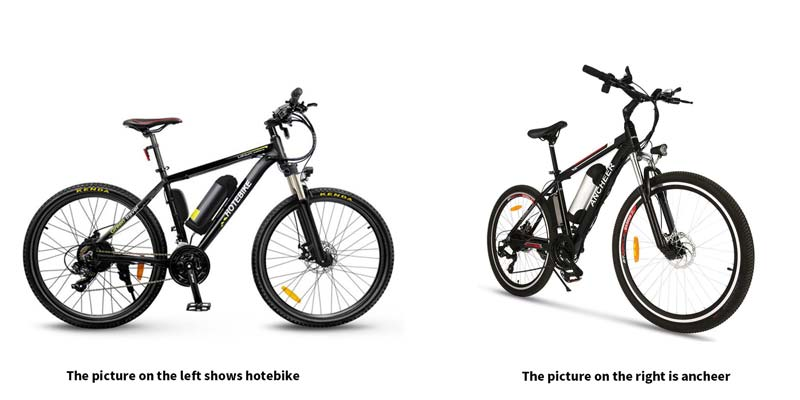 First of all, the appearance of hotebike electric mountain bike and ancheer electric mountain bike are roughly similar, so what's the difference? Let us continue to learn about their mountain bike review!
Motor power of electric mountain bike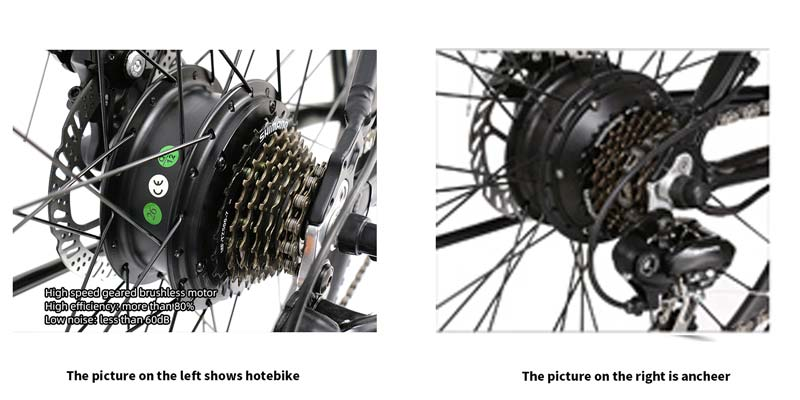 The Ancheerelectric bike AN-EB001uses a 250w motor, which is about 25km/h, and the HOTEBIKEA6AB26 electric mountain bike uses a 350w brushless motor, which is about 30-40km/h. It is known that the higher the motor power, the faster the driving speed.


Electric mountain bike display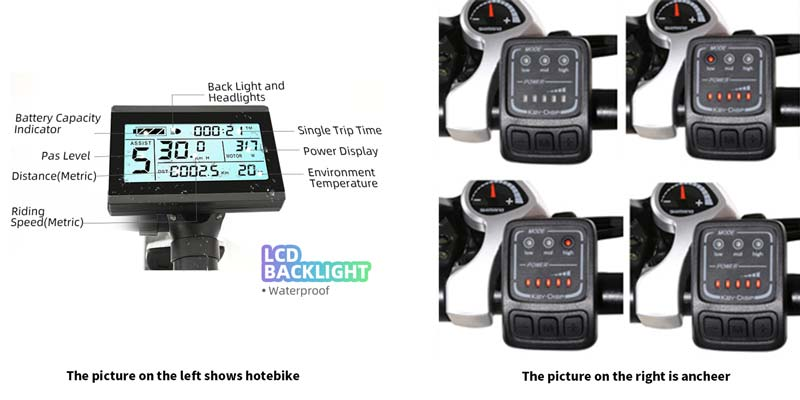 HOTEBIKEelectric mountain bike A6AB26 is equipped with a large LCD display. The display overview includes: Back Light and Headlights, Single Trip Time, Environment Temperature, Battery Capacity Indicator, PAS Level Distance (Metric), Riding Speed (Metric). The display of Ancheerelectric mountain bike is simpler: battery display, riding speed and high, medium and low 3 gear display


Electric mountain bike battery capacity and charging time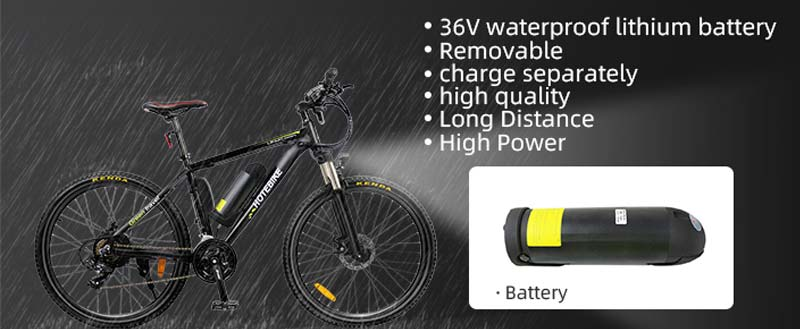 Electric mountain bike battery is one of the important parts of the range. The larger the battery capacity, the longer the range. The HOTEBIKEelectric mountain bike battery has a capacity of 10AH and can even support a larger capacity. It adopts high-quality battery cells and has more stable performance and is removable. The single range is about 30-40km (pure electric mode), and can reach a long range up to 60-80km with pedal asssit. The battery capacity of Ancheerelectric mountain bike is 8AH and the range is less, about 25km.


Electric mountain bike front fork and wheel set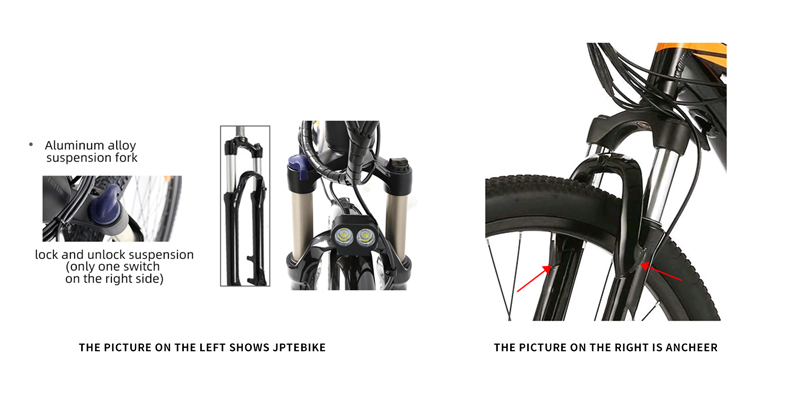 Ancheerelectric mountain bike uses 26-inch aluminum alloy wheels, carbon steel shock-absorbing front fork, and HOTEBIKEalso uses 26-inch aluminum alloy rims, and it uses stainless steel spokes. It is not easy to rust. The front wheel is equipped with a quick released device. The HOTEBIKEuses a suspension aluminum alloy front fork. The right side is equipped with a lock and unlock suspension. The suspension switch can be opened on rough roads and closed on flat roads, switch freely at any time, which greatly improve the comfort experience.
LED headlights and USB charging port

HOTEBIKE is equipped with waterproof LED headlights on electric mountain bikes, so that you can drive safely at night. At the same time, it is equipped with a 5V 1A USB charging port. If your electronic device is out of power during travel, you can charge it immediately. HOTEBIKE electric mountain bike uses quick-released connectors, if the LCD display is damaged, it can be disassembled and replaced more quickly, while the Ancheer electric mountain bike is equipped with LED headlights, but does not have a USB charging port.
Transmission system and brake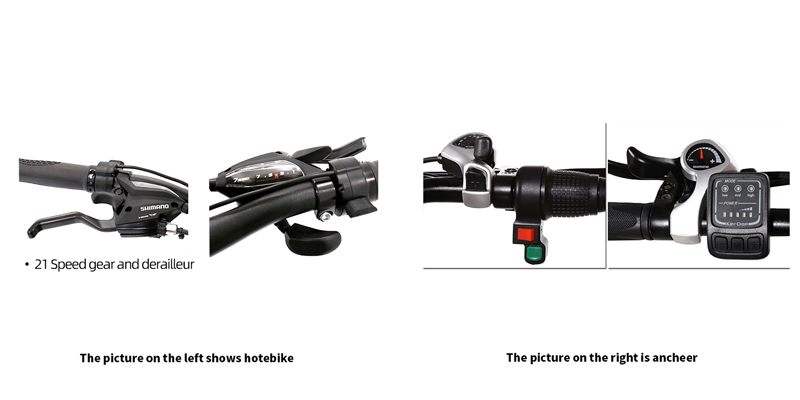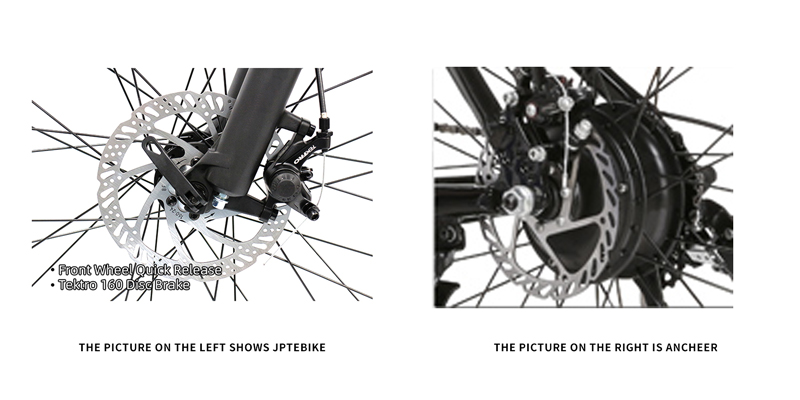 HOTEBIKE and Ancheer also use Shimano's 21-speed transmission system, which can greatly increase climbing ability, further range changes and greater terrain predictability. HOTEBIKE adopts front and rear mechanical 160 disc brakes to provide more reliable all-weather braking force, which can ensure your safety in any emergency situation.
Pedals, cranks and flywheels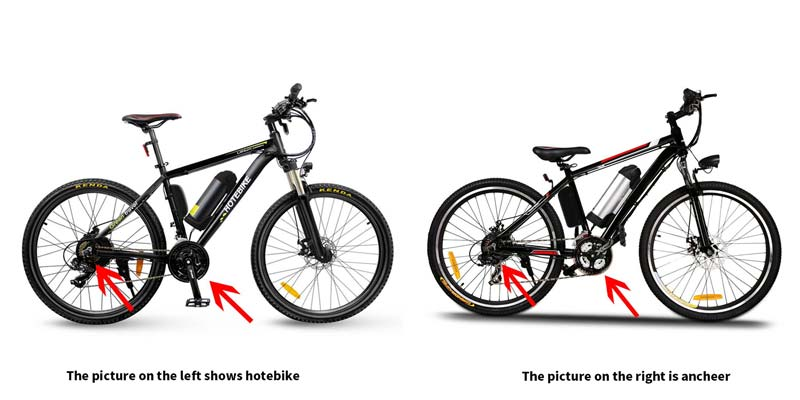 Ancheer electric mountain bike uses ordinary crankset, flywheels and pedals, while HOTEBIKE electric mountain bike crankset and flywheels are made of aluminum alloy, which is not easy to rust, and aluminum alloy pedals are not easy to damage.
Electric mountain bike tires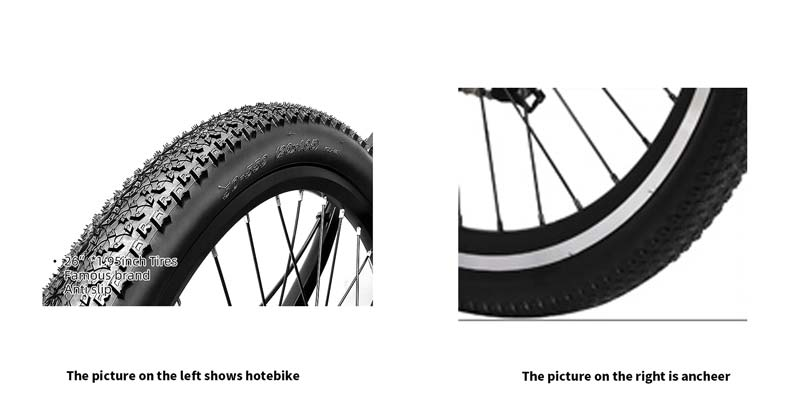 The Ancheer electric mountain bike uses lithium tires with a load capacity of 150kg, while the HOTEBIKE electric mountain bike uses high-quality and durable kenda tires, which can better grip the ground for better stability and higher load capacity.
8:Electric mountain bike handlebar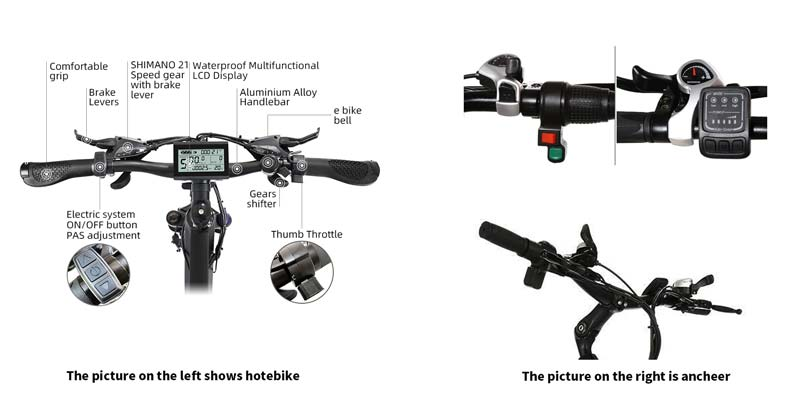 BUY ON AMAZON:https://amzn.to/37PEoRH

HOTEBIKE and Ancheer use aluminum alloy handlebars, but the components on HOTEBIKE handlebar are relatively complete: comfortable grip, brake lever, SHIMANO 21 gear shifter with brake lever, waterproof, multi-function LCD display, Bicycle bell and thumb throttle
Electric mountain bike size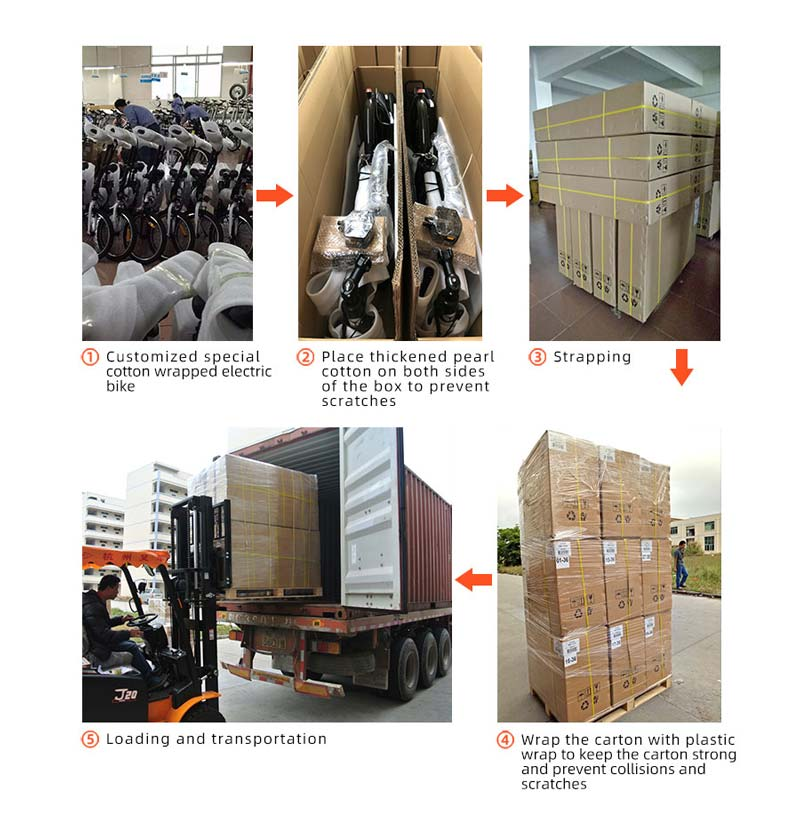 The overall length of Ancheer is 64.4 inches, the wheel diameter is 26 inches, the handlebar length is 26.7 inches, and the overall length of the HOTEBIKE is 67 inches, the wheel diameter is 26 inches, the handlebar length is 25 inches, and the saddle The distance between the seat and the handlebar is 21 inches.
Based on the differences described above, I believe you have a general understanding of the differences between HOTEBIKE electric mountain bike A6AB26 and Ancheer electric mountain bike AN-EB001. If you are interested, please visit the HOTEBIKE official website to learn more about electric bikes on sale!