Electric bikes are convenient if you want to get to places at quite a fast speed. They may be used for a full range of purposes, for example, if you need to run an errand rapidly, and you can even use them daily to get yourself to work and back. They may be price-effective and will save you any money or time, as you won't have to wait for any public transport to arrive as well as you won't have to pay for it either. Also, these bikes aren't like the usual bike, since they are electric, so it means that you do not have to exhaust yourself, as you will do on an ordinary bike. Fat tire bikes are many funs, but pedaling those large, heavy tires may be arduous without assistance. Fat tire e-bikes solve the issue and are the most fun ways for cycling over any terrain imaginable. The fat tire e-bike sort is expanding quickly, and we are seeing new brands pop up seemingly every month. There are extra choices than we have included here. We enlisted in the finest fat tire electric bikes that you can find, to make it simple for you to decide which one will suit you good.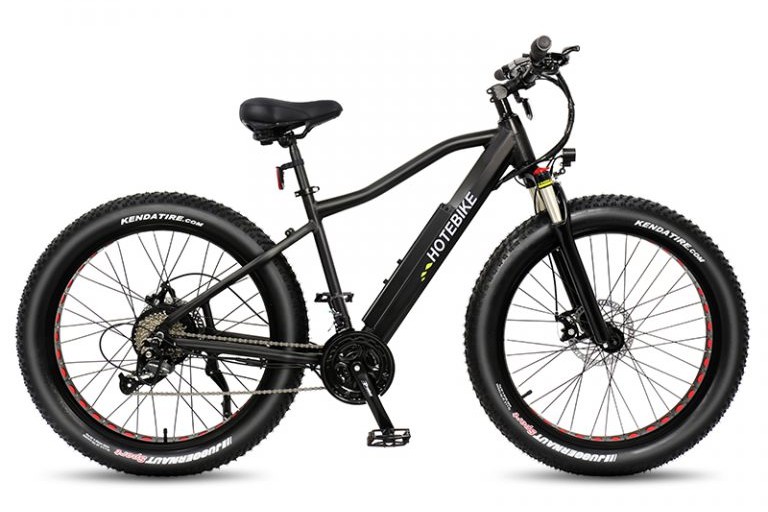 Three riding modes, each mode brings you different speeds and feelings. Multi-function large screen LCD display shows lots of data like Distance, Mileage, Temperature, Voltage, etc. Shimano 21 speed gear increases hill-climbing power, further range variation, and greater terrain adatability. Independently Designed 6061 Aluminum Alloy Frame. Classic aluminum alloy mountain bike frame, own mold, independent development, patent design. Suspension alumimun alloy front fork, make your riding more comfortable. 48V 13AH Hidden Battery, LG battery cells, waterproof, removable, lockable, easy to charge it separately. High-quality durable fat tires, 26 inches tires, the thickness is 4 inches, Between the front suspension and the huge air volume in the tires, the A6AH26F rides quite comfortably on varied terrain. Tektro 180 Disc brake is sensitive and smooth during emergency braking. Front and rear mechanical 180 disc brakes provides more reliable all-weather stopping power, which keep you safe from any emergency. Comes with a 5V 1A USB mobile phone charging port on the LED headlight for a convenient phone charging on the ride.
Rad Power Bikes RadRover 5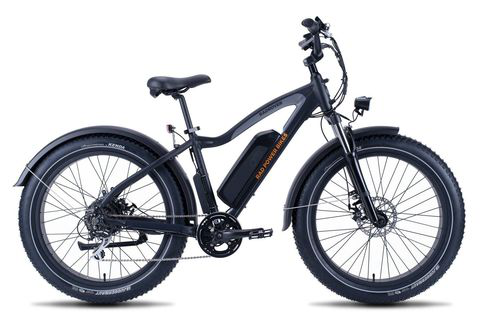 RadRover is the most famous fat tire e-bike in the United State, as per import records from China that show Rad imports surpassing other competitors by an important margin. So, think of the RadRover as the Ford Model T of fat tire e-bikes: Inexpensive, reliable, and for everybody. There is ample power from a one-horsepower geared hub motor to assist you to get the 69-pound bike up to speed as well as mechanical disc brakes to stop it. Puncture-resistant, 4-inches wide tires help you to get where you're going. A nice saddle, fenders, and integrated lights make this adventure machine as well-equipped.
Add motor MOTAN Electric Fat Tire Bike: Power for All Terrains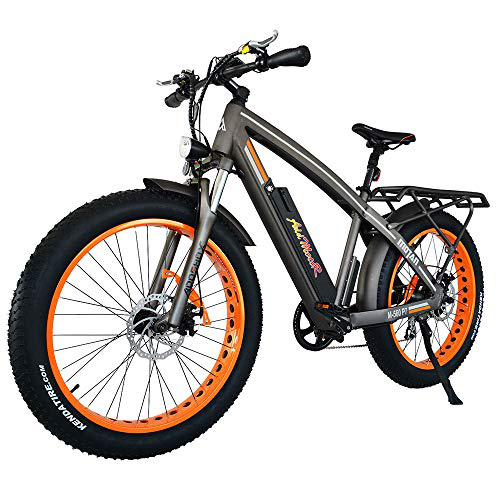 The Add motor MOTAN Electric Fat Tire bike is a good ride. Its aspects a 6061-aluminum frame for lightweight maneuverability. The 30cm fast release seat post lets individuals between 5'6-inches to 6'8-inches can simply ride this bike. The Bafang brushless motor is affixed to the rear hub. It produces 1,000 continuous watts as well as will go up to 1,250 watts. This's very powerful, which is one of the aspects that make it stand out from the rest on the market. You will reach speeds of 30mph. The power enables the bike to climb or push through even muddy trails. The power allows the bike support up to 350 pounds. The ll.6Ah lithium battery runs the 48V system. It goes an estimated 40-50 miles between charges. The torque lets even climb of 60-degree gradients. The battery is located on the downtube, so the bike is balanced with distribution even. When looking for a better fat tire e-bike at an affordable cost.
ECOTRIC Electric Bicycle 26-Inch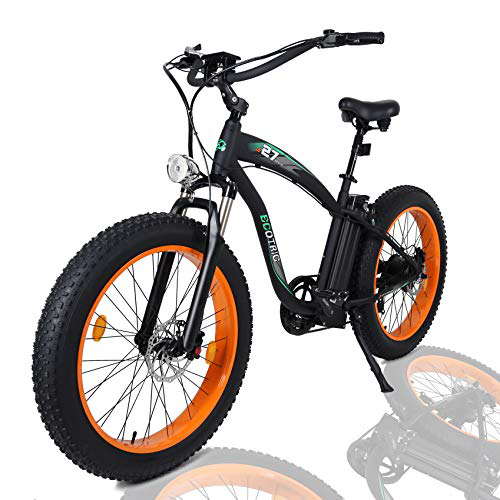 A budget-friendly e-bike that's great on any terrain, the Ecotric FAT26s900 electric bike is a sturdy as well as robust machine, with fat tires that offer premium traction, even on snow or sand. This pedal help throttle hybrid e-bike, aspects an aerodynamic design as well as premium shock absorption capability. Yet, at 55lbs, this motorized bicycle is considered heavy so isn't well suited to being carried for any distance. With anti-slip tires providing premium grip, the e-bike has the best traction, and it's an ideal option for anybody who prefers to cycle on a variety of terrains. With 500 watts, it is both quiet and strong and can reach up to 20 mph, which means that you'll have sufficient power to push through that more mile. The Ecotric has a battery that you can simply remove so you can take a spare with you, but it does take about 5-8 hours to charge, but it may be charged either on or off the bike. The Ecotric e-bike does not quite reach the top speeds and has the range of its competitors, but it is budget-friendly and is the best option and best value for money as it has the performance levels of a much extra expensive e-bike.
Sondors X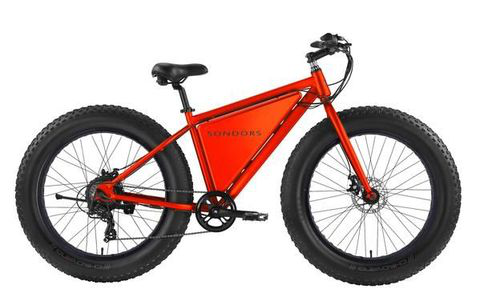 You may recognize e-bikes from Storm Sondors by the front-triangle battery pack and since they are so affordable. For less than the price of most non-electric fat bikes, you get one with a motor as well as you will discover some cheaper ways to hit the road. There is a throttle and a grip shifter for ease of power delivery or gear changes, though it is too simple to twist the grip shift unintentionally over rough terrain. The 500-watt hub motor is strong enough but wails such as a dying animal when you show it a steep hill. And the Sondors X handles, unlike other bikes. The moment when you will lean into a corner, the shifting momentum of the high mounted battery dives the bike deeper into the turn, forcing you to push your inside hand for maintaining the angle. It is controllable once you get the hang of it, but we will not suggest high-speed maneuvers and trail riding, which was terrifying on the large, suspension-less bike. On all other fat-biking surfaces, the Sondors X is an unbeatable purchase.
HOTEBIKE A7AT26 2000W (buy now)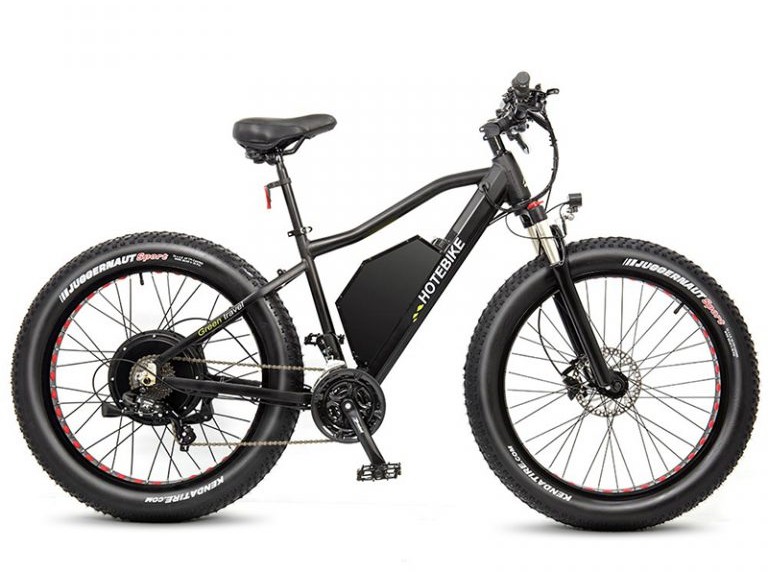 HOTEBIKE 2000W fat tire electric bike A7AT26 was designed with high power motor and high capacity battery and 26 inch fat tire to provide a superb ride on almost any terrain.
Motor: 60V 2000W brushless motor
Batttery: 60V 18AH large capacity, long range
Controller: Intelligent brushless 60V 2000W
Charger: 71.4V 3A 100-240V input
Tire: 26*4.0 fat tyre
Brake lever: Aluminum, cut-off electricity when braking
Gears: 21 Speed with derailleur
Display: Multifunctional LCD3 display
Initiating mode: Pedal assistant (+ Thumb Throttle)
Max speed: 55KM/H
Tomasar Power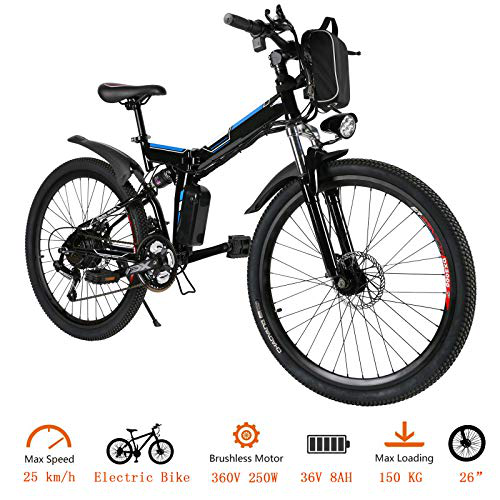 This bike is fabulous for those seeking to ride their bike to work. This electric bike knows how to pack in high-quality design as well as engineering you will be itching to get your bike. Li-battery, this bike comes with a removable lithium battery and may be slotted into a simple charge port system when you aren't using your bike. You may ride up to 25 to 50kms with this battery. You will discover this bike uses 100 percent pure aluminum in its alloy frame which makes it better for shock absorption allowing you to have a much smoother ride. You can travel at 15 mph on this electric bike thanks to its 250w higher speed gear motors and seven-speed Shimano professional transmission system. Unlike many other bikes, you would not have to worry about shoddy craftsmanship. As both the front or back breaks on this bike are completely coated in carbon steel. You can select between 2 functions of cycling Electric Bike and Assisted Cycling which either take the pressure off you enhance your natural cycling speed or power.
Rad Power Bikes RadRunner 1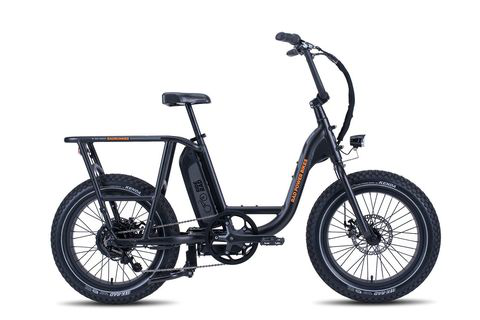 Rad designed the RadRunner to haul cargo through being nimble sufficient to outrun your deadlines. The step-through frame has mounts for front or rear racks, and you can opt to purchase the $99 center console to add a 3rd storage choice between your legs. For the front or rear racks, choices involve panniers, baskets, platforms, bags, insulated bags, and more. And there is a solid e-bike beneath all that utility. The 750-watt rear hub motor has sufficient torque to take you and all your stuff up hills or across the level pavement at a comfortable 20 mph, and the 3.3-inches wide Kenda K-Rad tires allow you to take the RadRunner anywhere.
Aventon Sinch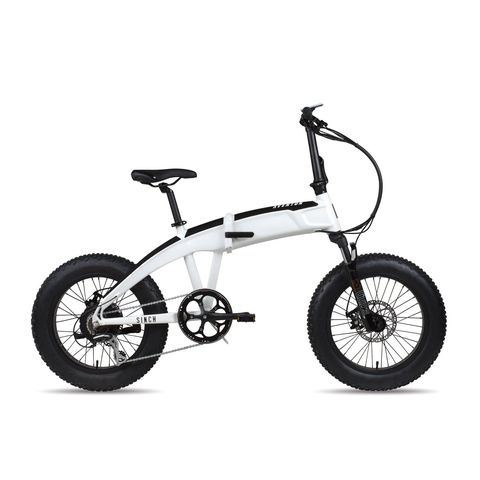 This bike extends the kinds of terrain on which you can ride your folding e-bike with its a front suspension fork and 4-inches wide tires. A 500-watt motor provides you the power and torque you want to climb hills, as well as a throttle, gives you the choice of not pedaling at all. Its off-road stature means the Sinch is not the most portable folder on this list. It is 66 pounds and takes up nearly 17 cubic feet while folded. That means the Sinch is good for people purchasing a folding e-bike to take up minimal space in an RV and apartment, not those required to carry their bikes regularly.
Juiced Bikes Scorpion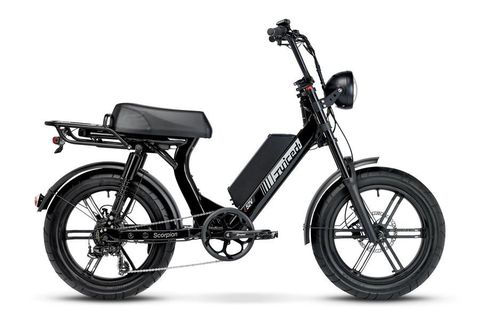 It is 100-pound weight as well as lack of saddle height adjustment makes it fairly useless as a bike when the battery is dead. But to ride as an e-bike, it is a definite hoot. There is pedal help and a throttle, giving you the choice to ride it more such as a moped when you aren't in the mood to pedal. The squishy dual crown fork and rear coil shocks give you a superbly smooth ride, the wide, or thick tires cling to the road. Combined with the weight of the bike, the suspension, as well as sticky tires means you can use all of the performance of Scorpion on crappy pavement and over loose and bumpy terrain.
Folding Fat Bike A7AM20 (buy now)

A folding fat tire electric bike with front and rear 180 disc brake and double-tube frame for improved strength (good option for larger riders),20 inch folding alumium alloy frame,Small size, lighter weight than other 26 inch fat ebike. Powerful 500-750 watt internally geared fat electric bike specific motor paired with a large 48 volt battery capable of hauling more weight and going off-road on packed dirt trails,the battery is removable and even the racks can be taken off. Quality LED lights (the front is integrated to run off the main battery), decent mechanical disc brakes, average drivetrain but you get seven speeds to pedal slow or fast comfortably.