Honda electric dirt bike and HOTEBIKE Fat bike Review
Honda CR Electric dirt bike in action
Honda first unveiled its new electric dirt bike concept at the Tokyo Motorcycle, where Electrek was able to see it firsthand.
The bike uses a frame and suspension similar to the Honda CRF250 and CRF450, but swaps in an electric powertrain. The twin-spar aluminum frame that has defined Honda's CRF line of dirt bikes now supports an electric motor in place of the standard ICE powerplant.
Honda is being tightlipped on the details and won't yet share power figures, so we can't say for sure how many kW the electric motor is capable of.
That motor isn't a Honda part either. It was developed by Mugen — a company Honda has worked with in the past. Mugen is perhaps better known for the Shinden electric race bikes that compete in the Isle of Man electric races.
But what we do know is that this electric dirt bike can fly off the line. Check it out below:

The rider, who is reported by RideApart to be Kazumasa Masuda, is seen leaning way out over the handlebars to keep the front wheel down on takeoff. The CR Electric concept is nearly out of frame within a few seconds. The standard braaap braaap braaaaap is of course gone (thankfully) and replaced by the modest whirr of the electric drivetrain. The sound disappears entirely as the bike takes the first turn in the track.
We'd love to know more about the tech specs in the CR Electric concept, but will have to wait until Honda is ready to share.
With the unfortunate demise of Alta last year, a Honda CR Electric dirt bike would be a welcome addition to the small but growing electric dirt bike market. In the meantime, the Japanese motorcycle giant is already facing competition from other Japanese motorcycle manufacturers and even a number of European electric dirt bike manufacturers.
Japanese motorcycles makers moving towards EVs
Honda is one of the Big Four Japanese motorcycle manufacturers, which also includes Yamaha, Suzuki and Kawasaki. While all four have been slow to enter the electric motorcycle market, progress appears to be on the horizon. The Big Four recently announced that they were joining together in a consortium to promote a single electric motorcycle battery and charging standard.
Just a week later, a patent filing appeared by Kawasaki for an electric Kawasaki Ninja with a swappable battery pack.
Harley-Davidson is working on its own light electric dirt bike, though the concept doesn't have a scheduled release date yet.
What do you think of the Honda CR Electric concept dirt bike? Let us know in the comments section below.

Enjoy A Fast and Furious Tour HOTEBIKE Fat bike A7AT26
Price, approximately USD$2000
HOTEBIKE fat tire electric bike A7AT26 was designed with high power motor and high capacity battery and 26 inch fat tire to provide a superb ride on almost any terrain.
We believe that electric bikes are promoting the concept of green travel, providing clean, efficient and exciting new modes of transportation.
Join us today in the revolution of green efficient transportation in style.
Different Angles of Fat Tire Harley Electric Bike A7AT26
A nice matte black finish, even white could be chose. Fashion streamlined design and light, strong and durable aluminum alloy bike frame.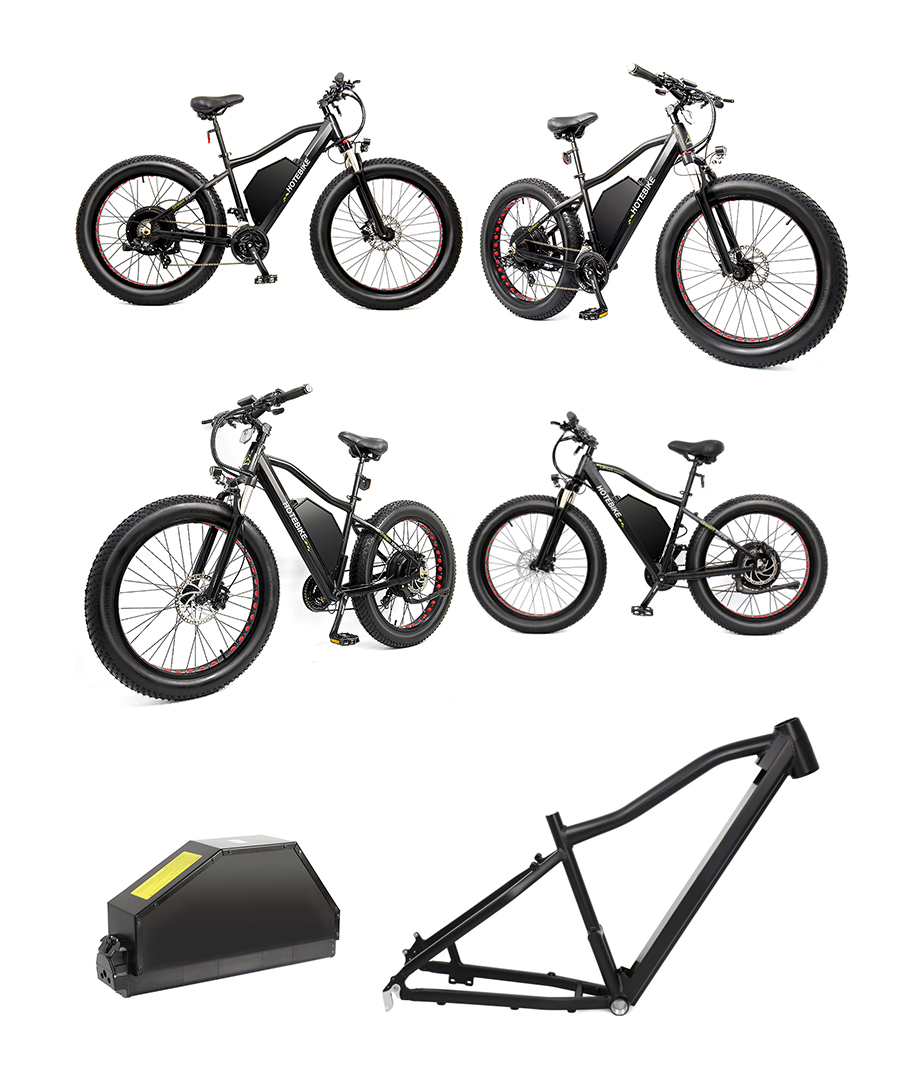 Multi-function large screen LCD display shows lots of data like Distance, Mileage, Temperature, Voltage, etc.
Conjoined Brake Levels & Gear Shifter
Shimano 21 speed gear with derailleur increases hill-climbing power, further range variation, and greater terrain adatability.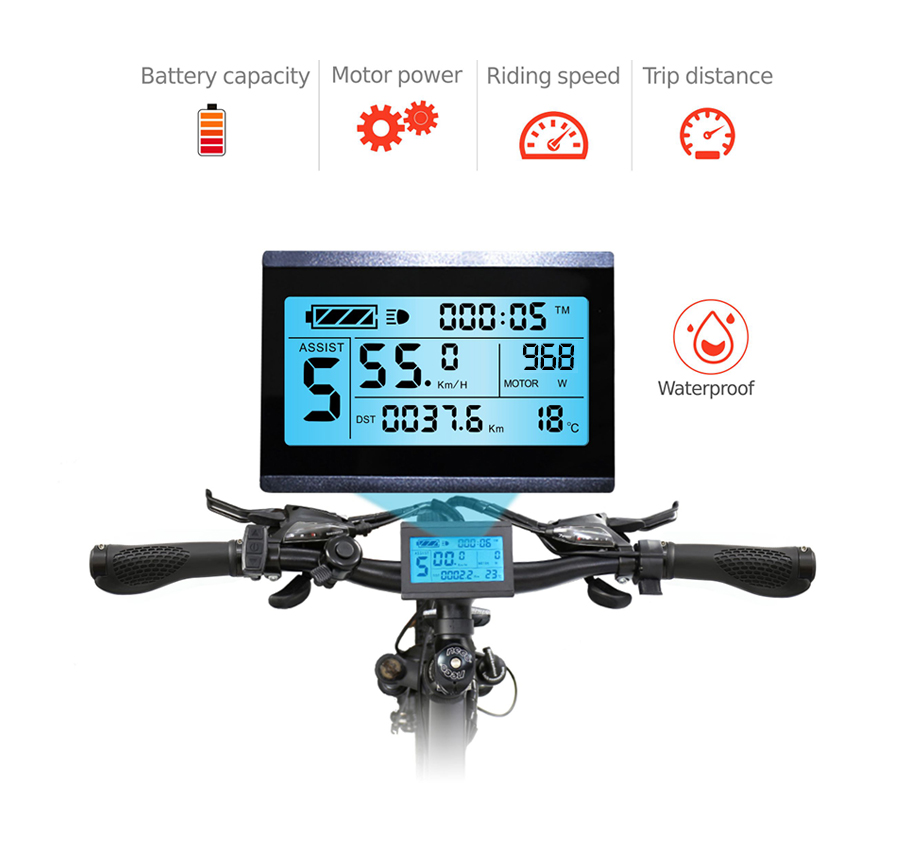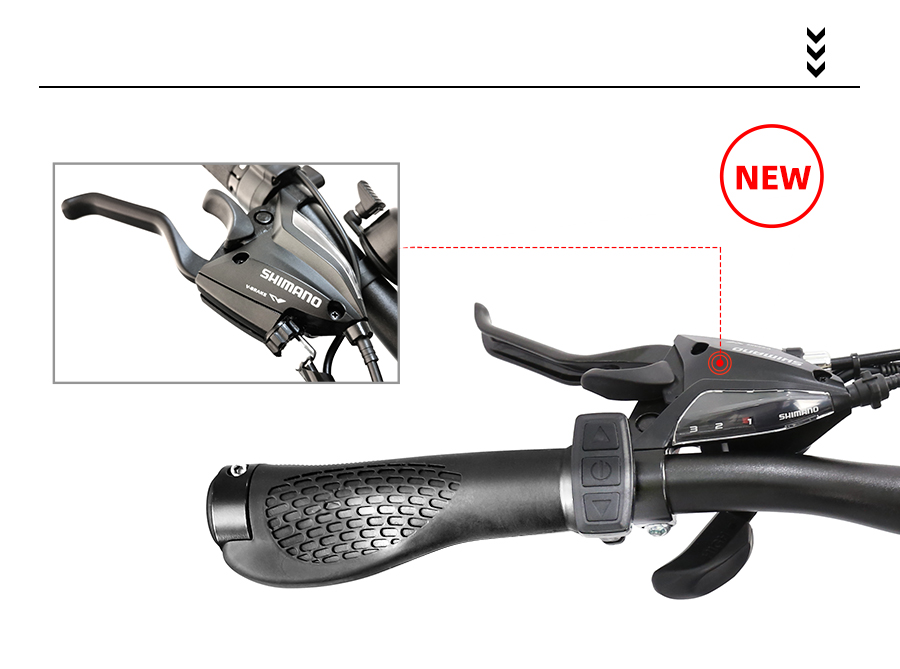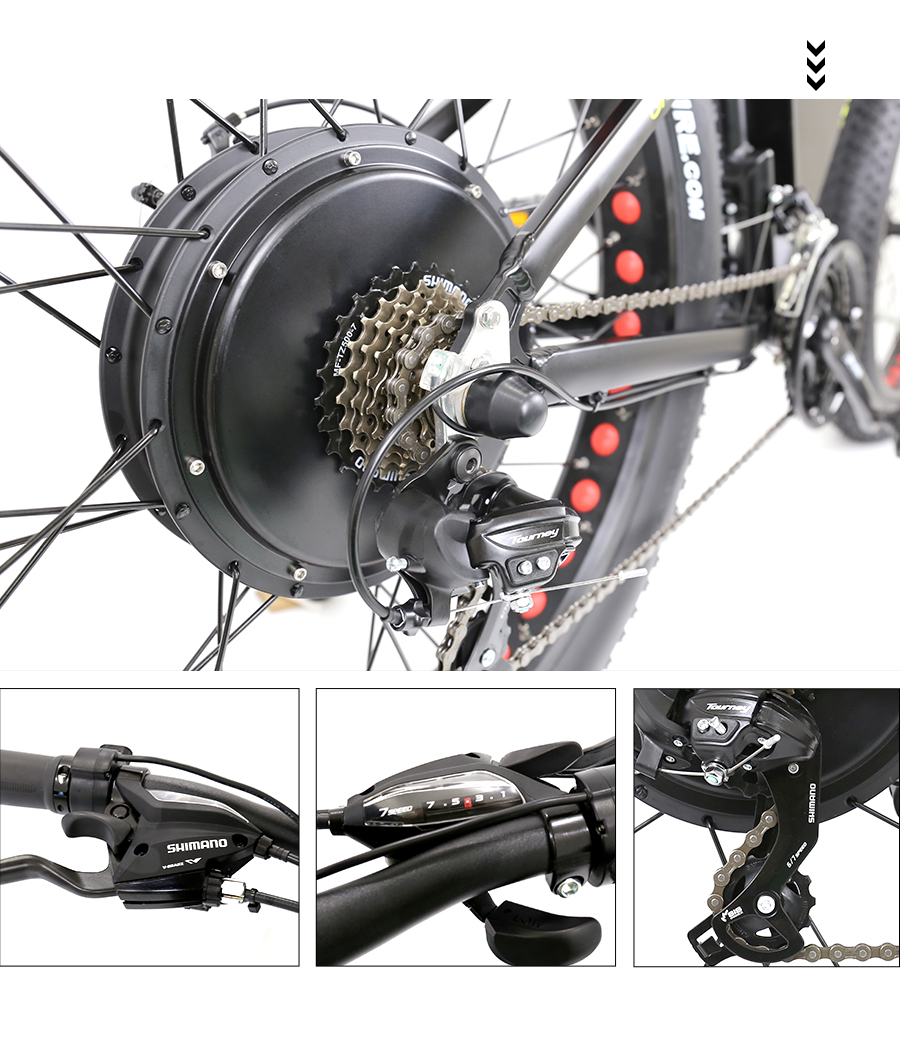 60V 2000W Rear Hub Motor
A power of 2000w rear hub engine that is capable of thrusting this fat tire electric bike at speeds up to 55 KM/H on pure electric power.
60V 18AH Battery
electric bike store near me
Larger capacity 60V lithium battery as a supply power, meaning you shoule be able to easily ride the e-bike out for a full day without any issue(40KM max range on electric only). 5-7 hours of charging time and waterproof design make your bike maintain easier.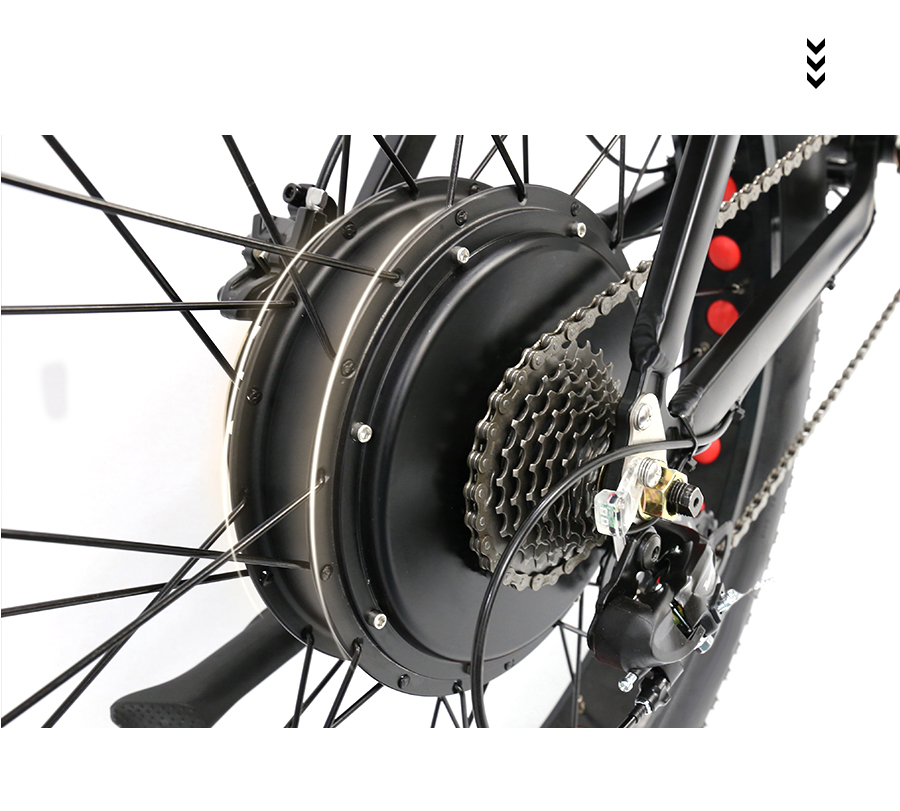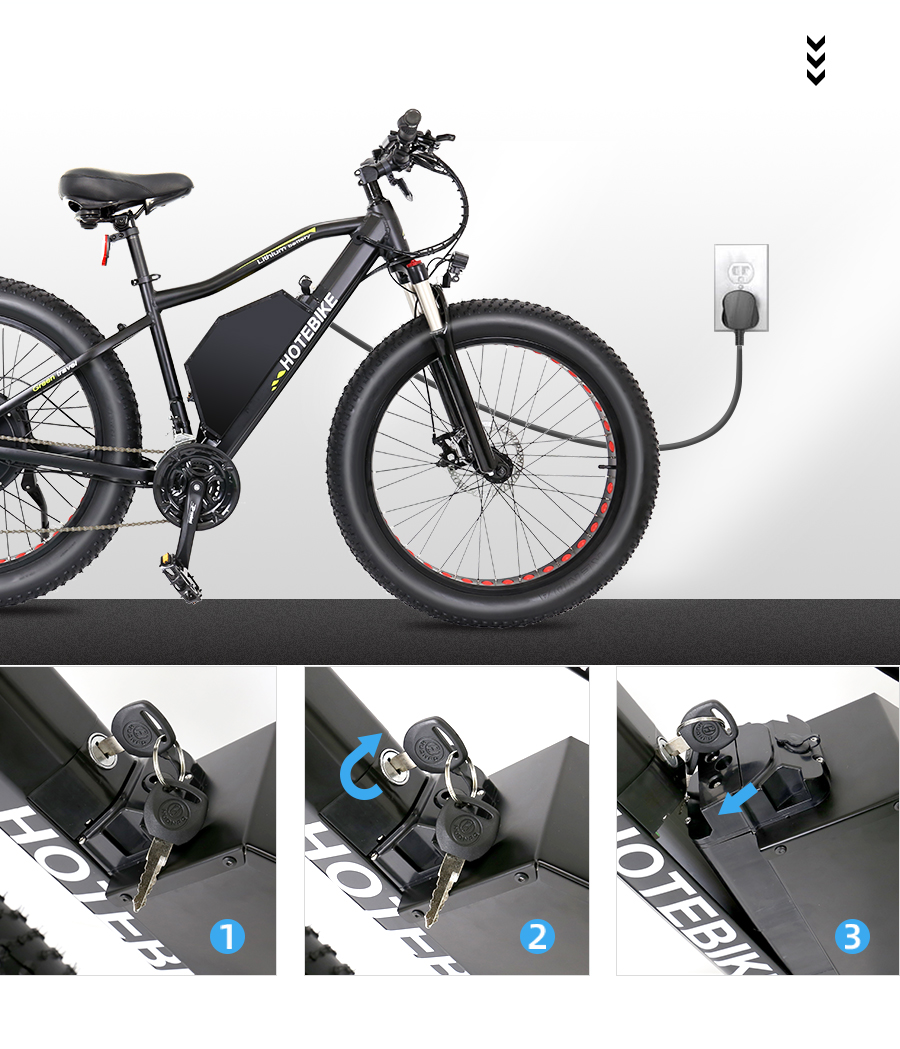 Tektro 180 Disc Brake for electric fat tire bike
Front and rear mechanical 180 disc brakes provides more reliable all-weather stopping power, which keep you safe from any emergency.
High-Quality Durable Tires
All terrain, including city commutes, are easily handled by the 26"*4.0 inch fat tires, especially handy for riding along the beach beside the surf and can even negotiate through rugged, dirt mountain. And this bike can accommodate passengers up to 200Kgs in weight.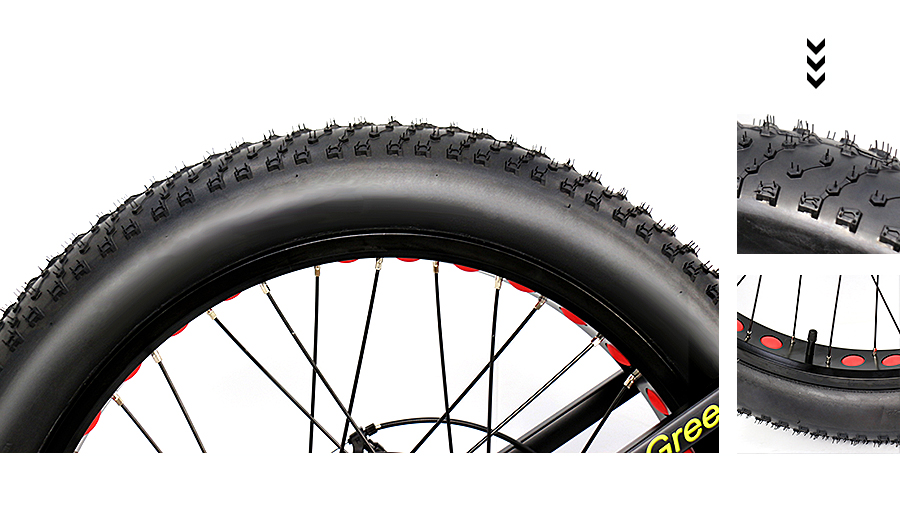 Headlight: Comes with a 5V 1A USB mobile phone charging port on the LED headlight for a convenient phone charging on the ride.
Electric bike Rear Light: Beautiful, cool and safe.