About Magnum and HOTEBIKE

Magnum was founded in 2010. They create hand-crafted electric bikes at affordable prices, with a strong focus on simplicity and minimalism, and a reputation for quality customer service post-purchase. HOTEBIKE is professional factory engaged in sales and service. HOTEBIKE committed to selling electric bikes, electric mountain bike, electric fat bike,electric city bike,folding electric bike,electric bike lithium batteries, chargers and electric bicycle controllers.Our products are various types, excellent quality, reasonable price and stylish design.HOTEBIKE products are widely recognized and trusted by users and can meet changing economic and social needs.
Magnum Touring E-Bike & HOTEBIKE City Bike

Magnum Ui6
Throttle On-demand (Class 2), Speed Pedelec (Class 3)
*Throttle can be removed for Class 1
Estimated Charge Time: 6.5 Hrs
Estimated Min And Max Range: 30 To 60 Miles (Depending On Riding Style, Terrain, Rider Weight And Peddle Assist Level.)
A beautifully designed, purpose built, affordable electric bike well suited to urban riding or commuting. Step-thru frame is easy to mount but relatively stiff thanks to a double tube mid-section.
The Magnum is a quality Class 3 e-bike with a great all-around performance. It impressed us with the longest distance range of the test, and despite having a slightly smaller 500W motor, it was among the most powerful models. It held the highest average speed during our throttle only range test and easily got up to its top pedal-assisted speed of 25 mph. It also proved to be impressively comfortable with a smooth ride, steady handling, and unwavering stability. If that weren't enough, the Metro took just minutes to assemble, and it comes with an excellent display/controls.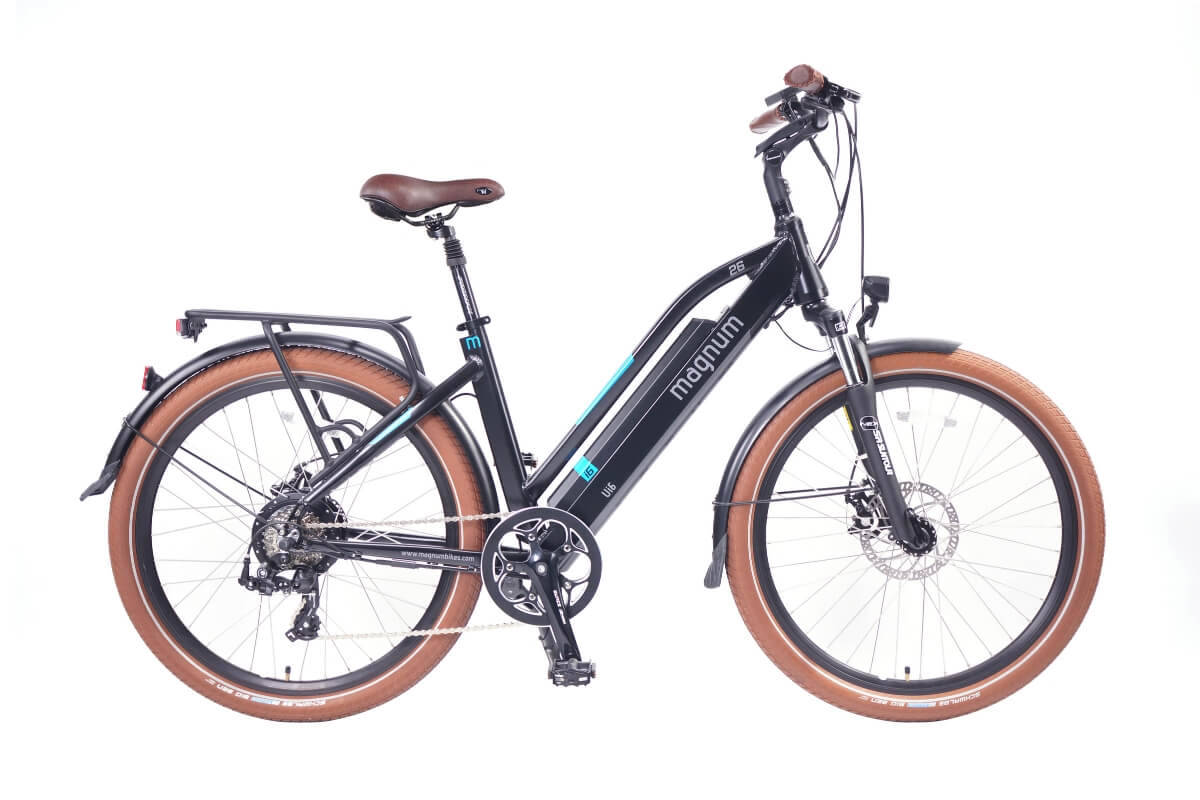 HOTEBIKE A5AH26
Battery: 36V 10AH hidden lithium battery
Motor: 36V 350W Brushless Gears Motor
Tire: Kenda 26"*1.95 tire
Disc Brake: front and rear Tektro 160 disc brake
Display: Multi function LCD display
Gear: Shimano 21 speed with derailleur
Front Fork: suspension aluminium alloy front fork
Max speed: 30km/h (20mph)
Compatible with city bike and mountain bike design. Simple and elegant frame design, especially eye-catching in the city. Hidden lithium-ion battery, looks more comfortable, adjustable riser with adjustable handlebar height. Easy to get on and off, girls can also ride this city bicycle easily.
After our range and handling testing, we came away quite impressed with the ride quality of the HOTEBIKE. It's fast-rolling with a very smooth, stable, and damp feel at all times, with steady and predictable handling. We also found it to be quite comfortable, with a relaxed, upright body position, loads of sizing adjustment, and a quality seat and grips.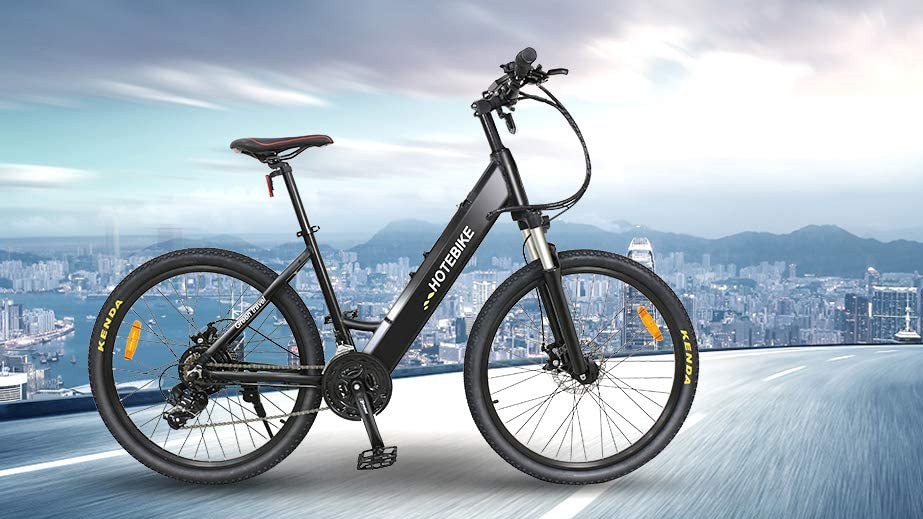 Magnum Trail E-Bike & HOTEBIKE Mountain Bike

Magnum Mi6
A value priced hardtail electric bike that's trail-ready with a front suspension fork, knobby tires, and 21 gear combinations, available at a vast network of shops for great support and service. Features an upgraded 500 watt planetary geared hub motor paired with a high-capacity 48v 13ah.
HOTEBIKE A6AH26
** Generous and elegant frame design, perfect combination of power and beauty.
** The 48V 13AH LG removeable lithium-ion battery, easy to charge.
** Safe and waterproof battery can be removed and charged at any time to prevent theft.
** suspension aluminium alloy front fork, effective shock absorption.
** Multi function LCD display: 5 levels of pedal assist mode choose.
In our handling tests, we were equally impressed with this bike's composed and predictable handling. We wouldn't call it the sportiest or most nimble, but it responded well to rider input with a calm and comfortable feel in all sizes of turns and speeds. Short turns or long, high speeds or slow, has the same easy-going yet steady demeanor. It also proved to be very stable at speed, and it felt damp and smooth when hurtling downhill at speeds approaching 25 mph. While we wouldn't want to climb any significant hills on it without pedal assist, it felt just fine while cruising around on flat terrain.
We found the A6AH26 to be very comfortable. It has an upright, cruiser-like body position, and the step-through frame makes it easy to get on and off the bike. The handlebar sits relatively high, and the adjustable stem makes it easy to dial it into your preferences. The seatpost offers loads of height adjustability and suspension travel that works well to take the edge off rough sections of road. The seat has an agreeable shape with a anatomical relief channel that takes pressure off your sensitive underside. The grips also have a nice ergonomic shape for resting your palms.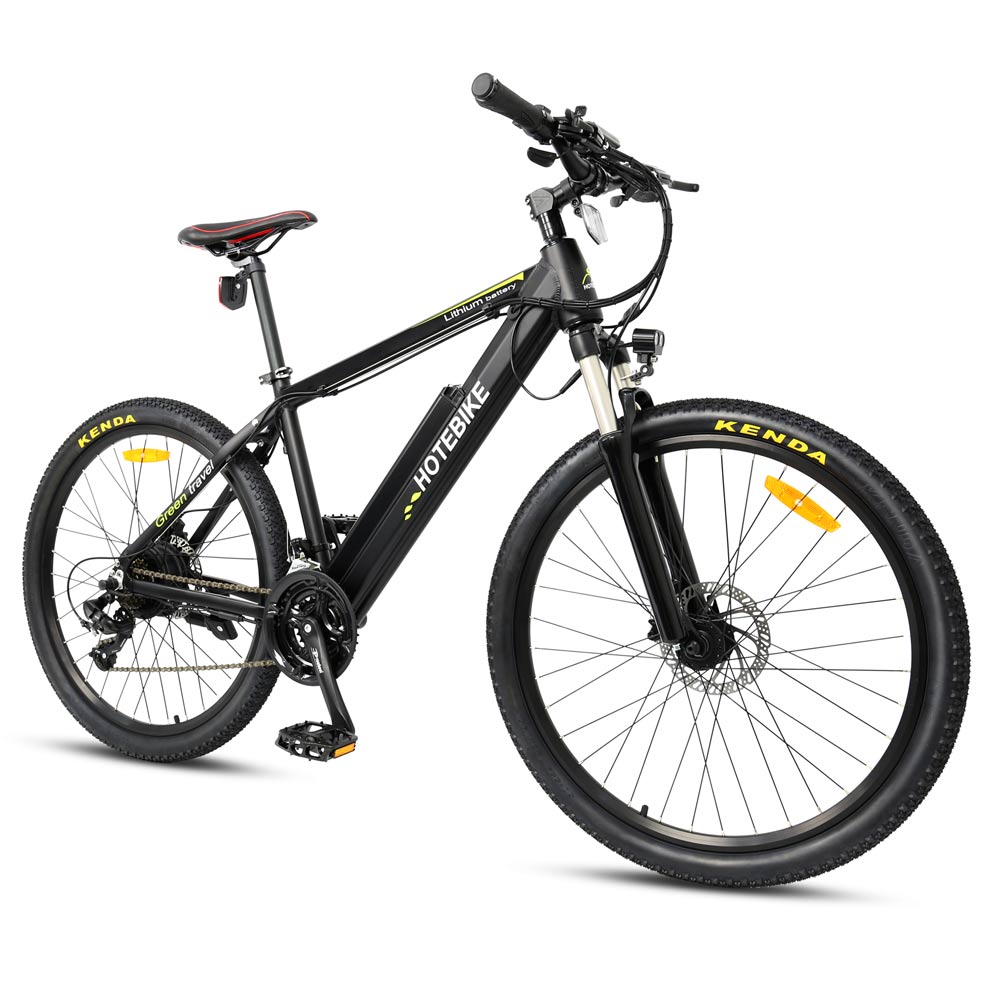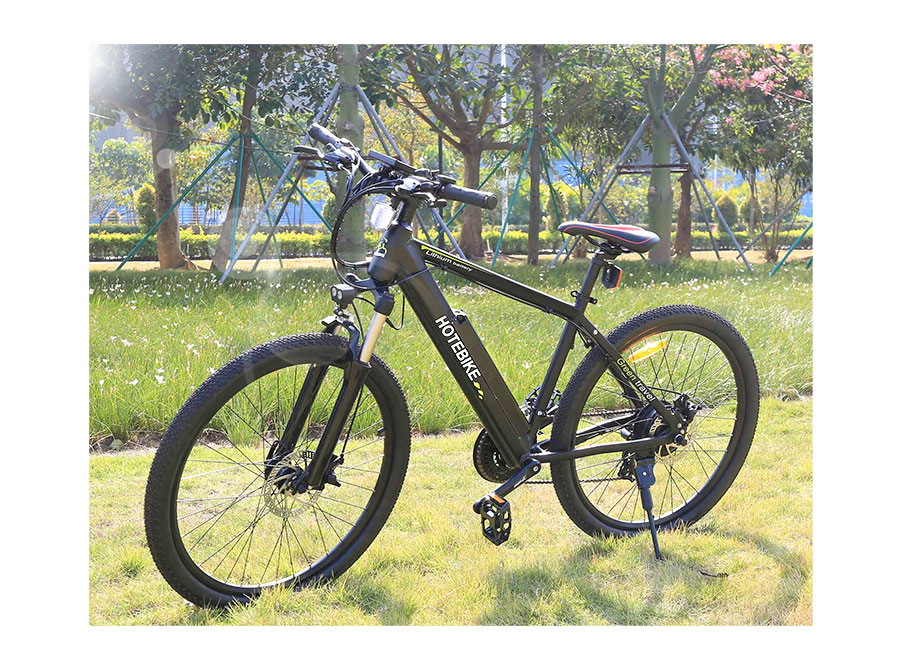 Magnum Cruiser E-Bike & HOTEBIKE Fat Tire Electric Bike

Magnum Ranger
A powerful, relatively affordable, hardtail cross country style electric bike that's capable of 28 mph pedal assist and 20 mph trigger throttle operation, offers 24 gears vs. 10 or 11 on most competing products.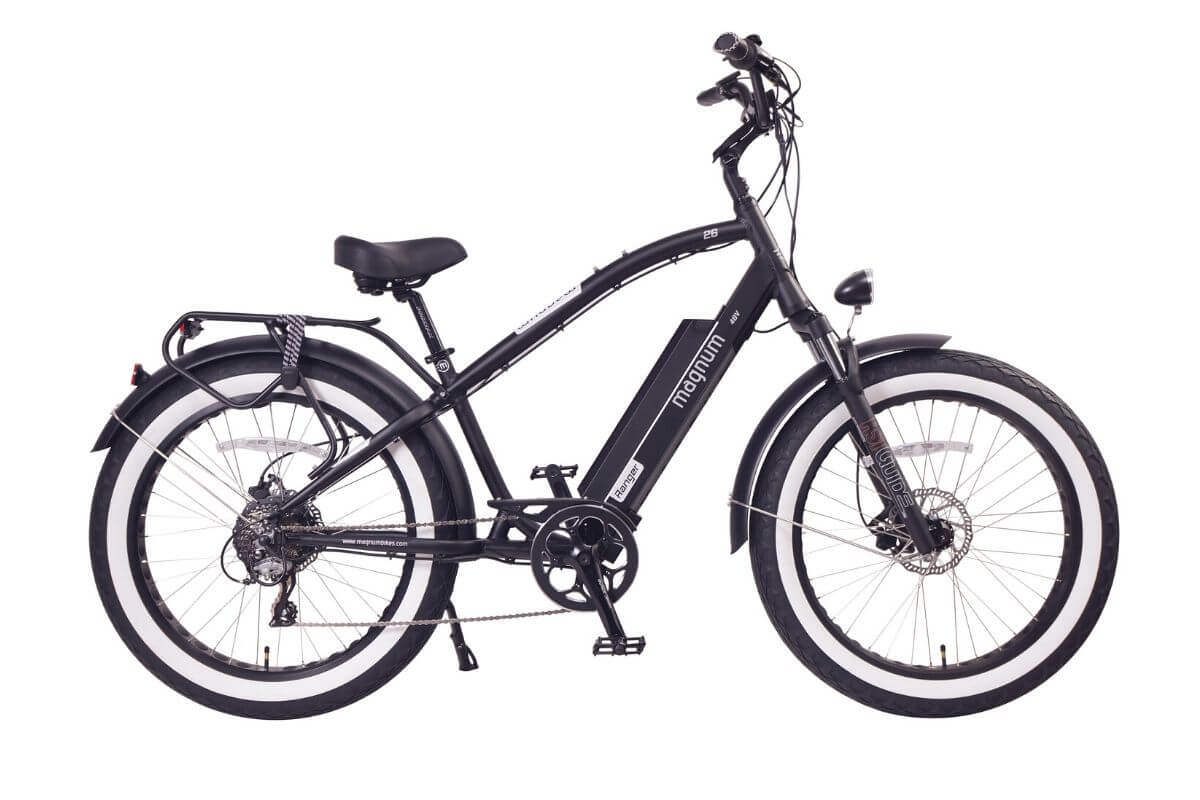 HOTEBIKE A6AH26F
Motor: 48V 750W gears hum motor
Battery: 48V 13AH(LG) hidden battery
Max Speed: 40km/h
Max Range (PAS mode): 60km-80km (35-50 miles) per charge
Tyre: 26*4.0 inch fat tire
Max Load: 150kgs
Charging time: 5-7 hours
Gear: Shimano 21 speed
Brake: Tektro 180 disc brake
**Powerful 750W motor, the maximum speed can reach 40KM/H.
**Excellent climbing ability, easily overcome different terrain.
**4 inch thick Kenda tires make riding more comfortable.
**SHIMANO 21 speed gear with derailleur, easy to shift.
**Tektro 180 disc brake, sensitive and smooth during emergency braking.
One of the first things we noticed about the A6AH26F was how smooth and quiet it was. The 4-inch wide tires roll fast and have lots of air volume that helps to dampen the ride, and the Front suspension fork has just enough travel to make bumps and cracks in the road disappear. While riding over some especially rough sections of pavement during our range test, we were pleasantly surprised by the performance of the fork and suspension seatpost, and how little noise came from the bike. Where other bike's fenders and chains tended to rattle around, the A6AH26Fwas virtually silent.
The components attached to the HOTEBIKE all worked very well for us during testing and enhanced the bike's ride quality. The 21-speed Shimano drivetrain performed flawlessly, and we especially liked the trigger-style shifters. The Tektro hydraulic disc brakes are paired with 180mm rotors, which felt very powerful and had no issues controlling the speeds and weight of this heavy e-bike. The Kenda tires were fast-rolling and provided predictable traction on firm surfaces, plus we liked the black color. Front and rear fenders, head and taillights, and a stout rear cargo rack only add to this bike's user-friendliness and versatility.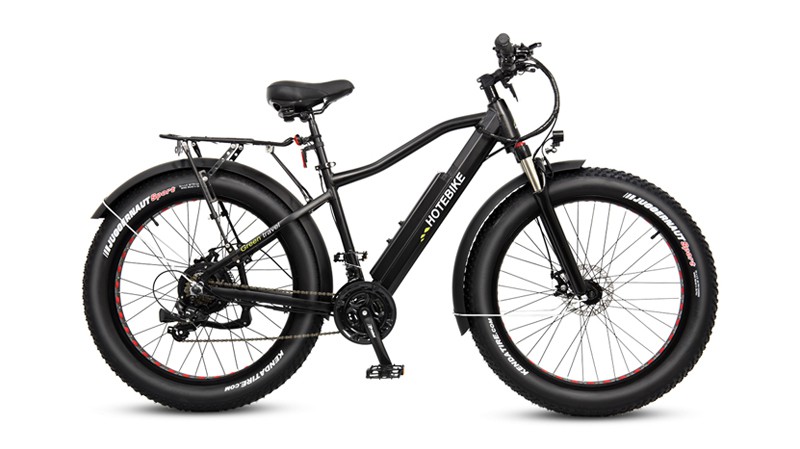 hotebike.com is the HOTEBIKE Official Website, providing customers with the best electric bikes, electric mountain bikes, fat tire electric bikes, folding electric bikes, electric city bikes, etc. We have a professional R&D team that we can customize electric bikes for you, and we provide VIP DIY service. Our best selling models are in stock and can be shipped quickly.