Top 5 Coolest Off Road Electric Bikes To Look For In 2021
 Top 5 Coolest Off Road Electric Bikes To Look For In 2021
It is world spread that road electric bikes are going to stay for a very long time as their popularity is touching the sky. Battery ebikes have taken over the cycling industry by storm. By attaching a few necessary things like a motor and a battery to a bike, many brands have transformed the two-wheeler vehicle, benefiting many out there.
For past many years, electric start motorized bicycles were bulky, very inconvenient, and expensive machines whose battery lives and usefulness were quite limited. The current pandemic situations of coronavirus and severe climatic changes have forced almost all of us to rethink our life choices that how we opt to live on Earth and what we give back to it. Luckily with a passage of time, e-bikes have now improved a lot, they are lighter, more attractive, more efficient, and more powerful than ever and last but not least they are supper environment friendly. You might not be physically fit to ride an e-bike. It simply gets you outside, lessens fossil fuels, reduces congestion, and top of all it is super fun.
The best e-bike gives riders an opportunity to let the motor drive the bike all on itself or offer you with a pedal boost to augment the power of your muscle.
While you plan to spend more hours outdoor on off-roading adventures, exploring different places around you, make sure to have the best of equipment with yourself alongside protective strong helmets and gloves for safety. The perfect e-bike will last for a long time while performing well and getting you over different tracks and terrains smoothly and with ease. If you are willing to go on an awesome off-road experience, you are most likely to search for an appropriate e-bike to enjoy your trip. The perfect e-bike is flexible, fast, and easy to keep on different types of tracks.
You should always choose a bike which consist of best features in terms of range, ride experience, value, and portability so that you can get best of what is available anywhere.
We here, will provide you with the top 5 coolest off-road electric bikes that you are looking to get and rock an off-road trip.
2021 Jeep eBike by QuietKat:
The ultimate all-terrain Jeep hidden battery ebike is the one we all pine for. Its 4.8" fat well made tires can easily handle extreme trails. Other main features comprise of a 750w Motor or 1000w Unlimited Upgrade Kit, 160 nm Torque/1500w Peak Output, Removable ebike throttle, 10 Levels of Pedal Assist, TEKTRO 4 Piston Hydraulic Dis Brakes Torque Sensor + 2 Speed Sensors.
It is also configurable in three different classes as Class 1, 2, or 3.
It has up to 58 miles of range after per charge. You can extend the range by buying additional batteries and solar power.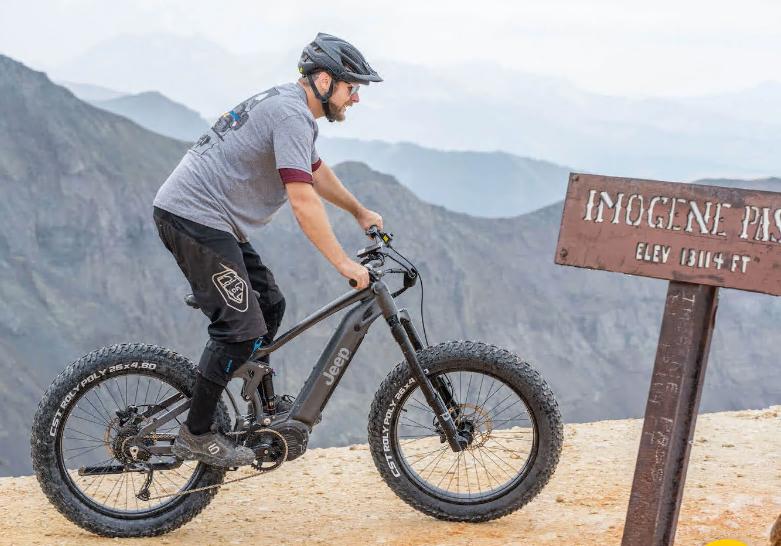 RadRover 5 bmx fat bike
The best electric fat bike 2021 winner as awarded by EBR (Electric Bike Review) is none other than this RadRover 5. Rad Power Bikes are quite popular in state of Colorado. This one is their flagship e-bike. It can well handle off-road trips/adventures or you can enjoy cruising on it in the neighbourhood. They say about the RadRover 5 as the 'Go anywhere, do anything' bike.
The main features of this amazing bike are its puncture resistant tires, front and rear fenders, front suspension fork, seven speeds and a 750W geared motor hub making it one of the best e-bikes out there to try for sure.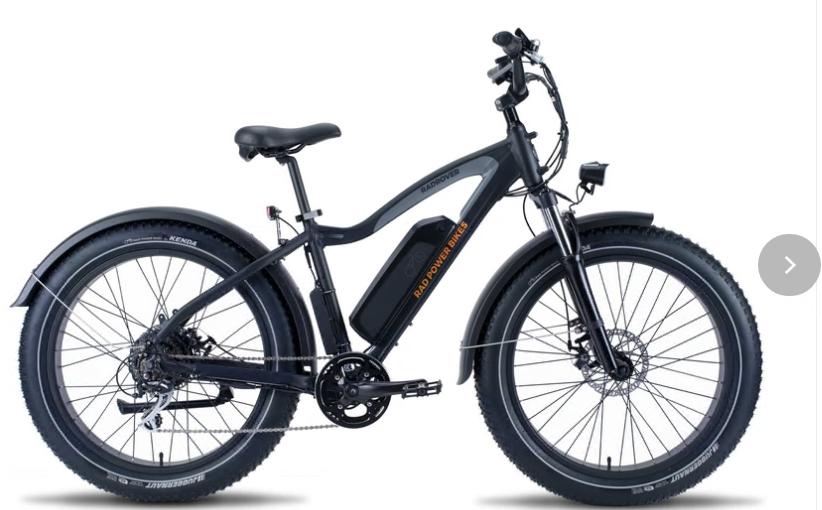 2021 Boar Kryptek Highlander:
The 2021 Boar Kryptek Highlander is one of the top choices if you are willing to have an enhanced off-road experience. A different feature from other e-bikes is that it comes with different frames for different heighted people. It is nicely battery of 48V 14AH, has extended range options, and also a warranty of one year. In addition to these, the Highlander has a high-functioning torque sensor, studded tires that grip on different terrain ideally, and a perfect power setting. It has a lot to offer even though it is still new in the industry as it is just released. It is a must try for beginners and those having e-bike experience for off-road fun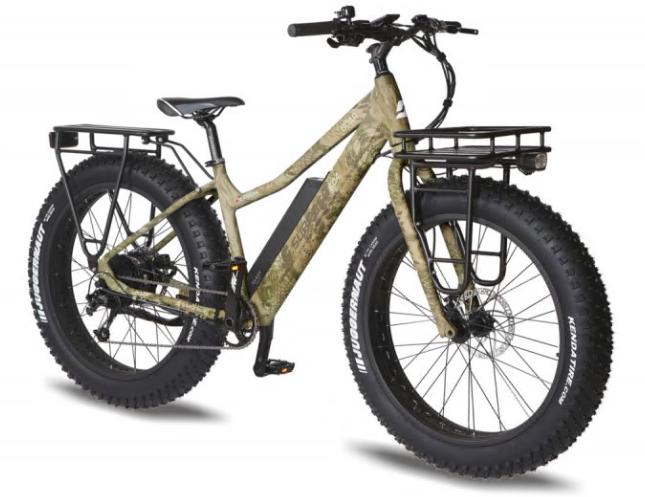 Aventure Ebike
One of the excellent selections of Aventon is this Aventure Ebike which is a very popular choice for off-reading in various given options to choose from such as sizes: small, medium, or large and different colors: black, green, and sand. The main and prominent features to have an eye on of Aventure Ebike includes pedal assist, a long battery range, and four inched fat bike snow tires. The high-end battery of this e-bike can get you about 45 miles out before it needs to be charged again. You can pair it up with some amazing ideal accessories in addition to use while you are outdoor, they include boost headlights and a protective helmet.
Heybike Fat Tire Electric Mountain Bike:
Heybike company offers you with a convenient folding electric option with its Fat Tire Electronic Mountain Bike. The maximum speed it gives you during a ride is 20 MPH. It takes a little time span of barely 6 hours to charge completely before rocking on roads again for quite a long time giving you worth remembering and cherishing experiences. 330 pounds is the weight capacity for this option which makes it for sure an excellent selection for adults. For getting over even the most challenging paths and terrain, the fat tires of this makes the vehicle perfect to quickly get over such tricky paths. If you are thinking what is the worth of it and why should we buy it so the prominent features to make you go crazy over it and making you willing to buy it all at once are its superb motor, pristine condition and very fast speeds, all these features make it worth the purchase. The last but not least one of the facility which many e-bikes do not provide you is its folding feature, which allows you to store it anywhere, even if you are living in a spacious apartment or a closed limited space.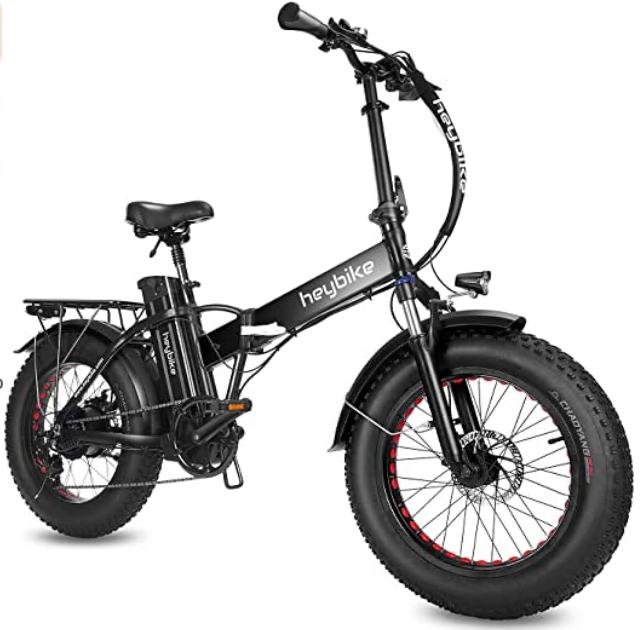 Despite all the criticism that electric start motorized bicycles have faced, there is no denial of the positive impact which road electric bikes are implying on environment.