Traveling With electric bikes
Views:26239 Classification:blog
Electric bikes are a fantastic way to get around, but eventually, you're going to want to travel utilizing something other than your eBike. However, that doesn't mean you have to leave your eBike at home! So whether you're traveling a few miles away or across the county, you might want to bring an eBike with you.If your electric bike is foldable, and if it's of good quality, then it's not only easy to carry while traveling, but it's also a much more enjoyable experience!
Once you arrive at your destination, electric bikes can provide you an exciting and efficient means of getting around, providing a new perspective for your trip, and helping you burn some calories while you do.It's worth noting that a small electric bike isn't expensive, it's cheap!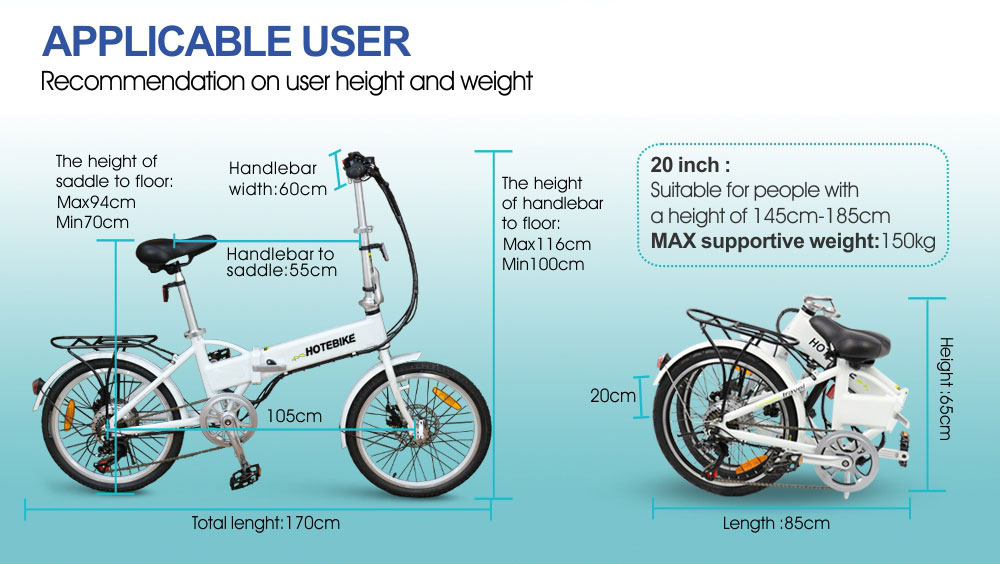 Folding Electric Bike 20 inch 350W(A1-7)
Some e-bikes are bulky and heavy. This raises the question: How can they travel more easily with their e-bikes? That's why we made this guide : we hope we can help you learn more about the intricacies of traveling with your eBike. From gear suggestions to eBike insurance, we want you to make an informed decision about traveling your ebike. We are sure you will have a better understanding of electric bikes after reading this blog.
Traveling by Car
One of the most common ways to transport your bike is to load it on a car. The kind of car you have will significantly change how you can transport your eBike. Using a rear bike rack is the most common way our review team uses to travel by car. You can load two to four bikes on a rear bike rack–but make sure your bikes are properly strapped down on the bike rack before you leave.
Roof racks are rarer due to the height of eBikes, but you still see people driving around with an eBike strapped to the top of their car. The advantage is that you don't need to buy an additional rack to mount your bike, and it doesn't impact your overall handling and rear clearance compared to installing a rear car rack. The primary issue is that eBikes are heavy, so they're challenging to load onto the top of your car, especially if you're trying to load an eBike by yourself.
If you have a smaller car or just want a bike you can easily toss into the trunk, we recommend considering a folding eBike. Folding eBikes collapse, compacting until they're small enough to store in most car trunks, including smaller motor vehicles.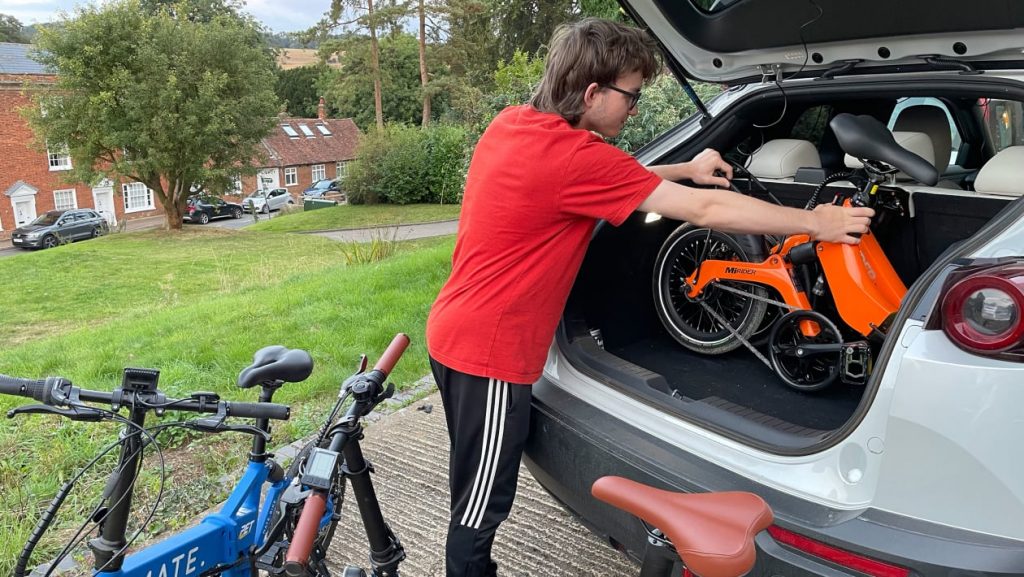 Traveling by Plane
For those who want to travel across the country or around the world, you'll probably wind up catching a flight. While it's possible to check in your eBike as luggage, it often isn't worth the effort. Fortunately, many cities worldwide are now offering eBike rentals, so if you want to ride an eBike on your next vacation, you should find a shop willing to accommodate you.
So why is it so hard to check eBikes? For the most part, checking an eBike is just like checking in a traditional bicycle. However, depending on the airline, you may be required to have it covered or in a case. One of the major problems with eBikes is that (due to the electronic components), they weigh more than a traditional bicycle frame, which will drive up the luggage cost.
The most difficult aspect of checking in an eBike is that you can't fly with an eBike lithium battery. Lithium batteries can catch fire when damaged so airlines have a 100 Wh limit on all lithium batteries (though specific medical devices have a 160 Wh exception).
Some of the smallest batteries we've ever reviewed are rated at 250 Wh, far over what is permitted to be checked in as luggage. If you want to check in your eBike, you have to do it by taking out the battery first. This also means that eBikes that don't have removable batteries cannot be checked.
An eBike motor won't do anything if it doesn't have a battery, limiting the fun you can have with your eBike. That's why we typically recommend that for short trips and vacations, you're better off leaving your eBike at home and just renting a locally when you travel. However, if you really want to ride your eBike when you travel by plane, there are a couple of options.
1.Express Ship Your Battery : While you can't check in your battery as luggage on a plane, you can follow certain protocols to have it expressed shipped. However, even the fastest shipping options will likely take a day or two, and express shipping is costly. It might not be a practical one.
2.Rent a Battery from a Local eBike Store : This is the best option we can recommend, but it will be hit or miss. Lithium batteries are sensitive, and when used on the wrong bike or used with multiple bikes, they can develop glitches or suffer permanent damage.
3.Ride Your Bike Without a Battery : Manufacturers design Ebikes to be ridden like a traditional bicycle when the motor is off. The same is true when you take the battery out.
Don't Forget Travel Insurance
Electric bikes are sturdy, but even the highest quality electric bike can break under the right circumstances. Unexpected things happen when you travel, so it isn't too surprising when something damages or destroys your expensive eBike. This can be very painful. Not just because of the loss of your bike, but due to the money you'll be out.
Enjoy The Trip and Enjoy A Different Kind Of Riding Experience!
Electric bikes are an excellent transportation method, helping people get a fantastic workout while traveling faster than going by foot, and sometimes even quicker than going by car. Depending on where you're going and how you plan to get there, you'll need to consider what to do with your eBike.
If you want to know more, please click HOTEBIKE official website, or leave a message to contact us.
LEAVE US A MESSAGE