Top Selling Nakto Electric Bikes: Review
Top Selling Nakto Electric Bikes: Review
NAKTO has a vast experience in making professional electric bikes. NAKTO has its own research and development team, factory, and a professional performance laboratory committed to achieving continuous development and improvement so that the customer can experience the best and most comfortable rides.
NAKTO is committed to providing high-quality and low-cost electric bikes. NAKTO has electric mountain bikes, electric fat tire bikes, folding electric bikes, City electric bikes, and various accessories. It has been selling a large number of electric bikes all over the world, ranging from America, Europe, and china. The NAKTO electric bike is most demanded in china and Europe.
Electric Mountain Bike "Ranger 26"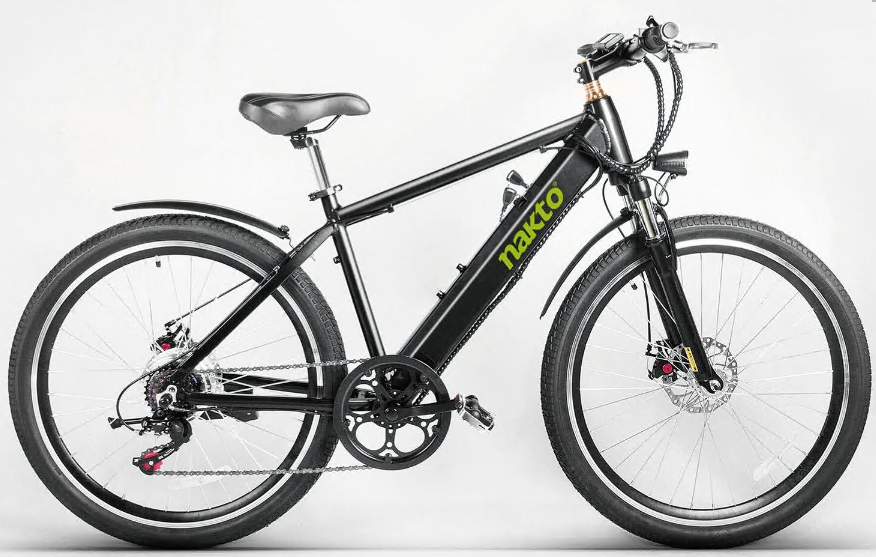 Having a wide range of features, it is the best electric mountain bike. Its unique lightweight aluminum frame design is specially dedicated to an electric mountain bike.
The unpaved surfaces of the mountains require a special and strong design of rims, frames, and tires. Keep calm! This electric bike has 26′ inches rims that provide extra strength to bear the wrath of the damaging surface of mountains.
Moreover, the anti-slip tires provide safety against slipping and endure the dangerous rocks of the mountain, which ultimately makes this electric mountain bike a perfect option for mountain riding.
The uphill ride on irregular mountain terrain requires a heavy capacity motor and battery. Its 350w high-speed brushless motor has a 22mile/h road speed limit and a 36-volt lithium battery with 22 to 28 miles capacity always help us enjoy the heights of mountains without facing any capacity issue.
Similarly, We have experienced this electric bike being very stable and balanced despite the dangerous heights of mountains because of front and rear disc brakes. Also, Its specialized tire for mountains is very helpful while riding through bumpy paths of mountains. The high resistance and anti-slip tires that come with this particular electric bike contribute to the balance of this electric bike.
Finally, the 100% aluminum alloy frame provides low weight electric mountain bike, which can be easily lifted to pass through the heavy, slippery parts of the mountains.
Fat Tire Electric Bike "NAKTO Discovery"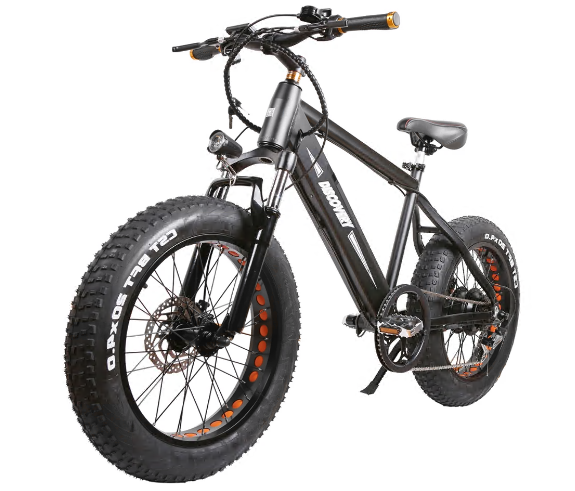 One of the best electric fat bikes is NAKTO Discovery. This bike is helpful for us while riding through snow and the beach. We fully enjoy the ride through the beach due to its fatty tire, which has high resistance capacity.
Its 350-watt hub motor provides immense power to go through the heavy resistance sand of beaches and full of snow roads. This motor also ensures speed at the same time. The lightweight aluminum alloy frame also makes it easy for us to lift the bike and went through the dense snow or the waves of beaches.
The electric fat bike also ensures safety through the slippery snow rocks. It has front and rear disc brakes that ensure safety through the rainy weather so that the purpose of an electric fat bike can be achieved. However, the soft and comfortable saddle combined with an elegant front suspension fork makes the ride more enjoyable by preventing and reducing bumping.
Electric Mini Bike: NAKTO Folding Electric Bicycle 16" Skylark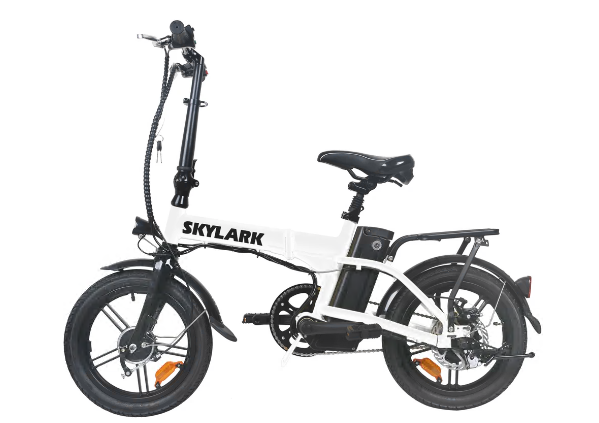 This electric mini bike has a design that can be carried easily. Its elegant frame design, 36v lithium-ion battery has built-in protection against overcharge, and high-performance capacity, making the ride smoother and more enjoyable.
Meanwhile, the 250w brushless motor makes this electric mini bike more reliable and safer to ride. Similarly, an LCD and a headlight having a 15-meter visibility capacity make the ride of this electric mini bike safer and more comfortable.
As the electric mini bike is designed for the kids, this bike has a rear seat which is very useful for carrying the school bags and other things. It also has 16″ rubber tires having a special design which provides more resistance
The soft and comfortable saddle combine with a strong damping spring provides a comfortable ride even on bumpy roads.
Its high-quality frame, which is made of carbon steel metal and aluminum alloy, is more reliable. Its portability makes it easy for kids to carry it with them easily within the cars so that they can enjoy riding their electric mini bike at any location.
NAKTO city electric bicycle Classic 26″


This Electric Road Bike is one of the top-selling brands of Nakto electric bikes. It has a wide range of features and accessories, making this electric bike ride more comfortable and enjoyable. Some of the salient features of this electric bike include a 36v lithium battery, 250w brushless motor, LED displayer which shows voltage level, rear seat to carry your partner. Similarly, its corban steel metal frame has a loading capacity of 300lbs
For safety, it has a robust aluminum alloy wheel and front brakes to ensure our safety. At the same time, it has a soft and comfortable saddle combined with a strong spring which makes this electric road bike more comfortable. However, speed changing system of this bike also makes this bike ultra-fast according to the need.
The front basket makes it easy for us to carry anything with us during riding. Moreover, the headlight of this electric road bike makes riding safe at night.
Best Fat Tire Electric Bike: Nakto Super Cruiser


This electric cruiser bike is one of the best cruiser bikes in the world of electric cruiser bikes. It has a 48V lithium battery with built-in overcharging protection, which enhances a high performance. The 500w brushless motor ensures high speed so that your ride would be more enjoyable with this electric cruiser bike.
For any cruiser bike, brakes are one of the most important components. The good thing about this electric cruiser bike is that it is equipped with a good brake system to ensure your safety along with speed. The disc brake system is reliable during rainy weather as well. However, along with a high-speed motor, this electric cruiser bike is also equipped with a good gear system to ensure a good speed.
Meanwhile, the front suspension fork and the comfortable saddle are also there to prevent bumps from hurting you during the cruise. The LED display on the handle is also there to show the voltage so that there would be no inconvenience regarding the charging of the battery.
The above is a review of NAKTO's bicycles, and the following is a brief introduction about the HOTEBIKE bicycles.
Green power bike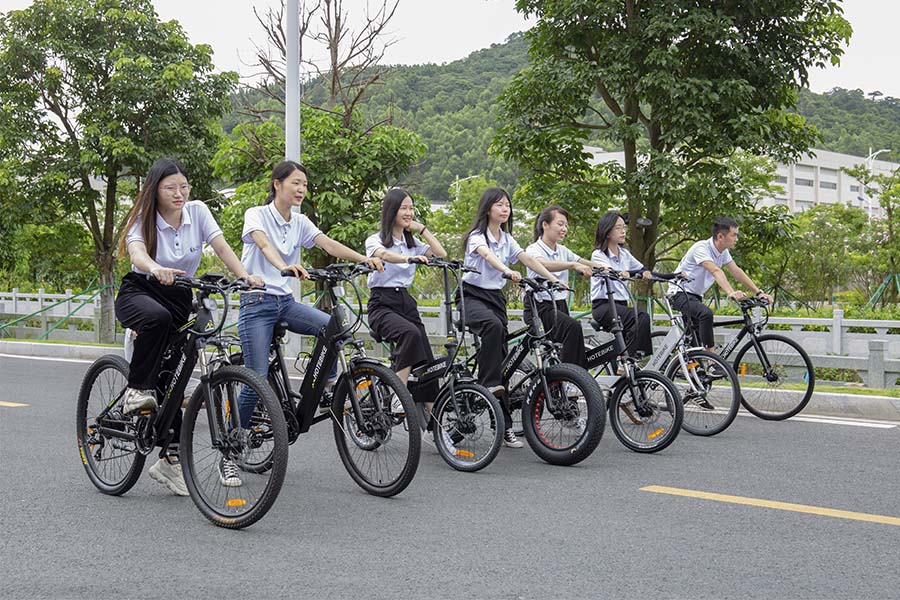 Bike power from low power to high power is 250W, 350W, 500W, 750W, 1000W, 2000W. The bikes have an innovative feature of serving multipurpose, which means that its features are very vast and can be utilized to convert the bike into the mechanical mode, electrical mode, and even pedal-assist mode according to the ease of the rider. The most convenient feature of the electric aspect of the adult bike is its LCD screen that shows all the necessary readings such as the mileage, distance covered, temperature , and voltage. All bicycles have multiple quick releases to facilitate the installation and removal of bicycle accessories. For more information, please visit the official website of hotebike: www.hotebike.com.
BMX fat bike with rear rack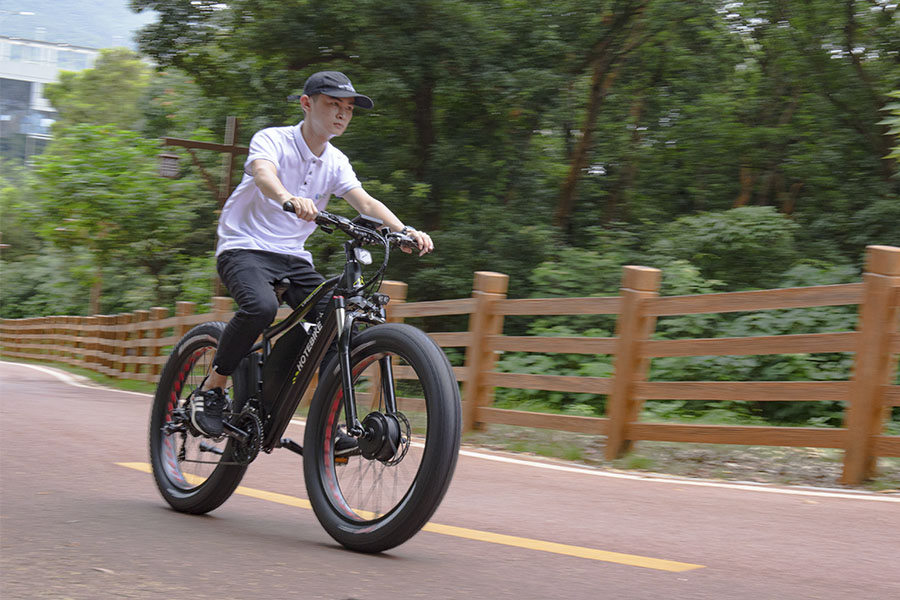 LEAVE US A MESSAGE